Euro-style construction pants for woodworking
April 20, 2021 | 10:52 am CDT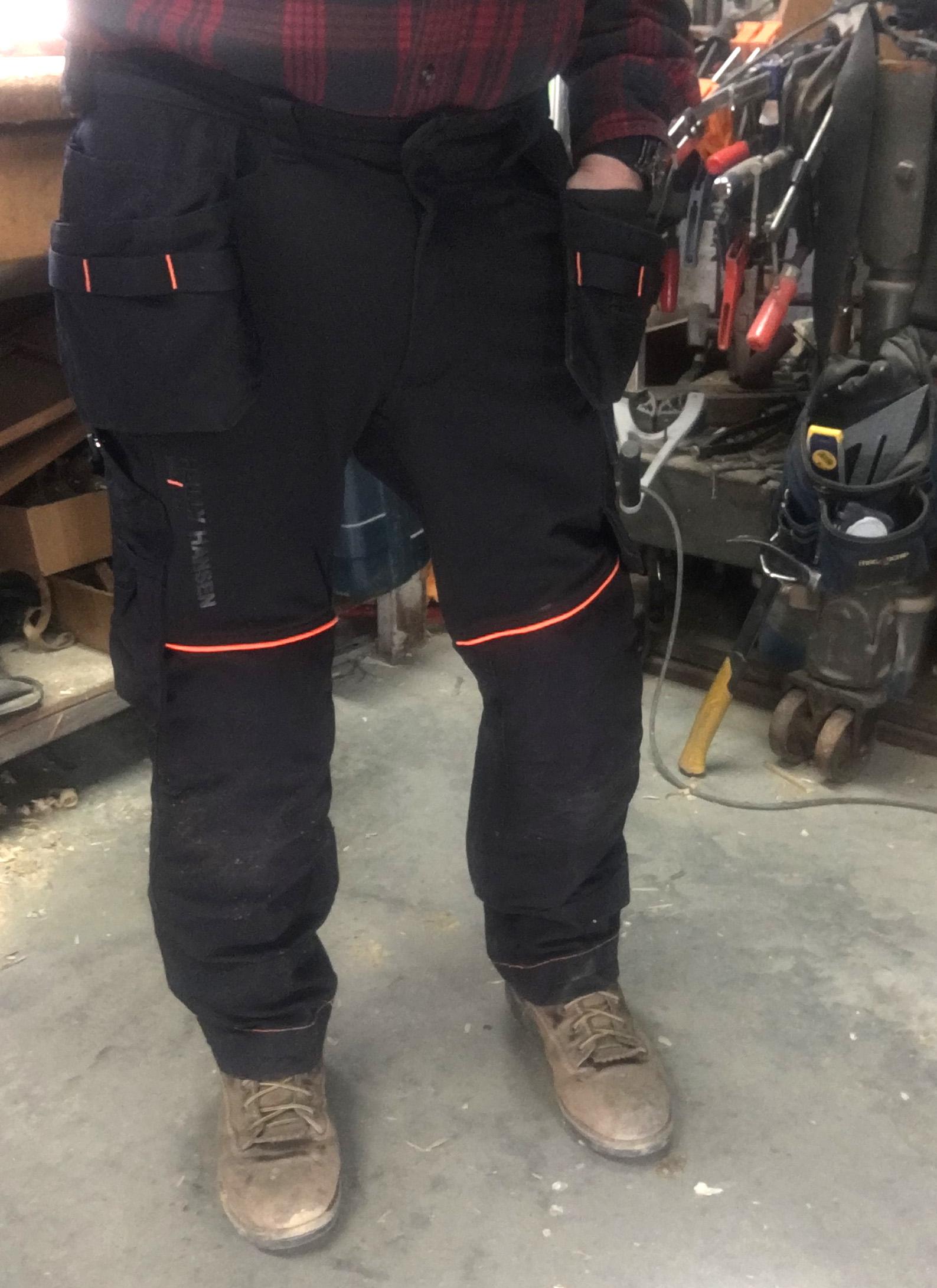 Ever since I tried a pair of European-style work pants more than 10 years ago, I've been a fan. Now North American woodworkers have another reason to try these pants with the new Manchester Construction Pants by Helly Hansen. They have all the usual Euro-work pants features but add a stretch fabric for more comfort.

The Euro difference
So, what makes these Scandinavian-style pants better than your favorite Carharts, Dickies, or just any old blue jeans? First is the built-in knee pad pockets. They are so much more comfortable than any strap-on knee pad.

These have a clever multi-size knee-pad pocket that accepts different knee pads easily from inside the pant leg, and the pads can be adjusted for position. (Carhart has a knee pad pocket, too, but it uses only thin pads rolled up and inserted through a tiny slot.)

Two hanging pockets with double-lined bottoms that can be used to hold nails, screws, or hardware without strapping on a separate tool belt. The pockets also have loops and partitions to hold light tools.

Pockets galore
Some of the many pockets in these pants are likely to be used differently by North American woodworkers. European carpenters prefer folding rules over tape measures, so there is a ruler pocket. I like my tape measure, but I'll drop a torpedo level into that pocket. Other pockets festoon the thighs on both sides. There's an ID card loop, plastic-covered metal buttons, and even reflective details for safety in the dark.

Comfort features
My previous European work pants from Blaklader and Helly Hansen, were all canvas construction with some ballistic nylon reinforcing details (knees). For me, they were just as comfortable as most jeans. These new Helly Hansen pants feature a two-way mechanical stretch fabric for even more comfort. There's also a gusseted crotch for extra freedom of movement.

The only question I can't answer about these new pants is how well they will hold up over time. My last pair of Helly Hansens stood up to years of heavy use building my house, and my knees were grateful every time I put them on.

These Manchester Construction Pants from Helly Hansen Work Wear retail for $70 USD/$105 CAD. Helly Hansen also offers the Women's Luna Light Construction Pants for the same price and with similar features. Learn more at hhworkwear.com.
Have something to say? Share your thoughts with us in the comments below.