Webinar: 2023 Design Trends

November 16, 2022 | 1:00 pm CST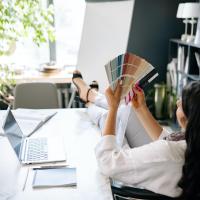 Looking for insight on design trends that will be in demand for 2023? If so, then join Jesse Collins, REHAU; Christina Relyea, JB Cutting and Gwen Petter, Wilsonart for a panel discussion on what's new and exciting in the industry.
The design trends webinar will discuss the impact of the pandemic on design trends and how that translates into new products; the multi-functionality of living spaces; and the latest updates on color and textures. Discover new trends and products and how to incorporate them into your designs.
This is a 30-minute presentation, with Q&A to follow.


Jesse Collins
REHAU

Christina Relyea
JB Cutting

Gwen Petter
Wilsonart

Michaelle Bradford
Editor-in-Chief, Closets & Organized Storage