Stiles' Manufacturing Solutions Seminar scheduled for Nov. 2-3
October 27, 2022 | 9:44 am CDT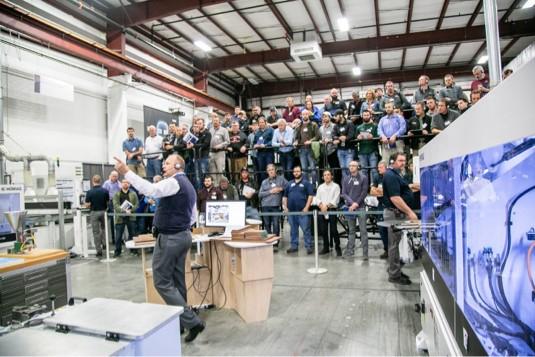 Visit the Manufacturing Solutions Seminar on November 2-3 of 2022, in High Point, North Carolina, to learn more about panel processing and solid wood machining from experts from Stiles and end users.
At the event, visitors can discover technologies and solutions that will help you meet the manufacturing demands of today and set you up for tomorrow. Experience a series of live demonstrations in a realistic production environment; keynote speakers including business owners, educators, and industry experts; and the opportunity to network and build connections with fellow manufacturers from across North America.
Here is a truncated look at their schedule.  For a full schedule and for more information, click here.
9:00am – 9:10am   Welcome & Introduction by Thomas Allott of Stiles Machinery
9:10am– 9:40am    Engineered Solutions Fit for You by Casey Harless of Stiles Machinery
9:50am – 10:20am   Large Production in a Small Footprint by Mike Dozeman of Stiles Machinery
10:30am – 11:15am   Case Study: Navigating the Current State of the Industry by Gary Wernlund of Stiles Machinery and Sebastian Desmarais of HollywoodWood Work
11:15am – 11:45am   Open Machine Demonstrations
1:00pm – 1:30pm   Scaling your CNC Capabilities Utilizing Axis and Aggregates by Manny Silva of Stiles Machinery
2:10pm – 2:40pm   Continuous Automated Production Driven by Dave McFarland of Stiles Machinery
2:40pm – 2:50pm   Overview by Thomas Allott of Stiles Machinery
2:50pm – 3:10pm   Breakout Sessions:
Discovering More with Digital by Ben Williams of Stiles Machinery
Scaling Possibilities with Aggregates by Kenan Smith of Stiles Machinery
Maximizing Your Production by Martin Kintscher, Regional Manager SCHULER Consulting
3:30pm – 4:30pm   Open Machine Demonstrations
The Thursday, Nov. 3, track focuses on Modernizing Solid Wood: Manufacturing & Surface Technology
9:00am – 9:10am   Welcome & Introduction by Thomas Allott of Stiles Machinery
9:10am – 9:40am   Panel Discussion: Advanced Automation in Solid Wood & Surface Finishing by Sylvain Dubuc and Chuck Carter of Stiles Machinery, Dana Rector of UFP Industries, and Tom Inman of Appalachian Hardwood Manufacturers
9:50am – 10:35am   Increase Profit Through Optimizing your Rough Mill (Rip, Mould, Chop) by Chuck Carter and Dave Ghisolfo of Stiles Machinery
10:45am – 11:30am   Efficient Processing through Kitchen Cabinet Door Manufacturing (Vertongen & Greda) by Connor Mackenzie and Justin Hopper of Stiles Machinery
11:30am – 12:00pm   Vendors Row & Solid Wood Machinery Demonstrations
1:00pm – 1:30pm   Expanding Your Sanding Processes by Ryan Randell of Stiles Machinery
1:30pm – 2:00pm   Exploring the Benefits of Automated Finishing by Lance Johanson, Ryan Randell and Doug Mounts of Stiles Machinery
2:00pm – 2:10pm   Overview by Thomas Allott of Stiles Machinery
2:10pm – 3:10pm   Open Machine demonstrations
Have something to say? Share your thoughts with us in the comments below.