Koetter Woodworking, Decore-ative Specialties, Woodwork Career Alliance win Wooden Globes
April 14, 2016 | 4:00 pm UTC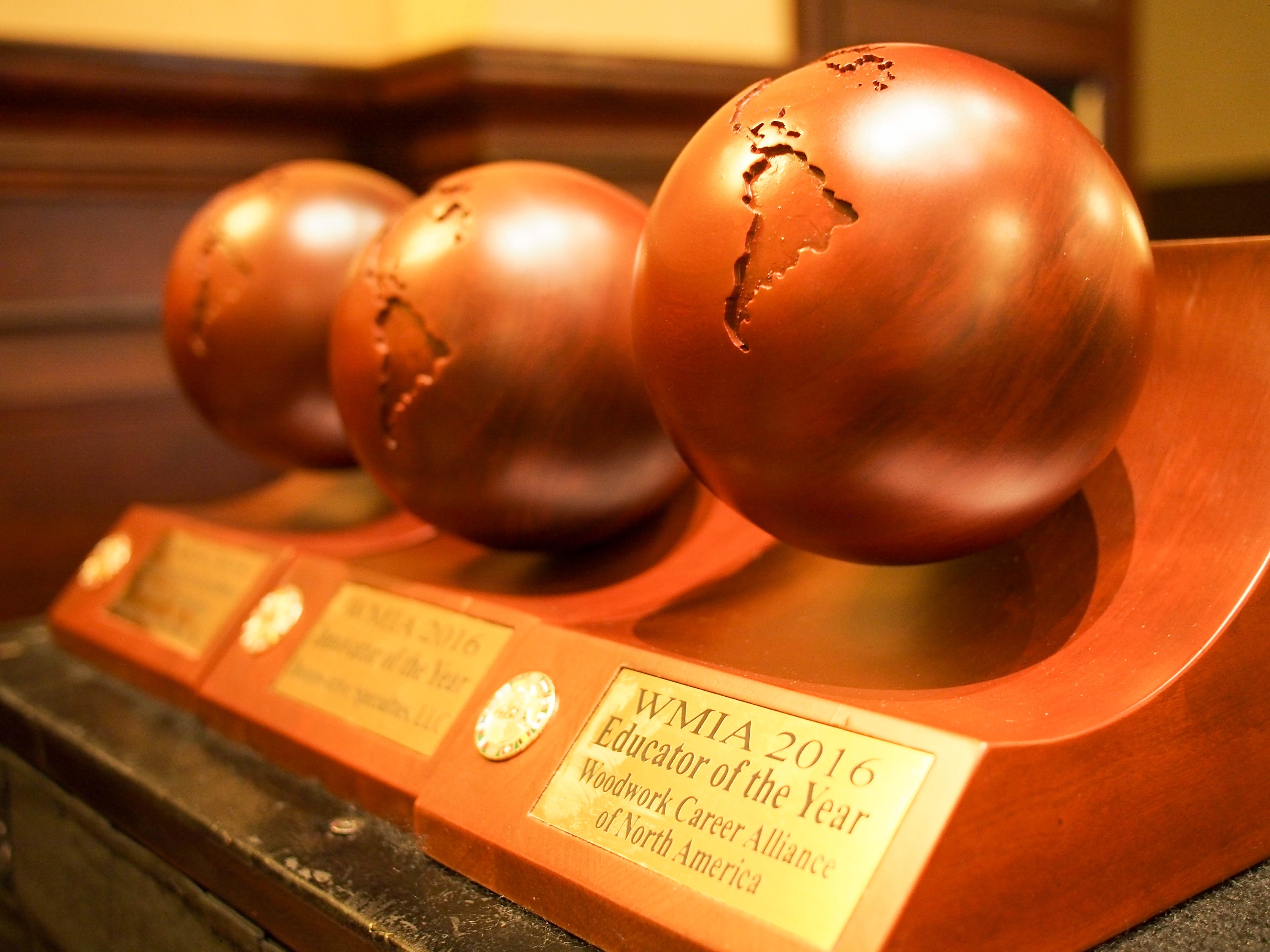 CANCUN, Mexico - Winners of the 2016 Wooden Globe awards were announced at the Wood Industry Conference today.
Millwork manufacturer Koetter Woodworking won for its Commitment to Excellence; wood component manufacturer Decore-ative Specialties won for Innovation; and the Woodwork Career Alliance received the award for Educator of the Year. 
---
The Woodworking Machinery Industry Association presents its Wooden Globe Awards annually for achievements in three areas: innovation in development of high technology; commitment to excellence integrating and implementing technology; and to education, an area on which the the association places a high value.
Nominators of award recipients introduced the award winners, beginning with Hoosier Woodworking Machinery's Jason Neafus, who brought to the stage his candidate, Jerry Koetter, COO of  Koetter Woodworking. Located in Borden, Indiana, near Louisville, Koetter has 280 employees working with a 1.2 million square feet of space. 
Jerry Koetter
Koetter said his company has invested $7 million in new technology since 2008. Incoming technology additions include a Weinig Opticut S90 crosscut saw. Koetter also boasts 16 Weinig moulders, TimeSaver sanders, along with internally engineered moulding and millwork production lines, including EnvisionIT. 
The EnvisionIT application includes a digital library of hundreds of knife profiles that allows Koetter customers to do custom moulding quotes online. Once produced, a fleet of 12 trucks delivers products through its dealers, some of which eventually end up incorporated in projects for national retailers like Victoria's Secret. 
"It is extremely exciting to do that sort of thing," Jerry Koetter said of his steady stream of investment. Koetter related that during the downturn, his company lost a third of its wealth, and also began providing support his dealers, who were suffering financial duress. He gained an appreciation of what dealers do. "It turns out the dealer distributor is very important in the supply chain," Koetter said. 
Bacci America's Guisseppe Bacci introduced his winning candidate for the Innovator of the Year Award, Todd Shapiro of Decore-ative Specialties. Bacci briefly related why joint development effort that motivated him to nominate Shapiro and Decore-ative Specialties.
"Bacci makes 5-axis CNCs, but we had never made a CNC machine for sanding and shaping," Bacci said. As a result of the effort, "Decore-ative Specialties bought a machine that has no counterpart in the world."
Todd Shapiro
Guiseppi Bacci, Todd Shapiro, and Erich Mazurek
Shapiro described the multi-year quest to develop the CNC sander shaper machine with a goal of outputting 500 doors per day, for batch one production, where customers order online with a minimum of one item. "Tolerances on doors are really tight," Shapiro noted. "Just plus/minus one millimeter."
Multiple version of the machine were designed by Bacci working with RA Consulting, but none of the designs seemed able to reach production targets. Finally a breakthrough came. By repositioning a sanding wheel at the end of the cycle, the system could reach the number. Shapiro showed how Decore-ative staff built a full-scale cardboard mock-up of the machine, to verify how it would fit into the plant's production workflow. 
Key to the development were controls and the operator interface. "The software is really the backbone of the machine," Shapiro said. "It is probably the most exciting I've worked on."
The 2016 Wooden Globe Educator of the Year Award recipient is the Woodwork Career Alliance, headed by president Scott Nelson. The WMIA Educator of the Year Award recognizes Nelson's leadership of the not-for-profit WCA organization, which was created to address the woodworking industry's critical skilled worker shortage through the development of industry-recognized skill standards. Under Nelson's direction, the WCA has developed observable and measurable performance standards and assessments for more than 240 woodworking machine operations. 
In addition, WCA has enrolled 125 secondary and postsecondary institutions as EDUcation members, issued over 1,000 WCA passports, and trained more than 180 accredited skill evaluators. These program metrics are continuing to increase.
Scott took up this role after 28 years at Central Plains Millwork, where he retired in 2012 as Chairman and president. Before that he spent more than a dozen years at Hoppe Manufacturing as an architectural draftsman. He is an active member of the Architectural Woodwork Institute Education Committee.  
Nominated by this author, WCA's award represents a continuation of years of recognizing excellence in education in ways that can change the industry. Recent honorees include Dean Mattson (2013), now with the Woods Manufacturing program in Peyton, Colorado; Doug Rappe at the Greater West Town Training Center in Chicago (2014); and educators at Pittsburg State University, Doug Hague and Charlie Phillips (2015). 
The WMIA committee's designation of an organization – the Woodwork Career Alliance – to receive the Educator of the Year Award harkens back to 2012, when the Wooden Globe Educator of the Year Award was given to an organization – Blum – for its forward-thinking apprenticeship program. 
The Woodwork Career Alliance has engaged more than 100 schools to put more than 1,000 students in the pipeline to careers in the woodworking industry. Nelson also visits dozens of wood manufacturing companies, frequently reshaping their internal process as he helps them implement the WCA worker training and credentialing. 
Have something to say? Share your thoughts with us in the comments below.