Plant tours highlight best practices at wood component shops
January 25, 2017 | 2:54 pm CST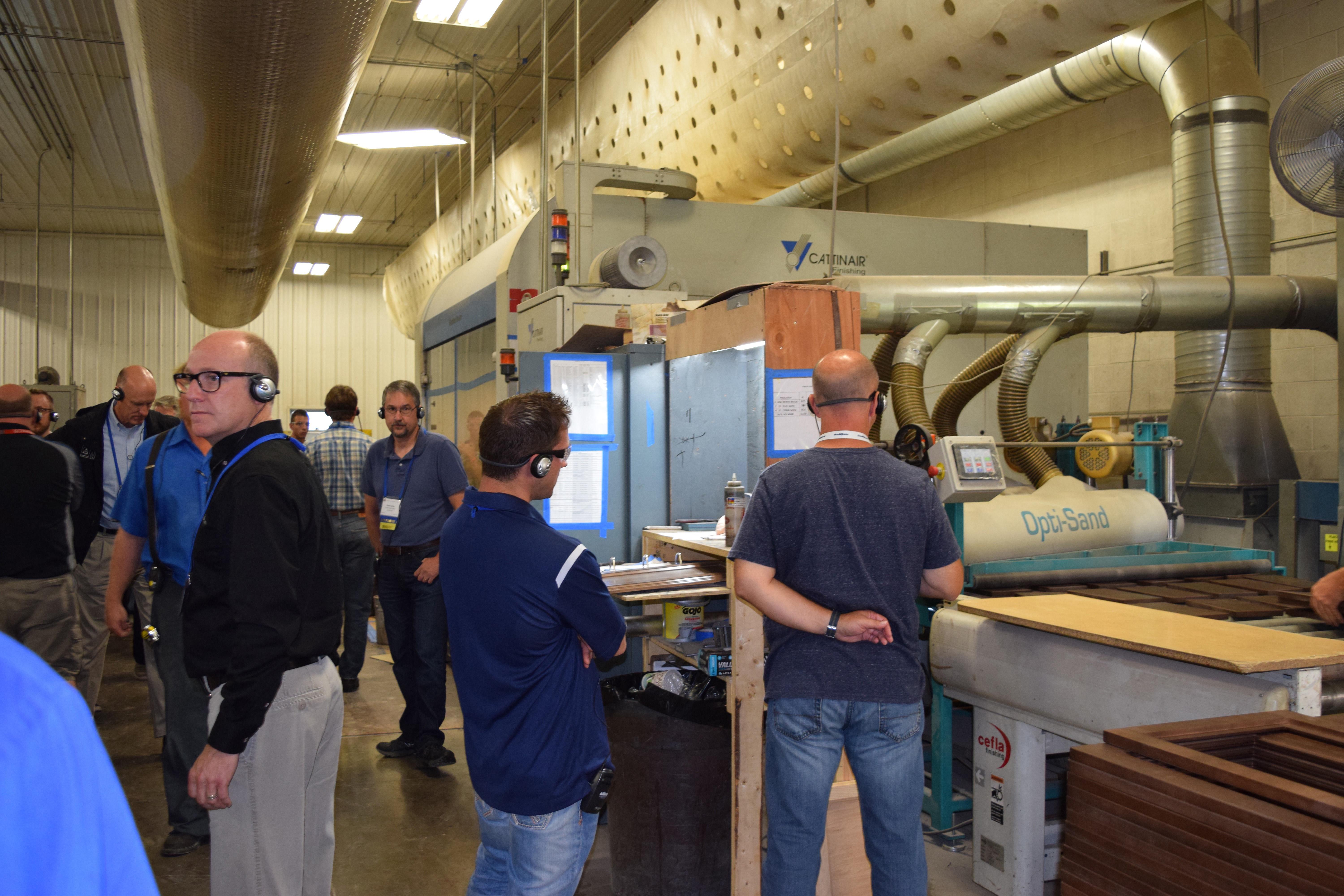 Best practices for manufacturing wood components were shared by more than 125 North American woodworkers and industry suppliers during the annual Fall Conference & Plant Tour Event hosted by the Wood Component Manufacturers Association.
The event, held Sept. 18-20 in northern Indiana, included tours to eight local manufacturers of a wide range of products, including cabinet doors, millwork, chairs, dimension stock and tooling. Tabletop exhibits and presentations by John Bassett III, chairman of Vaughan-Bassett Furniture Co., and Notre Dame professor and Keurig developer Chris Stevens were also featured.
What follows are some of the tour highlights. For information on the 2017 WCMA Fall Conference & Plant Tour Event, to be held in Grand Rapids, Michigan, visit WCMA.com.
American Millwork's moulding op
Founded in the 1970s by Vaughn Nickell and owned by RAF Industries, American Millwork Corp. produces mouldings and dimension stock for the residential building and remodeling markets. Considered a high-volume, low-overhead producer, American Millwork has 90 employees and processes tens of thousands board feet a day at its 160,000-square-foot plant in Elkhart, Indiana.
---
It starts in the rough mill area, where Ultimizer and Dimter systems optimize the kiln-dried lumber for defecting and cutting boards to size.  "We use optimizers because we do a lot of specified lengths," said Tom Harper, president. The lumber is then sent to Weinig moulders for processing into base, casing, crown and chair rail mouldings.
A sustainable manufacturer, American Millwork repurposes its offal, including fingerjointing for handrails. Other equipment in the facility includes Baker inline resaws and Northtech band resaws, and an Ogden glue press for face gluing of panels.
The installation of a Stanza UV finishing system also has enhanced the offerings. With its Prefinished Program for mouldings, the company says it can provide any profile stained or primed, in standard or custom colors to match specifications.
RH Yoder's chair making capabilities
Shipshewana, Indiana-based RH Yoder Woodworking is sitting pretty. Founded in 2003 by Richard and Henry Yoder, the chair manufacturer has grown from an initial offering of five styles, to producing close to 200 different chair styles and bench seating, said Richard Yoder.
The hardwood chairs are made to order inside the 30,000-square-foot shop, which utilizes natural gas generators to run the high-tech equipment.
"We've spent a lot of money on machinery," Yoder said, and it shows. Among the equipment recently installed are Raimann Profirip and Dimter Opticut (Weinig) optimized saw systems, and an Intorex TMC-1500 CNC shaping machine for manufacturing columns, pillars and furniture legs. Also in use are: 5-axis and 3-axis CR Onsrud CNC routers; an Accu-Systems OHV CNC horizontal and vertical bore, glue, route and dowel machine; a Timesavers planer/sander; and Sandman downdrafts.
RH Yoder has 23 employees.
Kountry Wood's cabinetry business
Kountry Wood Products combines technology and handcraftsmanship to produce its large volume of high-quality kitchen cabinetry, available in a variety of door styles and finishes. Founded in 1998, the company has approximately 200 employees.
Work in process moves swiftly inside the 156,000-square-foot plant, where  an estimated 2,750 cabinets per day – about 300 cabinets per hour on six different lines – are produced. Among the equipment used in the machining process are: Schelling panel saws, a Biesse Artech CNC router, Progressive Systems shape and sand machines, a foiler, and Costa sanders. Finishing is performed in-house on a Cattinair finishing system.
A sustainable manufacturer, Kountry Wood's cabinet fronts are made from solid wood, with the side and back panels produced from 3/8-inch laminated panels.
Approximately 500 doors are produced per hour, featuring a solid wood frame construction with a mortise-and-tenon corner joint. Newly added to the lineup is the Rentown transitional door style, which combines a wide Shaker rail with a traditional flat panel, mortise-and-tenon door. On display at the 2017 KBIS, Rentown is available in full-overlay with two drawer front options: slab or a five-piece upgrade.
Quality Hardwood's full-service offerings
A full-service manufacturer, Quality Hardwood Sales offers S4S lumber, components and custom assemblies, for the RV, cabinet and furniture industries. "We can do anything from selling a raw rip to a completely finished product," said Devon Hochstetler, president.
Founded in 2001, the Nappanee, Indiana-based firm has approximately 100 employees. Capabilities at the 128,000-square-foot facility include rough milling, CNC machining, door and drawer manufacturing, sanding and finishing. Products offered include: mortise-and-tenon and mitered cabinet doors, door rails and stiles, drawer fronts, decorative trim, furniture components, and high-end office furniture.
In the rough mill area, a Combiscan scanning system with top and bottom cameras is used in conjunction with a Profirip for optimized ripping. Available from Weinig, the Profirip features moving blade technology and rips approximately 1,000 lineal feet per day. Multiple Weinig moulders also are on site to produce profiles and mouldings.
Also used are Dimter/Weinig Opticut saws for crosscutting, Fletcher double-end tenoners, PMK coping machines and a Taylor Laser Opti-Sizer, which automatically selects the optimal random width ripped boards for producing specified width panels. Other equipment includes: Timesavers sanders, an Altendorf/Stiles Machinery sliding saw, Giben CNC panel saw, and a 3-axis CR Onsrud CNC router with automatic tool changer for quick and precise machining of components, Hochstetler said.
Both unfinished and finished parts are offered. UV topcoats, glazed finishes as well as custom finishing are done on Superfici and Cefla finishing systems.
Woodenware drives RV market
Founded in 1992 as a custom furniture builder, Woodenware has transitioned into a producer of doors and components for the RV/motor home and van conversion industry. Based in Etna Green, Indiana, the company's 35 employees produce approximately 20,000 doors per week at the 16,000-square-foot plant.
Flat, raised panel and mullion doors are offered in a variety of profiles and species, including ash, beech, cherry, soft and hard maple, and oak. Woodenware's optimized capabilities include cut-to-size, routing, shaping and sanding. Among the equipment used at the shop is a Komo CNC router, Celaschi shape and sand machine, and Opti-Sand and DMC Unisand sanders.
Stains, glazes and topcoats are applied on the Cattinair/Cefla finishing line. "We also offer custom in-house color matching and a variety of finishing options," said Earl Chupp, president.
Indiana Dimension Inc. (IDI) & Cole Hardwood's integrated production
A lean manufacturer, Indiana Dimension Inc. produces rough-milled panels through fully machined components, including cabinet doors and drawers. The Logansport, Indiana-based company's capabilities include moulding, edge gluing, edge profiling, sanding, CNC routing and finishing.
IDI offers a seven-day turnaround on orders, said Sales Manager Jeremy Rentschler, and work moves quickly inside the roughly 140,000-square-foot plant.
To optimize efficiency, IDI utilizes: computerized rip/chop lines; Mayer CNC saws for cutting thousands of panels; RazorGage saws and Mereen-Johnson rough mill machinery; a Tisfoon Ulterior Systems defect scanner; Weinig CNC moulders, some with SuperShear tooling; Progressive Systems double-end tenoners with SuperSand tooling for edge profiling; and Cemco planer/sanders and Timesavers sanding systems.
 IDI was recently featured in the 2016 WOOD 100: Strategies for Success for its business practices. The component manufacturer was founded in 1990 by Milt Cole and Roy Rentschler as a sister company to Cole Hardwood.
It was in 1986 that Milt Cole and his wife Jean bought the former John Shafer Lumber Co. and renamed it Cole Hardwood. Following a devastating fire in 1998, they not only rebuilt the business, but also significantly increased the inventory storage and kiln capacity.
Today, Cole Hardwood boasts one of the largest kiln drying facilities in the United States. The 32-acre facility has a 1.3 million board feet kiln capacity and "acres" of indoor storage, providing boards for its growing customer list of more than 1,300 domestic and international companies. Its capabilities include grading, S2S (surfaced two sides) and SLR1E (straight line rip one edge).
Riverside's tool manufacturing
Based in Elkhart, Indiana, Riverside Tool has grown significantly since Ron Migedt purchased the tooling firm in 1990. It was acquired by Techniks last year.
Riverside Tool specializes in CNC insert and diamond tooling, along with a host of other offerings. Among its innovations are the SuperShear high-shear line of products, and the SuperSand for profile sanding operations.
Another innovation is Intooligence, which launched in 2010. The Intooligence system enables users to barcode and track tooling usage, and can also be used to create a cost-per-foot analysis of a tool's lifespan. The concept has transitioned into a vending machine "tool" which can provide reports on overall tool usage.
WCMA members share their views
A post-tour survey of WCMA members showed overwhelming satisfaction with the event, said Amy Snell, executive director of the association. Among the comments she shared was one from Steve Gerber, Gerber Wood Products, who stated,"I felt the 2016 Fall Conference in northern Indiana was one of the best events I have attended in my 10 years of being a WCMA member.  I was able to connect face to face with a number of tech partners during the event and also discovered some new technology on a plant tour that I will be considering for our business."  

"I brought someone new this year from the plant and it was amazing to see the productive plants in the Indiana region," commented  Barry Freiburger,  George Guenzler & Sons Inc. "These companies were competing and winning. I was amazed to see such high-speed production associates assembling five-piece doors in under 30 seconds per door. It really showed my team what is possible using standard work and leaning out the process."
Todd Dennison, Brown Wood Inc., concurred, "I thought that this year's Fall Conference event was the best yet. It is always great to get an opportunity to network with our industry partners and build new relationships. The plant tour hosts were very gracious to open their doors to our group and allow us to get a fresh glance at the innovation in our industry. Most importantly the speakers (John Bassett and Chris Stevens) were fantastic this year. Both topics were relevant to our industry and offered us advice and knowledge that we could take home and implement into our companies."
Click here to view the 2016-2017 WCMA Wood Components Buyer's Guide
Information on the 2017 WCMA Fall Conference & Plant Tour Event can be found at WCMA.com.
 
Have something to say? Share your thoughts with us in the comments below.