LIGNA 2023 preview: Sneak peek at the world's largest woodworking show
February 24, 2023 | 1:34 pm CST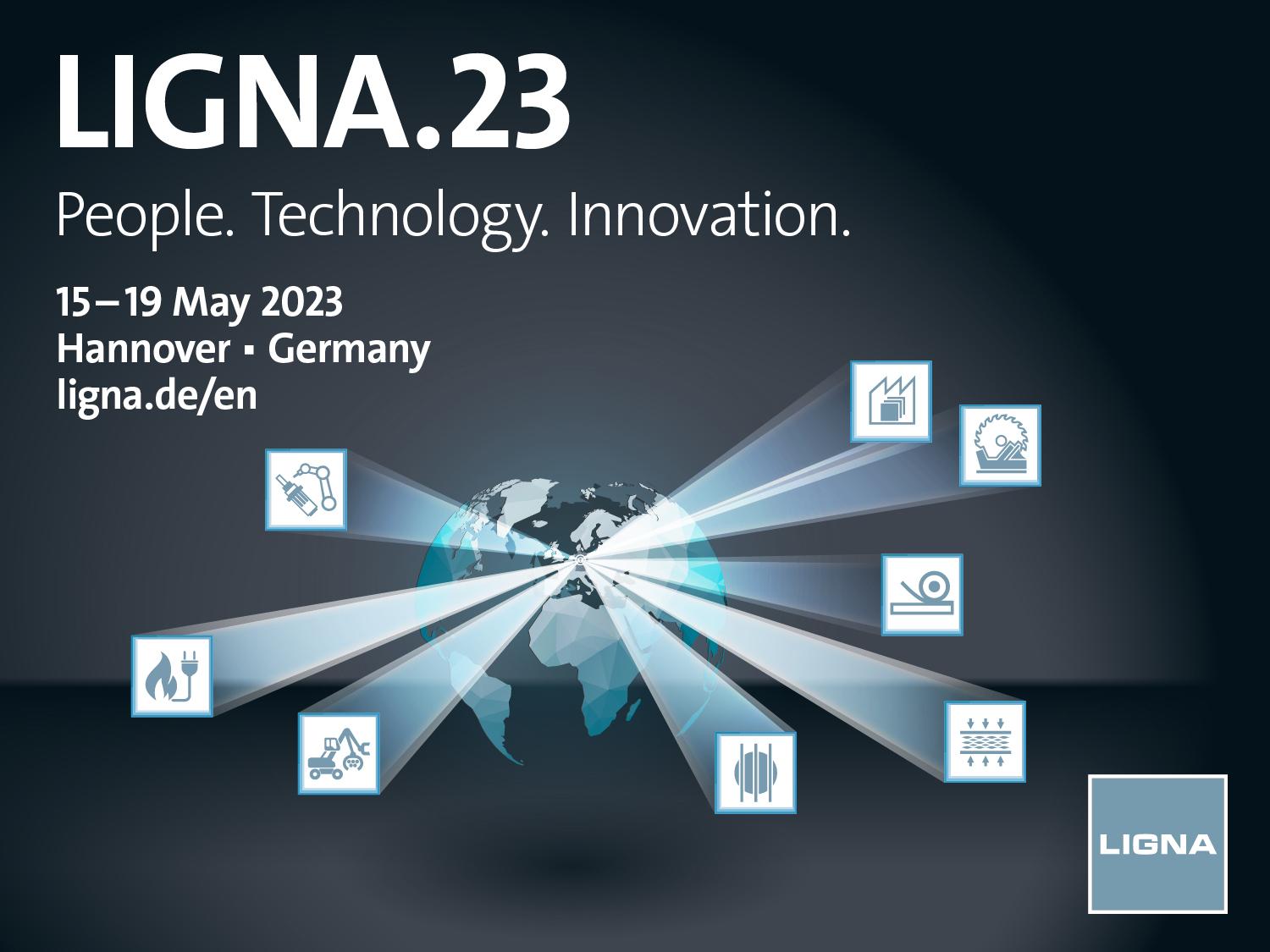 HANNOVER, Germany – A preview of LIGNA 2023, including a sneak peek at some of the woodworking innovations scheduled for display, was given to more than 60 journalists from around the world at a special event hosted Feb. 16 by show co-organizer Deutsche Messe.
The world's largest woodworking event, LIGNA will be held May 15-19 at the fairgrounds in Hannover, Germany. The biennial show is co-organized by VDMA Woodworking Machinery Association.
Despite the current tense global political situation, organizers said they are excited to report the 2023 LIGNA Fair will play host to more than 1,100 exhibitors from 44 nations, with displays spread across nearly 1.15 million net square feet (107,233 square meters) of exhibition space. More than 180 first-time exhibitors will also be at the global event.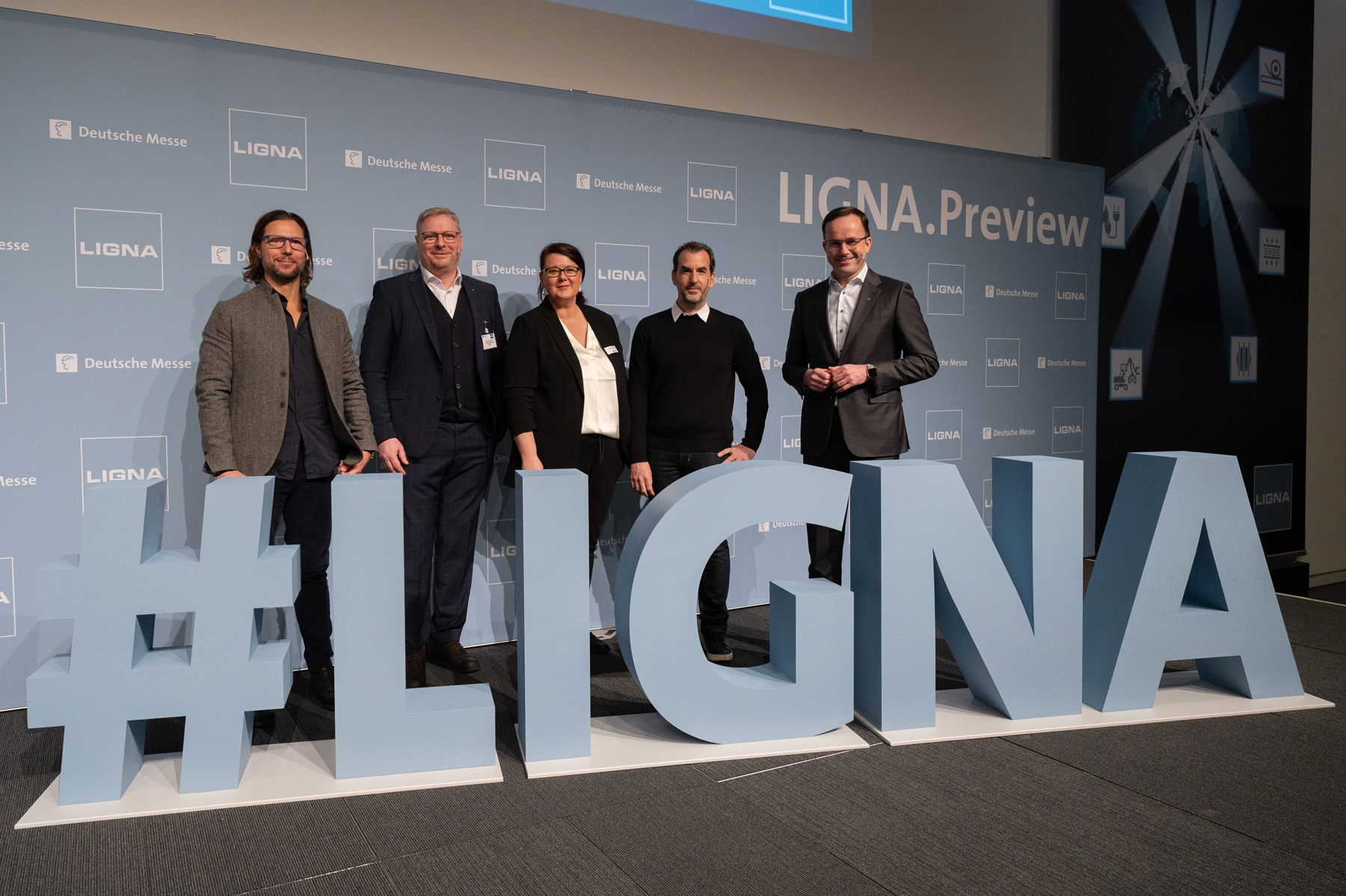 "People, technologies, and innovations" is a motto for LIGNA 2023, said Dr. Jochen Köckler, CEO of Deutsche Messe AG.
"LIGNA offers a unique overview of the entire value chain of the woodworking and wood processing industry. It is the international showcase for innovations and the stage for world firsts. We have been receiving a wave of euphoria from the community ever since planning began. The industry is looking forward to the face-to-face experience in Hannover," Köckler said.
An estimated 75,000 visitors are expected at the event. "At LIGNA 2023, visitors will meet exhibitors from 44 countries. This is where trends are set and discussed that shape the industry and point the way to the future."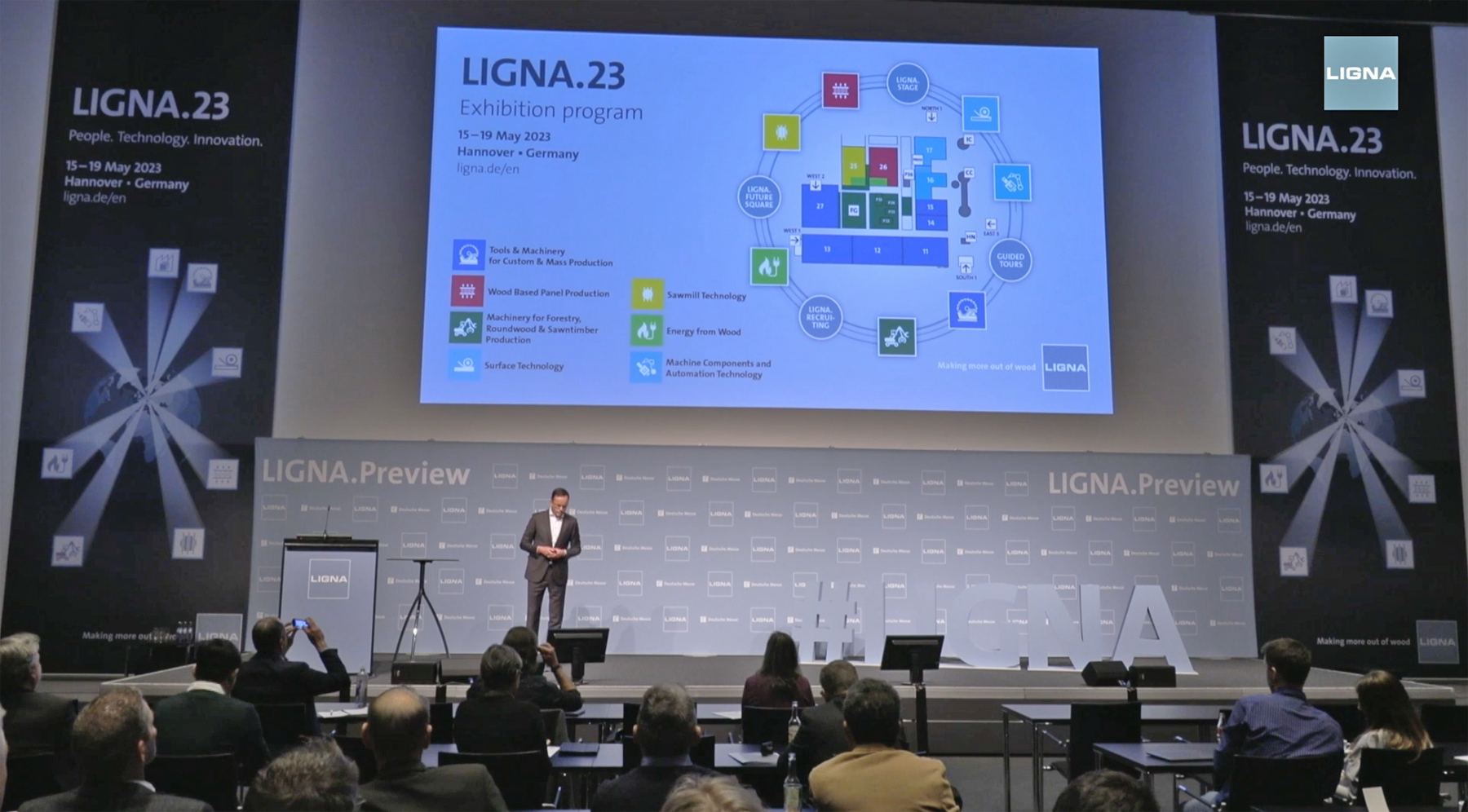 The LIGNA 2023 preview event also included a presentation from Markus Hüllmann, chairman of the VDMA Woodworking Machinery division.
Hüllmann noted that while 2022 was "worse than expected, better than feared," the woodworking machinery industry saw price-driven growth in 2022, reaching an estimated €3.5 billion, up from €3.4 billion in 2021. The United States and China were the top two export markets, with France, Austria, and Poland rounding out the top 5.
For 2023, he added, a survey of VDMA members found 11 percent are optimistic, 37 percent are cautiously optimistic, and 38 percent reported mixed feelings, while 11 percent were cautiously pessimistic and just 3 percent were pessimistic. "The glass is not half empty, but more than half full," Hüllmann said.
"We expect that despite the many challenges we've had to deal with over the course of the last one or two years, we'll still have close to a record-breaking year this year - €3.4 billion - that's a little less than last year and in line with 2021," he said. Keeping in mind what's happened over the course of the past year, the coronavirus, supply chain issues and the war in Ukraine, "the fact that we can maintain stable business, I think for us as an industry in total it can be considered a success," added Hüllmann, who is also CEO G. Kraft Maschinenbau GmbH.
LIGNA topics focus on future
A theme for this year's show is "Woodworking Transformation," and the shaping of the industry through digitization will be a key focus with many exhibitors showcasing the networking of machines, new tools, components and materials, along with innovations in robotics, automation and software. The buzzwords Smart or Connected Factory, Industry 4.0, or Internet of Things and IoT platforms will continue to become tangible at LIGNA with concrete examples, said Deutsche Messe.
Other themes include "Prefab Building Processes" and "Green Material Processing." According to show organizers, "The wood-based bioeconomy is considered an innovative technology driver. The framework conditions for expanding resource-efficient wood use are part of the European Green Deal and pillars of a circular bioeconomy. This is a development that will rightly be the focus of attention at LIGNA 2023."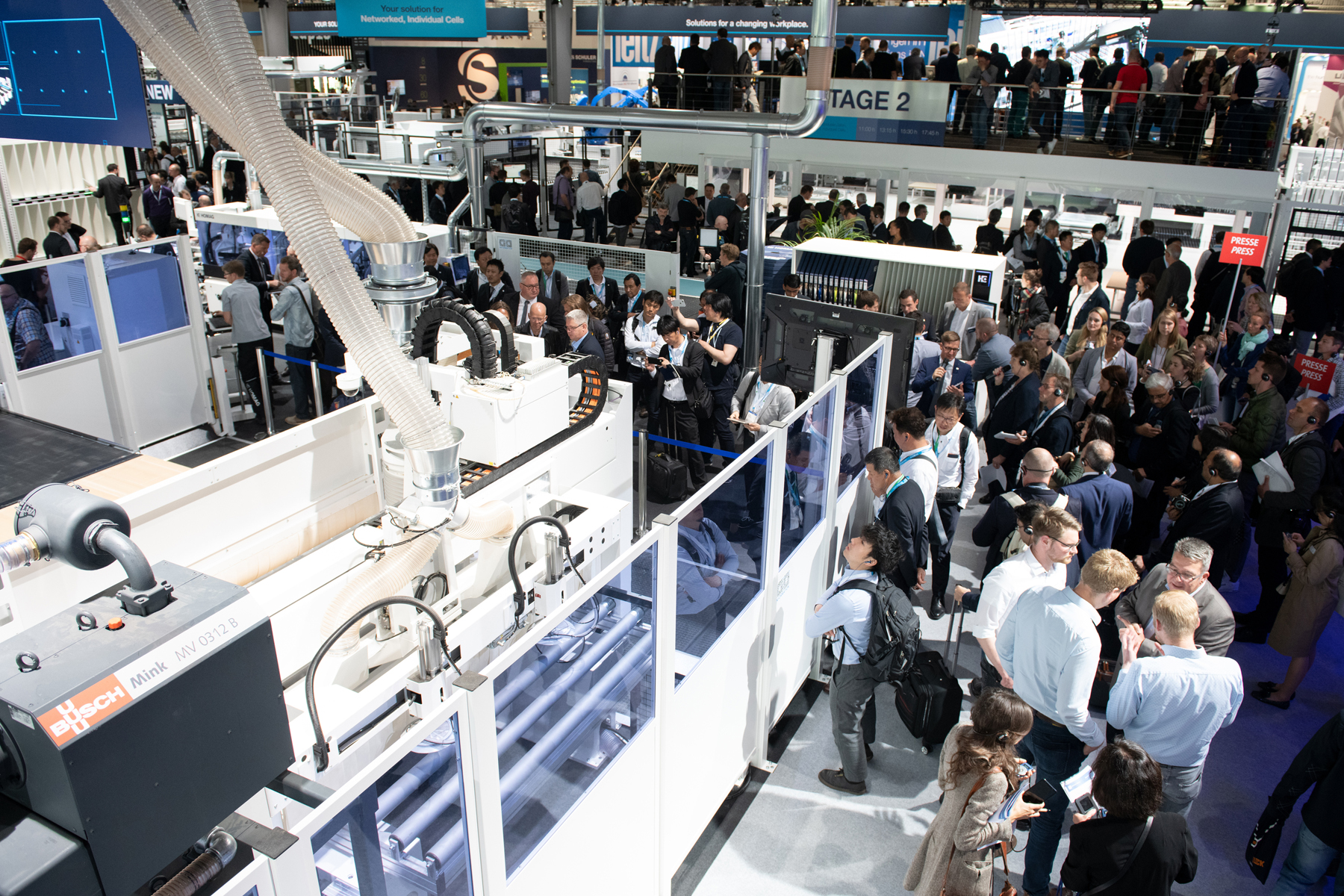 Wood is also steadily gaining importance as a recyclable building material in the construction industry, and the share of total construction volume accounted for by purely timber buildings and timber-mixed structures is growing continuously, both nationally and globally. This topic was addressed at the LIGNA Preview, with keynotes given by Bernd Oswald of GROPYUS and Professor Achim Menges from the  University of Stuttgart.
Showcase for innovation: on-site & digital
Visitors to LIGNA will see a wide range of technology and innovations across seven main display categories: Tools & Machinery for Custom & Mass Production in Halls 11–15, 27; Surface Technology in Halls 16, 17; Wood Based Panel Production in Hall 26; Sawmill Technology, Hall 25;  Energy from Wood in Halls 25, 26 and an open-air site; Machine Components and Automation Technology, Hall 16; and Machinery for Forestry, Roundwood & Sawntimber Production in the open-air site, P32–35.
Among the on-site events,  the LIGNA.Stage in Hall 12 will offer solution- and user-oriented presentations and panel discussions along the focus topics as well as recruiting and sustainability. The programs will also be available livestream and on-demand on the LIGNA website, ligna.de.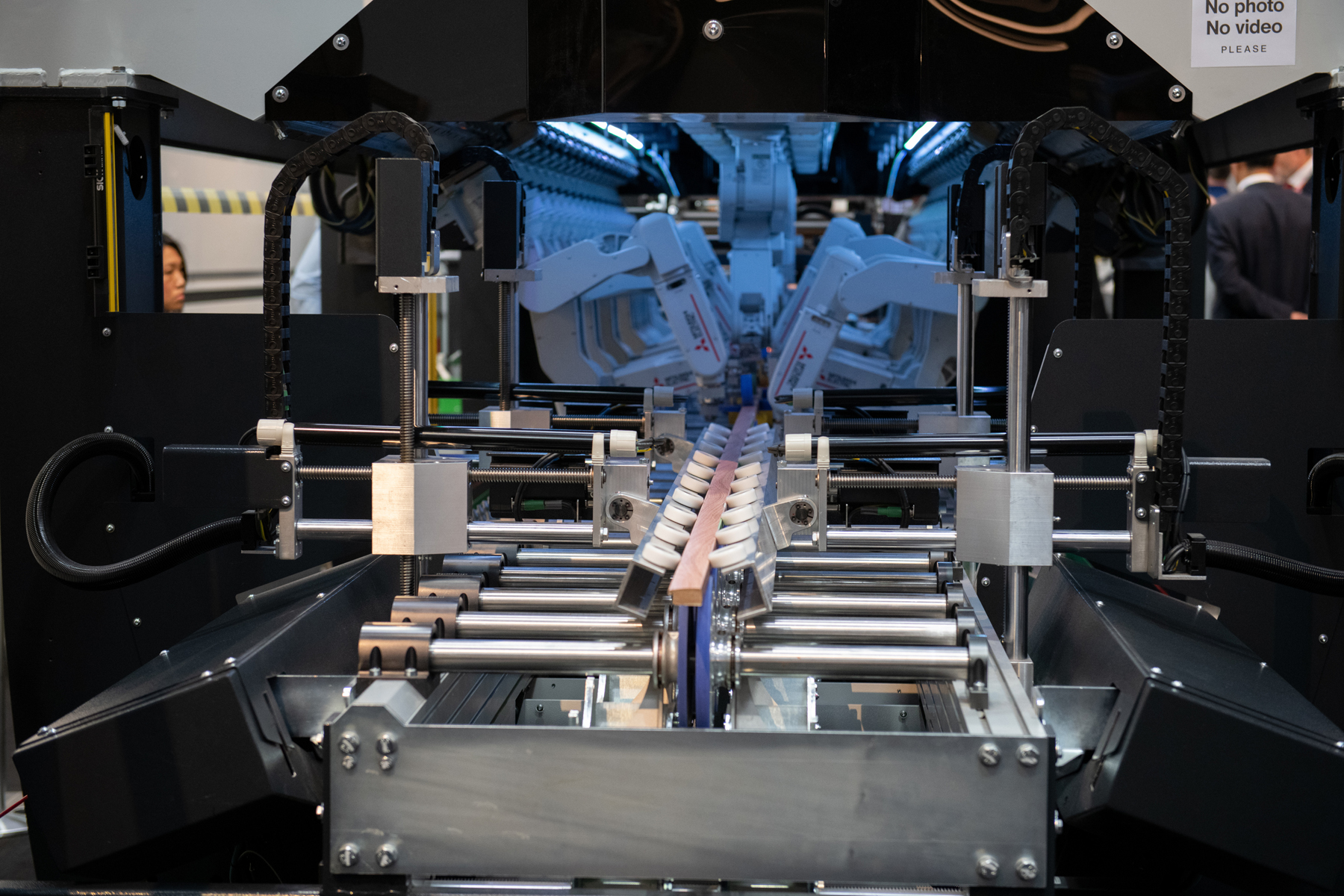 LIGNA will once again offer guided tours, this year in a hybrid format. Groups of 25 will be guided to selected exhibitors and given exclusive presentations and live demonstrations on various topics. Like the LIGNA.Stage program, the hybrid guided tours will also be available on-demand and streaming live on the LIGNA website.
"By streaming our additional formats, we want to make LIGNA and relevant industry developments accessible to those who can't be there on site," said Stephanie Wagner, LIGNA project manager. "Independent of location and time, we can thus extend LIGNA's appeal far beyond the event period."
New: job recruiting & services
With recruitment and retention of workers always a concern, LIGNA will provide research, education and career opportunities in the woodworking and wood processing industry.
The LIGNA.Campus provides information on education and training courses offered by universities, technical colleges, and technical schools. At LIGNA.Recruiting, potential employers can meet interested skilled personnel. A digital job wall allows companies - whether exhibitors or visitors - to post job offers. The offers can be accessed digitally at the recruiting area at LIGNA, with possible on-site meeting opportunities also available.
In addition to a VDMA lounge, the LIGNA.Future Square powered by VDMA will present start-ups with lean solutions and new ideas.
For more information on the LIGNA Fair, including tickets, visit ligna.de.
Sneak peek at products
Close to 20 exhibitors were on hand at the LIGNA preview event to give journalists a sneak peek at some of the products and services to be featured at the show. Among them: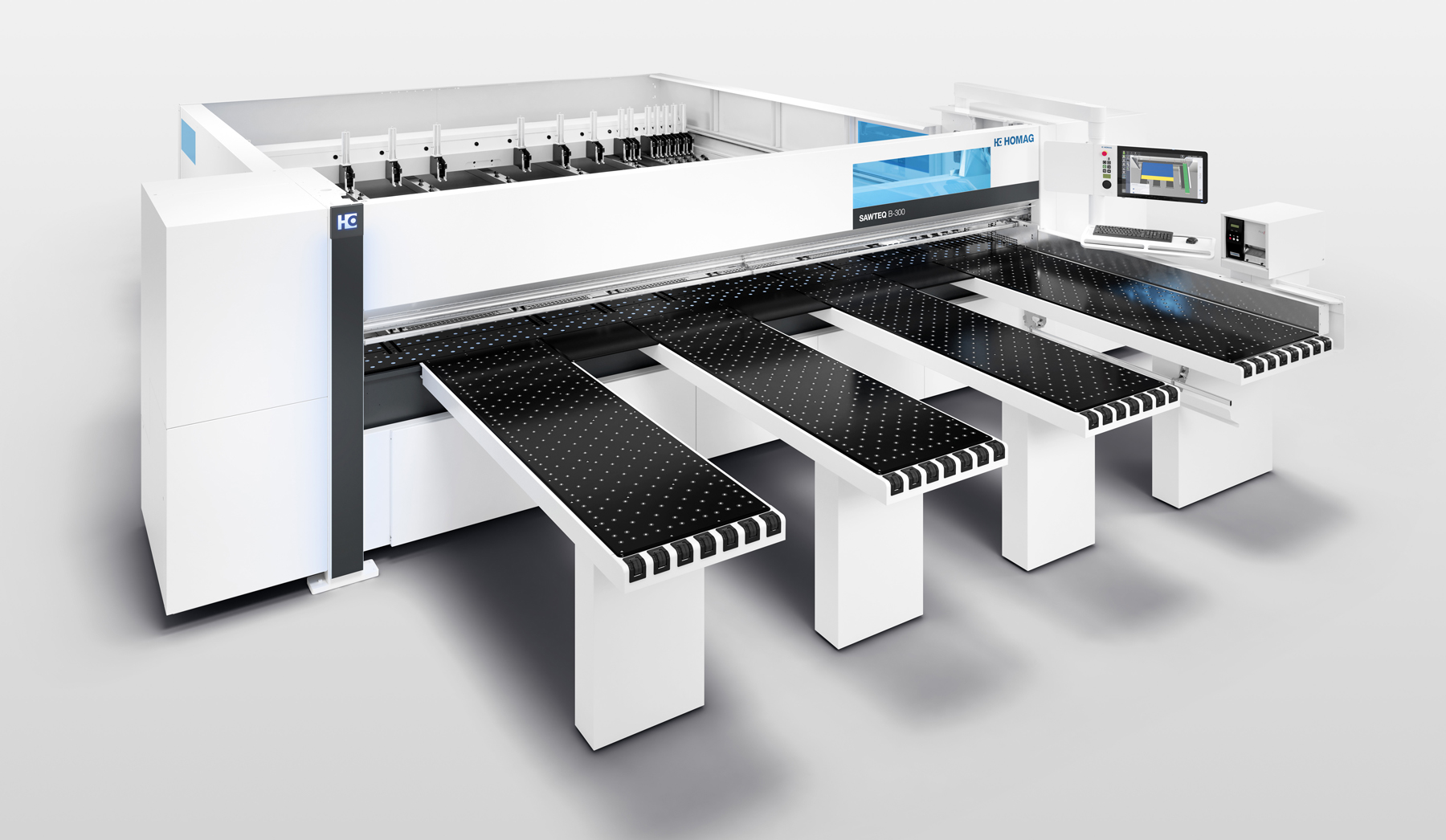 Under the motto "Sharing passion," Homag will display machines, robotics, integrated cell concepts and complete system solutions in Hall 14. The show will also mark the world premiere of Homag's SawTeq B-300 and B-400 panel saws with increased intelligence and digital, self-learning functions. Along with the intelliGuide Classic operator assistance system, a new feature within the saw control monitors optimal machine use and provides continuous support through appropriate information. As well as materialManager Advanced, which automatically specifies optimal saw parameters, the saw is equipped with a new sensor function that detects the dimensional accuracy of the workpieces.
Homag will also present solutions from Weinmann, Kallesoe and System TM, and key Homag partners tapio, Benz Tooling and Schuler Consulting will also be present.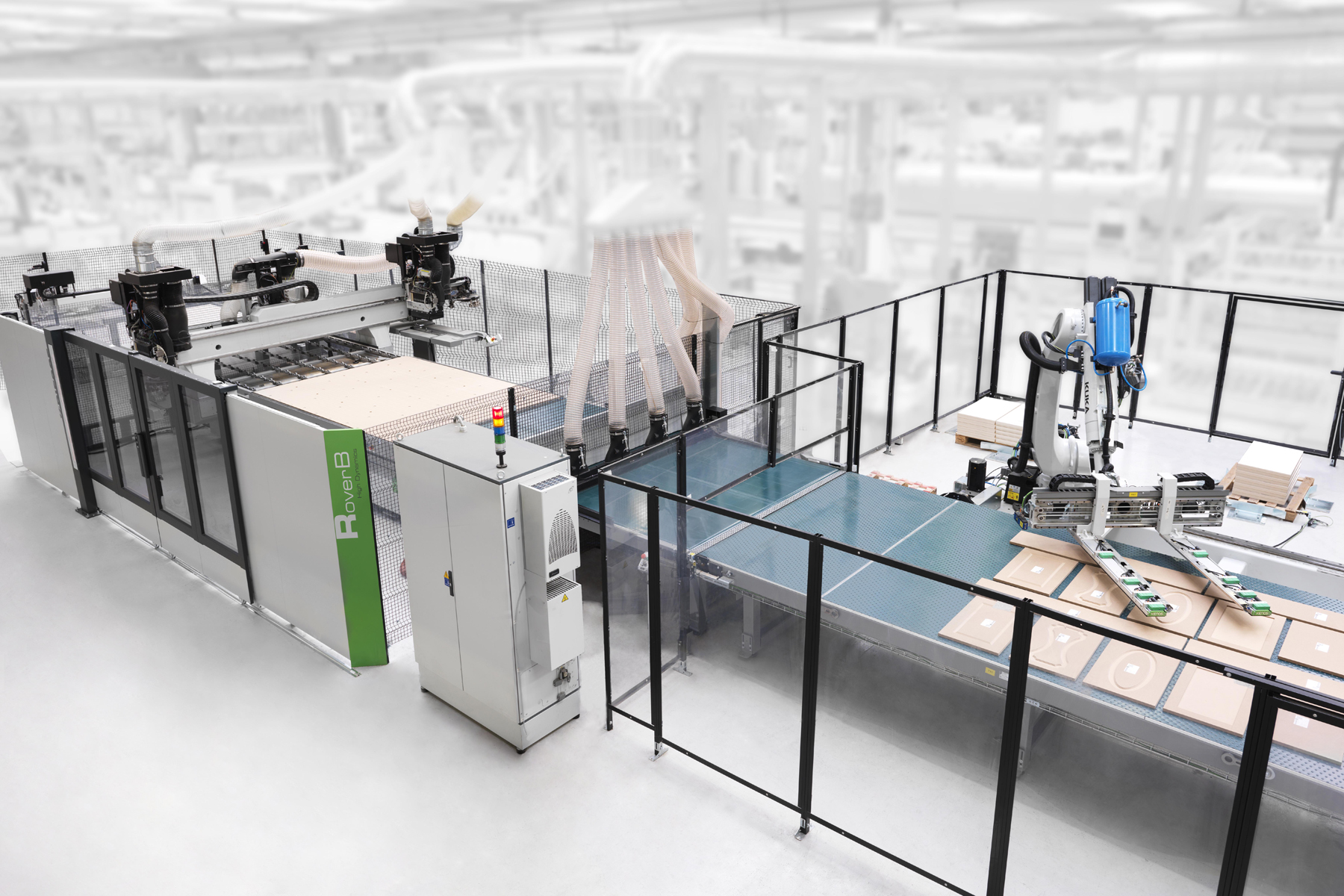 Among the wide range of machines and technology on display in Hall 11 by Biesse will be automated solutions to increase production in the machining, loading and unloading operations. Visitors also will get a first-hand look at an integrated plant consisting of CNC panel sizing and nesting solutions, with automatic loading and unloading linked together thanks to SmartConnection, a software program for in-house order management. A focus also will be on the new batch one edgebanding line with robotic loading and unloading. At LIGNA, Biesse will also unveil a new visual identity which the company says represents the corporate renewal process and actively expresses the group's values and identity – centered on multi-materiality and being inherently international.
Under its motto "Weinig offers more," the group (Weinig and Holz-Her) will have more than 50 displays of machines, systems and software solutions, spread across an estimated 54,000 square feet (5,000 square meters) in Hall 27. Weinig will demonstrate a large-scale optimizing crosscut line. A robot with a vacuum unit stacks raw material onto the line. A CombiScan Sense scanner evaluates the workpieces and defects are cut out by the high-speed OptiCut 450 Quantum crosscut saw (pictured) with the good parts automatically fed downstream to the HS 200 fingerjointing line for further processing. Another highlight will be the ProfiPress C 2500 HF gluing press for the production of wooden panels.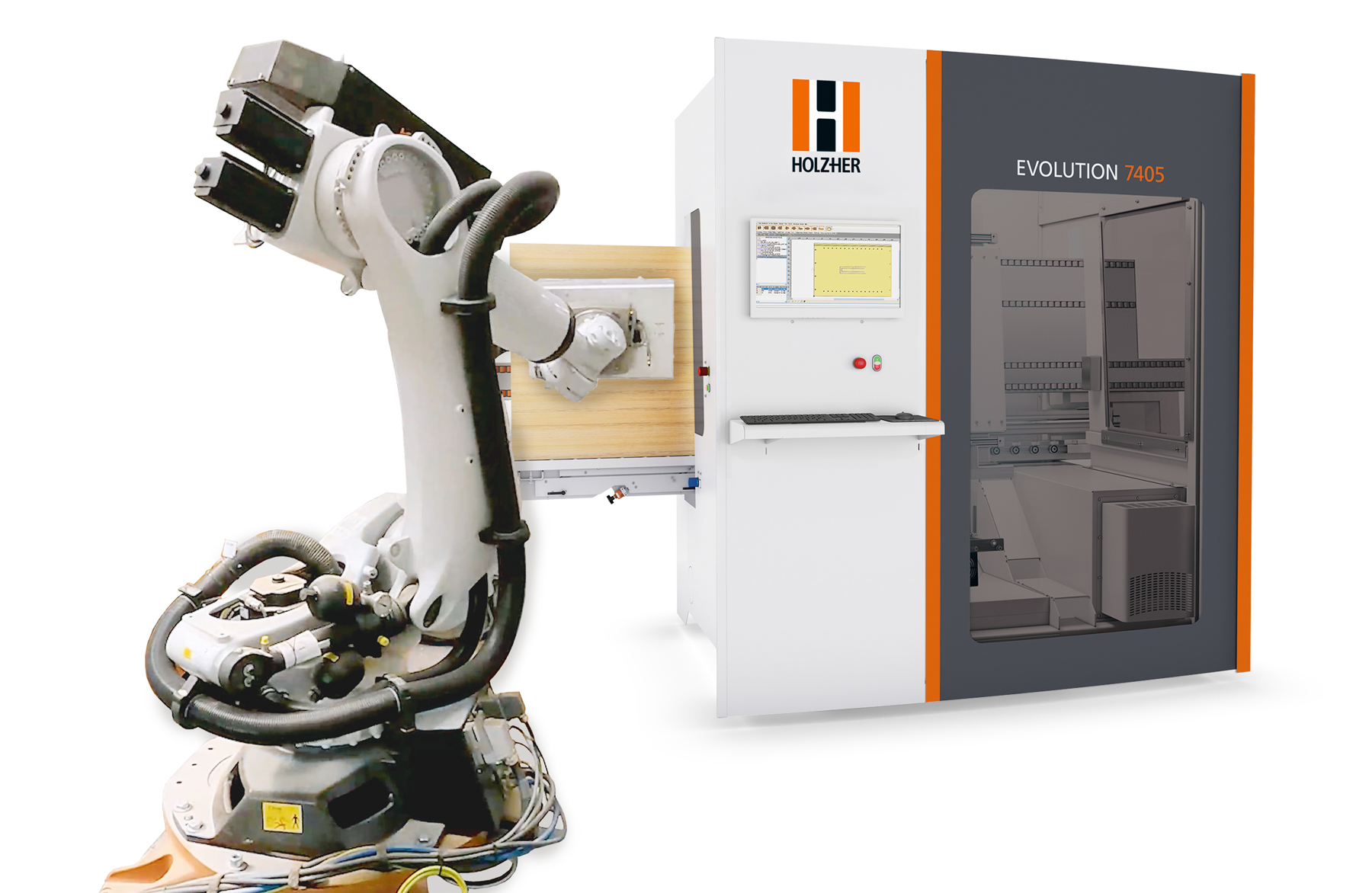 Holz-Her now offers the PinJet option on the Evolution, which allows for the driving of dowels pre-coated on both sides. After activating the dowel program, the steps of drilling, pretreating the holes and driving in the dowels are done automatically. Profiling, milling, drilling, engraving or complete machining of countertops are also possible on the machine. At LIGNA, the Evolution production cell will use EtherCAT communication technology to connect with a Kuka robot. Also on display by Holz-Her in Hall 27 will be the new Streamer XL Power, an axis-controlled edgebander with six NC servo axes.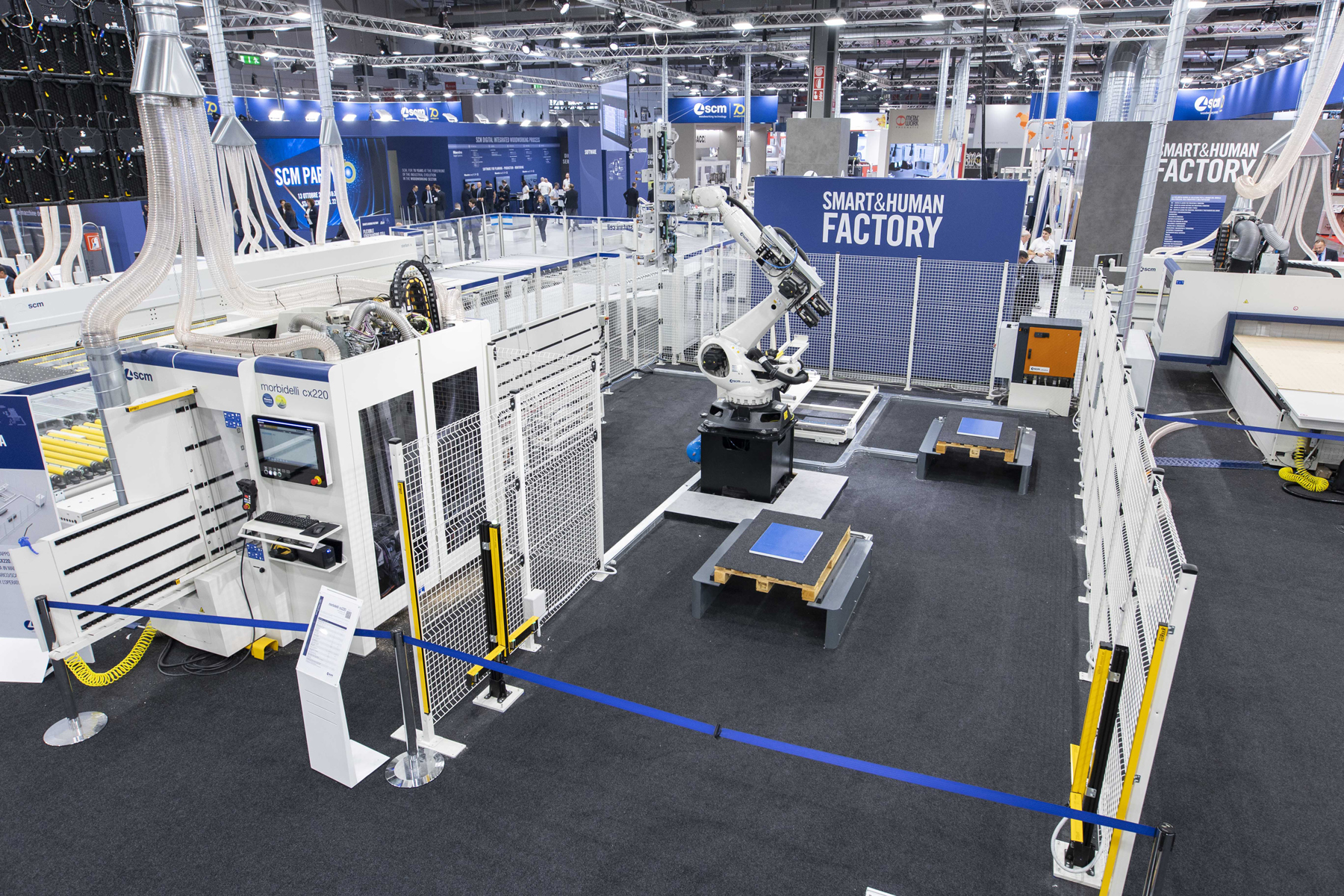 SCM says its Smart & Human Factory has been updated to include new automation systems and human, machine and robot interaction for a highly customized, versatile, interconnected and sustainable production. In the beam saw area for example, will be the new Gabbiani gt2 flexible cell with an articulated robot for automatic loading and unloading. Other new entries include the Morbidelli cx220 CNC drilling and dowelling flexible cell with a robot  (pictured) that creates all the parts of a piece of furniture more efficiently, even with pieces that differ considerably from one another. The cell produces a panel per minute up to 400 panels per shift with a single operator.  Also making its debut is an integrated cell for small businesses. SCM's space at LIGNA will span more than 32,000 square feet (3,000 square meters) between Hall 13 and Hall 16 (Superfici technologies for finishing).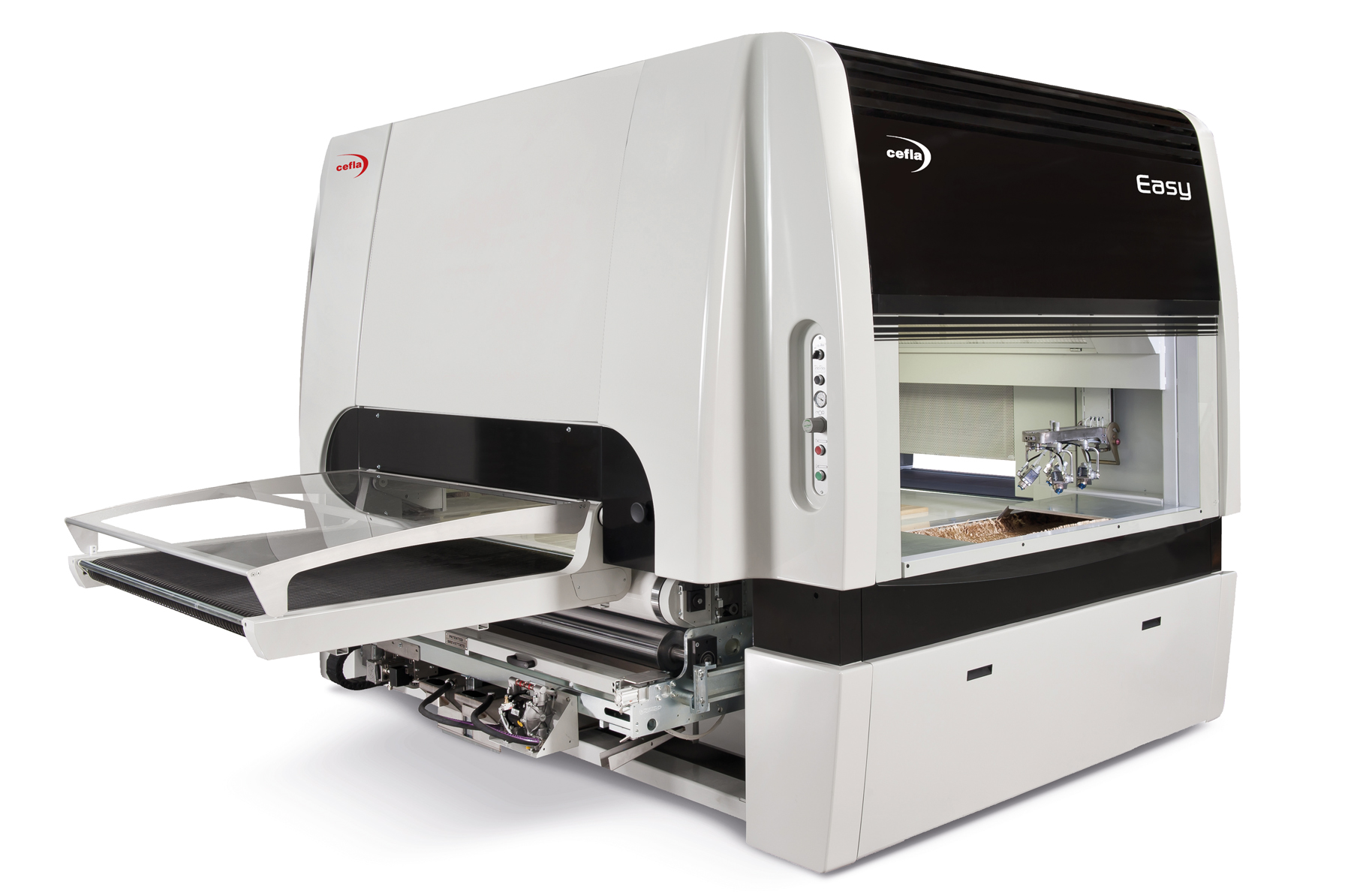 Among the many finishing systems shown by Cefla in Hall 17, the new Easy spray system is an oscillating coater with two arms and a brand-new fast color switch system. Managed by special software and featuring a new mixing valve system, Easy is the platform for Cefla's launch of its new FCS system that enables companies to implement color changeovers in less than 10 seconds, without stopping production. The new system also significantly reduces material waste. Cefla also will have on display digital printing technology, edge and roll coating, as well as (Duespohl) wrapping and laminating equipment.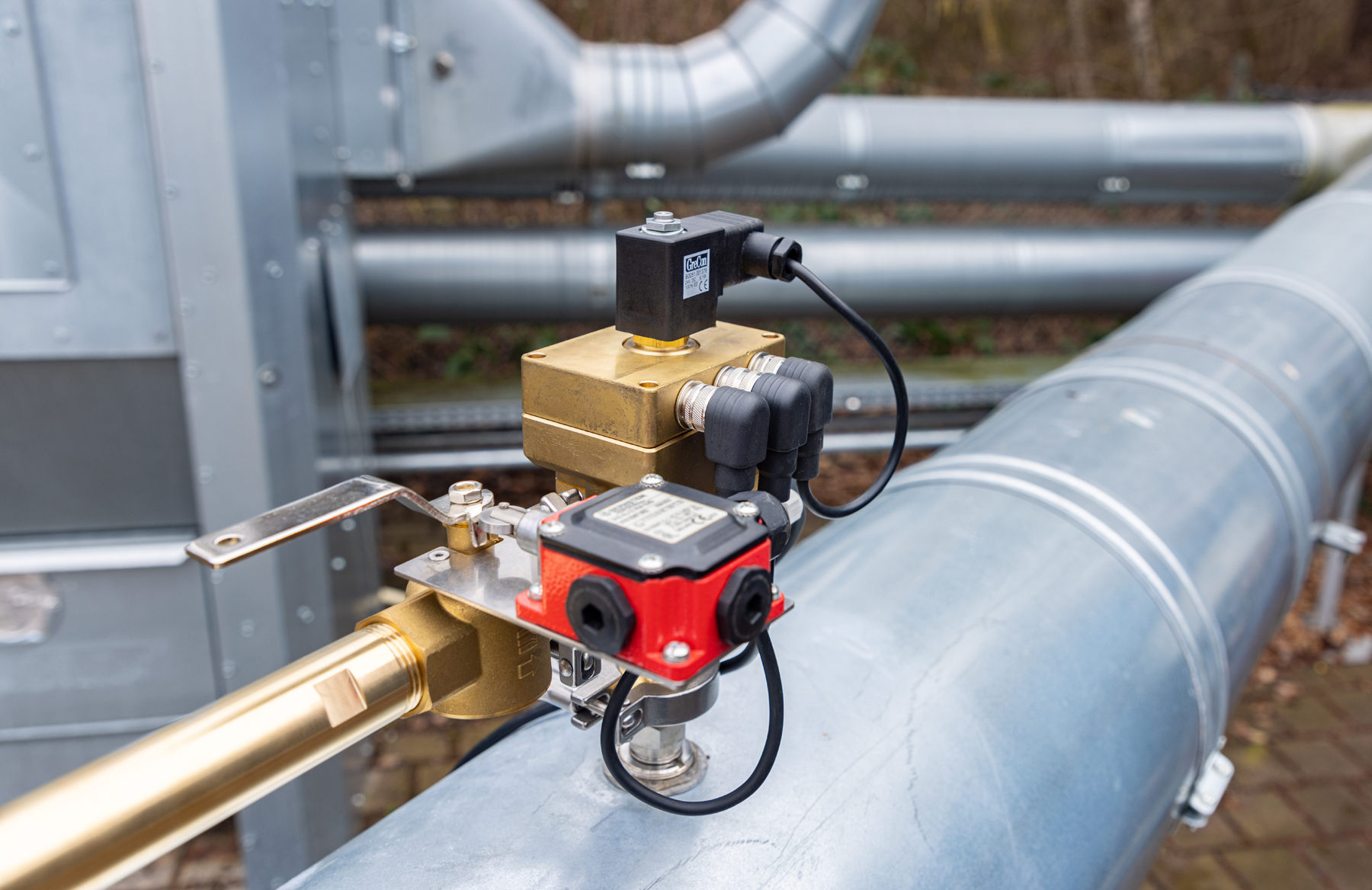 Fagus-Grecon will feature intelligent technology from its two divisions, fire protection and measurement, at its booth in Hall 26. In fire prevention, The company has continued the digitalization of its product portfolio and, following up on the intelligent detection technology (IDT) shown at the last LIGNA, presents a maintenance-optimized extinguishing system with intelligent extinguishment technology (IET). On the measuring side, GreCon's EdgeInspect is a quality control system for furniture edges and door frames that detects defects such as broken edges, missing or too short decorative strips or breaks in edges.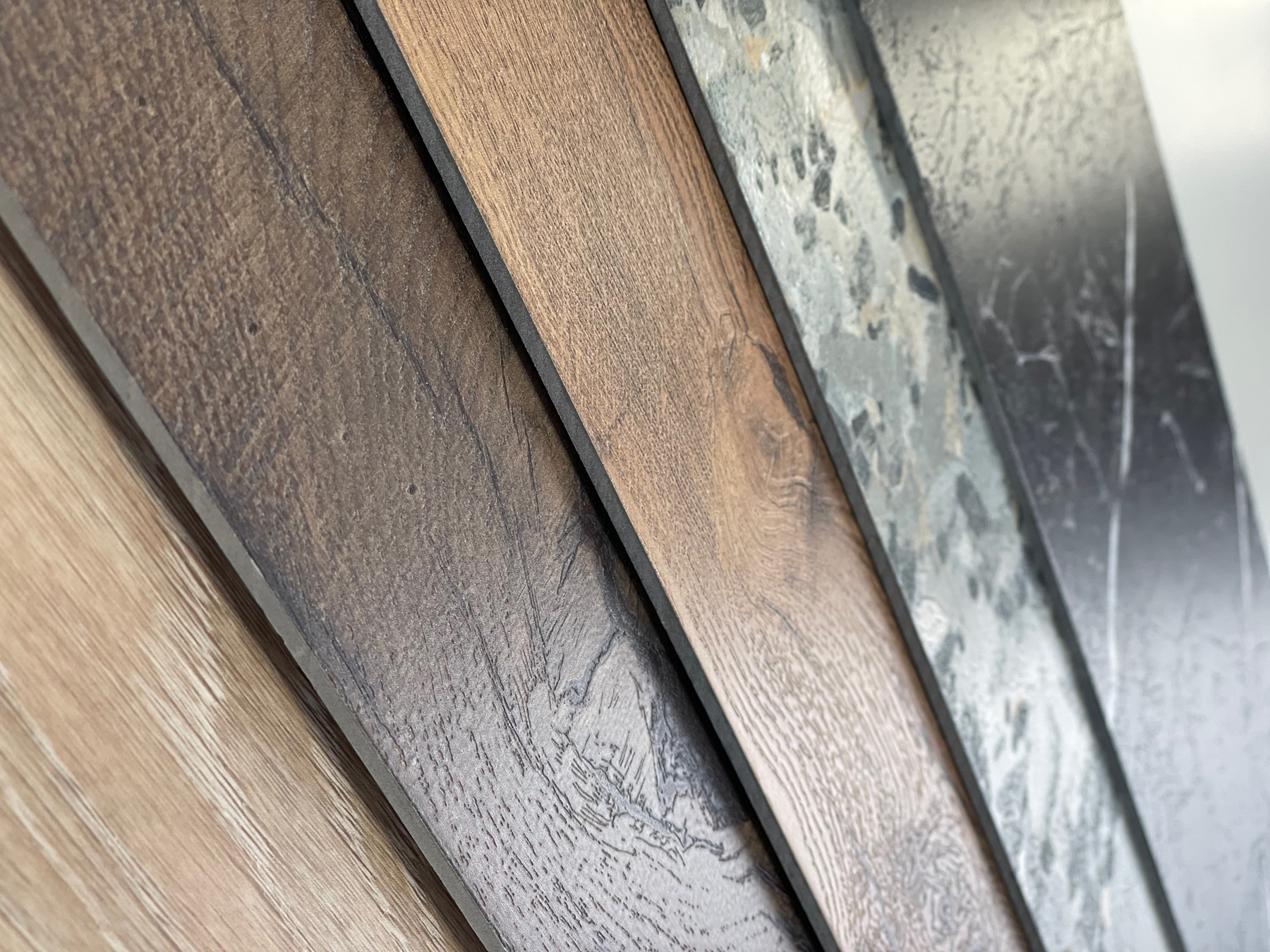 Surfacing solutions shown by Hymmen in Hall 26 will include its award-winning Digital Lacquer Embossing (DLE) technology, which the company says delivers highly realistic optics and haptics. The patented technology achieves these results by printing a transparent liquid medium into a layer of structure lacquer using the technology of the Hymmen Jupiter digital printing lines. The DLE technology also creates structures that are embossed-in-register (EIR) to the decor of the surface – regardless of whether they are printed digitally or via an analog method. Watch a video.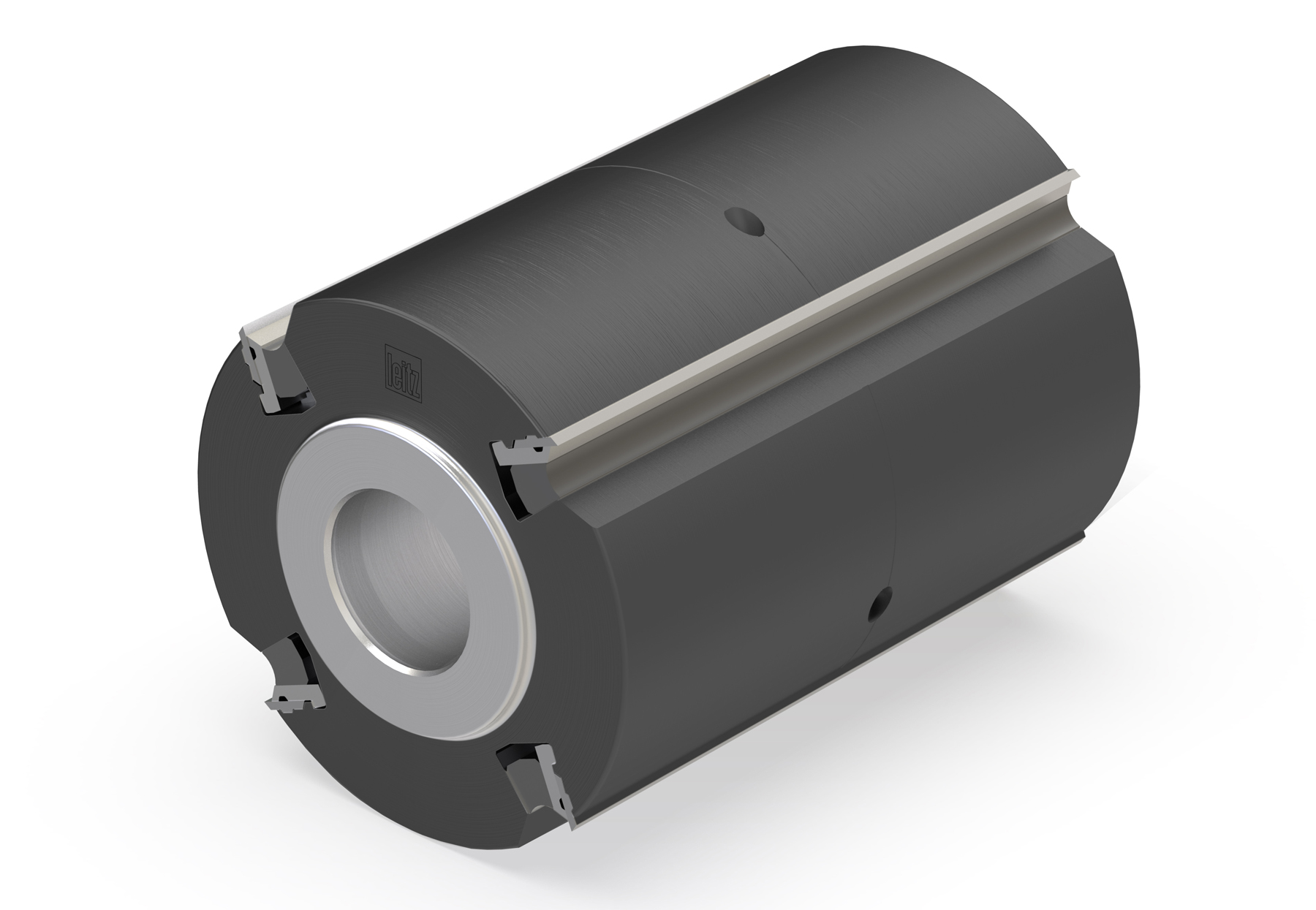 Under the theme "Solutions in new dimensions," Leitz will showcase in Hall 15 several product launches including the CentroPlan cutterhead (pictured) for furniture and moulding production. The idea behind this is to recycle used VariPlan knives and re-install them in this tool system as disposable reversible knives. Also on display will be a boring drill with a TC-replaceable head. Letiz says the quick and easy exchange of the replaceable head reduces set-up and adjustment times and the replaceable heads can be reground, which makes the entire system economical. Leitz will also show a router bit that has been specially developed for the thin-side machining of HPL materials.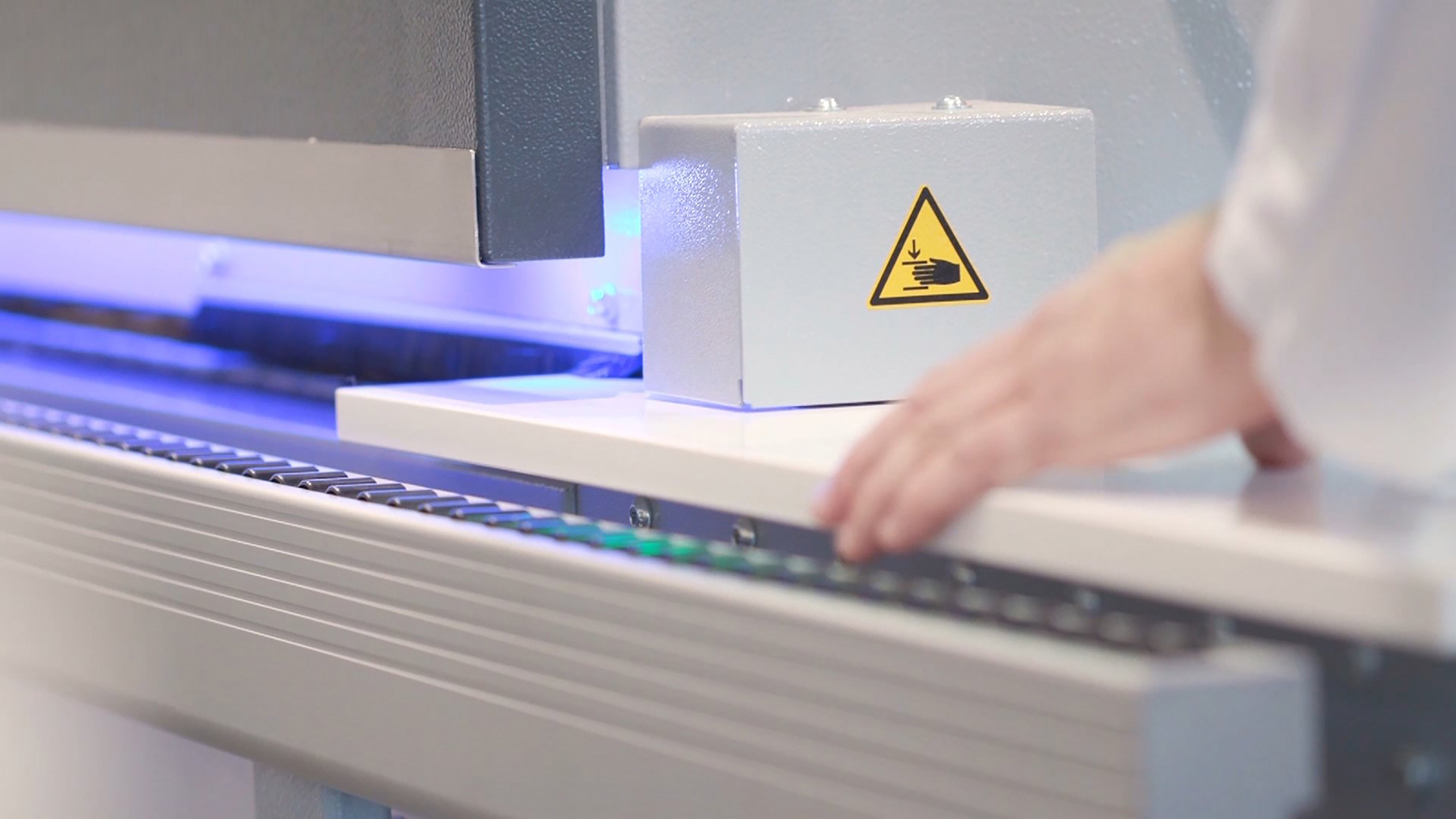 Jowat has established a complete Green Adhesives package to make bonding applications in furniture and buildings more sustainable. The company says reactive PUR hot melt adhesives with hazard-free labeling from the Jowatherm-Reaktant MR series promote safety at the workplace and prevent costs for the additional training of processors prescribed in the EU. Special hot melt adhesives with low processing temperatures and high yield facilitate resource-saving manufacturing processes, and low-emission adhesives promote consumer safety, Jowat says. Jowat will be in Halls 15 and 27.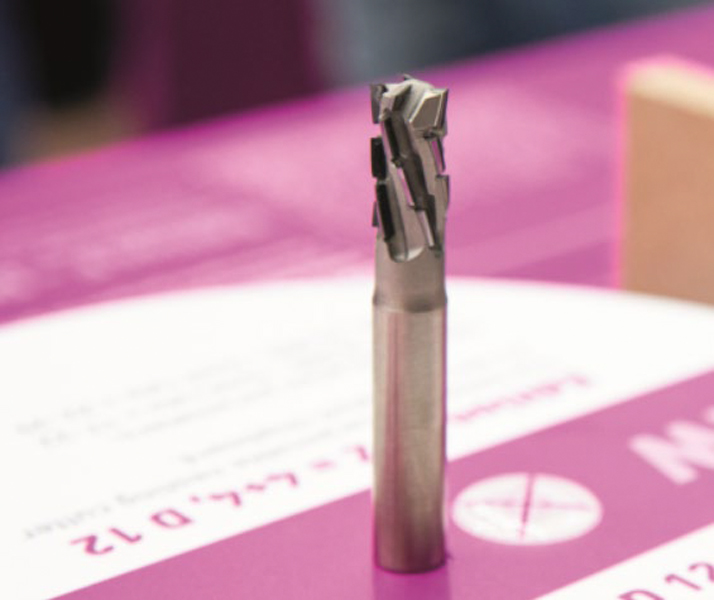 At LIGNA, Leuco will present a new, patent-pending concept for arranging cutting edges on basic tool bodies. The new tool concept is based on the Fibonacci principle and is shown on several tool types, including a Z4+4 nesting cutter with a diameter of 12mm (pictured), jointing cutters with exchangeable cutting blades "SmartJointer airFace" and Leuco p-System, and disk finger cutter. Leuco says benefits include lower power consumption and a finer cutting pattern to higher feed rates and longer tool life. Another novelty at the show will be the regeneration of fixed slide milling cutters.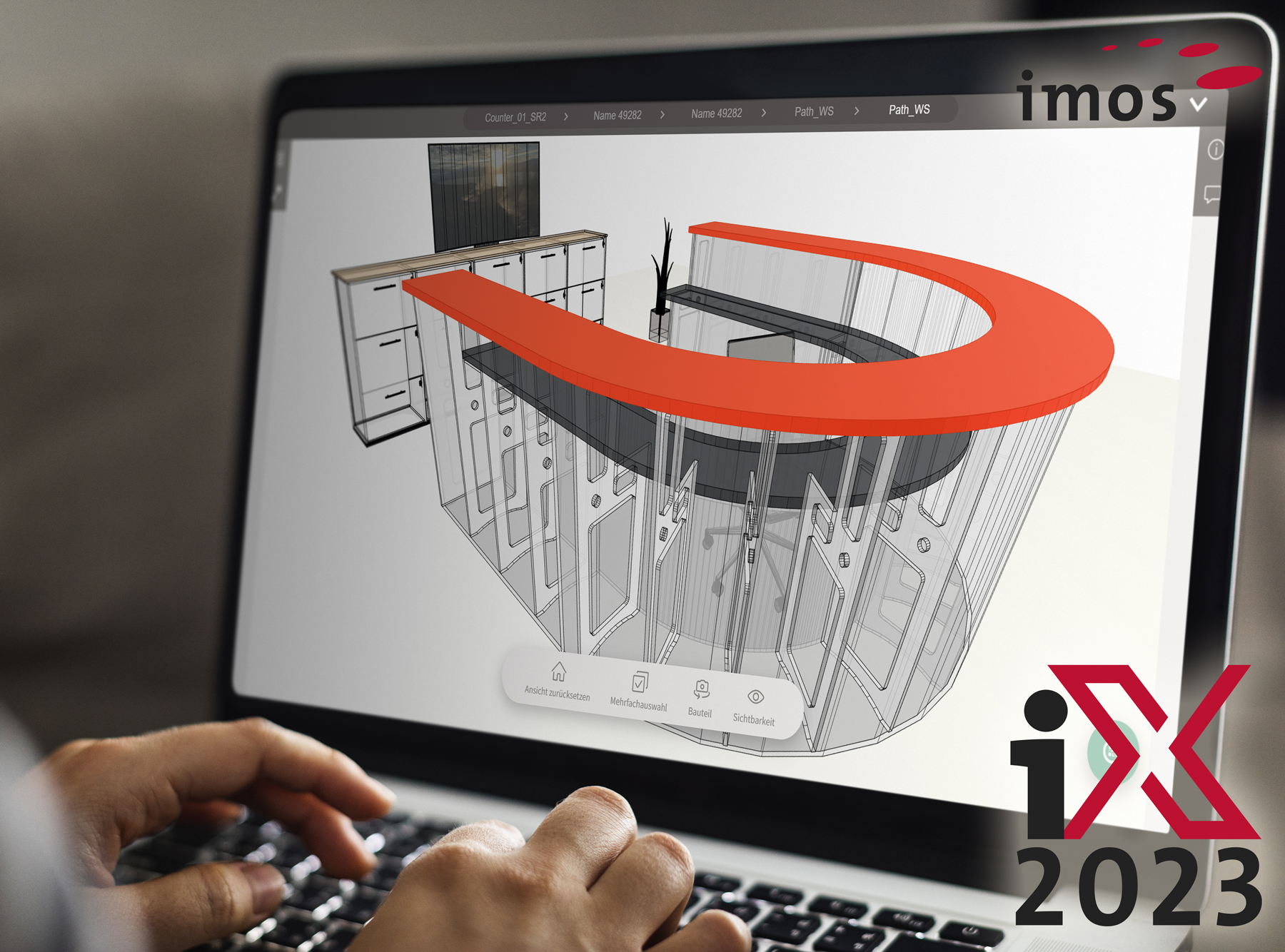 Imos AG will present new versions of its iX software in Hall 15 at LIGNA. New for iX CAD is the development of a special design wizard for complex components. This allows several constructive elements to be combined into one component, whereby the resulting component is parametric. Professional presentations also can be made directly from iX CAD and distributed to customers via the cloud. The company's cloud-based service solution, imos iX Scout, also allows for the paperless provision of digital documents for manufacturing and assembly.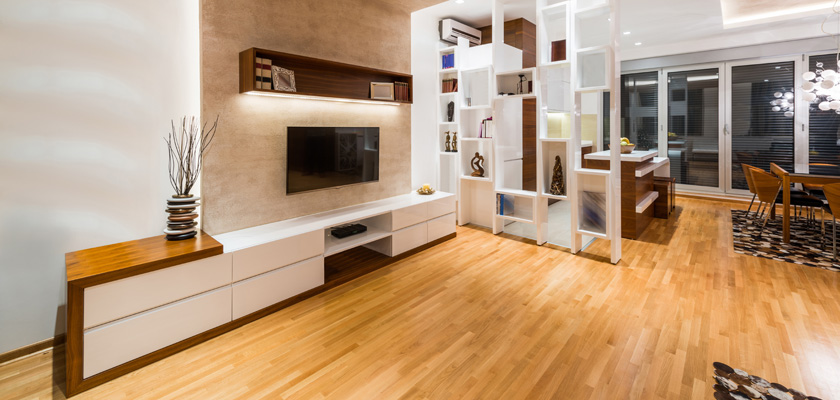 Micro-emission (ME) PUR adhesives will be a focus for Kleiberit at LIGNA. The company says its environmentally friendly ME adhesives feature high bonding properties combined with safe and easy handling and have no labeling requirements. Among the products on display in Hall 15 will be Kleiberit 707.9.03 ME and 707.9.38 ME hotmelt adhesives for edgebanding. Production lines also will be running to demonstrate the advantages and uses of Kleiberit's HotCoating technology  (pictured), including for high-gloss and super-matte finishing.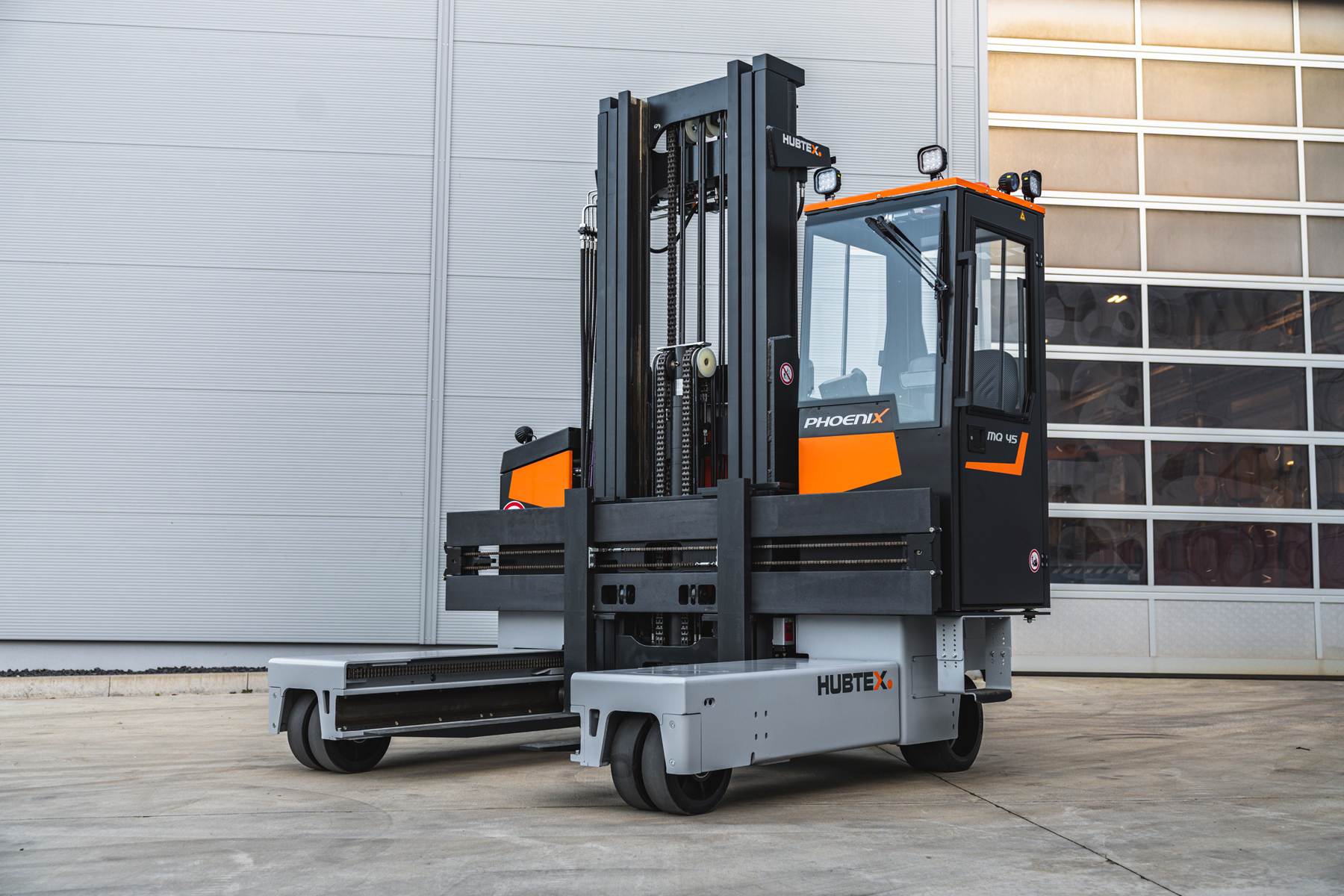 Industrial truck manufacturer Hubtex is expanding its PhoeniX range with the introduction of the new PhoeniX 2825 Series. The electric multidirectional sideloader for handling long, heavy and bulky goods has been enhanced with a silence pump that reduces operating noise by up to 10 dBA. Suitable for both indoor and outdoor use, the 2825 Series covers a broad range of applications in narrow aisles. On display in the open-air site on the west side of Pavilion 33, the low-noise truck comes with an array of features, including a choice of three driver's cabins.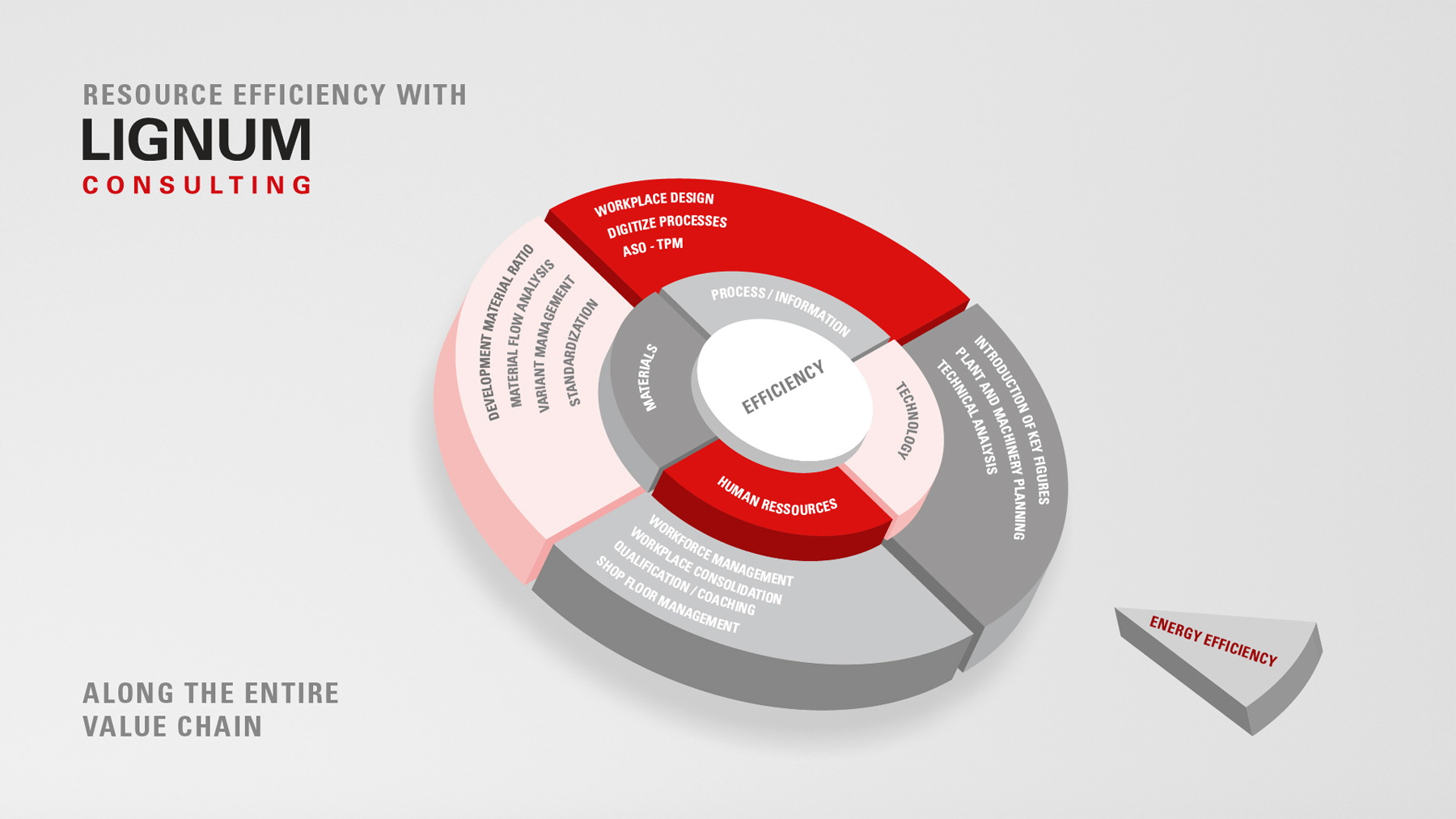 Under the motto "Resource Efficiency E4", Lignum Consulting will showcase for attendees four key areas for improving efficiency: material, process/information, human resources and technology. Located in Hall 12, Lignum Consulting offers consulting and engineering services for the international wood and furniture industry. and has assisted more than 400 companies worldwide.  Headquartered in Germany, it has offices in the United States, Canada and Brazil.
Have something to say? Share your thoughts with us in the comments below.