LIGNA 2023 returns with a renewed focus
January 26, 2023 | 1:01 am CST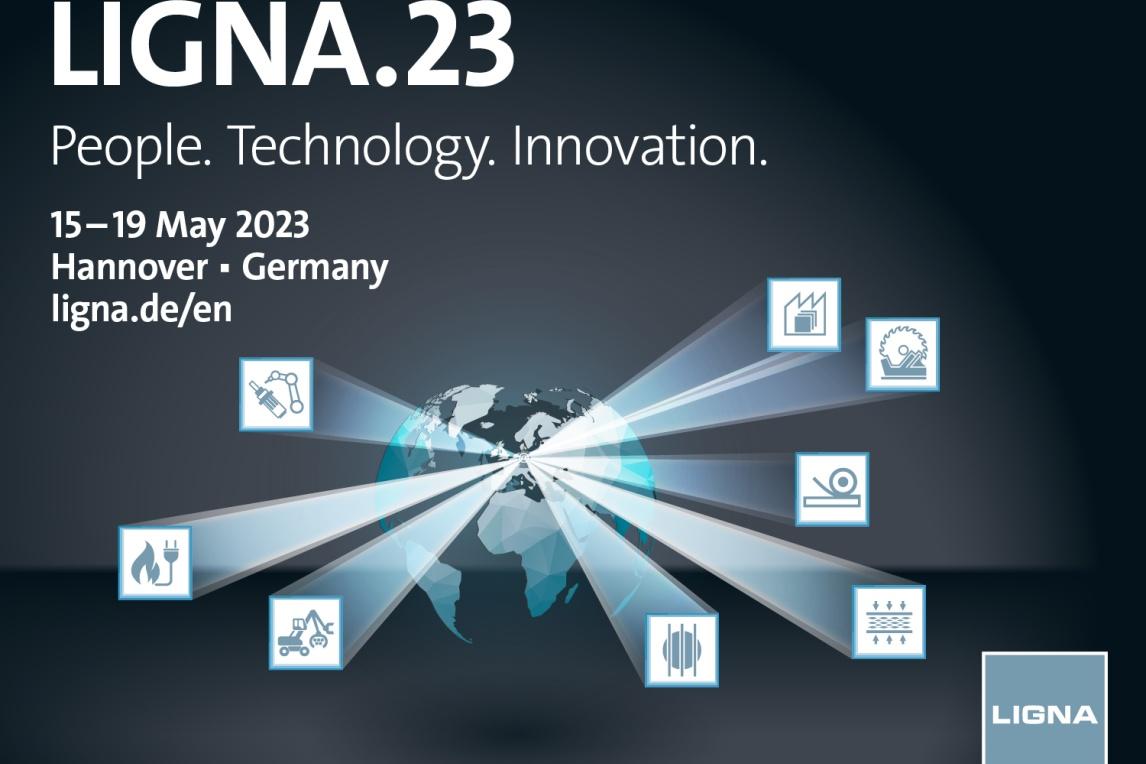 HANNOVER, Germany -- More than 90,000 professional visitors from the woodworking and wood processing sectors are expected to attend LIGNA, the world's largest trade fair for woodworking and wood processing plants, machinery and tools.
Hundreds of vendors spread through seven categories of machinery, plant and technology from across the entire wood industry will be showcasing their wares from May 15 to 19 at the Deutsch Messe in Hanover, Germany.
Global market leaders welcome this opportunity to stage live demonstrations of their plant and machinery in operation. Every two years the wood industry has its own season ‒ LIGNA.
LIGNA is not only the place to discover innovations, conclude deals and build networks. In addition to the pure exhibition, the show has numerous special formats to offer for the entire spectrum of the woodworking and wood processing industry that go beyond the pure exhibition area.
The show features seven categories of products, and three broader themed focus areas.
The exhibition categories are:

Energy from Wood
Decentralized energy generation and utilization: from the recovery of process energy in the timber industry to its utilization for heating purposes or conversion to electric power.
Wood Based Panel Production


Machinery, plant and auxiliary materials for the production of wood-based panel products, wood-like materials and composites: chipboard, MDF, OSB, CPL, HPL and veneer production.

Machinery for Forestry, Roundwood & Sawntimber Production 

The focus here is on state-of-the-art forestry technology and optimized timber harvesting systems,
the utilization of wood as a material and an energy source, mobile sawmills, logis,tics and transport.

Machine Components and Automation Technology


With Industry 4.0 now in full swing, machine components and automation technology today play a major role.
Exhibits here include efficient drive solutions, control systems for CNC machines, efficient and energy-saving transport and handling solutions, as well as high-performance industrial robots.

Surface Technology


Advanced technologies, digitization, integration, and automation are key trends in woodworking and timber processing and hence keynote themes at LIGNA. One of the focus themes at LIGNA is Woodworking Transformation.

Sawmill Technology


The complete range of sawmill technology will be showcased at LIGNA – from log yard and initial rip sawing to sorting, drying, and generation of the required energy input.
 
Tools & Machinery for Custom & Mass Production
Whether for batch-size one production or mass production runs, tools and machinery for processing
all types of wood products are on display here. Visitors can find out all they need to

know about working with solid wood, panel products, plastics, and composites. LIGNA will again focus on the breakdown of the technology divide between woodworking shops and industrial manufacturers.
In addition to the seven exhibition focus areas, LIGNA 2023 is also taking a broader look at woodworking-related themes, including:
Woodworking Transformation: Current and future developments in digitization and the consequences for the entire industry - from craft businesses to industrial concerns, from products and individual solutions to the overall process and business model. 
Prefab Building Processes: The increase in the relevance of wood in construction - both for pure wood buildings and for mixed wood constructions - leads to new requirements for efficiency and prefabrication.
Green Material Processing: The forestry and wood sector - the wood value chain - is an integral part of the circular bioeconomy. The wood-based bioeconomy is considered an innovative driver of technologies and is therefore highly relevant.
Have something to say? Share your thoughts with us in the comments below.