Canada's wood product manufacturing industry experiences strong growth
January 25, 2023 | 1:36 pm CST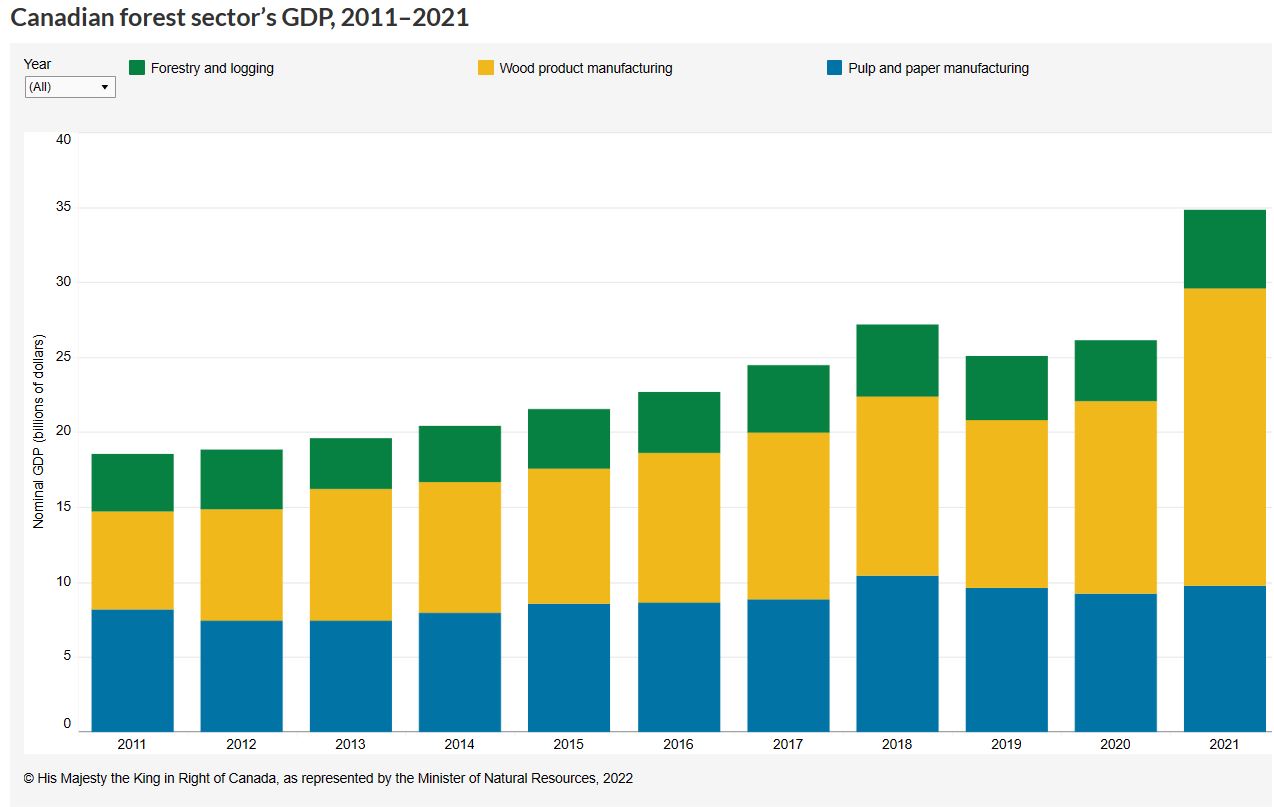 OTTAWA, Ontario -- Canada's wood product manufacturing output nearly doubled from $9.99 billion in 2016 to $19.82 billion in 2021, according to the 2022 State of Canada's Forest Report.

The annual report released by Canada's Minister of Natural Resources sheds light on the positive impact the flourishing forest and wood products industry has had on Canada's economy at large. With 362 million hectares of forest area, covering 40% of the nation's landmass, the wood product, logging and pulp and paper industries combined to contribute $34.8 billion to Canada's nominal GDP in 2021, according to the report. That represents an impressive 53% increase over the 2016 total of $22.7 billion and an 87% increase compared to the 2011 total of $18.6 billion. 

According to Statistics Canada, the nation had nearly 7,300 secondary woodworking establishments in 2020. More than 5,800 of these operations produced household and institutional furniture and kitchen cabinets. What's more, their payrolls totaled approximately $2.2 billion.

Ontario, home to the 2023 Woodworking Machinery & Supply Conference & Expo, ranks first with 2,881 secondary wood product manufacturers, followed by Quebec, 2,340; and British Columbia, 1,069.
See more statistics about Canada's wood-based economy in the latest edition of FDMC's almanac published in December 2022.
About the Wood Machinery & Supply Conference & Expo (WMS)
WMS, Nov 2-4, 2023 at the International Centre in Mississauga, Ontario, is world-renowned as Canada's preeminent industrial woodworking event. For more than four decades, WMS has connected Canada's woodworking professionals with the world's most prominent machinery manufacturers and suppliers. WMS 2019 attracted attendees from nine Canadian provinces and two territories.
The 2019 edition featured 75,000 square feet of exhibit space and more than 175 exhibitors. 
For information about exhibiting and sponsorship opportunities, contact Gavin McAuliffe, exhibit manager, Corcoran Expositions at [email protected] or 312-265-9649.
More Woodworking Network events
Closets Conference & Expo / Wood Pro Expo Florida, April 12-14, 2023, Palm Beach County Convention Center, West Palm Beach, Fla.

Executive Briefing Conference, Sept. 26-28, 2023, The Broadmoor, Colorado Springs, Colo.

Wood Pro Expo Lancaster, Oct. 12-13, 2023, Spooky Nook Sports / Warehouse at the Nook, Manheim, Pa.

Wood Machinery & Supply Conference & Expo (WMS), Nov. 2-4, 2023, International Centre, Mississauga, Ontario.
Have something to say? Share your thoughts with us in the comments below.