Dates set for WCMA wood components conference, plant tours
May 31, 2018 | 9:52 am CDT
Each year, the WCMA conducts its flagship event, the Fall Conference & Plant Tour Event. The Fall Conference presents an excellent opportunity for WCMA members and non-members to network and have open discussion on common concerns. Attendees also tour the production facilities of several dimension, component, cabinet, furniture, millwork, and related woodworking companies. These plant tours provide attendees a unique opportunity to observe innovative woodworking manufacturing operations and discover new manufacturing techniques, exchange ideas, and learn about alternative manufacturing methods. Everyone comes away with at least one good idea that can be implemented in their own plants.
The 2018 WCMA Fall Conference & Plant Tour Event will be held Oct. 8-10 at the Hilton Garden Inn, in Wausau, Wisconsin. Tours of several outstanding woodworking operations are planned, including: Kolbe & Kolbe Millwork, Menzner Lumber & Supply Co., Counter-Form, Weather Shield Window Manufacturers, Wausau Homes, and Kretz Lumber Co. We will also be touring the North Central Technical School.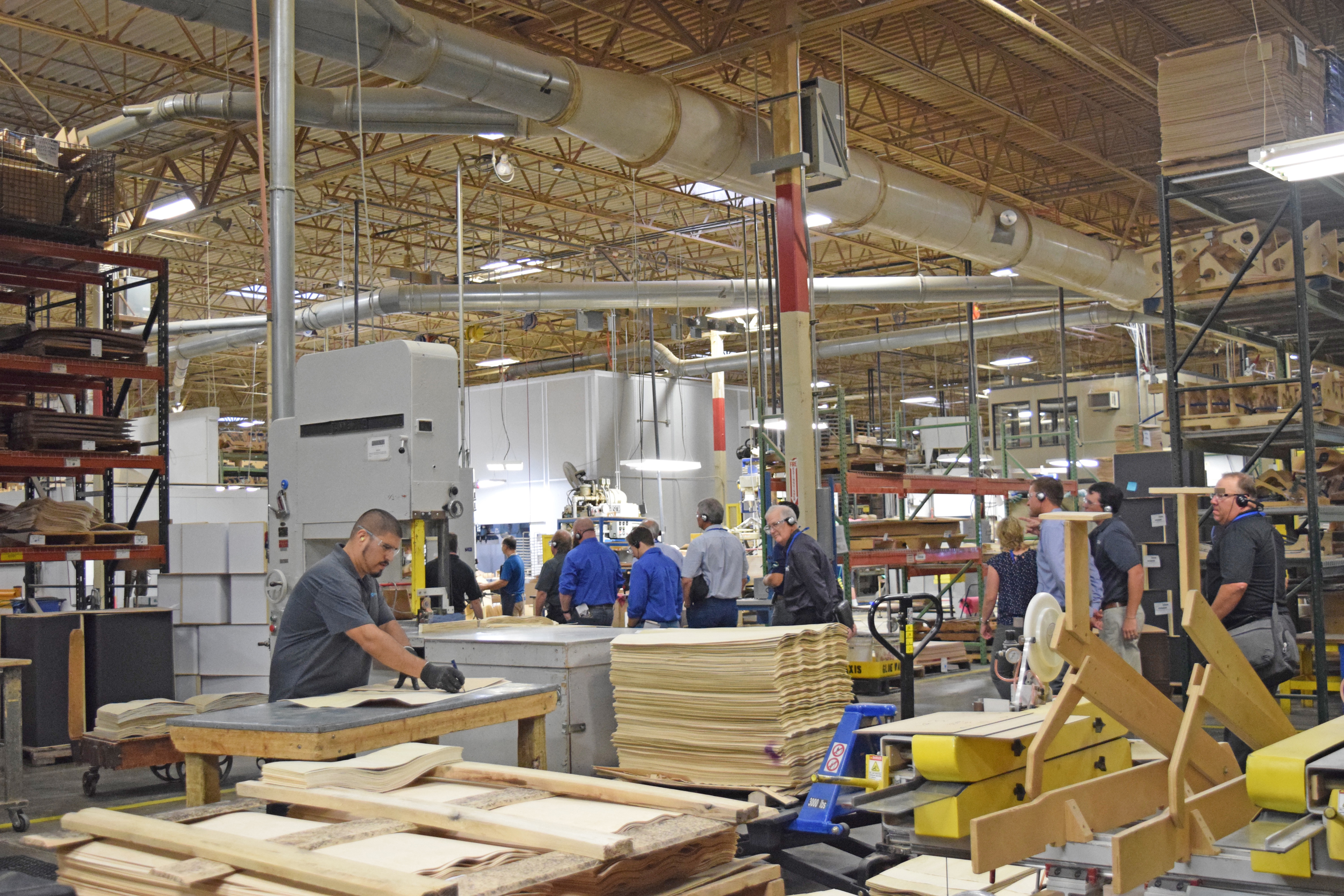 Attendees toured seven plants at the
2017 WCMA Fall Plant Tour Event in Michigan.
Pictured: A visit to Davidson Plyforms.
In addition to the plant tours, we will have two dynamic speakers. Our keynote speaker, Guy Bucey, will present on Monday evening, Oct. 8. Guy is a 33-year old decorated Marine who served two deployments in Iraq. After retiring from the military, he took up woodworking as a therapeutic hobby and even entertained the idea of starting his own custom cabinetry business. In the summer of 2011, he joined Inova, whose factory is located outside of Albany, New York. The company designs and manufactures multifunctional, space-saving furniture, specializing in modern day Murphy-Beds. He saw the opportunity as a chance to learn the business side of carpentry and expand on his woodworking prowess. However, he quickly filled a void the company had in management. He was hired as an assembler, was promoted to team leader in subassembly, then supervisor and now leads operations for the entire facility as the Director of Operations.
Guy's presentation, titled "How to Motivate Today's Workforce by Aligning and Resetting Your Company and Its Culture" will focus on developing workforce-right people in the right places to achieve a successful business. He will discuss eliminating the external excuses and focusing on how you, as the manager/owner, can change and adapt to today's hiring and employment needs.
Our next speaker, Brad Cairns with the Center for Lean Learning, will address the group on Tuesday, Oct. 9. Brad's talk, titled "Kick-Ass Lean" embodies the essence of Lean: what it's all about, how to get started and the culture. He will share highlights from his manufacturing company, the challenges they faced, and how they overcame them. Brad presented at AWFS in 2017 and was voted best speaker at WMS.
Networking with Tech Partners 
This year there will be two receptions and one sit down dinner, which will connect leading providers of woodworking machinery, equipment, supplies, software and other business solutions with WCMA members. WCMA members and Technology Partners also will have opportunities to network and share solutions to manufacturing challenges.
A listing of WCMA Technology Partners can be found at the WCMA's website, WCMA.com. These companies are a great source for all your woodworking machinery, tooling, software, and business solutions.
The WCMA Educations and Programs Committee has been working hard to ensure that there is something for everyone, so be sure to make plans now to have Plant Managers and other key personnel in attendance. Program details and registration for the WCMA Fall Conference & Plant Tour event will be available in July. For more information about participating in this event, contact the WCMA office at wcma@wcma.com, or visit WCMA.com today.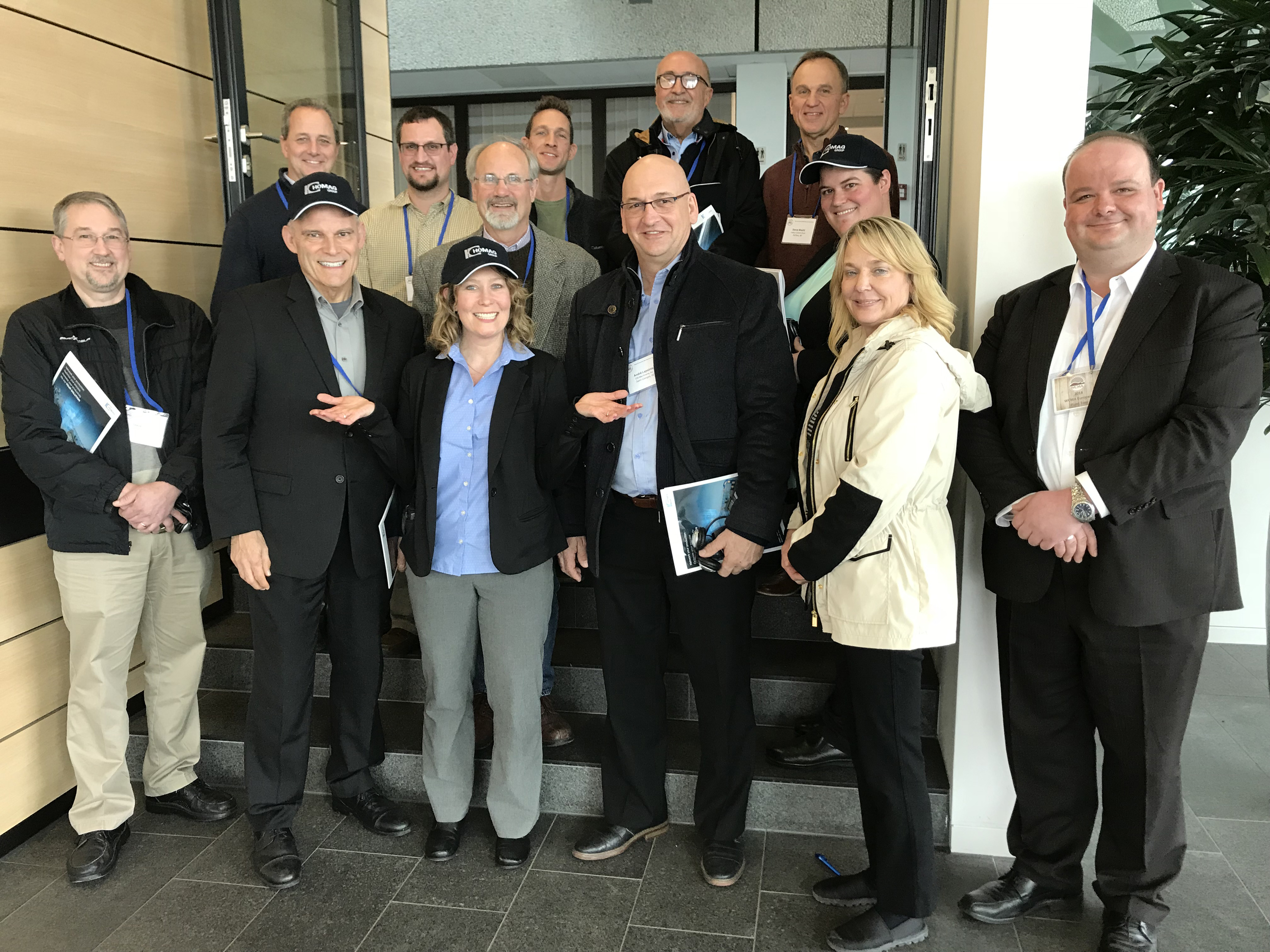 The successful
spring tour to Europe
was sponsored by Stiles Machinery and Pollmeier Inc.
2018 Spring European plant tour
The WCMA held its second European Plant Tour event in March 2018, and it was a great success. Members and Tech Partners that participated in the tours all had positive takeaways. The event was sponsored for three days by Stiles Machinery, and two days by Pollmeier Inc.
WCMA President Steve Mashl, Valley Custom Door, stated "This was my second trip with the WCMA group to Europe and it lived up to our expectations. We saw many highly automated factories engaging in panel and wood processing, along with tours of the Homag factory and Pollmeier sawmills. The combination of the plant tours, networking with other members, and just taking the time to see how other businesses operate was amazing. This will certainly help me in the future to make better decisions in our company's growth in technology and manufacturing."
Steve Gerber, Gerber Wood Products, added "I found the quality of the plant tours to be excellent. They offered a diverse view into the European philosophy of manufacturing by utilizing more automation and technology, replacing aging equipment quickly, and utilizing a wide range of wood composite materials.  I saw levels of automation in action that I had often dreamt of but never believed were being applied in real woodshop applications. I left my week in Germany inspired and ready to apply aspects of what I learned in my own business."
Overall, quite a bit of ground was covered during the week, and the group saw a variety of manufacturers – from high-end global suppliers, to local custom shops. The consistent method for their success was utilizing automation to meet customers' needs, production times, to work around an unreliable workforce, and efficiently produce the quality products customers expected.
Because of its success, the WCMA is planning a European Plant Tour event in 2020. If you were unable to participate in 2018, you will surely want to participate in 2020! Plans are still being finalized; be sure to check our website, WCMA.com for more information.
Have something to say? Share your thoughts with us in the comments below.