2020 Cloud Contest winners announced
January 2, 2020 | 9:07 am CST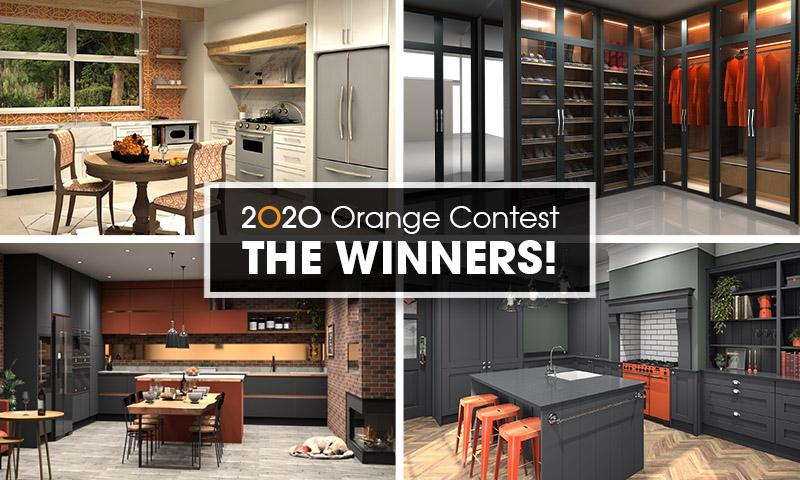 Photo By 2020
 WESTWOOD, Mass. - 2020 announced the winners of its 2020 Cloud Contest. Interior designers from around North America and the UK submitted their best designs using 2020 Design and 2020 Fusion. 
These applications allow kitchen, bathroom and closet designers to create visualizations using actual materials and finishes from the widest selection of manufacturer catalogs available. They also give users access to a wide array of decorative items that can be used to personalize any design. Users have easy access to up-to-date catalogs in these applications via the online streaming solution 2020 Cloud.
Designers were asked to use orange items from the 2020 Cloud decorative catalog in their designs to participate in the contest. There were over 85 submissions this year. The four winners were selected by an expert panel of judges.
The winners of the 2020 Cloud Contest for 2019 are:
Brittany Hutt from Cabinets.com
Farshad Zargaran from I Love Kitchens
Gina Brunt from Escape Bathrooms and Kitchens
Yaprak Yalcinkaya from Designer Kitchen Direct
"Designers that leverage 2020 applications to illustrate their ideas are a step ahead of their competition," said 2020 Global Training Manager Vanessa DeKoekkoek, "and the entries of the 2020 Cloud Orange Contest prove just that!" "After much deliberation," continues DeKoekkoek, "the winning spaces include high-quality, jaw-dropping designs with a pop of our signature color."
To learn more about the 2020 Cloud Contest winners, please visit the
contest gallery
.
Have something to say? Share your thoughts with us in the comments below.