Cherry on balsawood supercar took over 10 years to build
May 10, 2016 | 1:43 pm CDT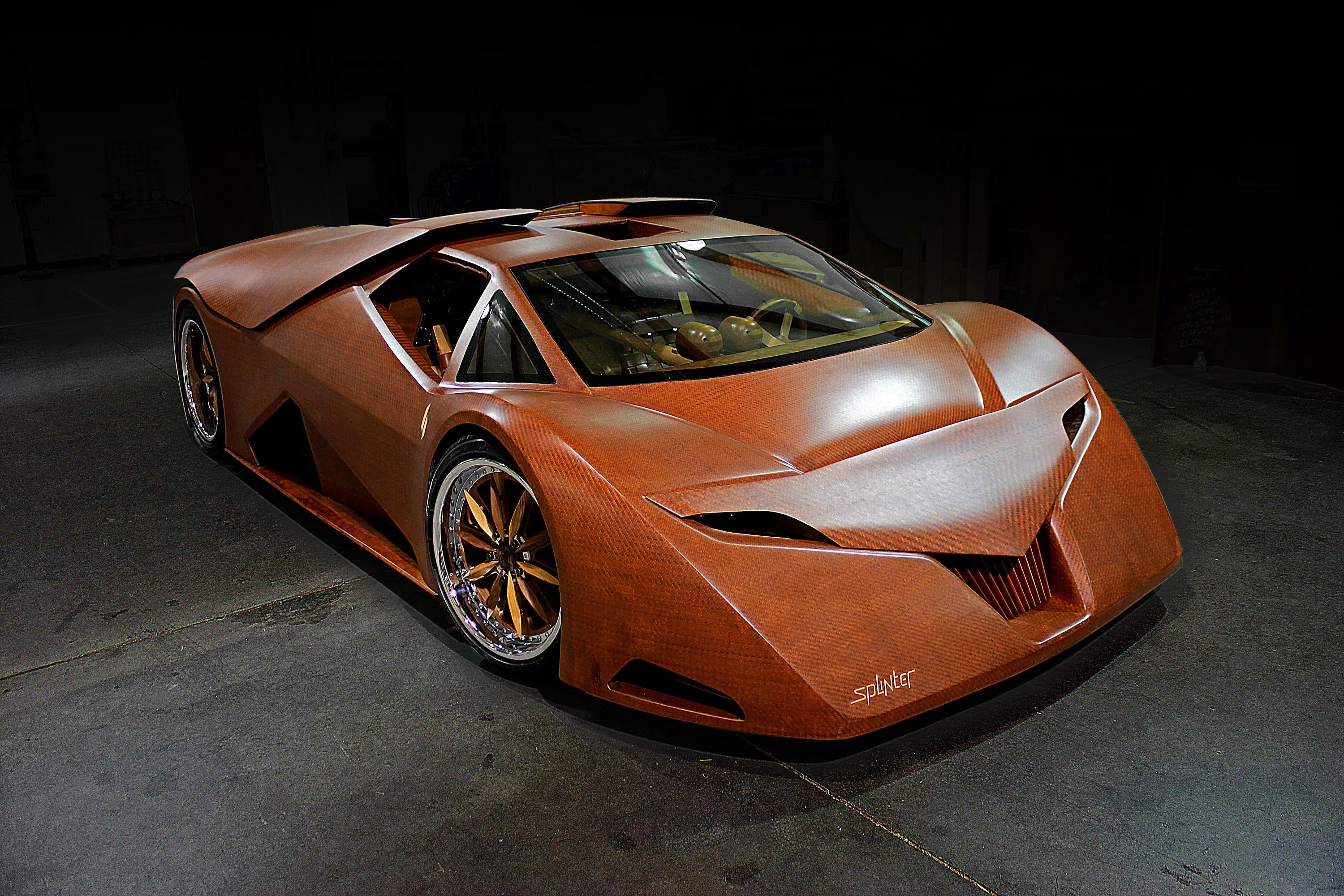 Photo By Joe Harmon
An industrial designer from Mooresville, North Carolina has spent 10 years and 20,000 working hours constructing the Harmon Splinter - the coolest wooden car in the world.
Joe Harmon's Splinter supercar is high-performance, mid-engined and built from wood composites.  The body and chassis, along with large percentages of the suspension components, wheels, interior, and other details are all constructed of wood.  Maple, ash, birch, hickory, cherry, walnut, and oak are used.
---
"Wood is our only naturally renewable building material; it takes an extraordinarily small amount of energy to produce and is totally biodegradable," says Harmon on his website.  "With a better strength-to-weight ratio than steel and aluminum, it can be made into a lot more things than people tend to give it credit for.  We wanted to push the line on what was considered wood's limitation as a building material while fulfilling a lifelong dream of designing and building a car from scratch."
Harmon wanted to build his own car since was a kid, and began the project as a graduate industrial design student behind his house.
Harmon with the Splinter in 2008.
He says the inspiration behind the Splinter was a WWII airplane called the de Havilland Mosquito.  Equipped with two Rolls-Royce V12 engines, it was the fastest piston-driven plane of its era, and was made almost entirely out of wood. 
The Build
The body of the car is made from woven strips of cherry veneer with a balsa core.  Harmon and his team carved a buck by hand from solid redwood blocks and made a set of female molds from it.  These molds were used in conjunction with a vacuum-assisted resin-transfer process to form the wood veneer body panels. 
To achieve the compound curvature required by the body design, the team wove strips of veneer into a cloth.  Two looms were designed and built by the team to generate this cloth material. Harmon said this greatly increased the wood's utility in composite construction.  
The chassis (structural framework) is made from a series of bent and molded laminates which were secondarily riveted and bonded together.  A custom mold was built for every component of the chassis, and these components were formed, fit, trimmed, and bonded together to comprise the overall structure.
The wheel centers are made from rotary-cut oak veneer, covered by a walnut sunburst on the outside face and a cherry sunburst on the inside face.  Each wheel consists of over 275 individual pieces.
The Splinter's engine is a 7.0L small-block V8 and features an 8-throttle-body intake manifold, a custom camshaft, and a custom-built crossflow exhaust system.
Headlights are composed of a molded plywood bucket which houses a pair of light assemblies per side. One light in each bucket is a Xenon HID, while the other light utilizes an amber halogen bulb for running light and turn signal duties.
The taillights are made from walnut dowel rods which house LED strips. The LEDs on the ends switch from red to amber when the turn signals are activated.
The team made custom housing and faces for a set of reverse sweep gauges with simplicity as the goal.
"We wanted to keep the interior as simple as possible, so we only used a tach and speedo for the gauge cluster. Other readings like water temp and oil pressure can be checked on a smart phone or OBD scanner."
Finished Product
"It has a title, but no license plate or inspection sticker. It's super low to the ground, and it's very comfortable. You can feel that it has tremendous torque and power," Harmon says.
Despite achieving a level of quality that few craftsman have, Harmon says he never wants to do something like this again. 
"It will always be a one-off. If it were to get damaged or wrecked, that'll be that."
Have something to say? Share your thoughts with us in the comments below.