Walk-in wardrobe design ideas to get your clients organized
By Anna Sharples
April 27, 2020 | 10:43 am CDT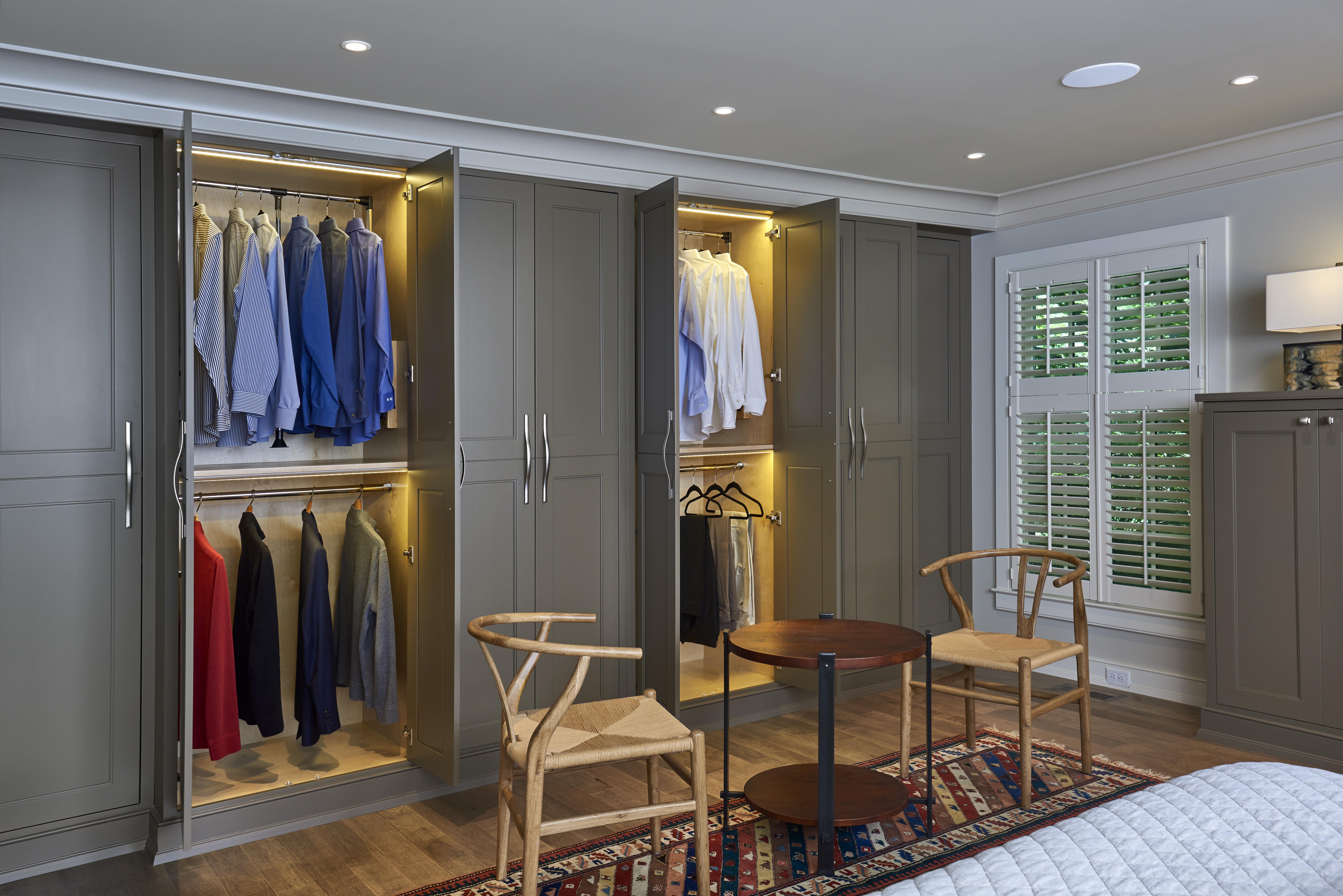 Photo By Just 4 You/Thomas Lutz
Imagine how life would be different if you put your walk-in wardrobe ideas into action.  No longer is your bedroom your de-facto clothes store; now you have a place where your beautiful outfits are meant to live.  Here we explore some of the best walk-in wardrobe design choices to inspire you.
Finding your space
Your first step is to identify where your walk-in wardrobe will fit.  You have the option of incorporating it into your bedroom space, installing a full-height partition to separate it off from your sleeping area.  Alternatively, you can take one of your bedrooms and convert this into a wardrobe.  If you are thinking of extending your home, adding room upstairs and downstairs, consider adding in a walk-in wardrobe space to your blueprints.
Hangers are most useful
There is always an option to put drawers under beds and in odd spare spaces.  However, finding room to hang your clothes is more challenging.  Therefore, you need to prioritize hangers – mostly because you can store up to 20% more clothes this way too.  It is possible to have two rows of racks in the average room height.  If you put a rail along the ceiling and one halfway down – then you double your options.  You can always use a pole to retrieve those outfits slightly out of reach. You can still use any spare space underneath for drawers and shelves for your shoes.
Leave no space unused
If you have areas above the door or odd L-shaped sections, there is an opportunity for hanging rails and shelves.  Creating a walk-in wardrobe design, you need to be imaginative and maximize every inch.  For instance, how about having a full-length mirror on the back of the door.  Not only will this be a practical tool when dressing, but it will also increase the sense of space in your walk-in wardrobe.
Going fitted and go modular
You should also consider sliding doors.  You want to close off sections of your wardrobe to prevent it looking too cluttered.  However, swinging doors will be awkward and reduce space.  Therefore, having a sliding door will be a small detail that will revolutionize your space.  If you don't like these doors – as they tend to stick or look quite functional – you may wish to use pocket doors instead.
As a small luxury, when having your fitted and modular wardrobe installed, consider underfloor heating too. You won't want to lose wall space to radiators, and you will regret the choice to dress in the cold. Appropriate heating could be the difference between a space that becomes essential to your home and another wasted and untidy storage cupboard.
Lighting
As with heating, you need to consider the lighting.  Think of the impact of lighting in the changing rooms of shops.  You either feel like a queen or like a pudding – and it usually has a lot to do with how you are lit.  Therefore, your walk-in wardrobe design needs to have a well-planned lighting scheme.  Be aware; this is a significant cost.  If you choose LED lights, to maximize your appearance in your clothes, you will need to set aside about 20% of your budget.  Small choices like adjustable spotlights could take an ordinary wardrobe and offer a sensational walk-in closet and dressing area.
In short
The best walk-in wardrobe ideas use every inch of space and balance practicality with the sense of luxury you are trying to evoke.
Have something to say? Share your thoughts with us in the comments below.