Simply Organized thrives despite the pandemic
September 14, 2022 | 10:12 am CDT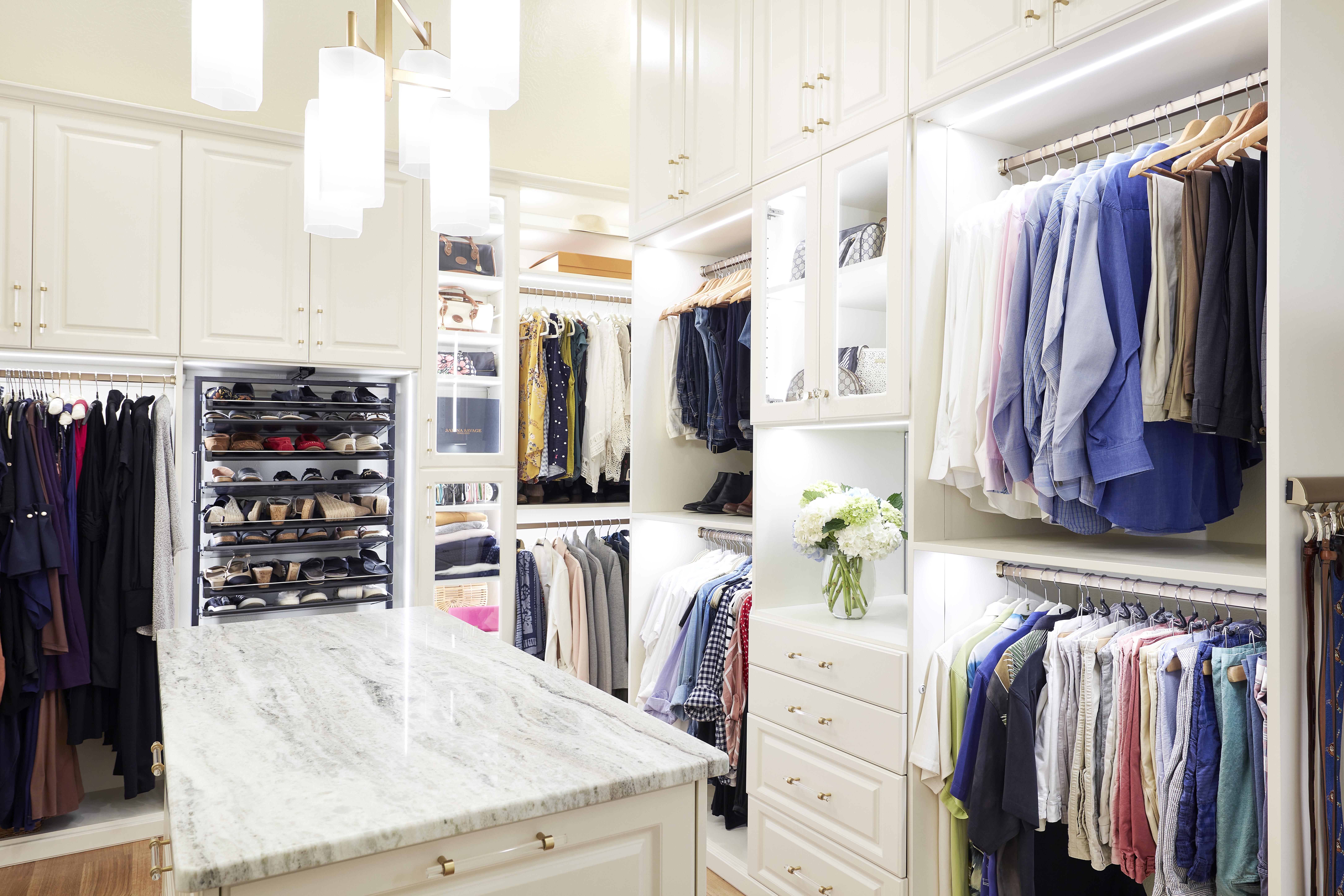 Photo By Simply Organized
Matt and Shelley Wehner's partnership goes beyond marriage. The Springfield Missouri-based couple has been partners in two different business endeavors, beginning with their first business, Cabinet Concepts by Design, founded in 2008 and still operating. 
"Our original company offered custom cabinetry that we helped design, manufacture and install," Shelley says. "We create wood cabinetry, built-ins and mantels, for instance," she added about the four-person firm, which is still in operation.
Their second business, Simply Organized by Design, was formed six years ago after Shelley suggested they add a closet division. Both companies are located in the same plant in Springfield.
Asked about their favorite installations, Shelley pointed to one that involved a complete closet renovation. "It included taking out walls and building from the bottom up. The finished product featured an island and the design totally opened up the space while offering great storage." 
When asked about popular items in new and renovated closets, Shelley pointed to valet rods. "Valet rods, also known as valet poles, are 'must haves' for a lot of people remodeling or adding a closet," she notes. "They ramp up functionality. The valet rod is designed to give a temporary place to hang clothing. It is often used as a place to pull clothes intended to be worn the next day. Typically, valet rods can support up to 30 pounds and are available in a wide range of sizes and configurations."
Shelley says she and her husband like the businesses they run. "It is fun transforming divided closets to the open concept or starting with a clean slate. We feel that having an organized closet destresses people. In a good design, everything has a place. We find it's gaining in popularity with adults and also for children's closets." 
Shelley says they begin the process by meeting with clients and finding out what they have and what they want. "We've done quite a few large closets. Closets come in all sizes. One big trend we are seeing is the proper addition of lighting. It's not the old-school one-bulb approach anymore. Today's lighting options are amazing. Also, clients today want storage to be functional and also beautiful."
 
Average installations can be done in one day with more complicated installations taking two to three days, the couple says.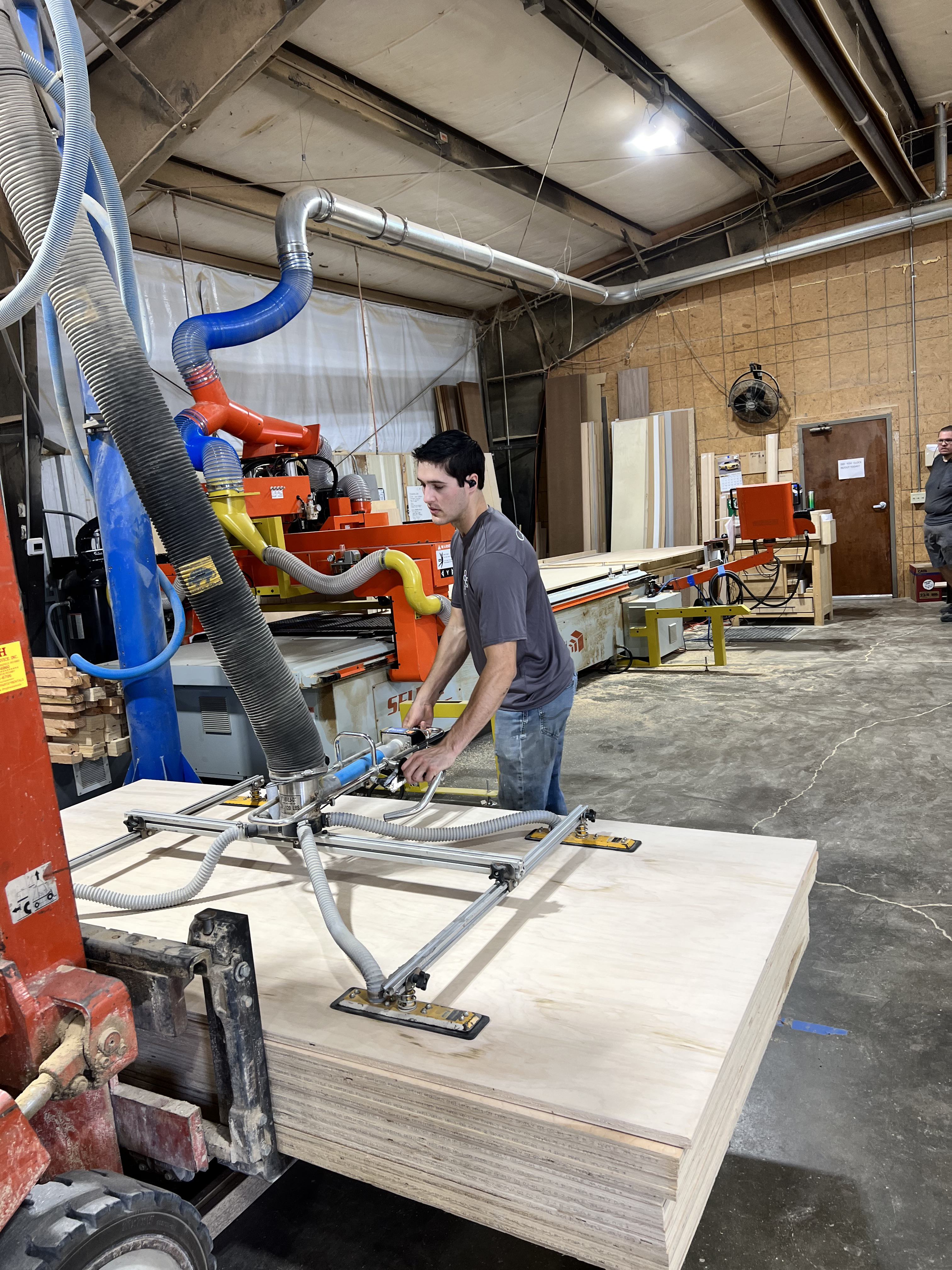 The plant is home to both their cabinetry business and their closet business. Key equipment includes a Biesse edgebander and Anderson/Omnitech 5 x 12 CNC router. Other shop equipment includes sanders and RF gluers. 
"We also outsource doors from JB Cutting Inc.," Shelley adds.
Asked about the impact of COVID on their business, Shelley explains that the pandemic didn't adversely affect them. "We fully expected to be closing up shop during the height of COVID, but it turned out we were classified as an 'essential business' and allowed to work. While we didn't have to stop work, a lot of people in the area were impacted, often working from home or just plain being at home, which resulted in a lot of people having downtime and wanting to have their closets renovated. We were getting a lot of calls, which we didn't expect." 
Shelley added that there is only one other closet designer in their area. "I think people realize that a well-designed closet helps them to destress. When everything has a place in the home, life's easier. Organization trumps chaos."
In their seven years of doing closets, the couple has designed and installed quite a few intricate installations. 
"Clients today want storage to be functional and beautiful. They are asking for organization in all different areas of the home and in garages, basements and their outdoor spaces as well."
As to other trends, Shelley says she's seeing interest in modern design. "Also, colors tend to go in and out of style, and now a popular color is farmhouse white. Colors seem to be warming up, too, and we are seeing cabinets painted with wood tones. The textured look is especially 'in' while men's closets have a masculine look."
Shelley says they are 'super busy' and couldn't be happier with the growth of their business. "We hire very good people, and we care about the quality of our product. Most of our business comes from referrals, while advertisements pull in some business."
The husband-and-wife team split responsibilities at work with Matt, a former teacher and broker for Edward Jones, heading design, and Shelley overseeing the office and bookkeeping. Plans for the coming year include adding an additional 10,000 square feet to their existing 28,000-square-foot plant and showroom. 
To learn more, visit cabinetconceptsbydesign.com.
 
Have something to say? Share your thoughts with us in the comments below.