Pottery Barn expands modular closet system
February 13, 2023 | 10:35 am CST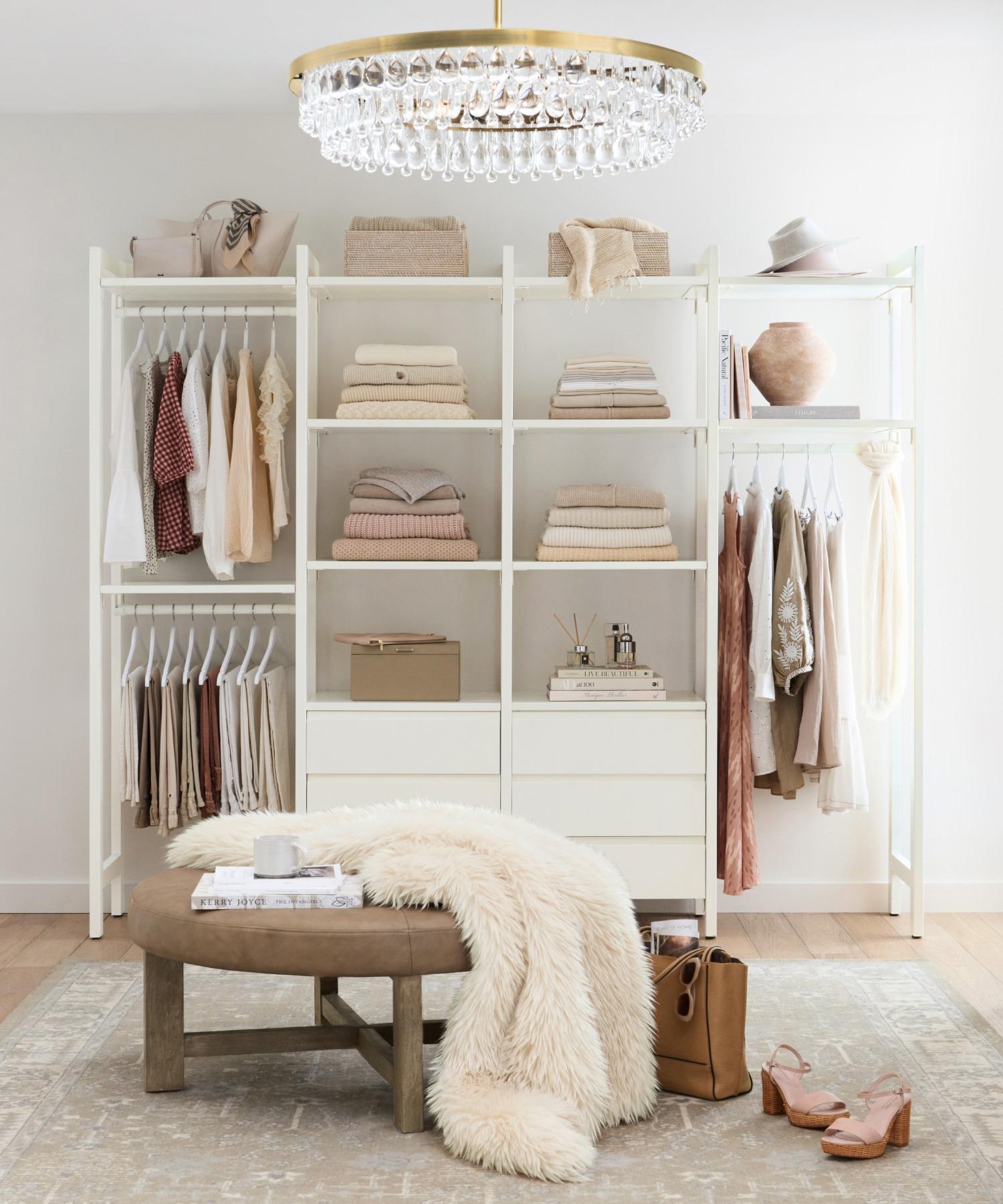 Pottery Barn is planning an expansion of the Hold Everything collection to address closet organization. The new Hold Everything Essential Closet collection is a customizable, modular closet system that is GreenGaurd Gold certified and contract grade.
Originally launched as a standalone retail brand by Williams-Sonoma, Inc. in 1983, the Hold Everything collection soon became an integral offering at Pottery Barn in 1993. While Hold Everything closed its doors in 2006, it was a favorite among avid home organizers during its 23-year run. In 2022, Williams Sonoma announced an expansion of the Hold Everything collection with the relaunch of kitchen pantry, shelf and refrigerator organizing solutions. This year, the iconic Hold Everything brand is back at Pottery Barn with its first-ever closet system. The launch of The Essential Closet celebrates the 30th year of Hold Everything's Pottery Barn debut.
The brand recognized the opportunity to expand their offering by entering the custom closet market, a multi-billion dollar industry that continues to grow at a rapid pace. Designed to fulfill customer needs in all rooms of the home, Pottery Barn's Hold Everything Essential Closet features organization options for both walk-in and reach-in closets. With 66 configurations and 25 components available, the assortment includes a range of shelf sizes, shoe storage options, a variety of drawer configurations, rods that can be arranged at various heights with glass and solid cabinetry options available. Each piece in the collection can be mixed and matched for endless custom solutions: to maximize smaller spaces, create order in larger areas, all while infusing Pottery Barn's signature aesthetic throughout the home.
"With the launch of Hold Everything Essential Closet, our customers seeking practical, beautiful organization and storage ideas now have a completely customizable solution available to them—in the design aesthetic and with the contract-grade quality and durability we know they love," said Marta Benson, CEO of Pottery Barn brands.
While professional installation is recommended, it is made easy with the guidance of clear and detailed instructional videos—covering everything from getting started, to hanging shelving units, and installing shoe storage, drawers, and cabinets—all available on the Pottery Barn website.
Coinciding with the launch, the brand will also be hosting a Dream Closet sweepstakes where customers will have the opportunity to enter to win a total closet makeover from the new Pottery Barn Hold Everything Essential Closet system. Customers can enter for free on potterybarn.com/dreamcloset.
Have something to say? Share your thoughts with us in the comments below.