How Tailored Living developed its virtual design consult process
August 25, 2020 | 8:39 am CDT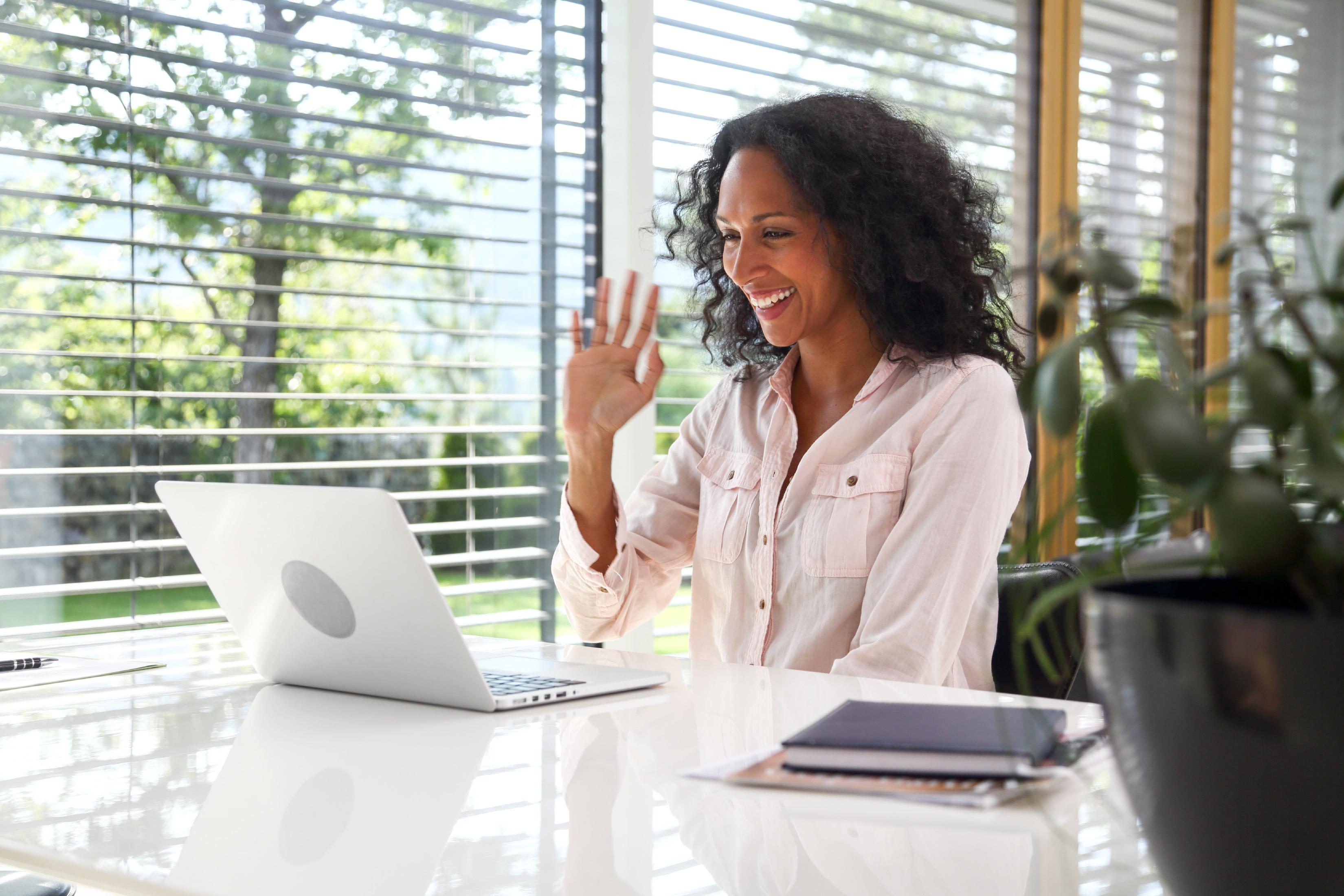 Photo By Tailored Living
IRVINE, Calif. - In the wake of the COVID-19 pandemic and stay-at-home orders across the country, many closet design companies, like Tailored Living, started using virtual conferences and meetings to connect with clients. 
At the beginning of March as the pandemic began to spread across the U.S., Tailored Living lead designer Deanne Bridenstine and franchise owners Todd and Juliana Carter of Tailored Living of Northern Virginia and Montgomery County were at the company's annual conference in Denver, Colorado.
"We definitely went on the plane with hand sanitizer, didn't touch anything, but when we came back…we could see that in Virginia, the gate was going to shut down at some point," said Juliana. "It didn't shut down until I think the 23rd of March or so. But really, that first Wednesday we were back, the first thing was safety. I became the COVID captain overnight."
Schools were shut down in Virginia March 13, but the official stay-at-home order did not go into effect until March 23.
While Juliana was making all of those initial safety preparations, Todd said they were asking themselves if they should stay open and also watching closely what the government was doing, which was changing on a weekly, daily, even hourly basis. It was a moving target on almost an hourly basis for at least about 10 days, he noted.
But during that time of uncertainty the Carters continued to develop their plan. Their design team was used to using JoinMe for screenshare and follow up appointments with clients. "So, we jumped on the Zoom bandwagon like many people, but they were used to doing that, so we just had to add the video element to it and kind of quickly work with the corporate team and Deanne and partnering together on how do we make this work."
Deanne Bridenstine, Tailored Living lead designer
Bridenstine, who is based in Ohio, said that the corporate team at the time was staying in close communication with everyone on the ground to help determine who was able to do business.
"We have some franchisees who were in states that were really very rural who didn't have the same kind of shutdown experience that some of us in more urban areas had," she said. "But for me personally, like the Carters, I am very accustomed to working virtually with clients. For example, leading up to that whole moment where everyone shut down, I had a client that was new construction, who had sent me their floor plans to get a preliminary design. [They] wanted the presentation the week that we were at convention, so I did the whole presentation virtually."
The following week, while Bridenstine was in California doing training for Tailored Living, she made her final presentation virtually and sold  a $10 thousand project to a client she had never met in person.
With that success in mind, Bridenstine said that when it became clear that basically everyone would shut down, she sat down and wrote a step-by-step plan. She teamed up with Juliana and Todd very quickly and they did an educational webinar for the entire Tailored Living team.
Tailored Living launched four pre-designed home office sets this summer.
"As a franchisor, the Tailored Living team at the national level then started offering webinars every Monday and Thursday for six weeks. So, we just sort of pivoted and said, how fast can we educate and get everyone up to speed with whatever they need to know in this moment as marketing efforts changed, or you had more time to connect with your referral partners, or whatever topics we were hearing, we were trying to get information back as fast as we could."
When it comes to ensuring accurate measurements, Juliana said they typically require a field measure.
"A lot of our work, we've done a lot of designing off of architectural plans or designing off of arcs, in the past. If we're doing a remodel or a house is being built, we typically do a field measure," she explained. "So, it's part of our process. We had to get really good as a team on digitally handing off a lot of information amongst different parties to execute that design all the way through the process well."
Over the past year, the Carters said they developed a very strict process on proper measurements and field measures.
Juliana Carter of Tailored Living of Northern Virginia and Montgomery County
"Our designers use Surface LTE tablets and they do field notes with a very specific graph paper and design codes of all the different vents and lighting, so kind of typical all digital so they could almost do their handwriting on their tablet, and then they just save it up to OneDrive so that people can access that," Juliana said.
"And the person who does the field measure also follows that standard so that everybody can use that, so then we can adjust our Davinci tool based on the measurements and get the design right so that it can be engineered and cut listed. Our specific model with Tailored Living, but we had to create a way where we don't just have someone chicken scratching it."
According to Todd, one of the advantages of going virtual is that minor process gaps or communication issues became apparent immediately.
Todd Carter of Tailored Living of Northern Virginia and Montgomery County
"If there were handoffs that weren't happening maybe in the perfect way or cleanly, the benefit of it is, when there is a process breakdown and everybody is distributed, you figure it out really quickly," he said. "You were able to see, 'Oh, it seems this connection isn't happening either fast enough or in the right way or in the right detail.'"
Bridenstine said that Tailored Living also developed a worksheet that designers can send to clients giving them detailed instructions on how to do their field measurements. But generally, their franchises send installers for the field measure before orders are placed.
"Because the client doesn't know what they don't know. So, they don't know that this little tiny bump out is really an obstacle that's going to be a huge problem if we don't catch it early. I believe everyone in the network has been sending someone," she said. "But really, it's all about what the client is most comfortable with. So, you go when the client is comfortable having you. Like what Carters said, you can have that agreement in place and basically have it pre-sold before that measurement happened."
A screengrab of a virtual consultation with a Tailored Living client
That arrangement also holds the clients' place in line, which is important especially when demand picks up and there is only so much capacity on the schedule.
"We definitely had situations where clients wanted to get things done, but they weren't quite ready," Juliana said. "So, we were like, 'Okay, we need to get your place in line so that when you are ready, we're ready to do it for you.'"
Creating a connection with clients is essential for any designer but it's even more critical with virtual consults. Although virtual meetings can be a more time efficient process, the downside is the lack of physical interaction.
"It's hard to connect in the same way with clients and share the same kind of information and stories that you would naturally," Todd noted. "And sometimes in that natural exchange is where referrals happen and ideas occur, so there's some loss and some gain."
"So, the designers have to take an extra step to make sure they're making that connection and asking questions, because a lot of what we've done over the years is create a relationship with someone to really understand," Juliana added.
Bridenstine also said that their designers are doing video walkthroughs using Facetime or Google Hangouts, or whatever app the client is most comfortable with which allows them to walk the designer virtually through their space.  
"Or they're sending me pictures of all their walls because like I said earlier, they don't know what they don't know," Bridenstine added. "I can find things in pictures and say, 'So, it looks like you have a chaise [near that] wall that we need to talk about.' Or, 'I can see that your master bathroom is adjacent to this closet space and it looks like you've got glazed cabinetry. Do we want to repeat that?' So, some of those observational things, you have to be able to kind of draw out of them, and that's asking good questions and knowing how to get them to show you what you need."
Have something to say? Share your thoughts with us in the comments below.