Home office combines dual workstation and storage for filing and crafts
April 6, 2022 | 5:05 pm CDT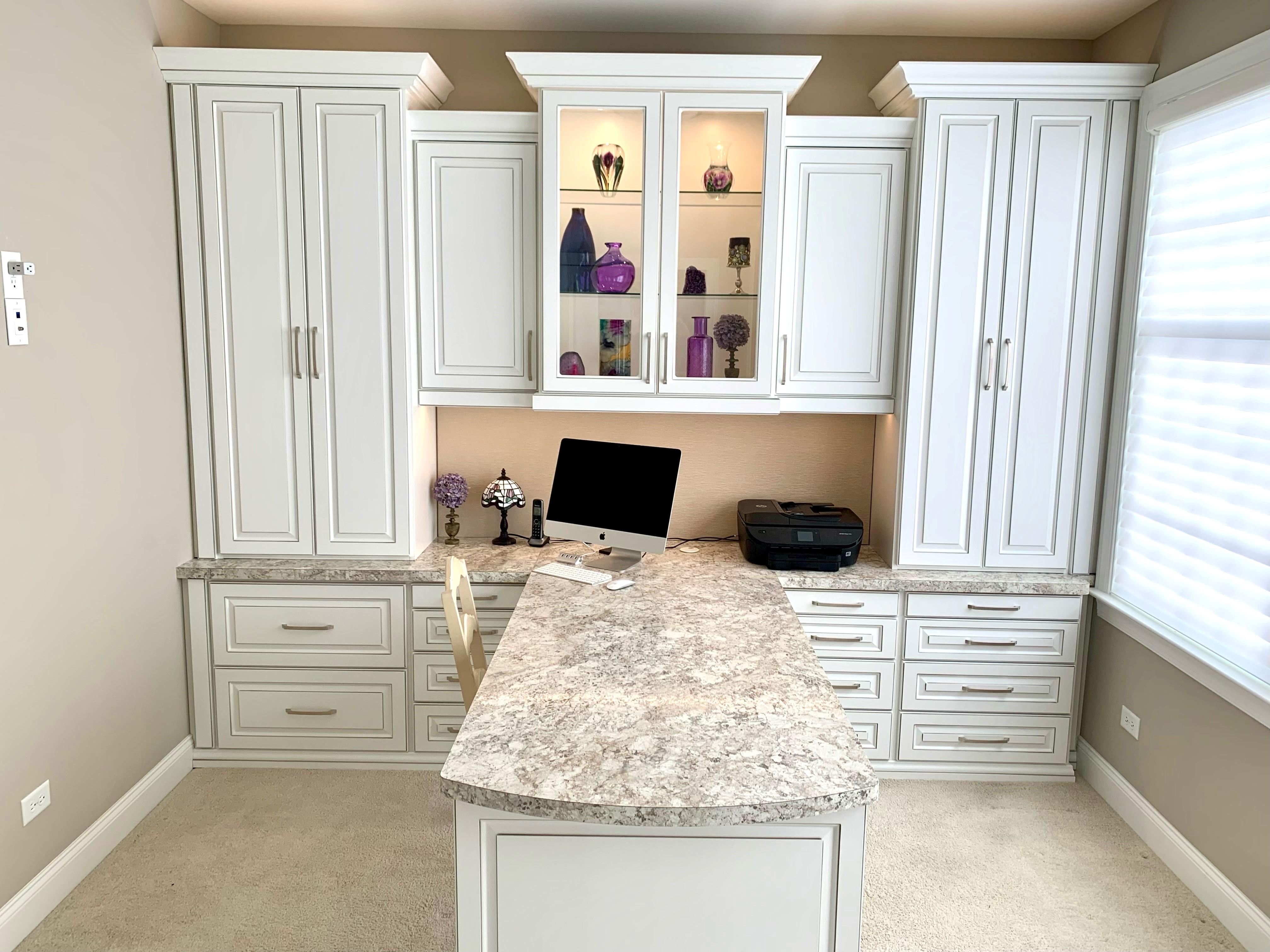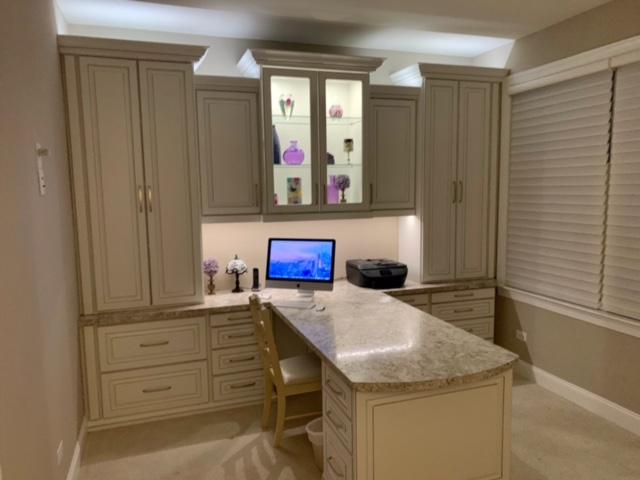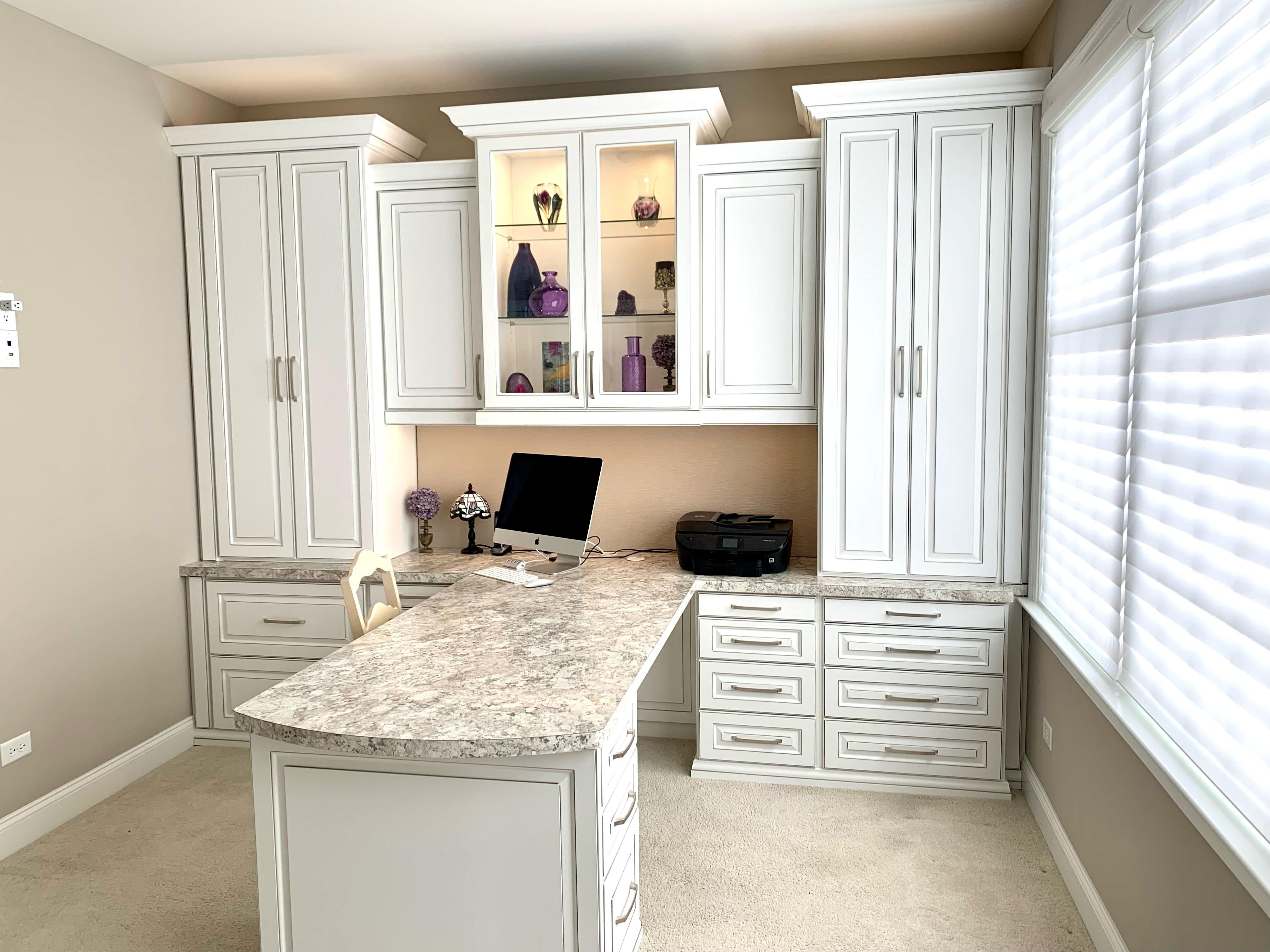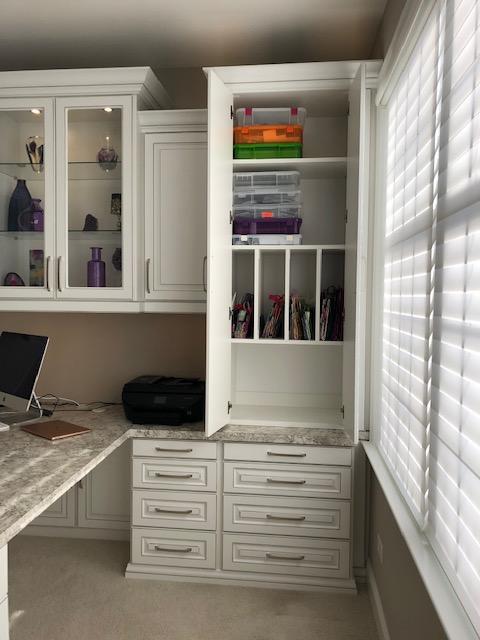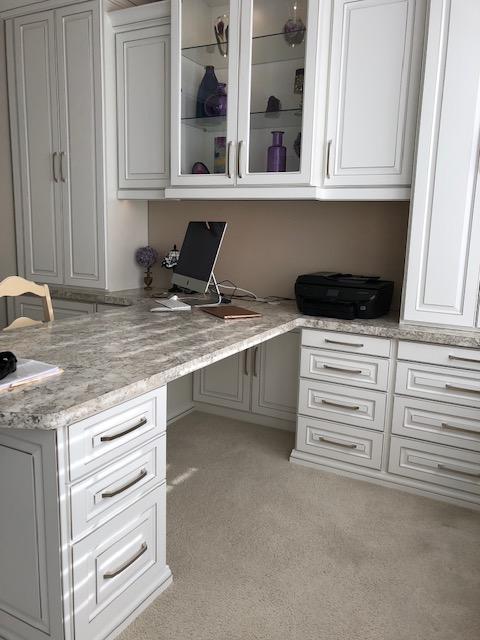 2022 Top Shelf Design Awards
Designer: Donna Siben, Closet Organizing Systems
Category: Home Office: Under 150 sq. ft.
Project Title: Refreshed Home Office/Craft Room
Project Description: 
The needs of this homeowner had changed over the years and the craft part was being used less and less but still needed to incorporate both craft supplies and home office needs along with room for two people to work and wrap gifts from time to time. The area now needed to reflect the style of this lovely traditional home with a refresh in up-to-date colors. The view through a triple window was a "must" in the planning of this room. Adding a reading chair position was now important to keep this her retreat.  
Keeping the palette light and cheerful with a focal area behind glass-framed doors added both the femininity and brightness we were trying to achieve. The client added purple in her focal area and has an adorable purple chair on order along with a complimentary desk chair.
The TV position was moved for more functional cabinetry along the back wall and a double-sided peninsula with a deco end panel and curved HPL Top opened up the sides of the room. Filing needs were met with large lateral files along with a file drawer on each side of the desk. Large, wide storage drawers for wrapping tissue, ribbons, note cards, and assorted scrapbooking supplies were carefully measured to accommodate those needs. Large item storage was provided in the hutch cabinets for small crafting appliances along with vertical dividers for wrapping bag storage.  
Under the desk, matching modesty doors were added to hide the wires, and surge protectors and keep the streamlined appearance. Adding Hafele LOOX horizontal LED strip lights under and above the cabinets, puck lights in the glass-framed cabinet, (2) two standard drivers, and (2) two-touch dimmer switches all added up to a lovely glow at night in the room. Tackboard in Bisque finished the opening above the desk.
Project Construction: 
Initially, the window sill was a hic-cup but using deco glazed columns to match the system allowed us to move away from that low window sill and maintain a balanced design by adding to the uppers and the other side. Moving of current TV/Cable electric had to be done and Outlets added for new Lighting.  
In addition, we recommended changing the doors on their closet from sliders to bi-fold to help improve storage access into the closet space.  The installation was fast-tracked and went well without any issues because of advance ordering of the materials with COVID backlogs and working to complete the project before the client would become Snowbirds right after the scheduled installation.
Materials Used: 
The color Snow White with a Charcoal Glaze using classic profile doors and drawers and columns, extra-large glazed crown molding and continuous base trim, HPL Wilson Art HD Spring Carnival 1876K-35 Square Edge Curved Countertop in Mirage Finish, Hafele Engage Tag Hardware Matte Nickel Elite Arched Handles, Hafele LOOX Lighting (see above), Tackboard Reeds #010 in Bisque
Equipment Used: 
Designer supplied Cabware "Designer" conceptual design work and our Engineering Department converted those designs in Cabinet "Vision" for screen to machine production.  
Have something to say? Share your thoughts with us in the comments below.