Garage makeover maximizes storage
November 1, 2019 | 5:13 am CDT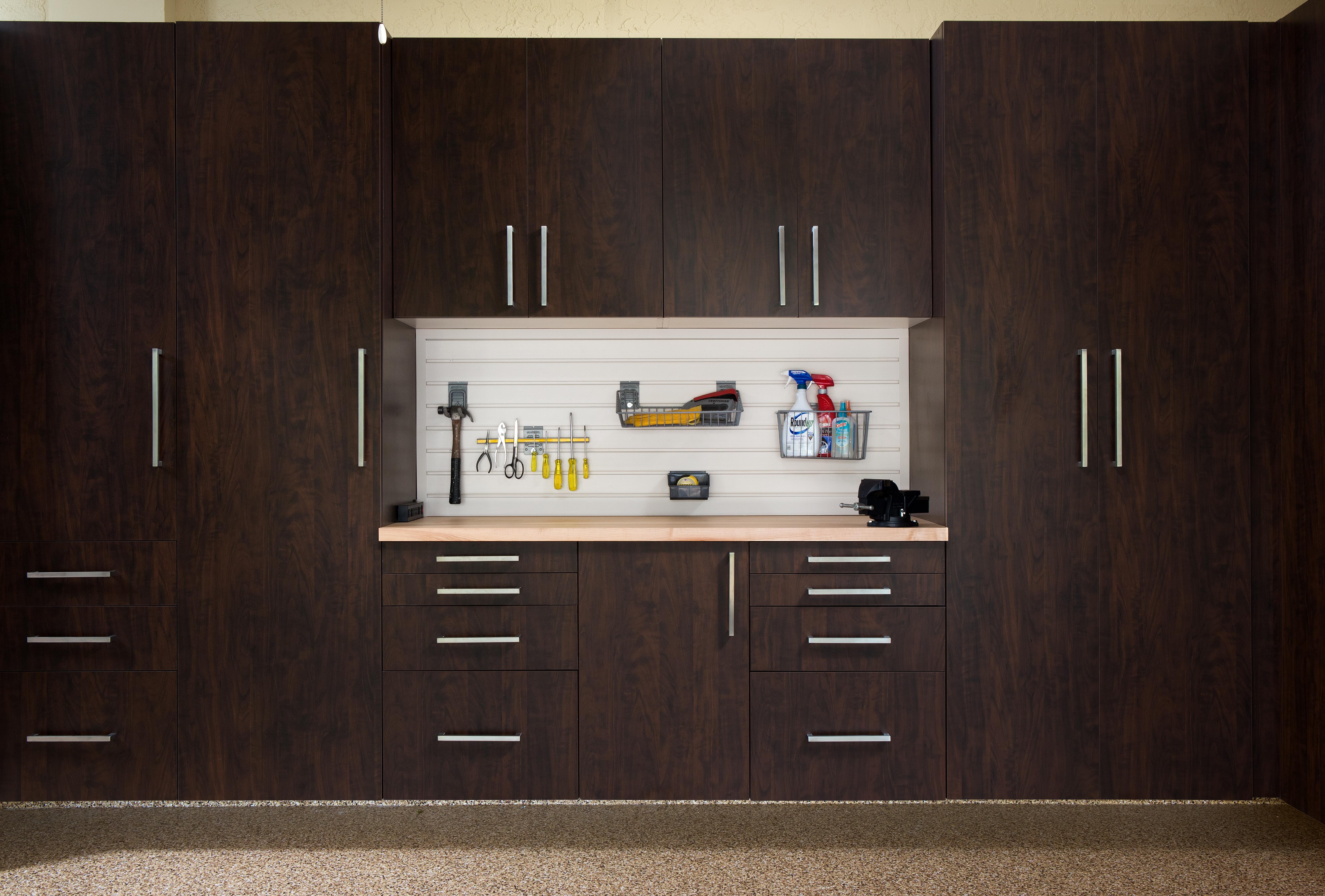 Kevin Vaughan, Encore Garage of SWFL, won the 2019 Top Shelf Design Awards Garage under 600 square feet category for the project "Maximize Storage."
Here is how Vaughan described the project:
Project Description 
Complete makeover to improve curbside appearance while optimizing storage and organization solutions for a 2.5 car (approximately 540 square feet) garage. Goal was to create enough space to store a wide variety of items, both large and small, and also to create a polished, elegant look appropriate for this country club home in Southwest Florida. 
Project Construction Details 
Project includes a new epoxy chip floor coating and 18 custom melamine cabinets wrapping nearly the entire garage. The cabinetry is divided into two core sections.
 Adjacent to the entry door to the home and wrapping the left garage wall is the section designed for general household and overflow kitchen items. Included is a transition countertop area by the entry and many of the cabinets are outfitted with pullout drawers for ease of access. 
One cabinet houses the battery charger for the golf cart with access to power from below. To maximize the space for cabinets, a floating 2x4 wall was constructed on site to provide side support for a tall storage cabinet and back support for base and upper cabinets. It was finished off with matching cabinet material for a seamless appearance. 
Along the entire back wall and extending to the back-right corner is the section designed for a work area and tool storage. Included here is an extra deep cabinet to house a table saw and other large/heavy items and a "false" cabinet above a set of drawers to hide the electric panel while making use of the space below. The workbench includes a power supply and a vice. 
Finally, a gravity bike rack for two bikes is located at the front right to complete the plan. 
With a custom approach to each area the homeowners now have ample garage storage structured around a "household" section and a "tool/work" section while retaining the space needed to easily park two cars and a golf cart as originally intended. 
Materials used 
Epoxy/chip flooring system with Polyaspartic topcoat and matching 6-inch cement baseboard around the perimeter. 
Custom melamine cabinetry in Mahogany finish. 
Stainless steel hardware and stainless-steel support legs where needed. 
Butcher block counters. 
Antique white slat wall with accessories. 
All garage cabinet and flooring materials used were made to withstand the heat and humidity of the region and warrantied by Encore Garage of SWFL for as long as the client owns the residence. 
Equipment and/or software used 
Live Storage Design Software 
Have something to say? Share your thoughts with us in the comments below.