Closet companies make the WOOD 100
November 1, 2022 | 10:48 am CDT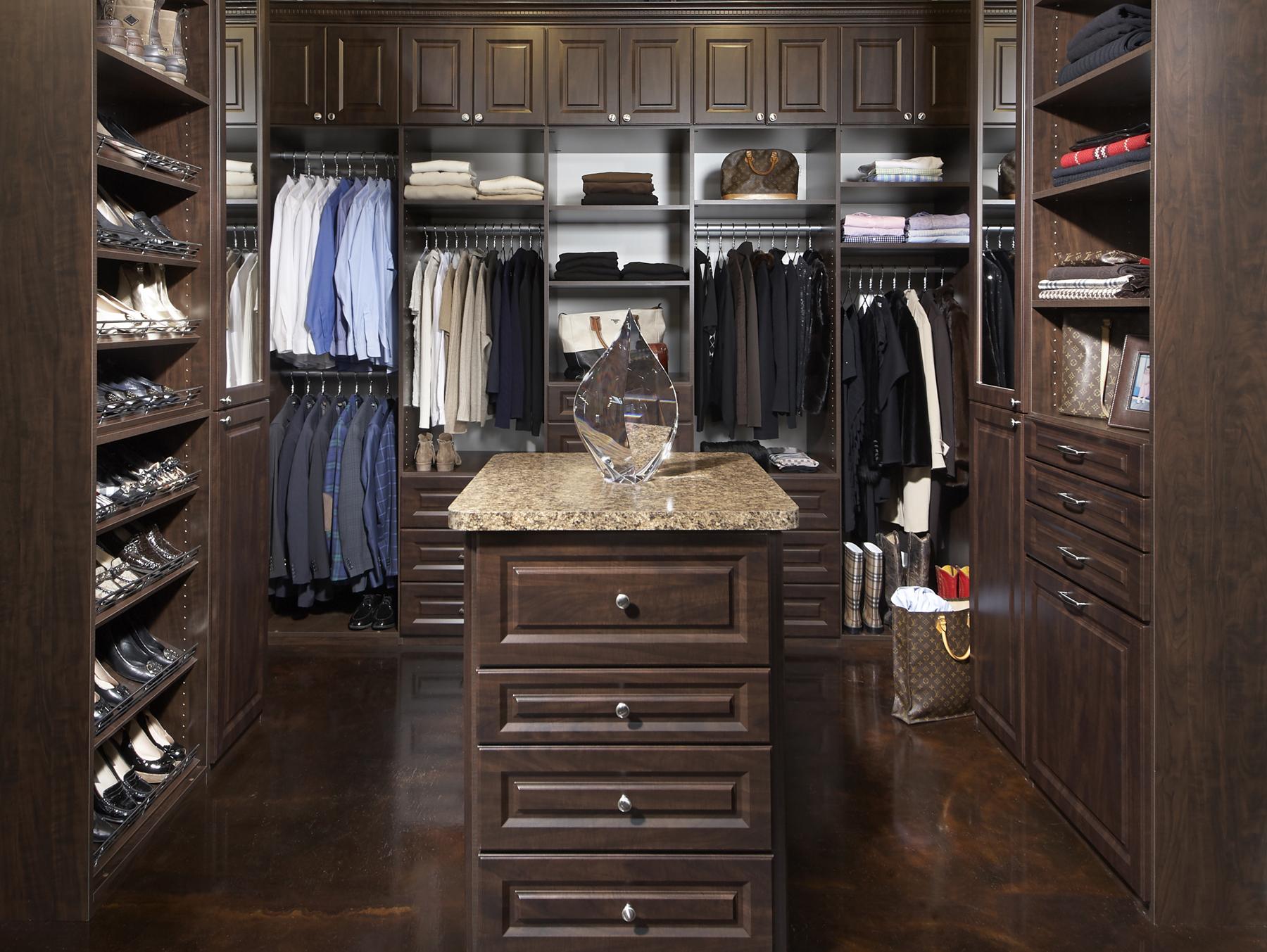 Photo By Saint Louis Closet Co.
Now in its 33rd year, this exclusive annual report details the successful strategies put in place by 100 North American secondary wood and panel products manufacturers to grow their businesses in furniture, cabinetry, architectural woodwork, store fixture, components, closet systems and other industry markets.
Here's what a few companies had to share about their success strategies:
Marketing
Northern Contours, St. Paul, MN
Sales rose 4.2% for the manufacturer of cabinetry and commercial components. An enhanced website promotes new materials including SmartMatte 3DL, the company's production capabilities and product offerings. Customers are also invited to "follow us" on social media for trends and design inspirations.
Business Strategies
Alvic USA, Auburndale, FL
The components and furniture panel manufacturer focused on customer service, quality control management and expanded the sales organization, noted Emily LaPointe, marketing manager. 2021 sales grew 33.3% with 2022 also projected to be "excellent."
Egger Wood Products, Lexington, NC
The components and decorative panels producer has announced plans to expand its facility, including the addition of a third laminating line. The company has also been recognized for Excellence in Safety, including in 2021 by ENR.
Artisan Custom Closets, Marietta, GA
The custom closets and storage systems manufacturer was named Small Business of the Year by the Cobb Chamber of Commerce. 2021 sales grew 36.1%, and projections for 2022 are also positive. "With 20,000 customers in the Atlanta area, the team's strong work ethics, professionalism, and quality of workmanship have expanded the business to new heights," said Lisa Carlquist, president.
REHAU Industries, Sturgis, MI
"We increased our production capacity and expanded our range of surfaces," noted Susanne Martin, Marketing manager. Sales rose 26.7% for the cabinet door and finished panels producer. The company expanded its warehouse and introduced vacuum-lift equipment "to be more efficient and reduce risk of damage," and is looking to add another zero-joint edgebander in 2022.
Dura Supreme, Howard Lake, MN
Involved in the community, the cabinet maker also hosts an annual Kids Switch Day for employees' children and grandchildren, including a factory tour and a chance to build cabinets.
Productivity & technology
MJB Wood Group, Dallas, TX
"We adapted to the market and economic conditions and began offering more comprehensive solutions, which improved supply and price stability," said Nathan Klomp, director of Marketing.  Sales grew 43.0% in 2021, and projections for 2022 are looking good.
Wood-Mode LLC, Kreamer, PA
The cabinetry manufacturer's Focus Forward Initiative includes factory improvements, production equipment upgrades, new cabinet styles, and an enhanced dealer marketing support program for the Wood-Mode brand. "This initiative is strategically designed so that ultimately our customers benefit, and our representatives, dealers and employees succeed," said Rod Hunter, general manager. 
Distinctive Wood Products, Kitchener, ON
"In addition to a focus on new product development and responding to customer needs for customization, Distinctive Wood Products worked diligently to upgrade our manufacturing facilities, improve our internal processes and grow our capacity through expansion and capital equipment additions," said Lary Skow, director of Business. 
Panel Processing Inc., Alpena, MI
Stacy LaFleche, national Marketing manager, cited increased productivity for helping spur the employee-owned panel and components manufacturer's 10.1% growth. "We have effectively utilized new options for board in sizing and core material. We have made our customers and partners our number one priority [and] work to acquire the products they need and turn them into the final products as efficiently as possible."
JB Cutting Inc., Mt. Clemens, MI
"We invested in people and upgraded equipment so that we could increase productivity for the demand that was needed," said Debra Behring, CEO of the components maker.  "Although sourcing became an issue, we multi-sourced and found ways to deliver products in a stressed economy." New equipment includes a spray line for 3DL products, a membrane press, edgebander and five-piece door equipment. Sales roses 32.8%; 2022 and 2023 should also be "excellent."
The Closet Works, Montgomeryville, PA
"Continuous improvement in every aspect of operations," has helped spur the closet and home organization company's sales growth by 16.1%, said David Cutler, president. "We are dedicated to a lean culture and the mantra of easier, better, faster, less expensive. We make improvements every single day, large and small and document them to be shown to our entire team on videos we produce for our daily team meetings." 
Schlabach Wood Design, Baltic, OH
"On the shop floor we have implemented better onboarding processes for new employees which has led to better teamwork and cross-training, which makes our workforce more flexible," said Michael Schlabach, CEO of the custom cabinetry firm, which also makes closets. "Our door department doubled their floor space and added various equipment so that we now produce 90% of our own cabinetry doors and have equipment on order to reach 100%.
Genesis Products Inc., Goshen, IN
The panel processor and component maker "invested in a new lamination line and cabinet door fabrication equipment to allow us to build capacity and elevated our residential cabinet door product lines to better serve the OEM cabinet manufactures," said Scott Flom, Marketing manager. Genesis also added bore and dowel equipment to increase its cabinet component and drawer box product lines, as well as a new PUR high-speed lamination line for HPL and vinyl panels.
Product Innovations
Taghkanic Woodworking/Pawling Closet Co., Pawling, NY
The company transitioned from a focus on custom cabinetry to closet and storage systems. 2021 sales rose 7.9%, and projections for 2022 and 2023 are "excellent," said Leland Thomasset, CEO. "We went from 20% of our revenue being closets and storage in 2020 to 90%," he said. 
Art for Everyday, Toronto, ON
The components manufacturer has added tambour panels for flat and curved surfaces. The tambours are available in seven standard profiles, and each profile comes in four sizes.
Customer Service
Saint Louis Closet Co., St. Louis, MO
President/founder Jennifer Williams has a small business talk radio segment focused on Customer Service, including "different ways small businesses can turn customers into Raving Fans." The home organization firm also focused on managing its supply chain, plus "added a 'flex date' on our install schedule each week [so] that we can move new construction and remodeling jobs around, as needed at the last minute without jeopardizing our overall install schedule," she said.
Burke Architectural Millwork, Livonia, MI
"The expertise of our skilled craftspeople, the perfection of our products, along with our outstanding collaborative customer service are what led to our company's overall success last year," said Kelly Victor-Burke, co-founder/majority owner. In fact, 2021 sales rose 26.8%, and 2022 and 2023 sales are also projected to be good. The custom architectural millwork firm specializes in hospitality, retail, educational-sector projects and will soon launch Bespoke Closets, a custom closets division.
SEI, Fredericksburg, VA
The closets, home office and cabinetry firm offers turnkey services while "creating to the customer's expectations," said Dave Schiller, president. Future sales also look "excellent."
Bella IMC, Huntertown, IN
"While experiencing material shortages or backlogs we took the leap to change our material supplier/brand while still fulfilling already submitted orders with our previous brand," said Courtney Hogue, Sales and Marketing director. The cabinetry manufacturer was able to maintain its standard lead times. "The brand change significantly helped; however, I believe our high standard of customer service/quality control combined with our customization and assembly method (Lockdowel) kept our customers returning and submitting more orders." 2021 sales rose 7.4%, with 2022 also projected to be good.
Diplomat Closet Design, West Chester, PA
"We continue to focus on our culture and invest in our team members. It is a priority that each team member feels valued and empowered; this focus has produced a more cohesive, efficient, and driven team of people in turn generating more opportunities and a higher quality product," said Laura Bryan, vice president.  Sales at the home organization firm grew 14.7%, with 2022 and 2023 projections also excellent. "Our goal is to deliver a remarkable product with a remarkable experience," added Ryan Lindstadt, president. 
CabParts Inc., Grand Junction, CO
"By focusing on customer service and custom products, along with ramping up production from our recently installed Homag CNC, Schelling saw, and Barbaric storage system, we were able to provide ongoing and dependable service to our customers," said Bob Love, president. "We also began investing in software to help us improve customer service and streamline our ordering process to make it easier for customers to quote and order jobs." 
Kitchens and Closets by DEA, Tempe, AZ
"Communication is key, now more than ever," said Eric Marshall, owner. "With employee [recruitment] difficulties and supply chain issues we are constantly rescheduling." Despite any issues, sales at the closets manufacturer rose 21.0%, and future projections are "excellent."
Read more of the WOOD 100: Strategies for Success at WoodworkingNetwork.com/WOOD-100.
 
Have something to say? Share your thoughts with us in the comments below.