10 questions with Christina Relyea and Eric Marshall
September 1, 2022 | 11:27 am CDT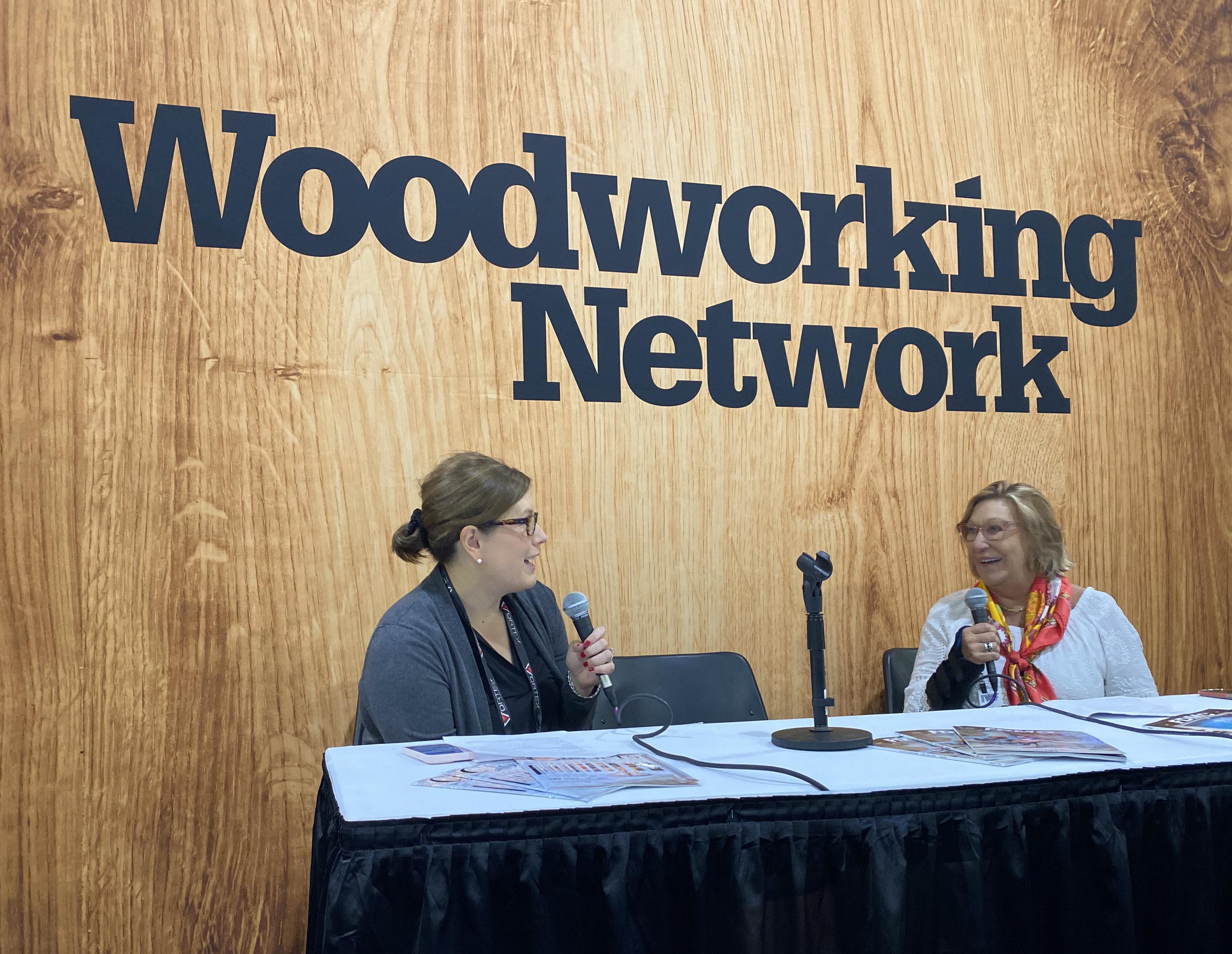 During the International Woodworking Fair (IWF), held in Atlanta, August 23-26, I had the opportunity to interview the Association of Closet & Storage Professionals (ACSP) President Eric Marshall, DEA Closets & Remodeling, and incoming president, Christina Relyea, Director of Sales & Marketing, JB Cutting, on what's ahead.
1) Laurel: Can you each briefly describe your companies and your current roles at the ACSP?
Eric: DEA is a closet and kitchen remodeling company. I founded it 25 years ago after working as the original employee of California Closets when it first started. I work with my sons, and we each have our own special qualities; mine is designing and selling closets. I am a certified Master Closets Designer. I have been with ACSP since 2012, and I am in my second year as the ACSP president.
Christina: I am Christina Relyea from JB Cutting. JBC is a nationwide door, drawer, and wood component manufacturer located in Detroit, Michigan. I have been with the company for 20-plus years and can remember the times when we had about six colors and just a few profiles! I have been a part of the ACSP since 2017. I started as a member of the communications committee, served as a board member, and accepted the position of incoming president to begin in 2023. 
Laurel: As we are here at IWF, we can all remember the day we were told to stay home and isolate due to COVID. IWF 2020 was canceled. Everything changed at that moment. Some things are going back to what we think is normal, but the effects of the pandemic still linger. 
2) Laurel: Eric, what changes have you seen in your business and the industry since the pandemic hit in early 2020?
Eric: Pandemic, funny story in Arizona our governor mandated construction remodeling companies as essential, so we never had a day off in fact we grew over 20 percent that first year.
3) Laurel: What is still going on today?
Eric: Growth, we are still growing today. I hear there is a recession somewhere, but it is not at DEA in our closet business.
4) Laurel: Christina, as a supplier, I imagine JB Cutting has experienced many of the same things? Anything else you can add? 
Christina: When the pandemic first hit in March of 2020, Michigan did not deem us an essential business; we had to work to obtain letters from our customers stating that we were essential to their business so we could continue manufacturing. There was quite a bit of uncertainty as to what our business would look like. We sent our hourly workers home, and the management team ran production for two weeks while our essential status was updated. We called everyone back, and it has been non-stop since. 
5) Laurel: Is JB Cutting still having issues?
Christina: Increased demand has led to shortages on raw materials, which led to price increases and scarcity of products. That coupled with the lowest unemployment rate in years created supply chain interruptions which have since smoothed out, but I have never seen demand like this. We expect demand to remain strong through the end of the year.
6) Laurel: I am seeing and hearing from the design community that consumers want more colors or curves in their interiors. Eric, as a designer, do you also see this and what are some of the major trends your customers are requesting? 
Eric: Curves? I think not! Our customers have gone to straight lines and crown moulding has become just a 3-inch fascia board. Finishes and textures have made up for the flat, straight lines. Register textures in brown woodgrain and the use of color is back, especially blues, greens, and orange. It has gotten lively! 
7) Laurel: As a supplier, Christina, how is JB Cutting addressing some of these current trends? 
Christina: We recently went through a significant color refresh at the beginning of 2022. We discontinued around 40 colors to make room for 20 new colors. We are still looking at adding a few more towards the end of the year, but there have been delays with some of the products we are looking to add. Regarding door profiles, we are still seeing a large demand for shaker doors, specifically a narrower shaker profile which splits the difference between modern and traditional. It is simple and elegant and works in many environments from mid-century to contemporary designs.
8) Laurel: Eric, how do you feel the ACSP is helping its members capitalize on opportunities as well as cope with challenges during these unprecedented times?
Eric: We have added more training and testing. Also, our members-only Facebook page has taken off with thousands of questions and comments. Networking is key to growing your business, and the ACSP has hundreds of experienced members that will mentor you, answer questions, and provide useful suggestions for everyday issues.
9) Laurel: Christina, as incoming president, can you tell us what is planned in 2023 by the ACSP in innovative programs to be rolled out to members?
Christina: We are planning to continue with educational opportunities for members, including a new program focusing on bringing together groups of designers in a series of regional events tentatively named "Designer Days" hosted by ACSP suppliers. This is Mr. Marshall's legacy which I am proud to be able to continue to support. We have a terrific, revamped website thanks to our new Executive Director Amanda Conger, and we will continue to provide insightful info through our Facebook and LinkedIn groups.
10) Laurel: Anything else you want to say about the benefits of ACSP membership?
Christina: The real value of an industry group is what it brings to the table. The ACSP focuses on our five pillars of membership: Marketing, Education, Best Practices, Products and Networking. Whether you are a designer, business owner, vendor or installer, becoming a member means you are serious about honing your craft and contributing to the industry.
Laurel: Thank you Eric and Christina for taking time out of your busy schedules.
If you have interest in learning more about the closet and home storage industry, attend the 2023 national Closets Conference & Expo in Palm Beach, Florida, April 12-14. 
ACSP members get substantial discounts to attend the conference program and two-day expo.
Joining the ACSP is easy. Go to closets.org or email [email protected] to contact Amanda Conger.
To learn more about Closets Conference & Expo, go to closetscon.com.
 
Have something to say? Share your thoughts with us in the comments below.