10 questions with Mike Carson
May 31, 2022 | 1:23 pm CDT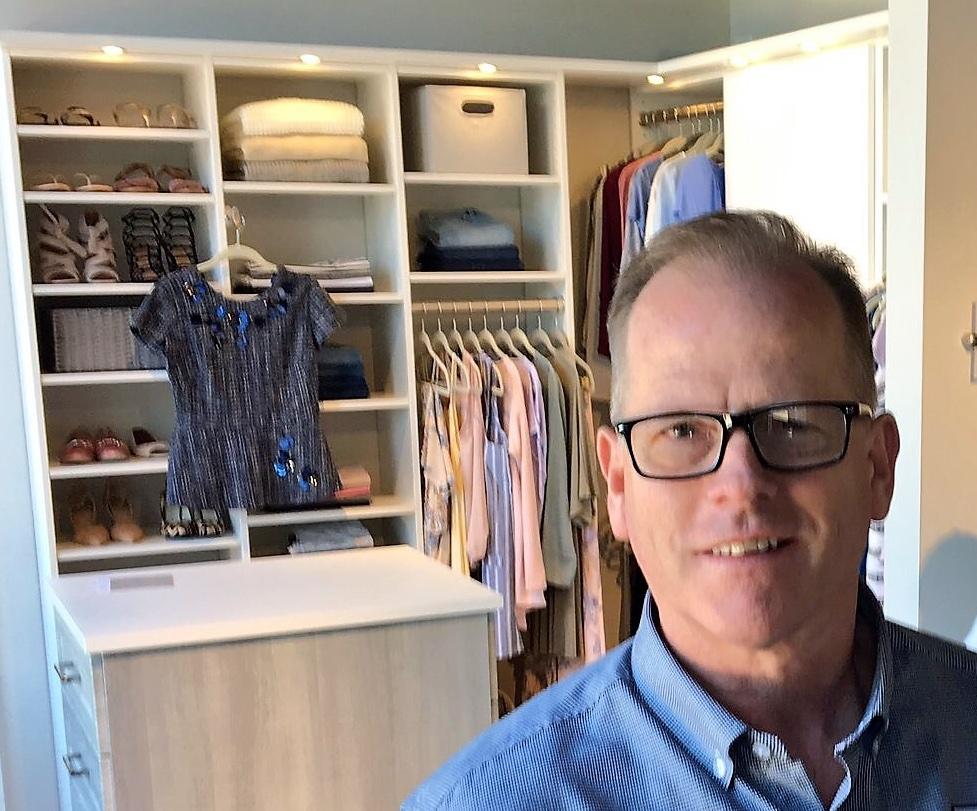 Closet industry veteran Mike Carson shares how he got started and what's ahead for him.
1) Please tell us a little bit about Mike Carson the person.
I am one of five children. I grew up with an entrepreneurial father; my dad taught me the value of business when I was 8 years old. Before giving me my weekly allowance of $2, he asked if I would like to learn how to multiply my earnings – I was intrigued. He then walked me through a business lesson that defined my future work life. We took the $2 of capital and bought a large box of Popsicles. We then went to the little league field on a hot day and sold the individual Popsicles for a profit. I turned $2 into $6 that day.
2) What brings you the most joy, personally or professionally?
My wife and children bring me great joy. And recently my wife, Bobbi, has been working with me in business as we create a new brand. My four children are making their own way in life and making me very proud.
3) I understand that you started your business in your garage. Can you take us through the motivation to start and how it evolved?
I was a college student and writing a business plan for a commercial cleaning company. I was familiar with this since I spent a year in Gillette, Wyoming trying to make money for college. I started a cleaning business there. 
In college, I had a small basement apartment and was looking for a butcher block table to fit in my small galley kitchen. I was working nights at a restaurant and did not have the $800 to buy a table. My grandfather was a woodworker and I suppose some of that came out in me because I decided to build my own table to save money. So, I bought maple wood, tools, and a book on "how to." After a month on my living room floor building the table, it was complete. And I only spent $1,200 to make it happen.
Lesson learned. 
However, since I had extra wood, tools, and the knowledge, and I worked at a restaurant, I decided to abandon the cleaning service and dive into furniture making. 
I sold butcher block tables to several chefs at the restaurant and was on my way to building my furniture empire. That was until my dad invited me to dinner. After dinner, he said he wanted to show me something in his closet upstairs. Weird, but okay. He said, "I realize you are into woodworking," as he flung open his closet doors to reveal a white closet organizer, circa 1986. "You should look at doing this." At first, I was offended since I was a craftsman, working all month to build a table that sold for $1,000. He said he had one guy here one day and paid him $1,800. The next week I was figuring out how to build closets out of my garage.
4) What are some of the bumps you hit during the expansions of your business?
Business is tough. You need to be ready for anything and never accept failure. Since I was a poor student, we had to build Closet Works (his first home organization company) out of cash flow. There was never an influx of capital. And since growth requires cash, there were several times I had to ask employees to wait until Monday to cash their checks. 
I always believed in Christmas bonuses and one year we were really short on cash. Fortunately, I sold a cash job on Dec. 21 and suddenly we had enough to reward the crew. 
The biggest lessons learned are that you need to maximize every aspect of your marketing, operations, and labor. 
5) When and why did you decide to sell Closet Works?
Technically I wasn't selling Closet Works to exit. I brought in private equity to roll up the industry.  I sold the idea of a "hub and spoke" plan of manufacturing and distribution, a lot like you are seeing today with several brands. My friend Steve Mann in Vegas and I sold and began the trek to build the national company. That was in 2007. Well, we all know what happened in 2008. We spent the next five years keeping what we could alive and then I exited in 2012.
6) Why did you come back and buy into a dealer network (Inspired Closets)?
I wasn't ready to retire, and I had no non-compete, so I figured I could build it again. I looked at capitalizing a factory and building my own again, however, times had changed and there was no longer a requirement to manufacture because the industry had matured and there were now options. I weighed them all and decide to hitch my wagon to the Stow company in Holland, Michigan. They had the work ethic and business culture that I could believe in. I consider this my back 9 and if I could focus on sales and installation, then I could grow faster.
7) What are some of the biggest changes you have seen in the home organization industry?
I have felt honored to be part of the growth of this industry. From basic white and limited accessory options, we have seen people get together to evolve an industry, increase demand, develop new products and standards, and put closets on the shopping list of all home buyers. 
8) Where do you see the industry headed?
We are seeing more and more large players wake up to the opportunities in home organization. From Home Depot, Kitchen and Bath to The Container Store, everyone wants a piece of the action. The awareness has never been stronger. We are in the second and third generations of closet buyers. The acceptance is growing, and architects, builders, and realtors are seeing that closet systems are not as much a luxury as they are a necessity.
9) You're on the Board of Directors of the ACSP (Association of Closet and Storage Professionals). What are the advantages of belonging to an association?
I've always believed in networking and collaboration. In 1998 I was looking for information on how to build a closet company. What I found was that if you weren't a franchise, there was no information. There was no association, there were no college courses or trade publications. In this vacuum, I decided to reach out to the best closet companies in each major market and start a conversation. This resulted in the National Closet Group, and the open sharing of best practices, education, and supply chain knowledge. We ultimately transitioned into the ACSP to be more inclusive. The knowledge I have learned by being part of these groups is immeasurable. I also credit this networking to the successful sale of my business. Just one simple idea shared can be worth millions.
10) What's next for Mike Carson?
I've always considered myself a businessman, and closets was a conduit for that enterprise. This industry, however, has a way of capturing more of me. The people and the clients are wonderful, and the end products are inspiring. I plan to continue building my Inspired Closets business as long as I can. I would like to pursue a couple of other business interests as well. Believe it or not, I have a screenplay for a feature film that I would really enjoy pursuing. Then a home on a lake, a ski boat and lots of grandkids.
 
Have something to say? Share your thoughts with us in the comments below.