10 questions: Interview with Tara Whitlock
September 27, 2021 | 10:12 am CDT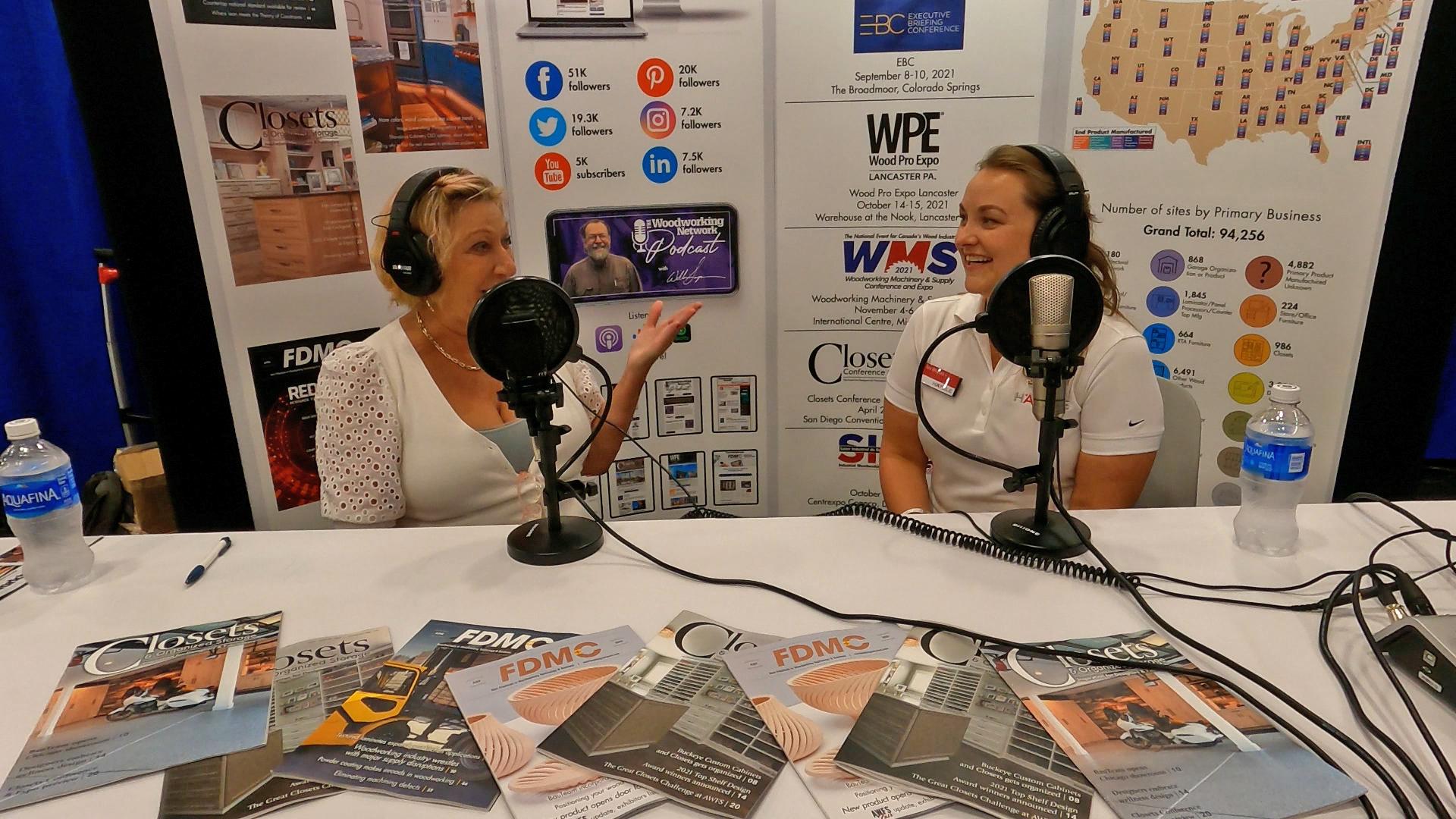 Tara Whitlock, sales account manager closets & home organization at Hafele America sat down with me during AWFS Fair 2021 in Las Vegas. Whitlock is 36 years old, a mother of six, and won the salesperson of the year at Hafele in 2020. She grew her territory by 132 percent.
Having been a closet designer at Closets America and studying CAD in college, specializing in the closets and home organization storage products is the perfect job for Tara.
Tell me a little bit about your road to success and how you, at such a young age, and you are very young, and have all these amazing accomplishments.
Well, I would say mostly a sense of tenacity and refusing to take no for an answer, but primarily at least in this role, I understand the closet business from a lot of different sides. I started as a closet designer in 2009. I moved to a wholesale distributor, so I actually was a customer of Hafele and was buying and reselling Hafele products to other kitchen companies that wanted to do closets. 
And now on this side as a supplier, I have good relationships with the buyers. And what I like about this role, better than being a closet designer or something, I have relationships with my buyers and the owners of these companies, and I get to see them and get to know them and their families. And it really is not just building solutions for them, but it's understanding them and their business from all different angles. But I can talk to the designers in the language that designers understand, and I can talk to the buyers in a way that the buyers understand. I think that's really been the key to my success.
Laurel: I think that's really important for all sales professionals to get to know who they're working with and understand their needs. Some people are last minute, so sometimes you know that they're going to be calling pretty soon. You're just ready for them. In the home organization business and closets, it's just been crazy how the pandemic has definitely encouraged people or motivated people to make changes in their homes and to upgrade. And now there's kind of a competition for who can do the most "wow."
What are some of the trends that are giving those projects that big splash and excitement?
A lot of cool finishes like lighter colors. At least in the Florida market, we lean towards white primarily, but making white as a high-gloss white or incorporating different elements into the design that make it appear like a floating design, for example, lighting. Doing a toe kick lighting or an upper lighting, which makes the whole cabinet appear as if it's like floating off the wall. It's a neat trend that I've seen.
Laurel: I love that. I like the smoky glass, too, on the doors, which it's intriguing. It makes it a little mysterious.
What about textures, have you seen that, too or leather?
Yeah, leather and linen. And even in the solid surfaces, if people are doing like a countertop, they're doing a matte finish on their solid surfaces just to really bring out those natural textures.
Speaking of lighting, that's become important and just the idea of having electric outlets and charging stations. And I know Hafele has products to fit those needs. Are you seeing that those are selling more frequently?
They are. I think that it's going to get to a point where it's expected. I don't know if you remember soft-closing drawers. It was something that people didn't expect. It was a luxury at one point, but now people are like, what do you mean it doesn't soft close? They kind of expect it. And I think lighting is going to become a standard like that, I would predict, in the next 10 years. I was told that there was a time when refrigerators if you opened the door, the light didn't turn on, that was normal. And I can't even imagine or conceptualize a time like that because if I open my fridge and the light doesn't turn on, I'm like, what's wrong with this? Something's broken. I imagine that our cabinetry in kitchens, closets, bathrooms is going to be like that, people just expect it.
What gets you motivated that you can be so successful and achieve all these goals?
Well, I'm extremely competitive, just my nature. I have a little saying at home, my kids hate it, I say, "I'm actually not competitive, I'm just a winner." They hate that, but it is my little saying. But really, I'm motivated by improving the people and processes that are around me. I like to leave things better than I found them so that whoever comes behind me has an easier time and can be more efficient. And I think maybe that comes from being a Girl Scout, leave it always better than you found it.
Laurel: And I can talk a little bit about Tara's competitiveness because she was amazing this morning at The Great Closets Challenge. We had two men compete yesterday afternoon and they didn't even finish the closet at 60 minutes and Tara finished in 42 minutes. Girl Power!
What inspires you? 
For me, I'm really inspired by positivity. Being around someone who is positive, I think that's so contagious and encouraging and it just makes you want to be like that. Those are the kind of people other people want to be around. And I try to be that person for other people because I do think it's contagious. If you're being very positive and uplifting, then other people tend to be more like that, bring everybody up together.
What is your favorite pastime? What do you want to do when you finally get some free time?
My absolute favorite thing to do is go to the beach, maybe a little cliche because I live in Florida, but I'm blessed to pieces to only be about 15 minutes from the Gulf of Mexico, but my whole family is not as into the beach as I am. So, I'll take a girlfriend with me, and we'll go for a walk and get some exercise or sometimes I'll just catch a sunset after dinner, but that's a very peaceful feeling. I don't think money can buy that.
What do you tell your children about how to lead their lives so that they can find the inner peace that you really portray?
I think what I try to convey to them, I hope that they would agree that I've gotten this point across, is to know and love themselves first and foremost and to really try not to compare themselves to others. That's a very slippery slope, comparison, especially now with social media. It's so easy to compare yourself to other people and that's just not healthy. I think especially for young girls, and I have five daughters and one son, but especially for girls. I want them to know themselves and love themselves and figure out their own passions and pour their energy into that because it's going to serve them better in the long run rather than trying to compare.
Laurel: I thoroughly enjoyed this interview. Tara's kindness, motivation, and positive thinking shines through in her actions and words. It's no wonder she is so successful at Hafele.
View the entire interview at bit.ly/3t9Abk6.
Editor's Note: The Class of 20212 40 Under 40 honorees will be featured in the October issue of FDMC, our sister publication and were recognized at a reception during the Executive Briefing Conference, Sept. 8-10, at the Broadmoor in Colorado Springs, Colorado.
 
Have something to say? Share your thoughts with us in the comments below.