Clean, modern looks dominate cabinet trends
April 4, 2019 | 2:58 pm CDT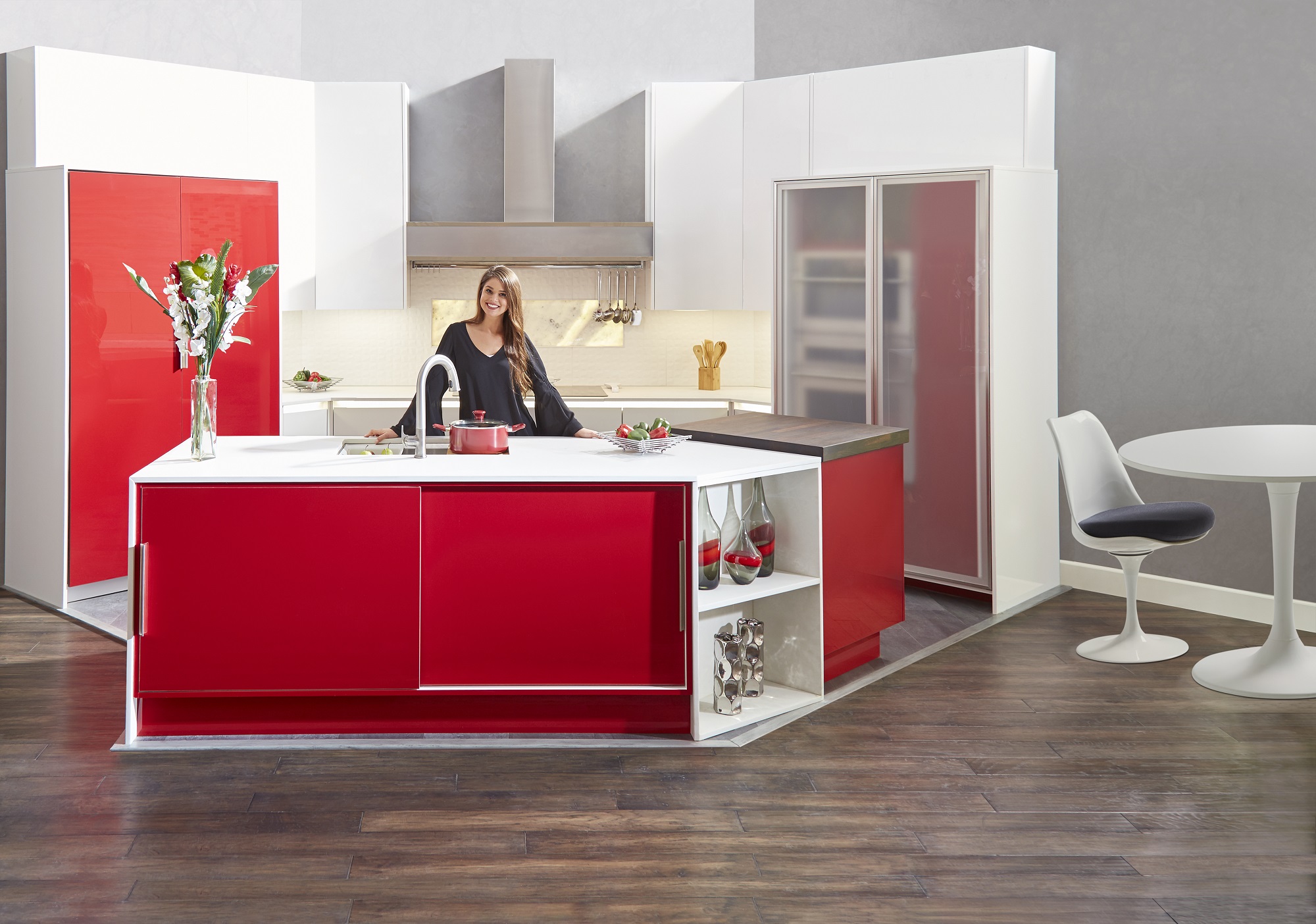 Clean looks, including frameless construction, more paint finishes and fewer wood stains continue to be the strong trends on display in our annual survey of kitchen trends.
Based on an extensive survey of what was displayed by kitchen cabinet companies at the Kitchen and Bath Industry Show and the International Builder Show, our exclusive annual survey is not scientific but it highlights the trends that cabinet companies are promoting to dealers and consumers. We surveyed 42 companies and 167 kitchen cabinet displays as well as interviewing designers and marketing people over a two-day period at the show to formulate a detailed view of what trending in cabinets.
The survey includes information on finishes, stains, materials, cabinet case construction, drawers, doors, countertops, and additional features such as mouldings, hardware, internatl and external accessories. The number of companies surveyed is up 20 percent from last year, and the number of displays is up 33 percent, indicating robust growth. However, most of that growth is in imported cabinets. Many major domestic manufacturers did not participate in the shows. And reflecting the impact of the fluid tariff situation between China and the U.S., many new importers were promoting themselves as outside the trade war because they were located in such countries as Vietnam, India, or Brazil.
Frameless construction continues to be strong, reflecting the growing trend for Euro-style cabinetry. Face frame, full overlay is in second place, followed by conventional face frame.
Case construction
Frameless cabinet construction, which took the top spot for the first time last year, continues to lead with 40 percent of the displays. In second place were faceframes with full overlay doors, a look that can often mimic the clean appearance of frameless cabinets. Faceframe, full overlay accounted for 30.5 percent of the cabinets displayed, a decline of 14 points from last year.
Moving up were conventional faceframe cabinets, which rose to 25 percent this year compared to a mere 8 percent last year. Inset doors were also stronger this year, coming in at 3.6 percent compared to about half that number last year.
"There's a huge uptick in frameless," said Anglea O'Neill from Wellborn, the largest domestic manufacturer at the show.
Pinky Cai, sales manager for NGY Stone & Cabinet, said frameless is part of a larger style: "Modern European style with a sleek look."
Paint has become the leading finish, displacing stained wood, and white is till the dominate paint color, followed by gray. Other colors included blues, blacks, and dark browns.
Paint over stains
A number of designers and finishing experts have pointed out the trend of paint and laminates replacing wood stains in the last few years. That was definitely seen in our tally of what kitchen cabinet companies were displaying at the show.
More than 55 percent of the displays showed a painted finish. About 31 percent of the displays used some form of laminate, including nearly 14 percent that featured new textured laminates. Only about 32.8 percent of the displays featured stained wood. (Note that the numbers add up to more than 100 percent because many displays featured mixed materials such as both paint and stains or laminate and stained wood or multiple accent finishes.)
Still, when it's said and done, white is still the king of the kitchen. One salesman we talked to said pointedly, "If you don't show white Shaker, you get voted off the island." White paint accounted for more than 25 percent of all the displays, and white laminate added another 7 percent. White also showed up in some of the modern, high-gloss and acrylic applications, making well over a third of all displays having some white elements.
"Everyone still wants white," said Sally Chen of FGM Cabinets.
Following white, gray was the most popular color, accounting for about 11 percent of all the displays. Accent colors such as blues, blacks, and dark browns (espresso) were also popular.
Dark stains are still on top, but a number of designers and marketing people reported that trend might be peaking. The larger trend is the ongoing decrease in stained wood finishes.
Dark dominates stains
White might still be the most popular kitchen color, but when it comes to stains, dark dominates. Of all the stained wood choices, dark stains accounted for 16 percent, medium stains 14 percent, and light stains a little more than 3 percent.
Wellborn's O'Neill confirmed the dominance of white, but she said there is a warming trend affecting all the colors and that stains are going more brown based and losing red tones.
Megan Mazur, vice president of sales and marketing for Kitchen Cabinet Distributors, said, "We're seeing a trend toward lighter stains and we'll be adjusting for that in the future."
"For colors, white, off-white, and gray are still high in demand," said Virgil Yoder of Kountry Wood Products. "Dark stains are trending down."
Laminate is once again a rising star in cabinetry and countertops, driven in no small part by the increased use of modern textured laminate products in both cabinets and countertops.
Laminates are back
For a few years, this survey has noted a decline in the use of laminates for both casework and countertops, but this year laminates were strong, driven in part by the growth in textured laminate products.
Textured laminate accounted for about 14 percent of all the kitchen cabinet displays, and it wasn't just in the casework. Textured laminate showed up in about 8 percent of all the countertops on display. Laminates of all types accounted for 44 percent of the countertops displayed, pushing out engineered stone materials at 33 percent. Last year, nearly half of all the tops shown were engineered stone, and laminate was only a fifth of what was displayed.
Wood countertops were also strong, including a few with live edge treatments. Wood countertops were used in about 6 percent of countertops shown, up two points from last year.
Maple is still the leader in wood species for kitchen cabinets, followed by birch. Oak is showing little growth from last year. In other woods, walnut showed up often as an accent.
Maple still on top
As to wood species, maple is still the leader, capturing more than 21 percent of the displays. Birch, another light wood known for taking all sorts of stains and paint treatments, was in second place with more than 15 percent of the displays. Medium-density fiberboard edged out other solid wood species at 7 percent, and oak was hovering around 3 percent, pretty much unchanged from last year.
One trend this year was the increasing use of wood accents. Walnut was very popular, frequently as a contrasting color in drawer boxes or even as a major element as the countertop in an island. German beech, hickory, alder, and cherry were also shown.
"Walnut veneer is very hot," said Steve Stavrou, project sales with Goldenhome. "It's an interesting color to a lot of people."
Wood drawer sides are still on top, but metal drawer systems continue to rise in popularity. Regardless of the drawer side material, soft-close mechanisms are completely dominant.
Solid wood drawers
Where wood continues to dominate is in drawer construction. About 56 percent of all the drawers were solid wood, and nearly 10 percent were plywood. Only 3 percent of drawers were laminate. But the real growth factor in drawers in the increasing use of metal drawer systems. Those accounted for more than 32 percent of the drawers on display.
When it comes to the hardware to operate the drawers, there is no contest. Nearly 90 percent of all the drawers on display used soft-close hardware for their sliding mechanisms. Clearly, this technology has become standard in most kitchen builds.
Door options
While soft-close dominates drawers it is also making an impact in doors. About 37 percent of the displays featured soft-close mechanisms. But the trends in doors goes way beyond conventional hardware.
Creativity in design was nowhere more apparent than in all of the treatments for doors, particularly doors in upper cabinets. In the past, we've reported on trends for mixing wood and glass in doors, which accounted for 24 percent of the displays in this survey, but there were a lot more variations. There were wood and metal doors, all-metal doors, overhead doors (with a variety of mechanisms), sliding doors (sliding both horizontally and vertically), power operated doors, metal and glass doors, and doors with wood grills. Overheads were particularly popular, showing up in about 5 percent of the displays.
While the survey does not track specific door styles, many people noted the dominance of Shaker-style, flat panel doors. "People are going back to basics," said Gary Hartz of Kitchens for Cooks. "We see a mix of dark and light cabinetry and no more raised-panel oak or maple."
Morgan Christiansen of Bernier, a Quebec-based manufacturer, was showing off floor-to-ceiling tall doors that he said were very popular.
Accessories and add-ons
The trend for elaborate add-on mouldings, carvings and furniture feet is not entirely gone, but most displays emphasized cleaner designs. Crown moulding, often in very simple forms was still the most popular treatment, accounting for about a third of the displays. Open shelves were popular, too, showing up in more than 6 percent of displays.
When it comes to accessories, wine racks were by far the most popular as evidenced in more than 11 percent of displays. Spice racks, roll-out pantries, lazy susan and other corner treatments were also popular. Increasing use of lighting, often automatically activated by opening doors or drawers showed up in many displays.
Have something to say? Share your thoughts with us in the comments below.