Get the picture? Using images & software to reduce production errors
By Ryan Anderson
April 8, 2020 | 8:18 am CDT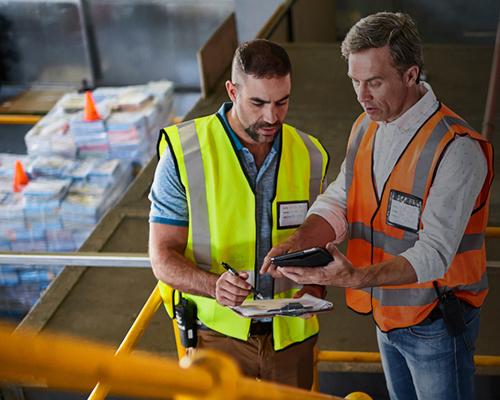 Photo By FeneTech/Q2S
Does it feel like your workers just don't get it? That no matter what you say or do, the mistakes and remakes just keep happening—or get worse?
If you're only providing text traveler instructions, it could be they're not getting the picture – because you're not giving them pictures. Two-thirds of the population are visual learners.
Images can be the difference between understanding and getting it. And that difference can substantially reduce remake costs and order delays while improving efficiency.
Getting your workers there can be simpler than you think. 
If your product has few variants, adding even a single image per product or station can produce benefits: a screenshot of a finished product, a schematic drawing of a machine or a CAD drawing of building materials product. Whatever helps.
You can even benefit by adding a non-image visual: highlighting. If you have a product option that adds significant value but is also likely to be forgotten during the manufacturing process, you can help prevent this by having someone highlight the traveler reports for this variant. While this can work well for one variant, if the highlighting gets complicated,  everything starts to look the same. This tactic then becomes an inefficient process with diminishing returns

More options
You might offer many options (think customized machinery or batch one production). Or you might accept orders and deliver large volume quickly, leaving little time to highlight. For this, you need to automate the process.
If you have manufacturing software and use barcoding, you might be able to add prompts to look at a note on the traveler report. Users at work centers and the final quality station can scan the barcode on the traveler report. A sound or other prompt will alert the user to look for special instructions.
If your system can do this, you can also take it a step further and add an image. This helps users who are not fluent in the language your system uses.  I've seen how implementing this method will immediately reduce remakes.
What if your process is parametric? Don't worry; parametricity is not contagious. Parametric images are created through formulas. They are useful when you want to automatically create images for any application.
In this case, parametric images would be created from the engineering parameters from which your products are designed and shown wherever useful, like on the shop floor. With low volumes, you could have someone create, print and share images for your production floor.
When this becomes unwieldy and inefficient, the efficient choice is software that draws images on-the-fly within or is integrated with your product configurator.
In this setup, the software produces a to-scale image to share with production at key workcenter displays. In such a dynamic system, there would be no limits on the number or even type of image. You could even add video.
With visual work instruction systems, you scan a barcode and the user receives instructions on how to manufacture the unit. It's automatic and customized for what is being manufactured, while improving quality and efficiency.
Your software provider might already offer prompts, images or visual work instructions as options or have experience integrating third-party software. Asking your IT department or software vendor is the place to start.
While it might not be free, it may still easily pay for itself with reduced errors, field fixes, better throughput and improved reputation and customer relations.
Your make-to-order manufacturing system likely uses a product configurator. The configurator produces images you might already be using to provide a good customer experience through the sales process. Why not take the image and give it to production automatically?
Three stages of need
Are there few steps and limited options that change the product image? Then static images are for you and paper may work.
Do dimensions and other options alter most product images? In this make-to-order environment, the higher the production volume, the more you can benefit from a solution that automatically creates parametric solutions.
This is also true if your product requires advanced knowledge to manufacture or there are many options/variations for every product. In this case, your best choice is likely a full visual work instruction solution.
Get the picture?

Source: FeneTech Inc.'s Q2S Director Ryan Anderson has spent 10 years working with manufacturers to get the most out of their ERP investment. For more information, call 330-995-2830 or visit q2serp.com.
 
Have something to say? Share your thoughts with us in the comments below.