Advantages of vertical panel saws
By Justin Rinaldi
April 12, 2021 | 1:29 pm CDT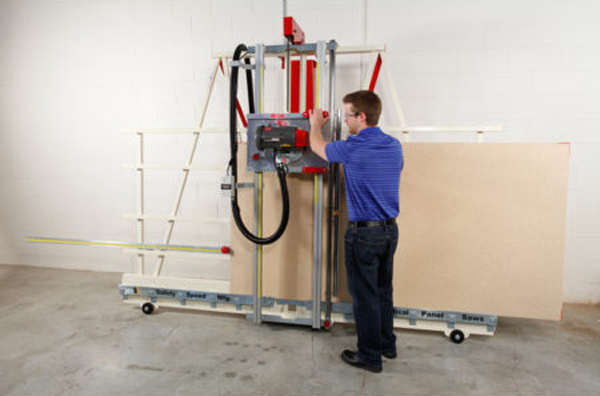 Photo By Safety Speed Mfg.
When you're looking to invest in your shop, it's important to make sure that you're investing in a machine that will not just meet current needs, but also meet needs years from now.
The saw is often considered the workhorse of the shop. When looking to equip your shop, there are advantages to choosing vertical panel saws.
• Reduce back strain. Vertical panel saws allow gravity to be your friend as you pull the saw to the bottom of a panel during cutting. If you follow proper technique, and use your vertical panel saw long enough during the day, you may even get your squats in for the day.
• Ability to crosscut and rip cut. Most saw heads will allow you to lock your saw in place at 90-degree increments for performing rip (horizontal) or crosscuts (vertical).
For crosscuts, load a panel on the frame of the machine and align the material with vertical and horizontal rulers. Turn the motor on and pull the saw down along the guide tubes to the bottom of the frame.
For rip cuts, pull up on the index pins in the motor carriage and rotate the saw blade 90 degrees. Make sure the saw motor is facing the direction that you will be pushing your panel through. Arrows on most saw carriages will provide a reference for this.
Pull the saw carriage down to the correct cutting height using the provided measurement indicators. Load the panel into the machine and align it with the vertical ruler. Turn the saw on and push the panel through.
Source: Justin Rinaldi is the marketing specialist at Safety Speed Mfg. For information call 763-755-1600 or visit SafetySpeed.com. A longer version of this article is on the company's website.
Have something to say? Share your thoughts with us in the comments below.