Surfaces and materials guide for designers
April 12, 2022 | 2:45 pm CDT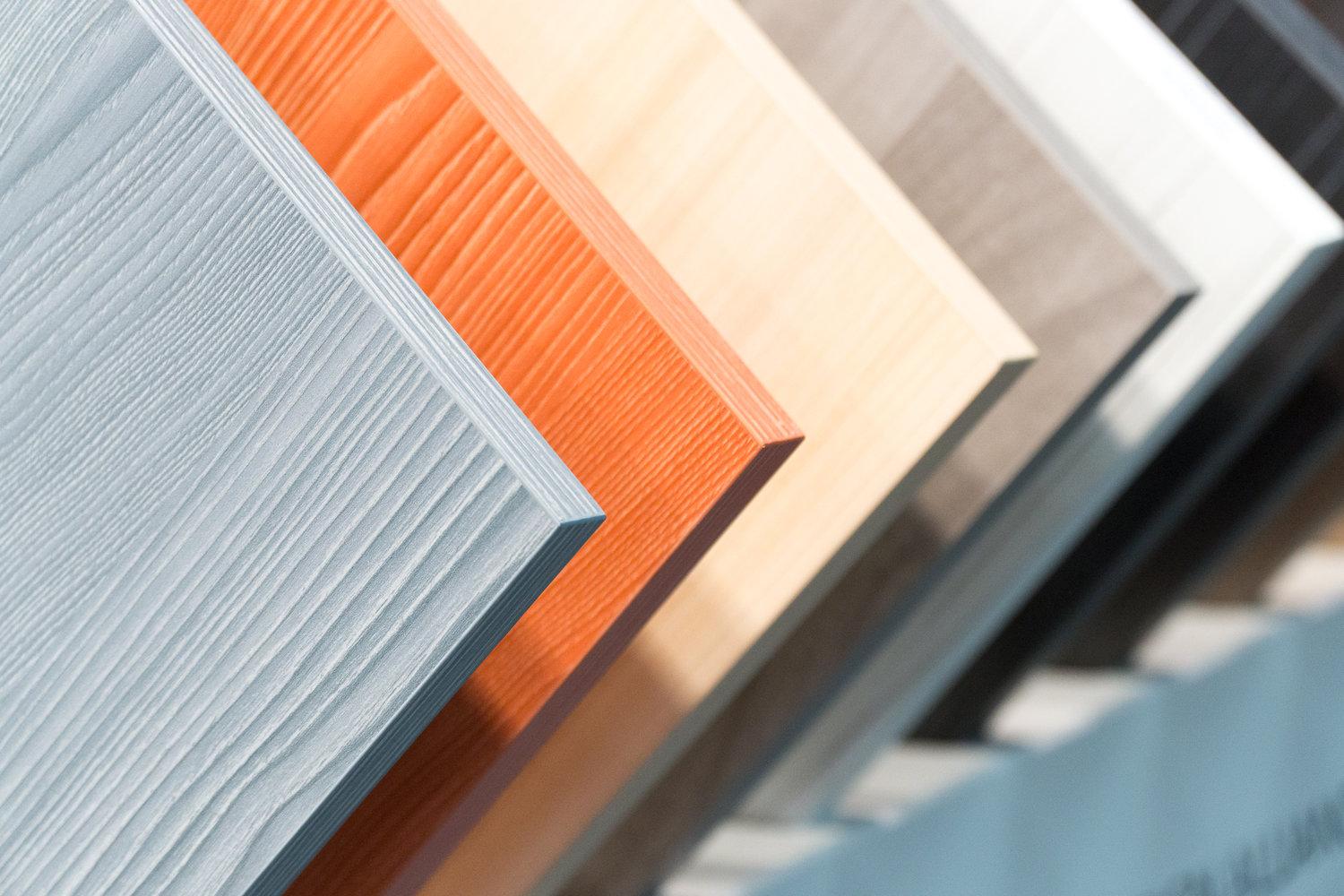 Photo By Kenn Busch
Many factors influence choices made by architects and interior designers: technical requirements, performance, visual and tactile properties like color and texture, and don't forget sustainability. Material Intelligence offers practical definitions and applications for a wide variety of surfaces to help you choose the right material for your project.
The Guides: Surfaces and substrates for furniture and interior architecture
HPL
The granddaddy of decorative laminates, HPL has proven itself over decades of use and still offers more design options than any other material. One of the most familiar and widely used engineered decorative furniture surfaces, HPL was originally made famous by the Formica Corporation. It is sold in rigid sheets that are about .028 to .048 inches thick and must be glued to a substrate, usually particleboard, for furniture and interior applications. 

3DL
Durable, easy to clean, 3D laminates are a perfect solution for healthcare, education, and retail. Specified on components for furniture or architectural wall panels, 3D Laminates are thin decorative thermoplastic overlays, laminated to carved or shaped MDF panels. They are unique in that they can be pressed to panels with 3D details machined into their faces and edges (hence the name!), as well as unconventionally shaped panels and panel edges. 
3DL's ability to "self-edge" – wrap seamlessly around five of six-panel edges as well as interior cut-outs – reduces processing steps and helps seal the panel core against moisture and bacteria. This ability also helps create "soft" edges that mimic shaped solid wood, stone, solid surface, and machined metals.

TFL
TFL - thermally fused laminate - combines durability, design, and incredible textures for commercial and residential furniture and panels. TFL is the next generation of a material originally referred to as melamine panels, or melamine boards, because the surface décor and wear layers are saturated with melamine resin for durability and clear visuals. Think closet shoe organizers and ready-to-assemble student shelving. TFL is a European creation, developed over a quarter-century ago by large composite panel producers looking for a way to create decorative panels for furniture and interiors more efficiently than what was state of the art at the time: HPL glued to particleboard or MDF.
Decorative Paper Foils
Found often on vertical surfaces and RTA furniture, no other material is capable of the resolution and realism of decorative papers and foils. These materials are thin paper-based decorative surfaces bonded to a smooth substrate, usually MDF. They can carry very high-fidelity printed designs, especially woodgrains, as well as matte/gloss variations to create optical textural effects that mimic woodgrain ticking and similar textures. 
Because they are so thin, they're easy to profile wrap around shapes moulded into substrate edges.
Cast Polypropylene (PP) Film
This versatile laminating film is economical, flexible, and fatigue-resistant, with properties that make it an excellent choice for a wide range of consumer and commercial applications. Cast polypropylene (PP) engineered film serves as a sustainable film solution that is suitable for wood or MDF furniture or other substrates used for cabinetry and flooring. Cast PP film has several versatile applications: protective or wear layer, print layer (decorative layer), barrier layer, technical layer, and backing layer.
Particleboard and MDF
Particleboard and MDF (medium-density fiberboard) are by far the two most common substrates for decorative laminates and veneers. They are cost-effective, dimensionally stable, utilize resources that are usually close to production facilities, and can be engineered for a variety of special properties and applications. Most or all of the wood fiber in particleboard and MDF is recovered from other operations – industrial wood residues (recycled pre-consumer residue) such as shavings, sawdust and plywood trim and chips, chips from logs, and urban wood waste (post-consumer residue). Panels can also be produced from agri-fiber sources.
Eco MDF alternatives
There are several environmentally friendly MDF alternatives made from natural materials now available including wheatboard made from 100% natural wheat straw and rice straw MDF made from rice hulls.
Source: Kenn Busch, Material Intelligence. For more information call 608-213-9662 or visit materialintelligence.com.
 
Have something to say? Share your thoughts with us in the comments below.