The bond between adhesive selection and finished product
By Ingo Horsthemke
January 12, 2018 | 5:50 pm CST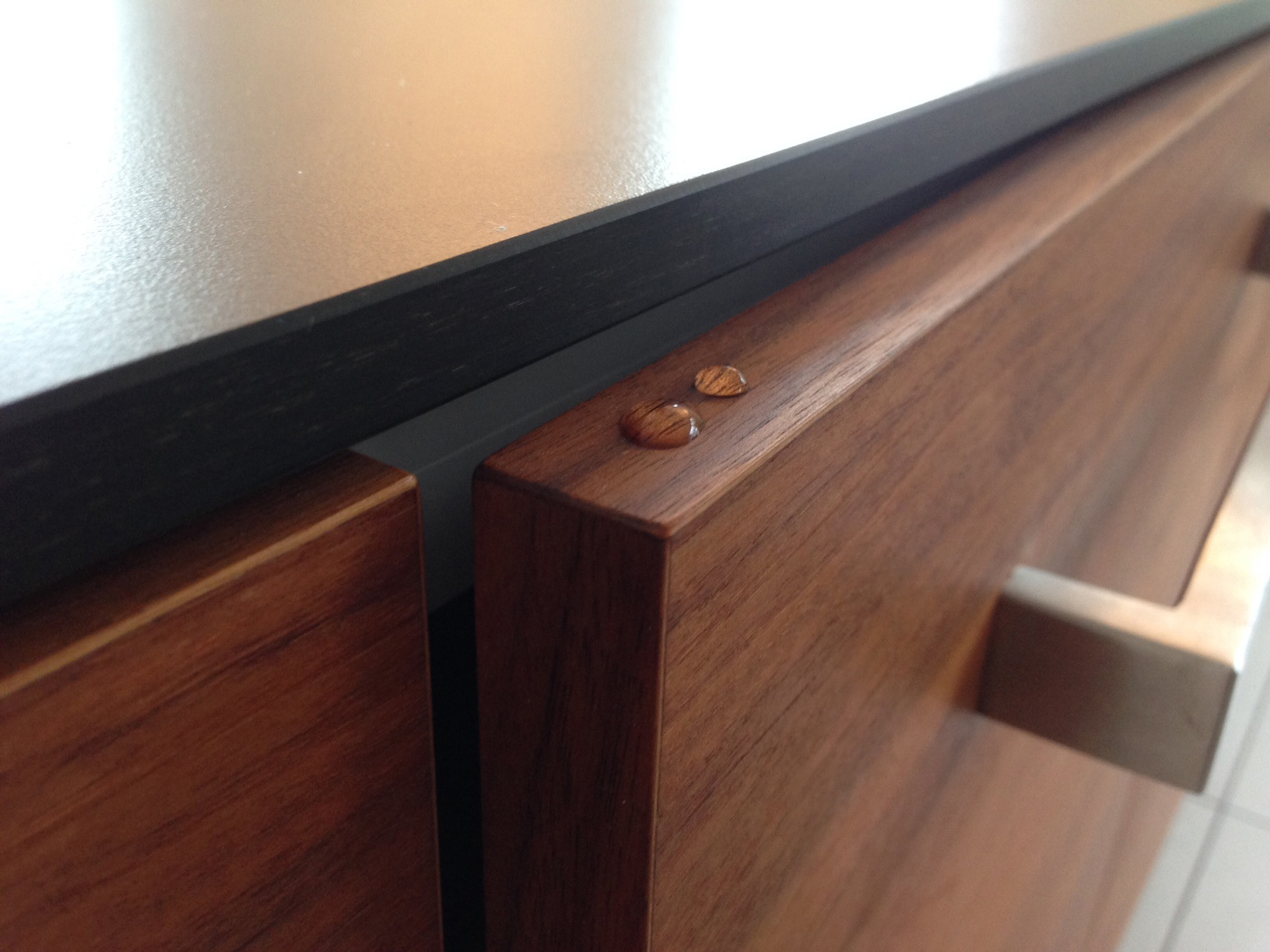 The selections of the adhesive and application amount are both crucial for the production of a perfect end product. An insufficient or excessive amount will result in a lack of quality.
Although the optimum application amount frequently depends on the surface structure of the substrates, today's adhesive systems can be very forgiving of surfaces which are not ideal, maintain a solid connection of subtrates in cases where the bondable surface seems inadequate, and also act as efficient fillers when things get uneven.
A closeup look at the bond between adhesive, decor, edgebanding and panel. Photo: Jowat
Yet while a focus over the past years has been a reduction of adhesive grammage in order to lower manufacturing cost, panels have also become "rougher" and the decor materials thinner, all in the interest of maintaining a competitive edge on the market. This trend has resulted in increased demands and expectations being placed on the adhesive. Adhesives are expected to level uneven panel surfaces despite low application amounts, not penetrate the decor material, yet still provide superior hardness. At the same time, adhesives must never create a bottleneck in the production cycle.
The high initial strength achieved with specialized adhesives for surface coating, ensures an immediate downline processing stream. This means that frequently in the sector of surface coating, the quality of the end product indirectly defines the application amount of the adhesive.
The furniture industry uses a variety of edgebanding materials. Photo: Jowat
Legal standards for use
The application amounts utilized in products for interior building purposes are often controlled by legal standards. This applies for instance to component which must meet high fire protection levels. The completion of industrial, administrative or public buildings (train stations, airports, shopping centers), interior finishing of ships, vehicles for road and rail transport require compliance with fire protection guidelines, and the adequate adhesive application amount is one of the essential factors. After all, if the actual application amount used does not match the permitted or specified amount, the liability in case of fire damage may be voided.
When using adhesive systems and sealing compounds, all those involved in the entire chain of construction should ensure that all bonding materials are certified. Suppliers need to be checked for compliance. Data sheets that are forwarded with the product by certified suppliers indicate the exact guidelines and the correct processing and dosage of the adhesives for the respective utilization.
Bondlines executing a function
A bondline makes sense when it offers additional functions: not only as an expansion joint or as decor in an innovative mix of laminate panels, but also in cases where sealing and insulation is required.
In regards to the thickness of the bondline, certain questions continue to come up: Which adhesion technology and which application amount will most efficiently match the scheduled end product quality? For example, a "zero bondline" may be visually appealing, but will it ensure adequate prevention of moisture damage for components used in kitchen, bathroom or laboratory?
The issue of zero bondlines has become increasingly more important in furniture manufacturing, which in turn has had an impact on the bonding technology used for these kind of applications. Over the past few years, the quality level of furniture has constantly increased, and in cases where a perfect bondline is required, moisture-curing PUR hot melt adhesives are being used more frequently.
A "zero-bondline" is extremely demanding on the bonding process. Photo: Jowat
Edgebanding driving development
The standard edgebanding process, where all kind of edgebands are bonded directly to various panels, is still the most common method of edgebanding. While other adhesive systems are gaining ground in the industry, EVA-based adhesives are still the most established and widely used technology.
Along with EVA hot melt adhesives are those based on polyolefin (PO), which have seen increased usage since the mid-1990s. PO hot melt adhesives can be processed like classic EVA hot melt adhesives without any technical modifications to the equipment. PO hot melt adhesives are typically used in the cabinet industry, and in the commercial and high-end residential furniture industry.
Another type of adhesive used in edgebanding are PUR hot melts, which can produce an almost invisible bondline while demonstrating high heat resistance values above 120C along with a high resistance to water and chemicals. Available in granulate form, the moisture-curing adhesives are processed in special melting units to avoid contact with the moisture in the air. The quality achievable has made this system one of the most popular and fastest growing adhesive methods.
Reactive PUR hot melt adhesives can now be processed on standard machines. Photo: Jowat
In summary, the system of bonding is an integral component that affects all aspects of the woodworking business, from market and design requirements, to production, legal aspects, and investment decisions of the processing company. If adhesives and their processing parameters are adapted to meet production targets, this should lead to competitive advantages that contribute extensively to the long-term success of a company.
The various aspects need to be balanced against each other – a process which pays off all-round, not only in edgebanding applications but in all other quality driven bonding applications.
Dipl.-Ing. (BA) Ingo Horsthemke is a product manager Wood/Furniture/Construction for Jowat SE. For additional  information, visit Jowat.com.
Have something to say? Share your thoughts with us in the comments below.