6 Steps To Designing A Boutique Closet
April 2, 2015 | 3:29 pm CDT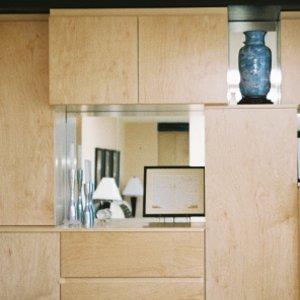 Designing a boutique closet can be a fun challenge for designers. But there are a few things to consider, whether your company manufactures closet components or cabinets or both, to ensure the clients get the closets of their dreams.
1) Discuss specifically what the client needs to store in this space and what else she would like to accomplish with it. Some people want desk space for administrative tasks. Others dream of coffee bars and wine refrigerators. Many want vanity space where they can put on make-up and accessorize themselves. And get specific style and aesthetic preferences, as they are keys to success.
2) After taking measurements and recording all of the obstacles, windows, outlets and clearances for any existing reach-in closet doors, do a "rough math" space planning layout.
3) Be prepared to take this design to the top, both literally and figuratively. A request like this is for more than just placing a system of panels for double hang, long hang and shelving. It's also beyond just adding an island and thinking that equals a "dream closet." So you need to know what their style is because the aesthetics are as important as the function. Plan to incorporate crown molding, base molding and other embellishments to give the room a real furniture feeling.
4) Consider lighting and mirrors. In this situation, a three-way mirror should be pretty easy. If not, a large, full-length mirror as a door is a great solution. Just be sure there's enough space to step back and get a full view.
5) Plan on custom sizes, custom finishes — custom almost everything. The biggest "hurdles" you need to overcome are the traditional thinking and training you have about efficiency in closet design. While you will still apply principles like appropriate shelf depths and accessibility, the other "rules" about 24-inch wide and 16-inch deep will serve the price element. However, they don't serve the "I have a dream" element.
6) Embrace the expert in you. This is where your design rubber will meet the road. Take all the things you've seen and thought were beautiful, or things that inspired you from either a form or function perspective, and run your design plan filter through those. This will allow you to likely come up with terrific design solutions that aren't run of the mill. And that's what leads to success in projects like these.
Source: Denise Butchko, Butchko & Co., Chicago, IL, is a design and marketing expert. For more information contact her at (312) 399-7109 or DeniseButchko.com.
Have something to say? Share your thoughts with us in the comments below.