Sneak Peek at Woodworking Innovations: LIGNA 2015 Preview
January 30, 2015 | 7:18 am CST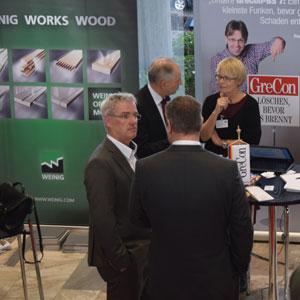 HANNOVER, GERMANY – A sneak peek at some of the new woodworking technology and innovations on display at Ligna 2015 was given to an estimated 80 journalists from around the world yesterday at a special event hosted by show organizer Deutsche Messe. The world's largest woodworking event, Ligna will be held May 11-15 in Hannover, Germany.
This year's Ligna will play host to 1,500-plus exhibitors from 40 countries, with displays spread across more than 1.29 million square feet of space. The number of attendees also is projected to surpass the estimated 90,000 that attended the 2013 event, said Dr. Jochen Kockler, member of Deutsche Messe's Management Board.
"Survival in today's competitive markets belongs to those who master the latest strategies, systems and solutions," Dr. Kockler said while giving journalists an update on the 2015 Ligna show. "The 'fourth industrial revolution' has reached the wood and furniture industries, sparking a move toward total integration that shows no signs of abating.
"To take advantage of this trend and remain competitive, manufacturers need to optimize their data flows. And that's true whether they are engaged in mass or one-off production. In the near future, workpieces, machines and logistic systems will be able to 'talk' to one another, and IT, telecommunications technology and manufacturing will merge to form a seamlessly integrated system. It's a new production paradigm and it offers enormous opportunities for everyone concerned," Dr. Kockler added.
The Ligna 2015 Preview, held January 29 at the show fairgrounds, also included a presentation from Wolfgang Poschl, chairman of the VDMA Wood Processing Machines division and chairman of the management board of Michael Weinig AG.
Poschl commented that the global market for woodworking machinery remained positive. According to the VDMA, 2014 global production of woodworking machinery was an estimated Euro $9 billion, with Germany accounting for 25%, Italy 15%, Mainland China 13%, the U.S. 6%, Austria 5%, Japan 4%, Taiwan 4%, Turkey 3%, Canada 3%, Spain 2%, with the remaining 20% spread among other countries.
Also offering industry insights at the Ligna Preview were: Professor Dr.-Ing. Jurgen Jasperneite, director of the Fraunhofer Application Center for Industrial Automation; Martin Brettenthaler, CEO of Pavatax SA; and Janne Markala, general manager, marketing and order fulfillment at John Deere Forestry.
What to Watch for
On hand at the event were 25 exhibitors offering a preview of their offerings to enhance the production of solid wood and panel-based furniture, cabinetry and casegoods. Among them:
Homag: Located within "Homag City," will be integrated and energy-efficient solutions for workshops of all sizes, including networked batch one systems. A workshop that incorporates the company's ecoPlus intelligent technology package for saws, edgebanders, processing centers and sanders will be among the booth's highlights. Holzma too will be showcasing new developments, including options for batch one processing and improved dust extraction. Homag will also display a variety of machinery for panel processing and solid wood machining applications.
Weinig Group: Among the new products making their debut for solid wood machining and panel processing will be the Powermat 700 and Powermat 1200 moulders, featuring the "Comfort Set" operating concept offering tool-free setting and reduced setup times. The new Block Gluing production concept for butt joints allows the use of a range of sawn timber dimensions with the same end product. Also new is Rondamat 985 tool grinder with fully-automatic controls and integrated radius measurement of the knives, and the next generation of the UniPin gluing and dowel inserting machine.
Biesse: Automation and software take a starring role in the company's "Industrial Revolution 4.0." Featured components including the bSuite software package that enables users to design, simulate production, program machines automatically and also monitor production. Biesse will also display a host of machinery for panel processing and solid wood machining.
IMA: On display will be a complete edging system for batch-one production, two new edgbanding machine, new post-processing aggregates and an alternative zero-joint method in addition to its laser edging process.
Schelling: New high-tech saws for batch-one production, efficient feeding systems and developments for single-axis saws will be among the items on display by the company.
Horstmann: Networked with IMA and Schelling, Horstmann will present two new drilling and assembly machines for hexagonal processing of casegoods and cabinetry.
GreCon: The Ignition Protection System IPS 7 allows the installation of dedusters with an extraction capacity up to 8,000 m3/h in inside areas. Also new, the GreCon Formator automatically reduces material fluctuations during the manufacture of MDF panels.
MAKA: Among the products featured will be the DC 7 CNC machining center with two independent 5-axis working units and a parallel machining option for vertical workpieces.
Leitz: DryCut saw blades for carpentry as well as metal construction feature a tungsten carbide tipping for longer performance, the company says, and can be resharpened up to eight times. Also at the booth will be demonstrations of Leitz's PlugTec window joint tooling system.
Leuco and Stehle: Tooling innovations that focus on increasing productivity and performance, while reducing noise and enhancing the workplace environment.
Nestro: On display will be new dust extraction and briquetting systems.
Keep watch at WoodworkingNetwork.com for updates on Ligna 2015. Also visit Ligna.de for registration and information.
Woodworking Network Plans interzum plus Ligna 2015 Tour
A North American trip to interzum and Ligna, the world's largest wood manufacturing shows in Germany, is being sponsored by Woodworking Network. 
Conducted in partnership with the two woodworking events, the tour begins with three days at the interzum wood and hardware supplies show in Cologne, Germany, and concludes with four days at the LIGNA wood technology show in Hannover.
The program is managed by TTI Travel (212) 674-3476 and Lufthansa, which are handling bookings directly.
Have something to say? Share your thoughts with us in the comments below.