Jobsite Saw Has Safety Detection
June 4, 2014 | 11:02 am CDT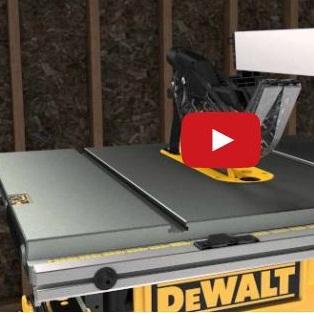 Dewalt's new jobsite table saw has a Guard Detect safety feature, so it won't turn on unless the guard on the DWE7499GD is installed in its proper position. The user can activate an override switch to use it without the guard installed. Either way, when the guard is not in its proper position, an LED light flashes to warn the user of that condition.
"Guard Detect requires user interaction with the tool and the user's awareness of the guard position before they perform cutting applications," says Jason Ducker, DeWalt Product Manager.
The DWE7499GD also has a novolt switch keeping it in the off condition if power is lost, until the user activates the switch. So it won't kick on unexpectedly if power is restored.
Weighing 90 lbs. with its stand, the DWE7499GD features a fence design with 321/2˝ rip capacity that allows wide shelving and trim materials to be easily cut. This table saw also includes a 15-Amp motor capable of the cutting performance that professional users need and demand. 
DeWalt says it will retail at $749, including a three-year warranty and one-year free service. Video shows DeWalt portable saw features.
Have something to say? Share your thoughts with us in the comments below.