Terry Holleman: More than 50 years of cabinetmaking, but always an artist
February 21, 2023 | 1:06 am CST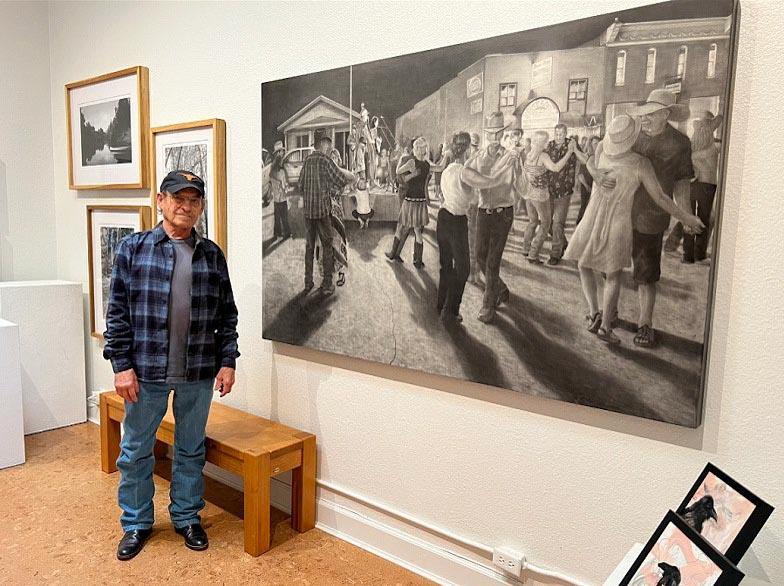 Photo By Terry Holleman
What does a successful, custom cabinetmaker and woodworker do when they retire?
If you're Terry Holleman, a 50-year cabinet-making veteran, you return to your creative roots: making fine art.
"Making some kind of art has been a part of my life since I was a kid in Texas," said Holleman. "I still have some little oil paintings I did when I was nine or ten, they are not very impressive, but they were a start."
After Holleman attended the University of Texas, the renowned Skowhegan School in Maine, and Hunter College, he made his way in the New York City art scene and then moved on to San Francisco, living there during the late 1960s. He managed to support himself with his art, getting pieces in several institutional shows, including the famous Monterey Pop Festival.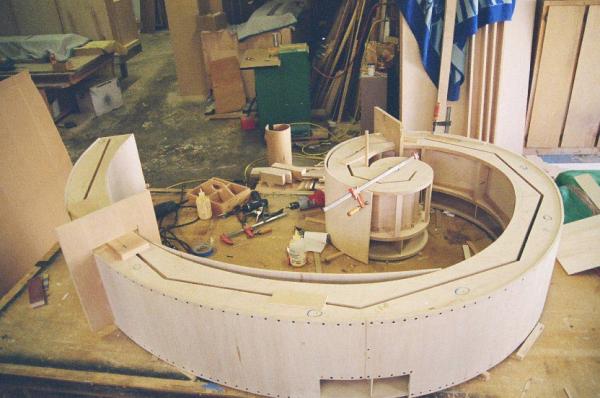 Wanting to provide a more stable income for his growing family, Holleman turned to woodworking and cabinetmaking. In 1969, he opened a 500 sq ft shop in San Francisco using $700.00 he had in savings. Holleman was able to provide for his family, buy more and better tools, and in 1973, moved into a much larger space in the Sonoma Valley as T. Holleman's Cabinetmaker & Designer. Word quickly spread about T. Holleman's, and the shop was constantly busy with custom cabinet jobs.
Holleman became so busy, in fact, that in 1983, he took on a business partner and his company evolved to become "Holleman & Co Cabinet Makers" which had its work shown on various covers and articles in a number of notable magazines, including two covers of Architectural Digest.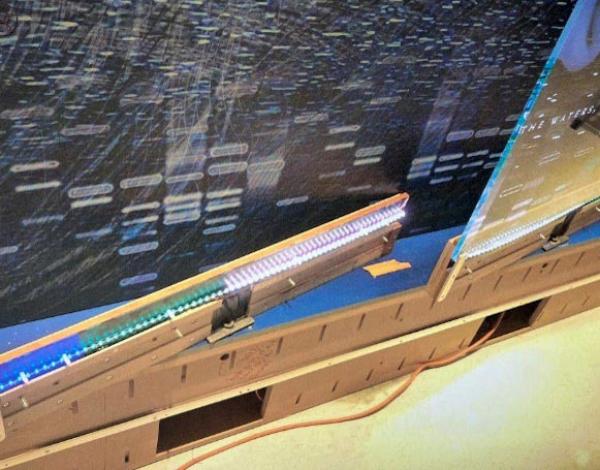 When asked about the shop's longevity and success, Holleman said, "We were well-regarded for our design, high quality cabinets, and flawless installs. One of our most memorable jobs was a $250,000 residential project for the home of the CEO of a very prominent housewares design company. We co-designed and fabricated all the extensive cabinetry throughout the new home."
Besides his talented business partner [Carl Mannle] and staff, Holleman also called out the tools his shop used and which he thinks were "essential to our success":
Wadkin-Bursgreen 12" sliding table saw with scoring blade
Holzher Genesis 1435 automatic edge bander
Castle pocket cutting machine – the early TSM-20 and then he bought the TSM-21 (both early models of the currently manufactured TSM-22)
"That Castle machine saved [me]," said Holleman. "There's no way we could have produced the volume we did – and these were very high-end jobs – at the quality we delivered, without using Castle pocket joinery for our jobs. We used Castle for the boxes and the frames and as much as we could use it for..."
That first Castle Pocket Cutting Machine Holleman bought is still in use.
In 2015, Holleman came ever closer to returning to art as a full-time career when his business partner decided to retire. Holleman closed the cabinet design and production shop and opened T. Holleman Art Fabrication. Combining custom woodworking and cabinetmaking with his artistic talent and expertise in design, Holleman's latest shop specialized in large-format art installation projects. 
Highlights of the art fabrication shop include NASCAR trophy bases, a wood sculpture featured in The New Yorker magazine, and projects completed while working with Amri Glass Studio, which included an installation for the Christ Cathedral in Orange County, CA, and a donor recognition wall for Boston Children's Hospital.
In 2019, Terry Holleman retired from woodworking after a career that spanned five decades and once again became a full-time artist. He creates large-scale pieces – about four feet tall by six feet wide – referring to photographs he takes at live blues and country music shows.
He said that "I have always loved listening and dancing to live music, mostly blues and country. I started to take a camera to shows, accumulating images of musicians, dancers and audience members enjoying themselves and each other. The big pieces I'm doing try to capture the ambiance of these up-close and personal communications that often happen over an evening or afternoon of live performance."
Holleman's pieces take hundreds of hours to complete and are made using Masonite or wood panels, several layers of gesso, and extensive polishing between layers, which leaves him with a base of about 1/16". He then uses conte crayon, stenographer erasers, his fingers, and lacquer, to create breathtaking scenes with amazing texture and detail. Holleman has won a number of awards at regional, juried competitions and is a resident artist at the Cloverdale Arts Alliance. Holleman also has works at the highly regarded Sofie Contemporary Gallery in Calistoga, Calif.
To learn more about and see more of Holleman's work, click here.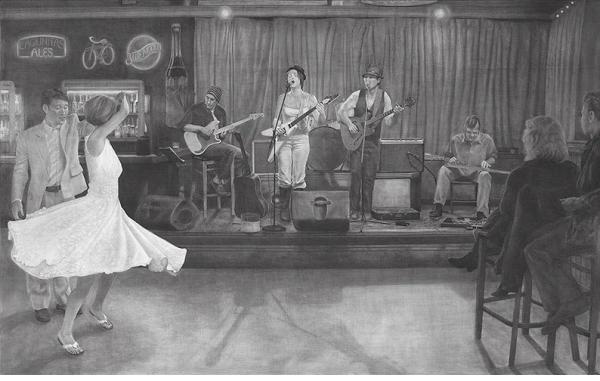 Have something to say? Share your thoughts with us in the comments below.