Showplace Cabinetry continues to grow
February 17, 2023 | 3:37 pm CST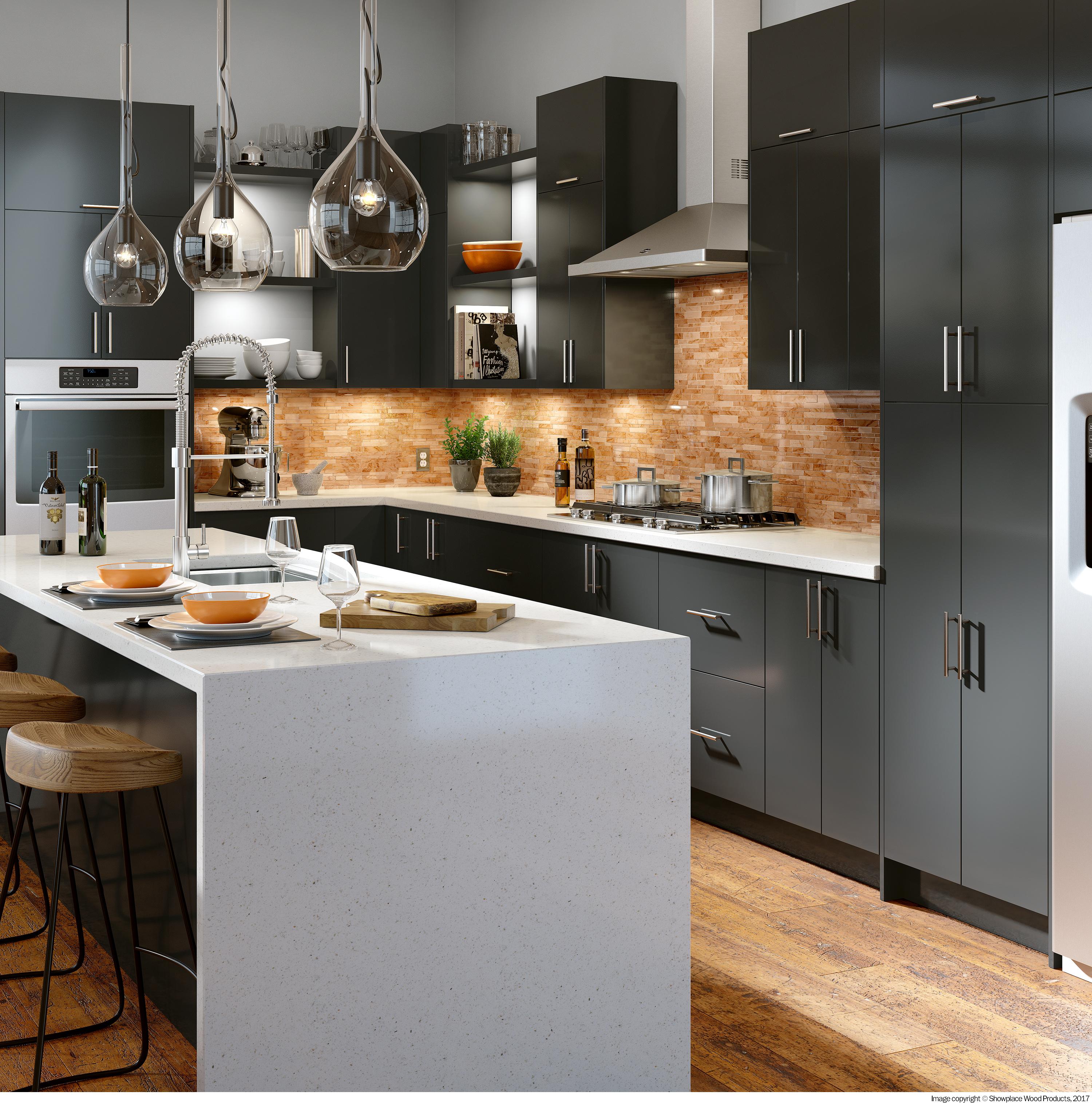 Photo By Showplace Cabinetry
"The place is running fast; it is running hard." 
The place is Showplace Wood Products, dba Showplace Cabinetry. Speaking those words is Bill Allen, the company president and CEO.
Showplace operates two production facilities in Harrisburg, S.D., one of which focuses on framed construction and the second on frameless. It also operates a door plant in Beresford, S.D., about 30 minutes away. While each factory produces different things, one common denominator is a buzz of activity, as workers — employee-owners — manufacture, finish and assemble product to meet burgeoning demand. Everyone has their role; as many as 250 people can have a part to play in building a single cabinet.
"It has been like this since the COVID craziness ended," Allen said.
Growing fast
Where once stood an alfalfa field, now is the home of one of the fastest-growing cabinet companies in the country. It has grown in just about every conceivable way: footprint, employees, shipments, product offerings, sales. Lots of sales. 
While 2021 was a record-setting year for the company, with $94 million in sales, that record was short-lived. Through its sales outlets, including more than 1,000 dealers and distributors across the country, it topped $140 million in sales. In this year's FDMC 300, the company ranked #76, moving up 17 notches from the previous year.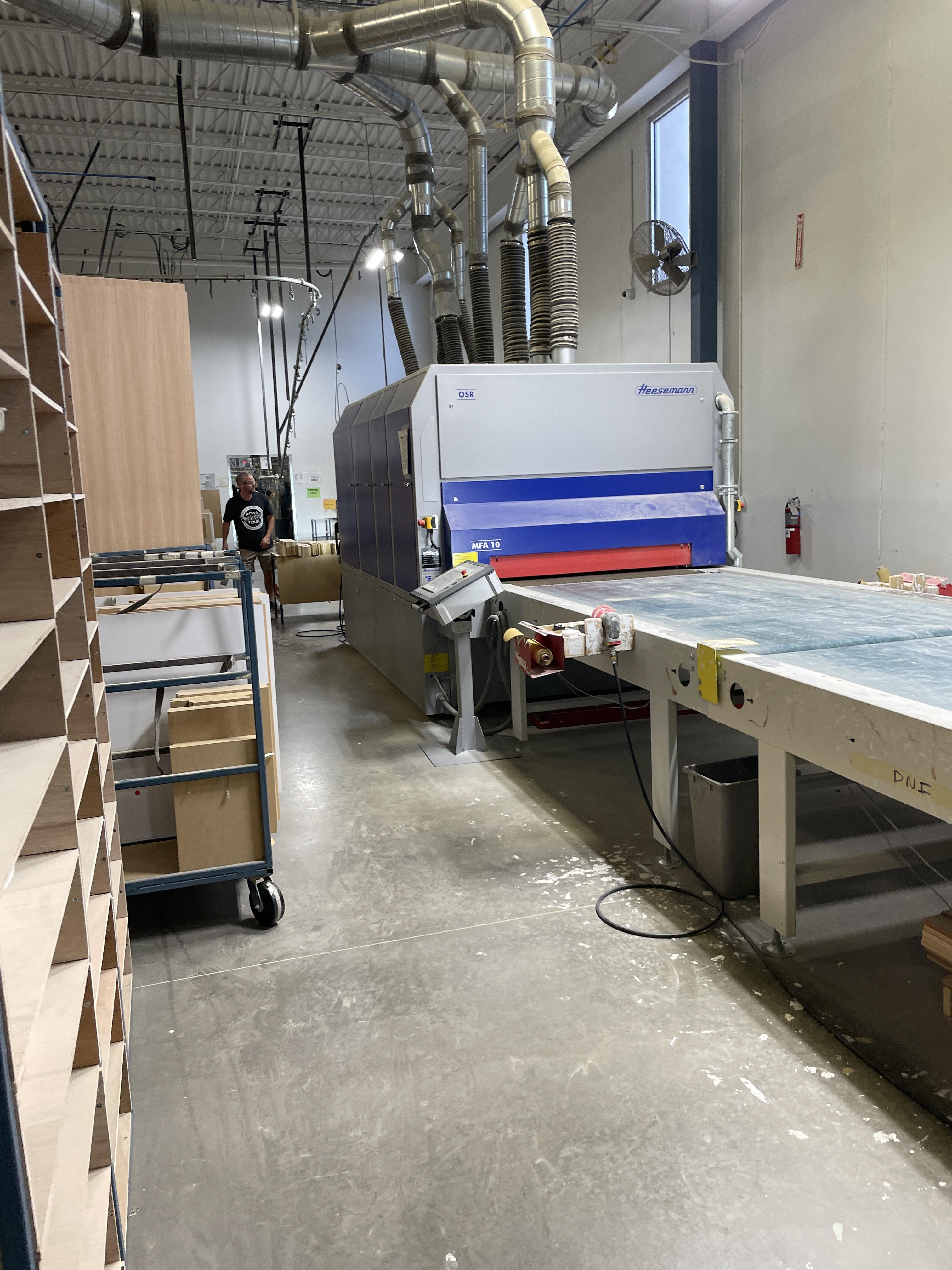 While not providing exact figures, Allen said that 2022 broke the record in terms of shipments. In fact, the company hit a milestone in 2022 when the 3-millionth cabinet was built.
"The first million and second million took us a lot longer, but we were only making 100 cabinets a day," quipped marketing director Hannah Gebauer to a local news station.
Between its two plants, the company produces more than 800 cabinets a day with the Beresford plant feeding them with doors and drawer fronts.
The original factory is a mature plant that has been in operation since day 1, in 2000, and it produces about 650 framed construction (overlay and inset) cabinets per day. Depending on demand, some days production can approach 700 per day.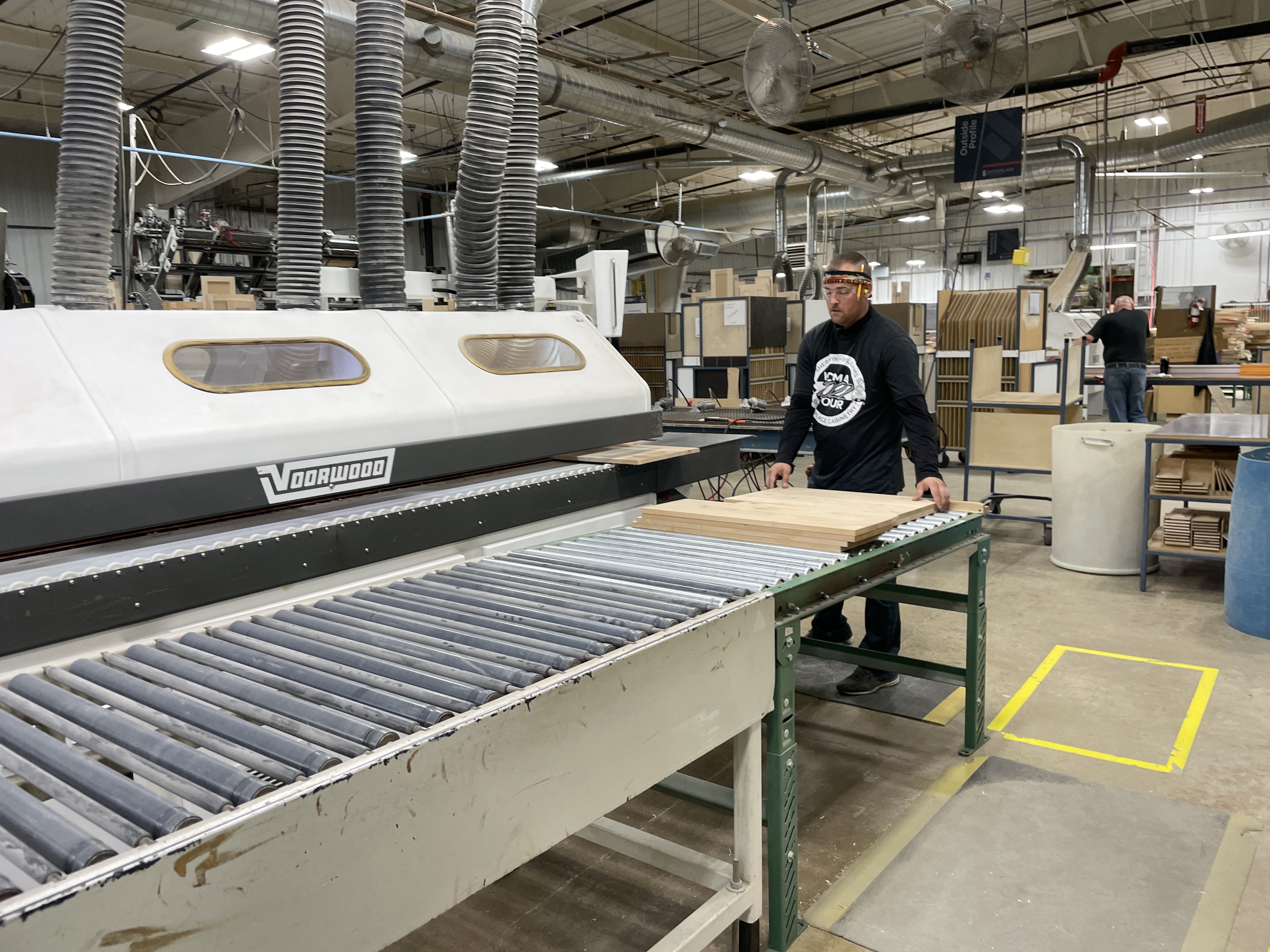 The ShowplaceEVO frameless plant was built in 2015, and the first cabinet rolled off the line in 2016. "It went from zero cabinets a day to 225 cabinets a day and the capacity in that plant is growing," said Allen.
Getting bigger
Expansion has been part of the company's genome since its beginnings. Founded in 1999 by a group of friends and business partners, the company built a 70,000-square-foot factory in Harrisburg and began to ship cabinets in 2000.
Since that time, said Allen, the company has responded to increased demand for its cabinetry lines with infrastructure investments, adding to the original Harrisburg plant in 2002, 2005, and 2007. These growth spurts brought added manufacturing capacity, office space, and employee amenities such as a wellness facility with a fitness center, physical trainer and a health-care worker, and a full-service cafeteria.
The Beresford door facility was acquired in 2001 and doubled in size in a 2005 expansion. 
Next door to the original factory, the company built a 65,000-square-foot factory to produce its ShowplaceEVO line of European-style, frameless cabinets. 
"We're always ready to invest in the future of our company with increased production space and innovative solutions to meet the needs of our customers across North America," said Allen.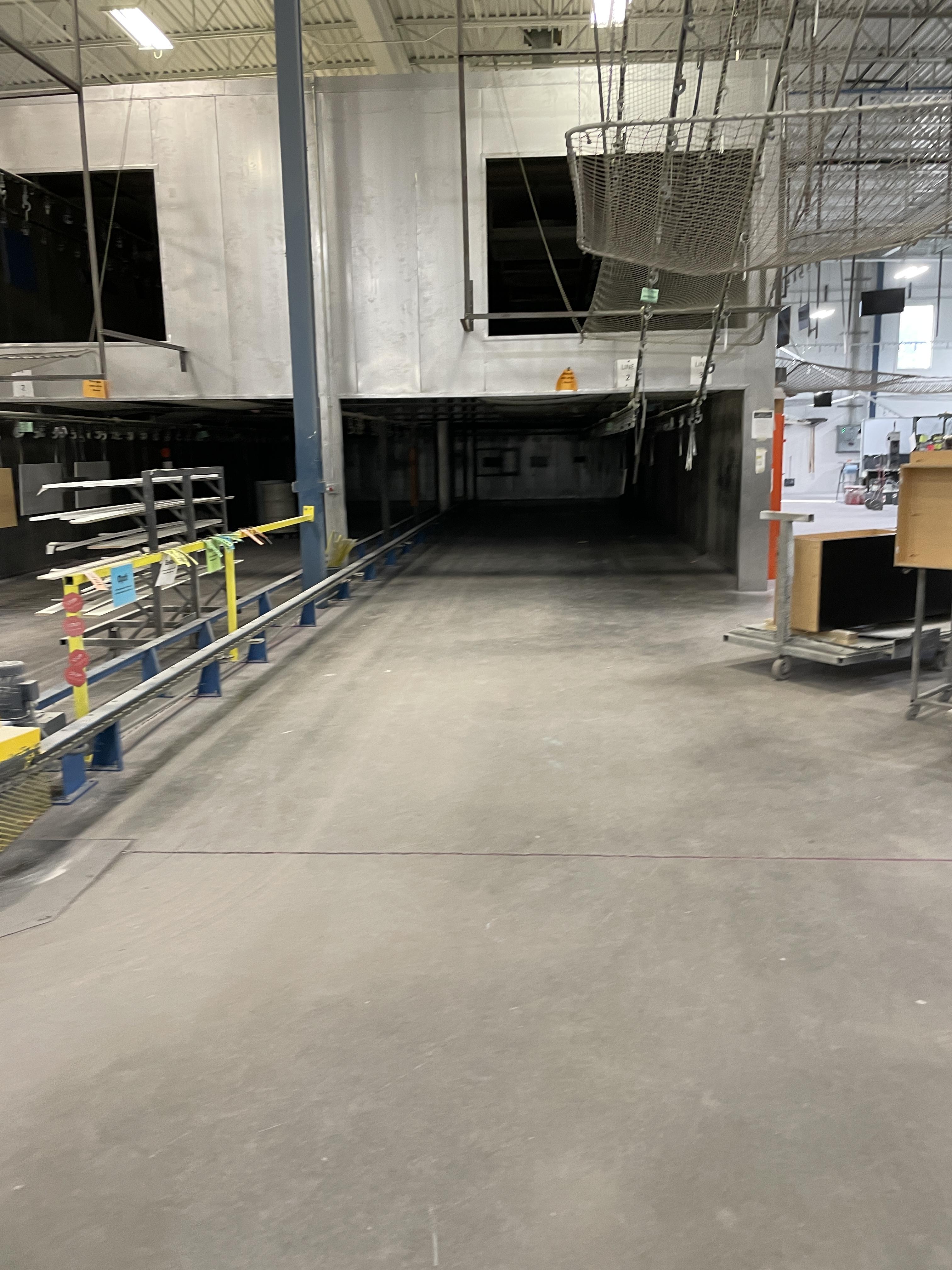 In 2021, Showplace completed a $2.5 million, 16,800-square-foot warehouse and shipping facility that links the company's two manufacturing plants in Harrisburg. 
The expansion provides a central shipping point for Showplace framed cabinetry and the ShowplaceEVO line, as well as enhanced warehousing and transportation efficiencies companywide. 
With the opening of the new addition, completed ShowplaceEVO orders flow straight off the manufacturing production line into the central warehouse area and move directly to shipping. 
"By freeing up space in the ShowplaceEVO production plant, we have increased production capacity by 30%," Allen said. 
On the floor
These numbers, while impressive, are not the real story but a reflection of what happens on the company's factory floors by the company's 650 or so workers. 
"The plant you are going to see, and the people in it, are a testament to what we are doing," said Allen. "They are a pretty seasoned group out there."
Added Jeremy Fischer, one of the plant managers, who has been with Showplace for 15 years, "We are super excited to show you our plant."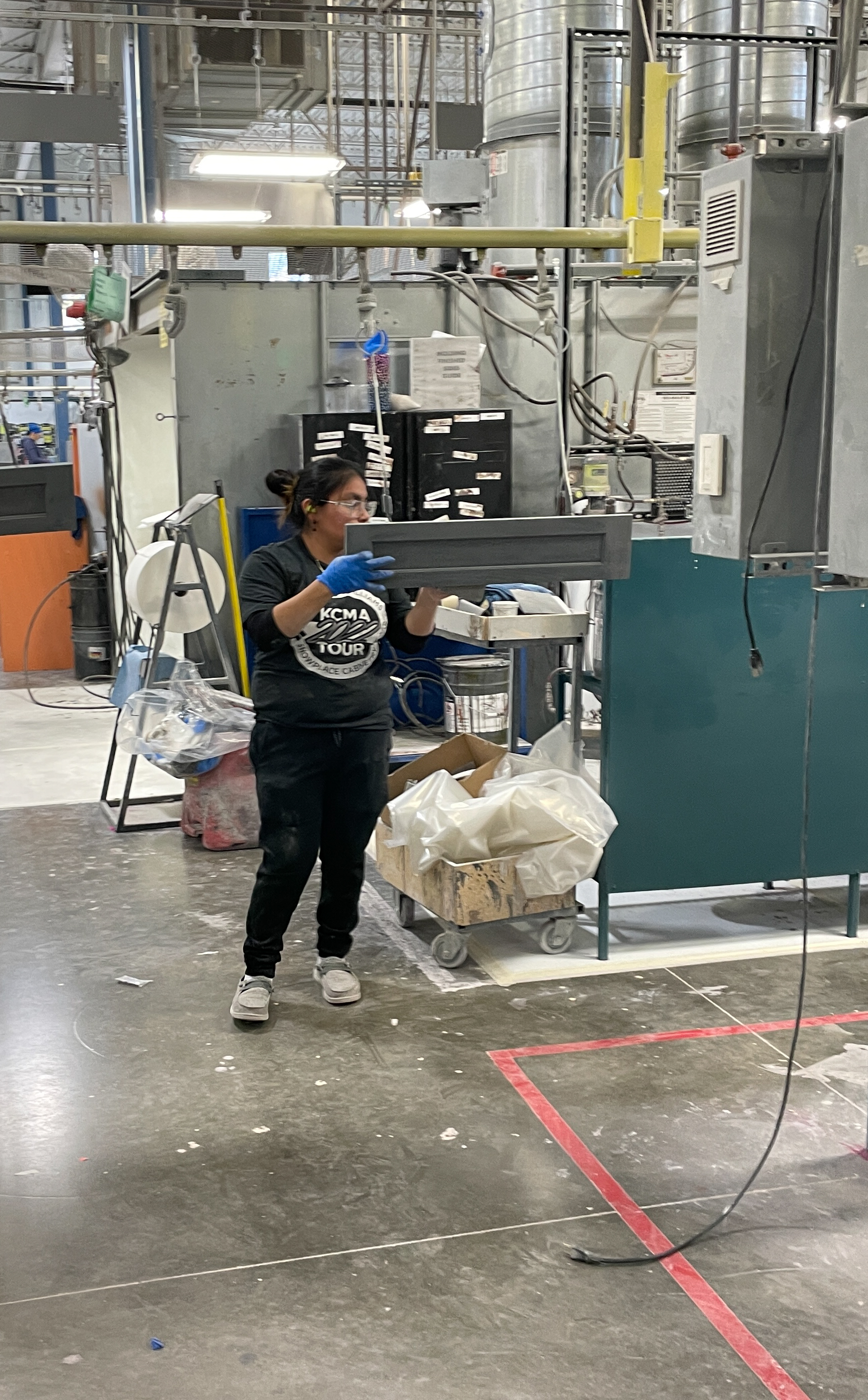 Fischer and a cadre of others with the company led a guided tour of some 24 stops — averaging about 5 minutes per stop — showcasing everything from computerized CNC technology to simpler, get-the-job-done and do-it-accurately technology and in production and assembly areas with names like Trim and Talls and Setup.
Walking the floor was somewhat akin to traipsing through a beehive. The factory floor appeared to be in a constant state of motion with raw materials turned into frames and faces, stiles and rails, and myriad other components. 
Men and women push carts delivering the material and parts to hungry stations while assemblers and packagers get the product out the door. While non-stop action, it is not haphazard as each job is tracked, and each cabinet gets a ticket.  
This could be quite a feat considering that they offer 1 million combinations to choose from, at least according to their website. This includes, at a recent count, 86 door styles, 13 wood species, 34 standard paints, 26 stains, as well as custom paint colors and several specialty finish packages. 
Making frequent stops
Navigating the factory floor, there were many stops. Many of which were at workstations that are supplied with raw materials by carts that are staged in order and come with corresponding paperwork and cut sheets. 
In one station, stop 1, a Holzma HPL 400 beam saw, acquired in 2015, cuts 250 parts per day, and 80 percent are cut-to-Kanban and 20 percent are cut-to-order.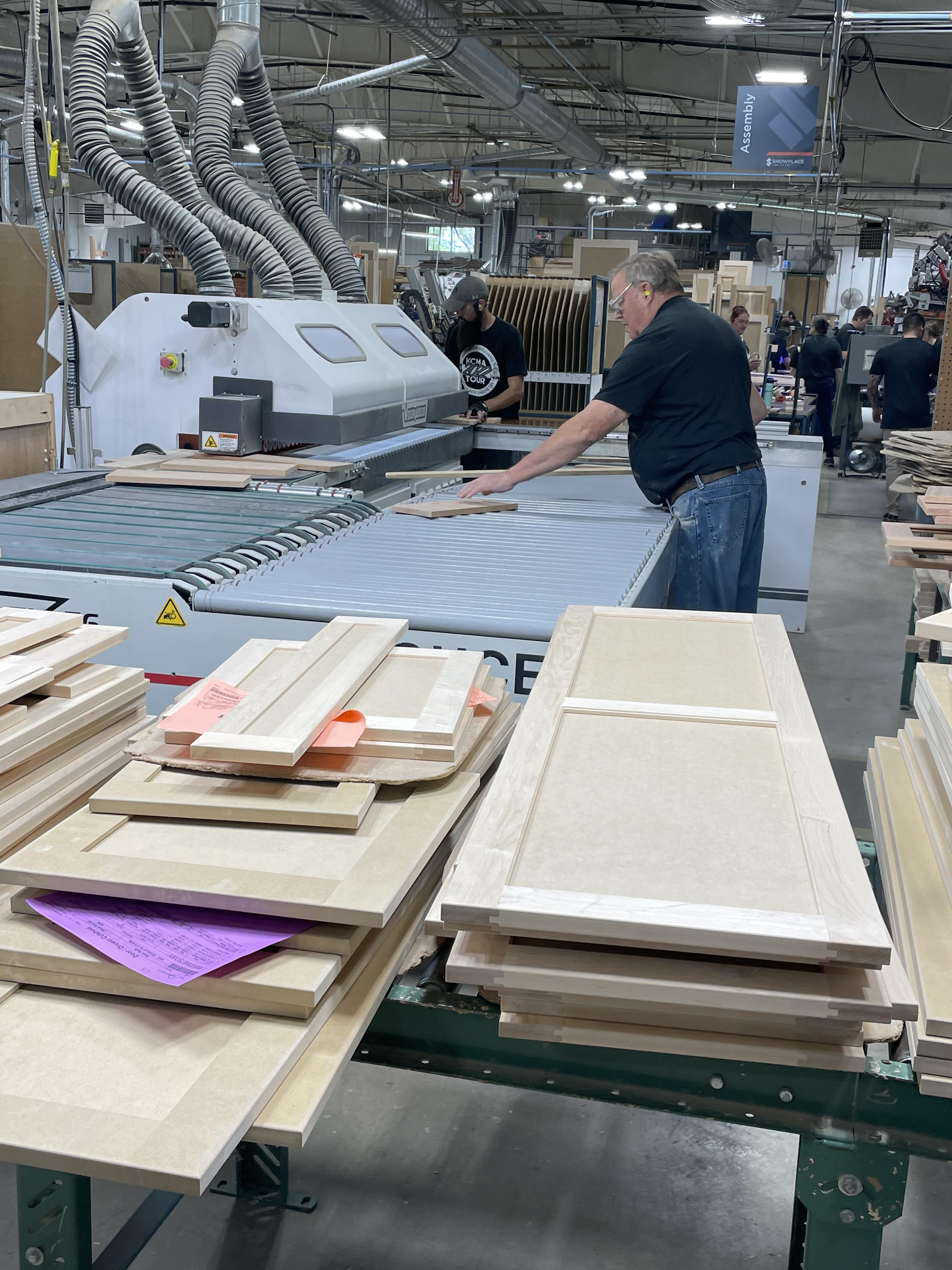 To improve efficiency and reduce waste, material orders are optimized with Cutrite software and the cut files are transferred to the CNC beam saw.
According to Fischer, a Kaizen team is finishing a complete re-layout and improvement project that includes implementing a Kanban replenishment scanning system, new rack designs and increased use of the Cutrite software to improve the beam saw efficiency.
Another stop was for stile and rail cutting, where key components are made for some of the company's most popular products such as the Cope and Stick door construction that is built from five-door parts. A frame of two stiles and two rails is built around a center panel and the stiles and rails are joined with a mortise and tenon joint.
At a nearby coping joint station, carts once again are staged by order. Coping is completed at three HSK dual-spindle counter-rotating coping machines. Two machines are Pillar CMJ models acquired in 2016 and 2022, and the third is a Voorwood A16 purchased in 2021.
According to the Pillar website, the CMJ models are dual-spindle counter-rotating coping machines with two counter-rotating vertical spindles. The process, according to the company, is that one spindle clears the leading edge of the rail, and the second spindle processes the remainder of the component. 
For its part, the Voorwood A16 Cope Shaper with single-side dual spindle is designed to shape single or multiple parts in one pass. 
Moving through the new shipping facility that links the two factories, we entered the ShowplaceEVO production space. One of the highlights was the sanding operations in preparation for finishing. 
Here, doors are edge sanded and then moved to the company's Heesemann sanding line.
The line includes an MFA 10, 4-head calibrating sander. Parts flow through the sander, exit it and move into an MFA 10, 2-head brush/2-head orbital combination sander.
Cabinet panels and veneers are sanded on Heesemann 10-panel sanders.
The products are hung onto the paint lines by job order where they will get spray finished with one of the company's vast numbers of options including new paint choices Evergreen Fog, which has a green-gray blend and a touch of blue, and Iron Ore which is a deep, dark gray.
Iron Ore was Sherwin-Williams Color of the Month in March 2022 and Evergreen Fog is the 2022 Sherwin-Williams Color of the Year. Both have been popular customized colors from Showplace's ColorSelect partnership with Sherwin-Williams.
Partnering with Sherwin-Williams has been helpful through the years. Allen, when he was the director of manufacturing, was having problems with inconsistent finishes with the most difficult color being a brown stain on maple called Pecan. The company was incorporating SHER-WOOD SB stains.
"The original stain bases that we were using were formulated based on our old sanding procedures," said Allen. "Sherwin-Williams worked with our product managers to implement and improve the sanding process and to be a more consistent product coming out of the end of the sander."
"In the month prior to changing to SB, we found that we had rejected about 43 pieces. In the month following the change to SB, we experienced only one Pecan piece that was defective."
 
Have something to say? Share your thoughts with us in the comments below.