New theater uses sustainable materials and modern design
November 4, 2020 | 4:40 pm CST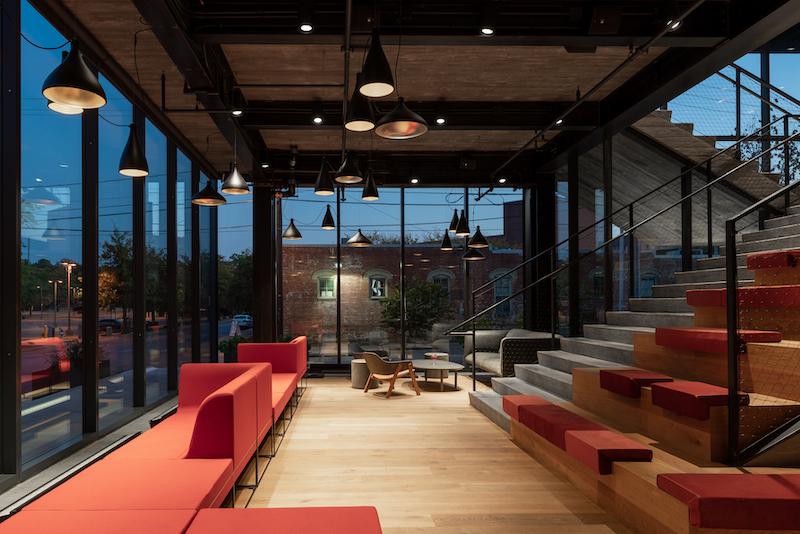 FAYETTEVILLE, Ark. -- TheatreSquared, Northwest Arkansas's professional theatre, recently opened its new 50,000 square-foot home in Fayetteville.
The new facility combines two state-of-the-art theatres, the company's first dedicated rehearsal space, offices, education and community space, on-site workshops for scenery, props and costumes, eight dedicated guest artist apartments, outdoor terraces at three levels, and an open-all-day cafe/bar on an active corner between Fayetteville's downtown square and the University of Arkansas's campus.
Built by Baldwin & Shell, board-formed architectural concrete wraps both theatre volumes. The studio, rehearsal space, and mainstage are all plainly visible from the street, so that no matter where an observer stands outside, it's clear the building's purpose is to create and experience live theatre. There is a nearby train that had been a huge distraction when using the former facility, so the new theatre was designed to be perfectly silent, from 24-inch walls to gaps between the steel and concrete to keep vibrations from passing through.
Designed for sustainability, the project exceeds national standards with repurposed building materials, all-LED lights, furniture milled from trees on site, enhanced commissioning, and efficient systems. Behind the building, the outdoor patio serving T2's new dedicated guest artists' apartments is constructed out of reclaimed brick from a 150-year old structure that once stood near the old Fayetteville Depot. Arkansas pine board-formed concrete and Kebony Shou Sugi Ban modified wood, charred by Delta Millworks, make up the building's façade. After the concrete was poured, the pine was repurposed as interior finishes in the Spring theatre and rehearsal room.
Kebony is a sustainable wood that uses a bio-based fluid to improve the qualities and characteristics of the wood. The cell structure is permanently altered, providing the wood with the abilities and deep tan resembling tropical hardwood. See https://us.kebony.com/technology
Have something to say? Share your thoughts with us in the comments below.