Kebony featured in Canada's first funicular In Edmonton
January 16, 2018 | 8:55 am CST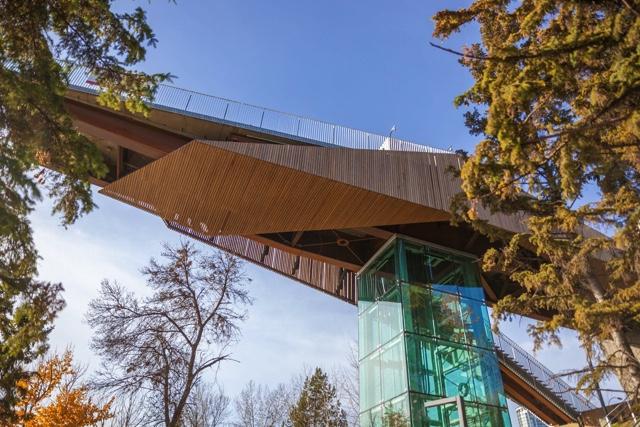 EDMONTON, Alberta– The Edmonton Funicular, officially called the 100 Street Funicular and Frederick G. Todd Lookout, has opened in downtown Edmonton.
A boxlike, cable-mechanized, incline elevator, the funicular can transport mobility aids, bikes and strollers, and runs beside by a staircase for those who prefer to walk. The $24 million funicular is located in downtown Edmonton and was publicly funded to make Edmonton's river valley, the city's largest public greenspace, more accessible. It connects to a promenade and a raised lookout.
At the bottom, riders can walk along a promenade to a lookout point with an unobstructed view of the valley. Stairs or an elevator from the lookout descend the rest of the way. The stairway features built-in seating and a path for runners parallel to the funicular track.
On one side, runners will be able to jolt up or down while sitting blocks made of concrete are on the other side for people to lounge on. The stairs have about 170 steps, and are made out of Kebony wood, an eco-friendly material designed to be durable.
According to Dialog, the architectural firm who designed the entire project: "The materiality and overall form of the project are heavily influenced by the existing connective infrastructure of the city's river valley system. The river valley is connected by a series of meandering wood stairs, boardwalks, and weathering steel foot bridges and this is an experience that is reinforced through the design. Kebony wood is used on the boardwalk and architectural cladding. Not only does it look beautiful and provide warmth, it has excellent dimensional stability and resistance to rot, designed to last 6 times longer than pressure-treated wood."
Both the funicular and the elevator have design details, he said, from braille on the buttons to extra lighting and security, meant to enhance accessibilty. Kebony has received numerous awards for its environmentally friendly technology and innovation, including its naming as a World Economic Forum Technology Pioneer and a Global Cleantech 100 company See https://kebony.com/us/
Have something to say? Share your thoughts with us in the comments below.