Huber Engineered Woods revises environmental assessment for $440 million OSB plant
January 31, 2022 | 3:09 pm CST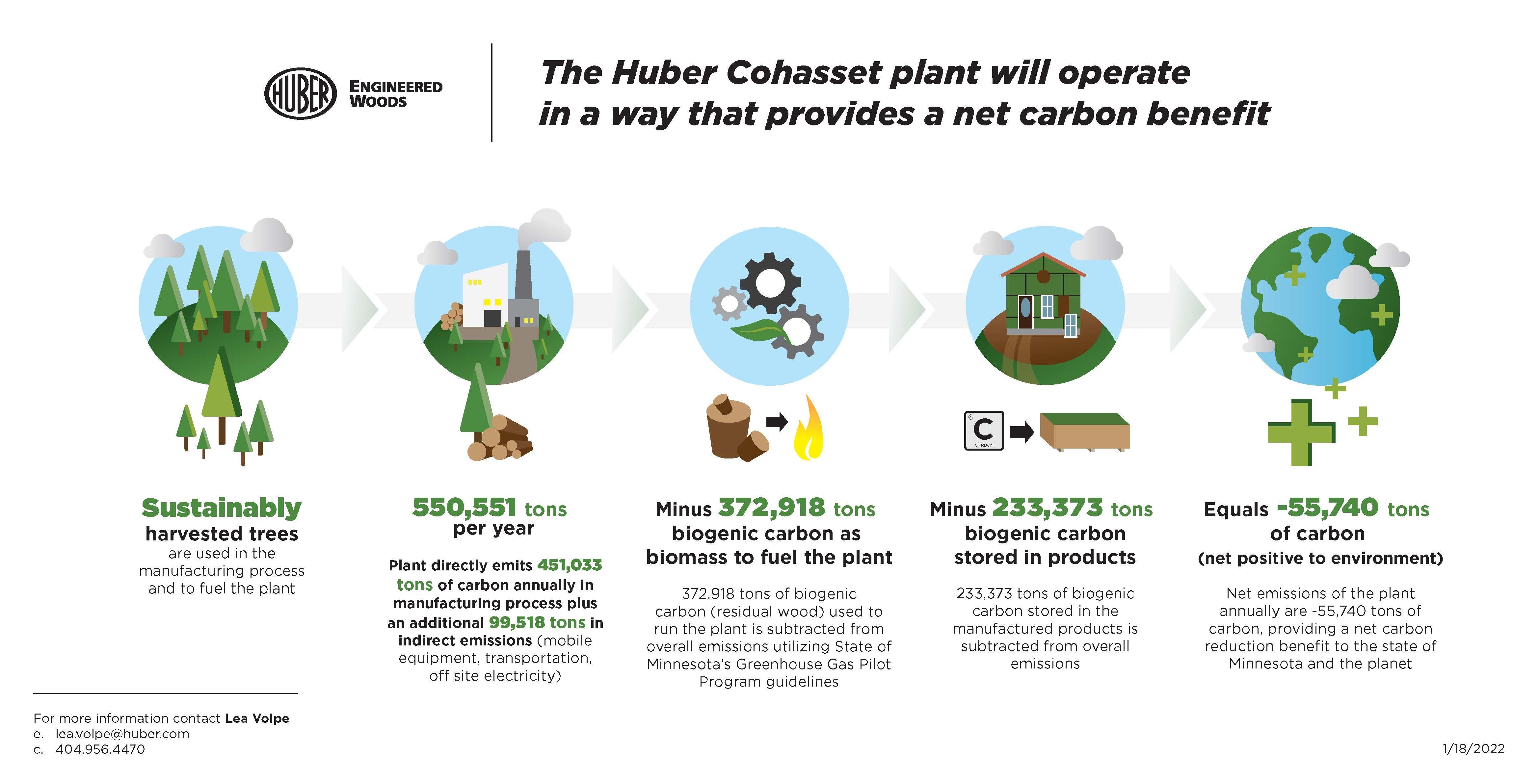 DULUTH -- Huber Engineered Woods (HEW) revised an Environmental Assessment Worksheet (EAW) for its planned $440 million oriented strand board plant, known as the Iron Range plant. The new plan followed calls for further environment review by environmentalists, business groups and a rival mill.
HEW plans to build the OSB plant on 200 acres of property adjacent to Minnesota Power's Boswell Energy Center in Cohasset, a town about 85 miles from Duluth. 
The revised EAW provides more detail on the project's carbon footprint, especially regarding the effects of generating much of the facility's energy needs through wood fuels, and the carbon sequestration effects of the facility's finished wood products, according to an HEW statement.
The 750,000-square-foot mill is expected to create 150 direct jobs and would require 300 to 400 construction jobs to build the plant, according to the company. The mill would manufacture wall and roof sheathing, integrated structural panels, and high-performance subflooring, the company said.
"We appreciate the feedback we received from community members and stakeholders, and we revised the EAW accordingly to take into account the feedback we received," said Brian Carlson, company president. "We intend to continue working with interested parties to move the project toward construction."
Construction on the project is expected to begin later this year following all permit approvals.
In June, HEW announced plans to build the mill adjacent to Minnesota Power's Boswell Energy Center in Cohasset. The Leech Lake Band of Ojibwe, the Minnesota Center for Environmental Advocacy, Bemidji of Chamber of Commerce, and West Fraser, another wood products producer, called for a Environmental Impact Statement to be completed on the project, according to the Minneapolis Star-Tribune.
A $15 million loan from the Minnesota Department of Iron Range Resources was approved for the project. The Minnesota Department of Employment and Economic Development, Minnesota Pollution Control Agency, Itasca County, Itasca County Economic Development Corp., and City of Cohasset, partnered to support the project. 
On Feb. 8, the Cohasset City Council will discuss the EAW and open a public comment period that would end Feb. 24, and a decision on the EAW would come from the council March 8, , the newspaper reported.
Have something to say? Share your thoughts with us in the comments below.