New Hampshire Secretary captures Craftsman's Challenge
July 29, 2021 | 10:32 am CDT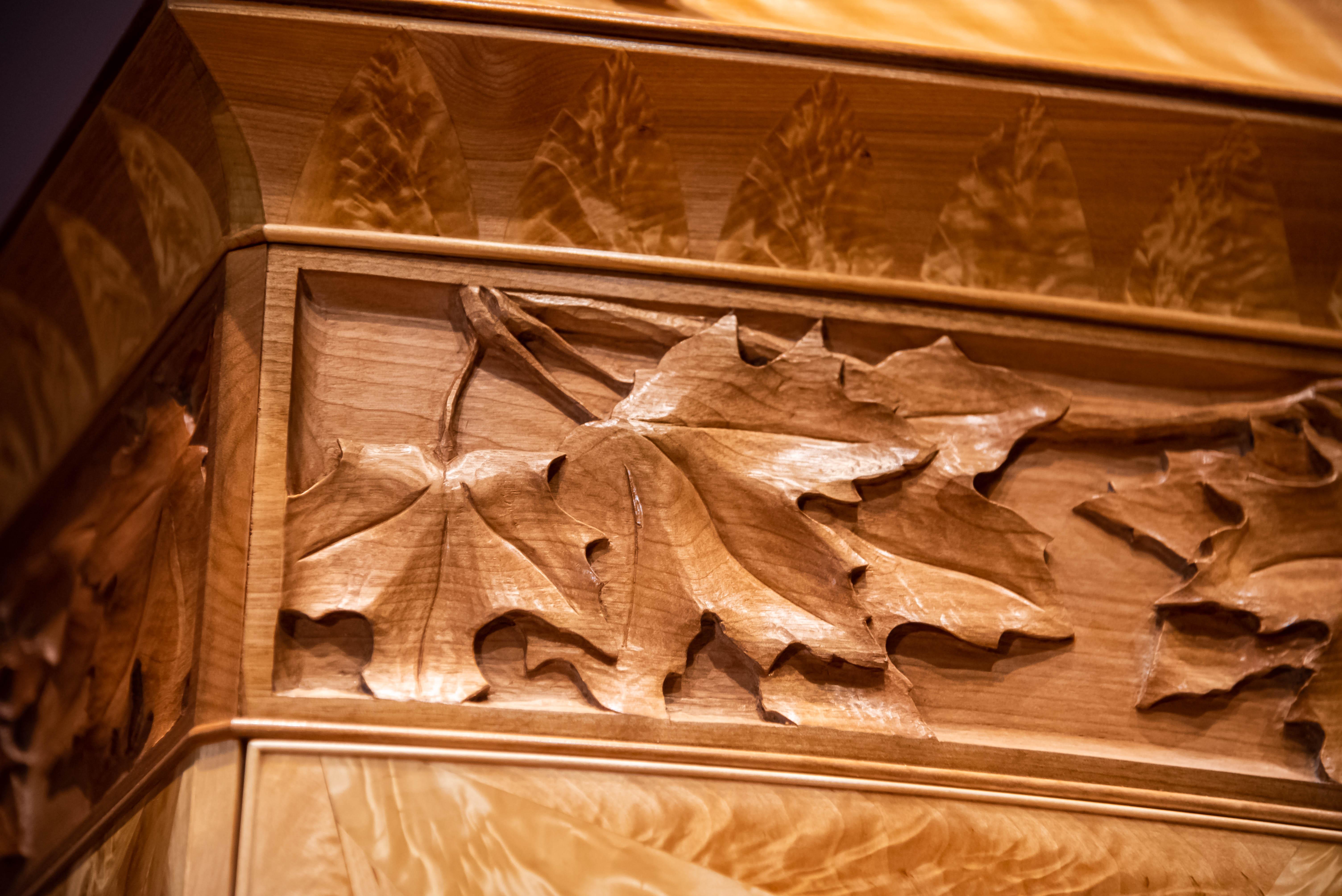 David W. Lamb, a cabinetmaker in Canterbury, New Hampshire captured the Grand Prize in the Veneer Tech Craftsman's Challenge for 2021 with a contemporary styled furniture piece called "New Hampshire Secretary."
With a combination of elegant design, flawless veneer work, and hand-carved detailing, the piece was the judges' clear choice out of some 88 entries in the contest this year.

Lamb will receive a cash prize of $3,000.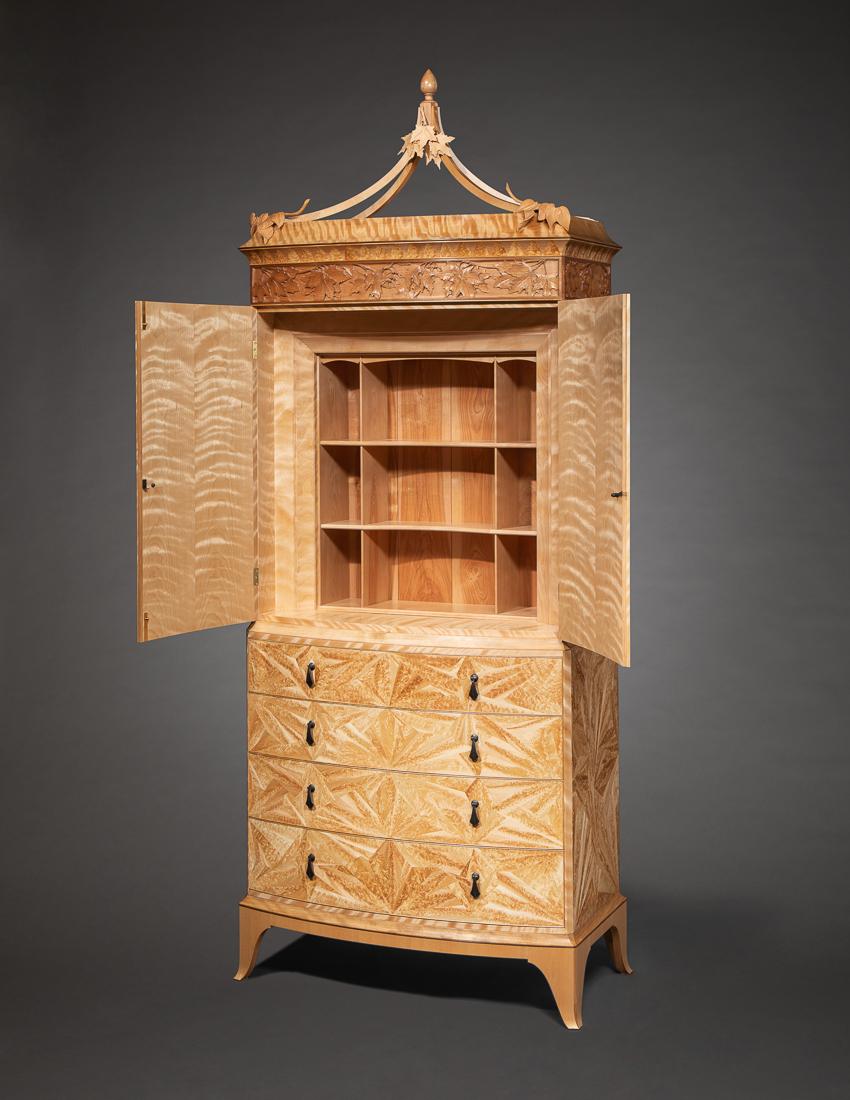 This secretary is about 8-1/2 feet tall and 44 inches wide. The primary material used is white birch, some yellow birch, poplar and pine secondary woods. The piece was commissioned by the Currier Museum of Art in Manchester, New Hampshire for their permanent collection. 

"My priority for the piece was to have a New Hampshire focus on both materials and aesthetics. I chose white birch as the primary exterior wood, specifically the highly figured crotch wood and white birch is also the state tree," said Lamb. "Birch as a material also has significant historical reference in that it was used extensively as a satinwood substitute in the 19th century. The plume like crotch wood was used extensively in veneer work in neoclassical work in New England. Just knowing that this material was held in such high esteem, that its appearance was jewel-like and that it was native held tremendous allure for me."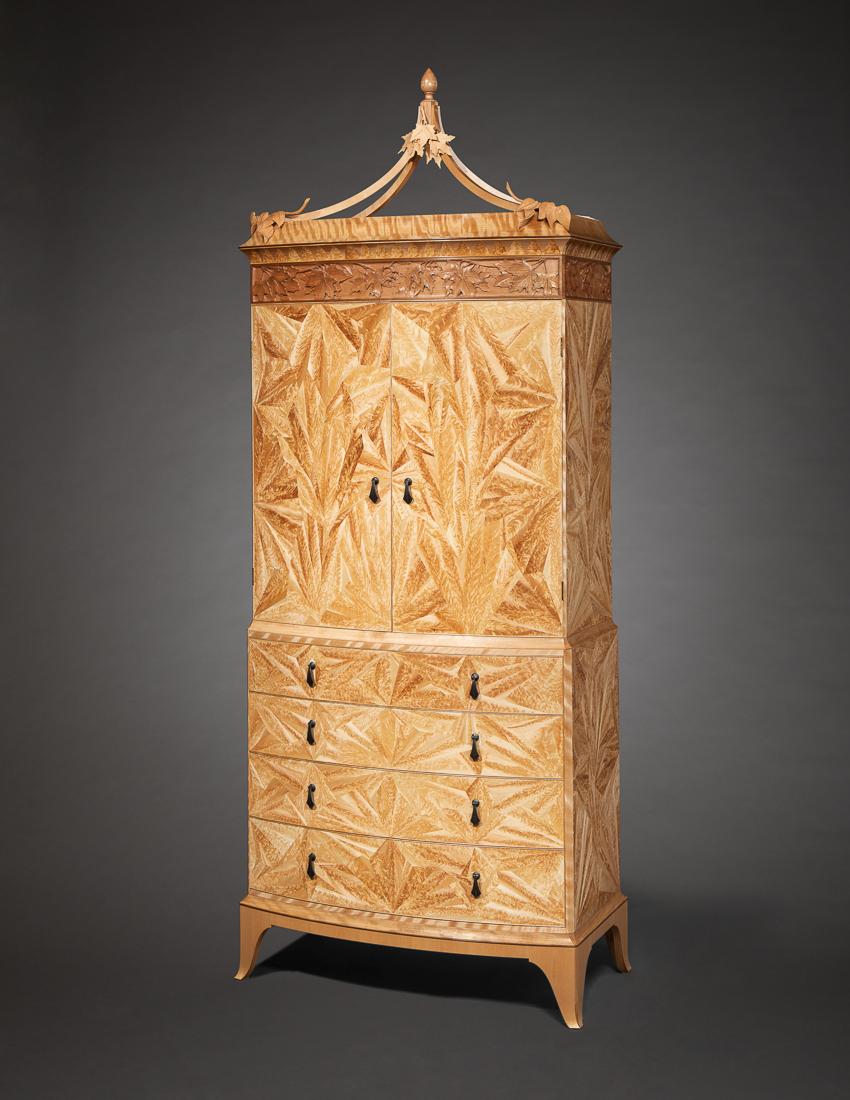 Lamb used a highly developed fractal patterning technique to achieve designs that look like ice and frost patterns in the veneering. 

"In addition to a design statement. the frost pattern work also speaks to the northern New England climate and the fragility inherent in it," Lamb said. "Historically our climate here has been an illustration of the rugged character of its people. Our forebears, whether native or of European ancestry endured long hard winters where perseverance, hard work and careful planning were part of life."

In addition to Lamb's Grand Prize, winners were also awarded in individual categories for architectural woodworking, cabinetry, furniture, marquetry, specialty products, and student work. All categories were judged on the basis of design and craftsmanship in veneer work. Winners were announced July 22 during the AWFS Fair in Las Vegas by Brendan Linehan, who coordinated the contest this year.

Considered the most prestigious award for veneer craftsmanship in the world, the Veneer Tech Craftsman's Challenge is operated by CCI Media LLC, parent company of FDMC magazine and Woodworking Network. The contest is sponsored by Veneer Technologies.

Here are the category winners.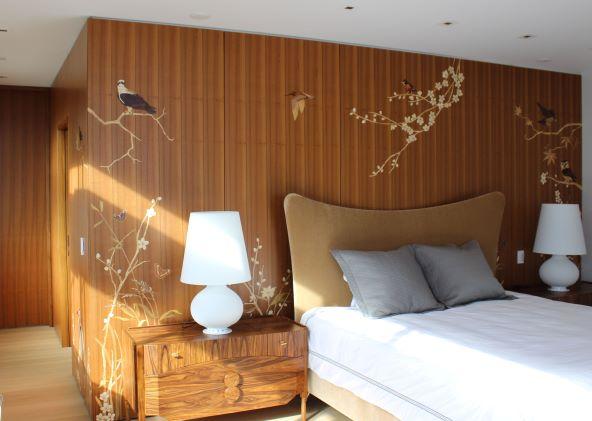 Architectural Woodworking
Greg Zall of Greg Zall Woodworking in Sonoma, California, won top honors in the Architectural Woodworking category for his entry "Bedroom Wall." Covering two walls of a bedroom, the work featured detailed marquetry of various birds over a background of teak veneer.

The wall paneling was 15 feet wide and 9 feet tall on one wall, wrapping around the corner to another 10 feet wide by 9 feet tall wall. The marquetry was done in a variety of hand cut veneer, including redwood, sycamore, spalted beech, blue mahoe, pine, spalted tan oak, walnut, holly, yellow heart, carob, and others. 
"The goal was to create a lively scene of a variety of birds, butterflys and flowers to decorate the boring wall behind the master bed." Said Zall.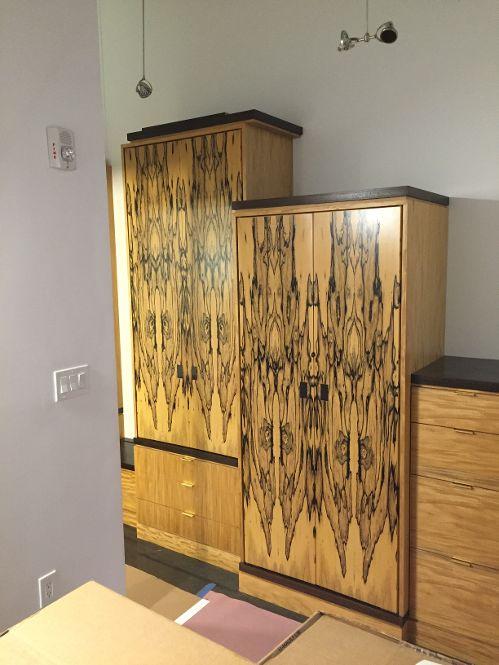 Cabinetry
Top prize in Cabinetry went to Stephen Maurer of Salem, Massachusetts, for a bedroom cabinetry and furniture installation. Made primarily from Royal Ebony and Prima Vera veneer, the installation was 17 feet long and 7 feet tall at its tallest point while being 2 feet deep at the deepest section.

"The client wanted her bedroom furniture to be a work of art," said Maurer, adding that she was his favorite client of all time. "She said yes to every suggestion I made, even if the only reason I wanted to do something was because it made my heart go pitter-patter."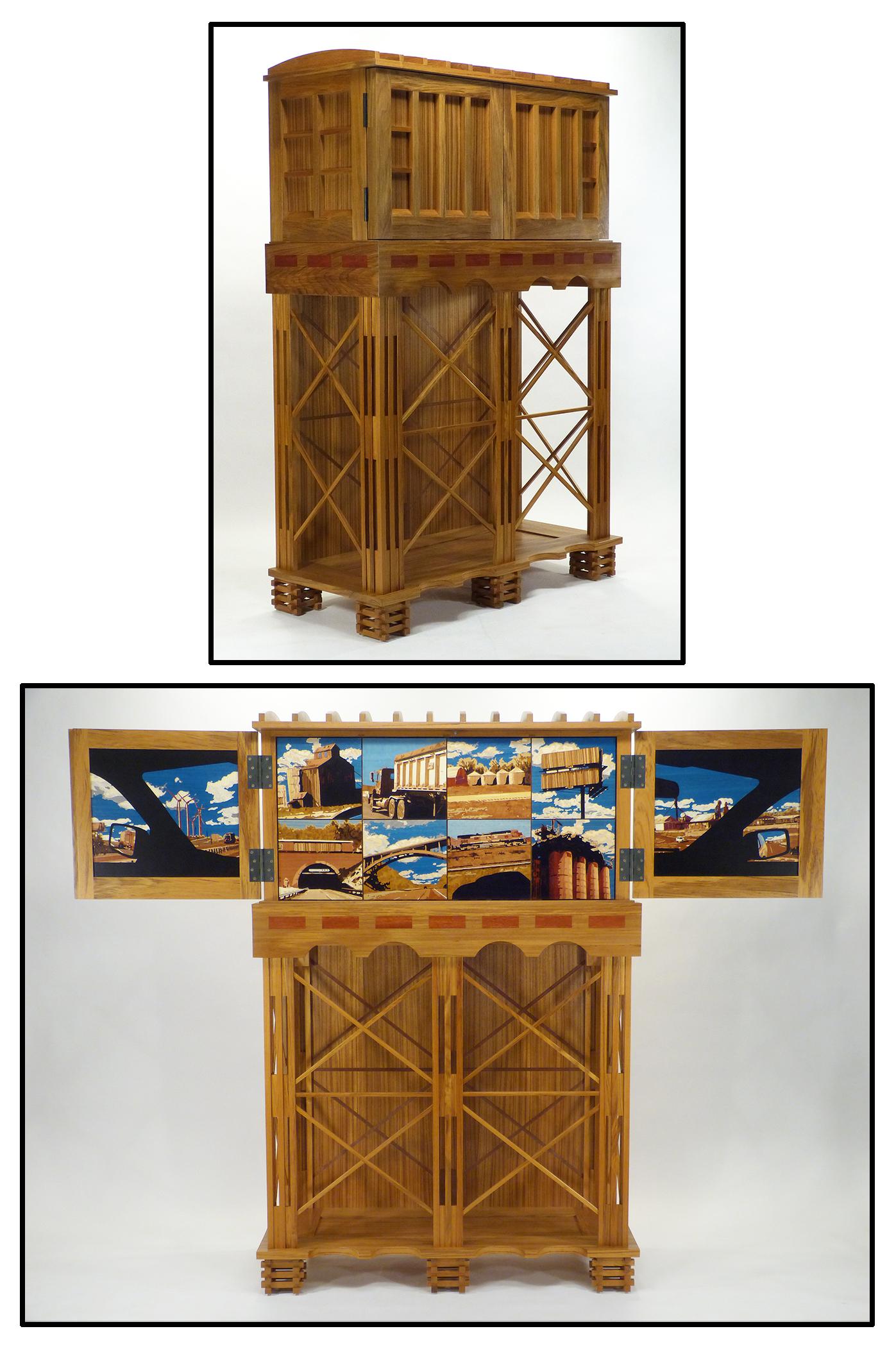 Furniture
Chuck Sharbaugh of Sharbaugh Studio Furniture in Holly, Michigan, drove to the top of the Furniture category with a piece he calls "Roadscape." The piece is based on a cabinet-on-stand design using design language that hints of tractor trailer trucks, steel billboard leg supports and cross bracing as well as wood cribbing used to raise a building for relocation. When you open the cabinet a roadscape of marquetry scenes of the road spreads out before you.

"The facade of interior doors and drawers are taken from driving on freeways," said Sharbaugh. "The intent is to be visually active, and literally engaging. On each of the doors are images that a driver would see when looking left or right. The eight drawers incorporate fragments and details one might pass by on a road trip."
The piece features solid teak and bloodwood, teak veneer, and a wide variety of imported and domestic veneers to create the marquetry inside. It stands 6 feet high and is 90 inches wide when fully open.

Judges awarded two Honorable Mentions in the Furniture category. One went to Robert Stevenson of Chula Vista, California for his "Reproduction of Seymour Ladies Work Table." The other went to William Brown of Maine Coast Traditional Arts Workshop in Camden, Maine.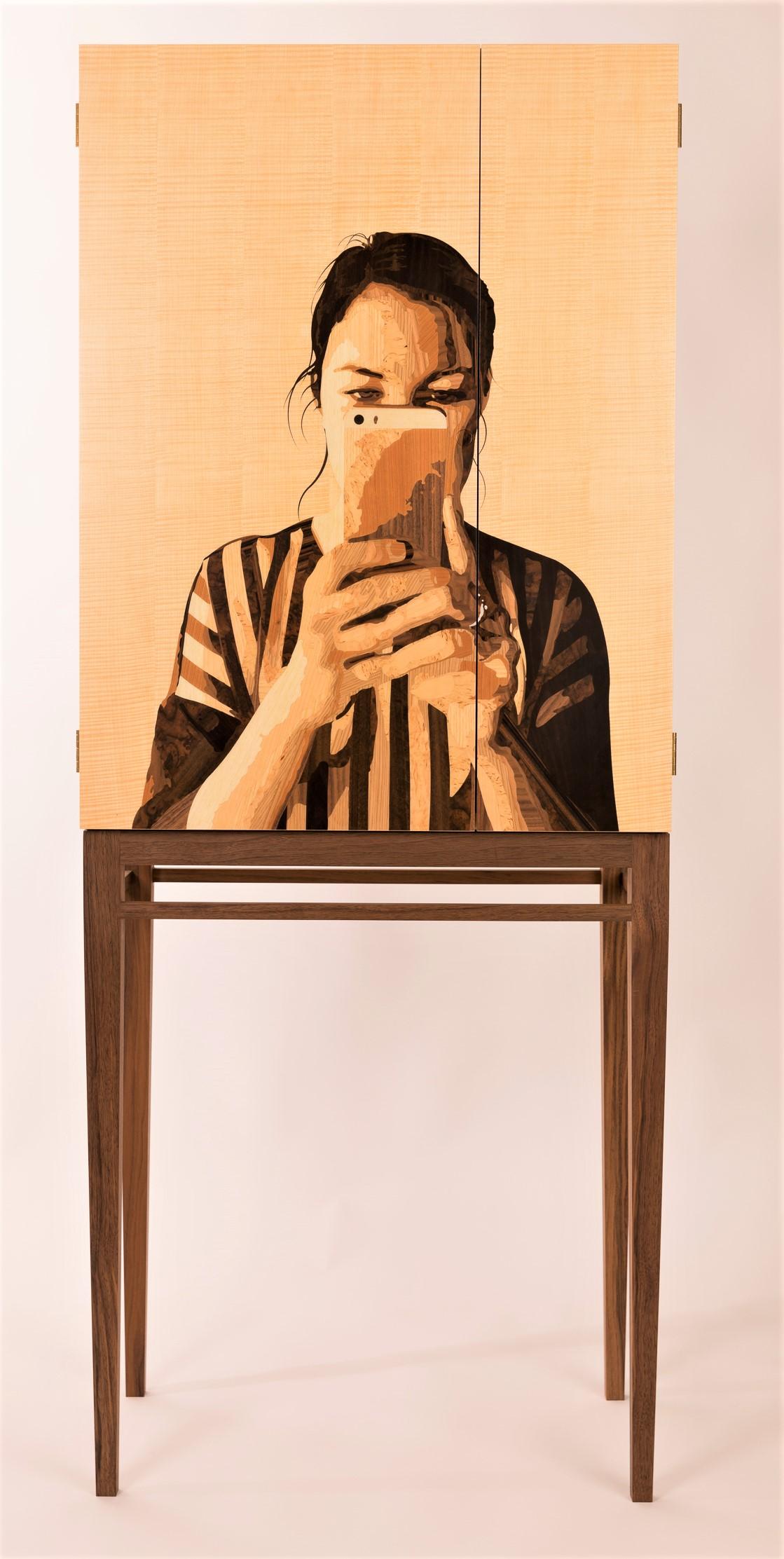 Marquetry
Ciaran McGill of Ireland captured the Marquetry category with a piece that makes a statement about worldwide addiction to cell phones. Called simply "Cell Cabinet," the piece features a photo-realistic veneer marquetry portrait of a woman holding a cell phone.

"Veneer and marquetry gave me the option to portray this portrait in a natural and contemporary look," said McGill. "The veneer and natural wood tones connect this piece to the traditional wood and furniture style but it gives it a whole new approach. People first notice the imagery, which draws them in, and as they move closer, they begin to realize it is wood veneer, and this creates an element of intrigue."

Judges awarded two Honorable Mentions in the Marquetry category. One went to Michael Kiss of Michael Kiss Studio in Duncan, British Columbia, Canada, for his "Octopus Table." The other went to Nick Clark of Touch Design in Philomath, Oregon, for his "Aron," a Jewish Torah cabinet.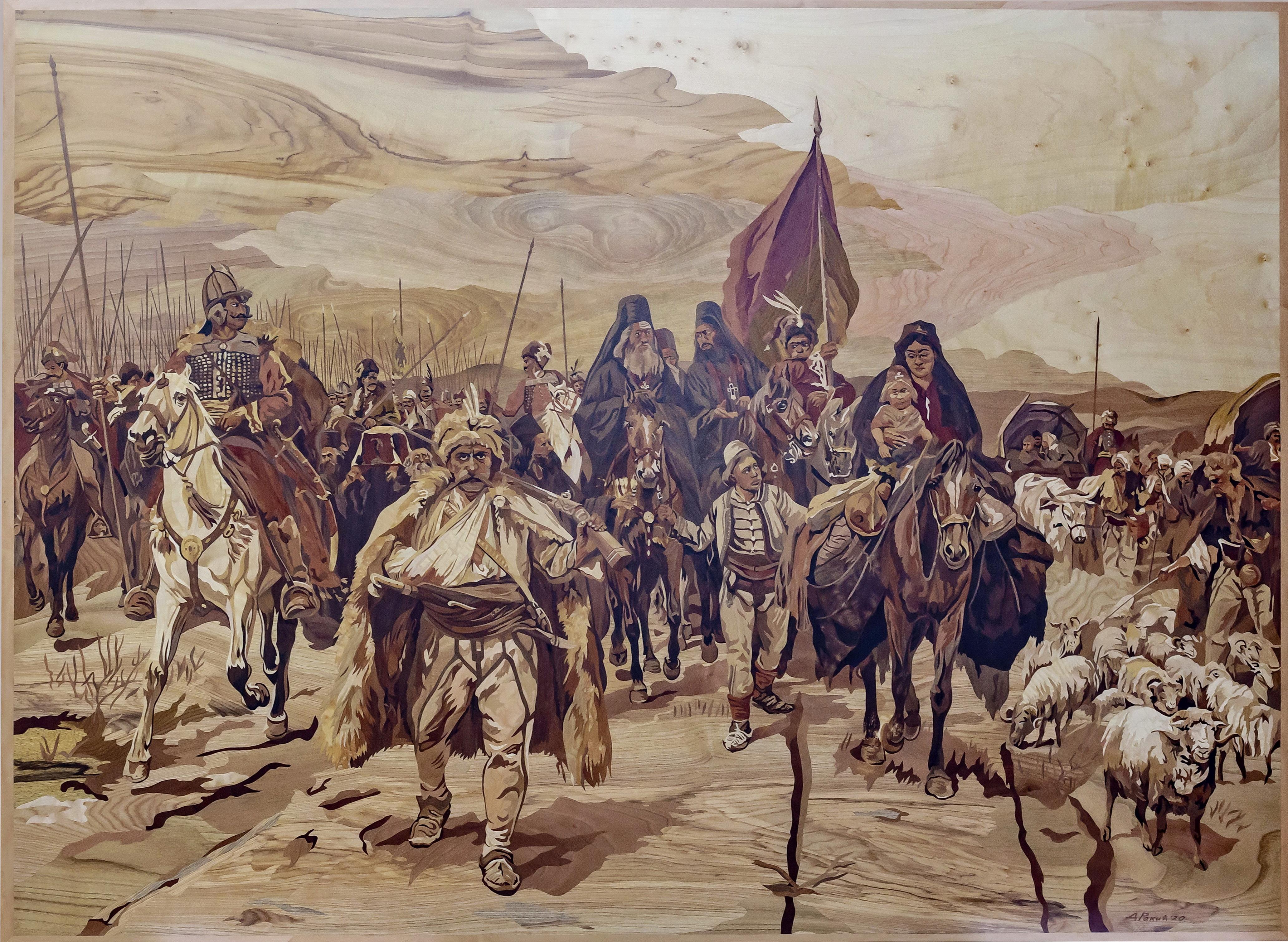 Specialty Products
Dušan Rakić of Serbia repeated his triumph of last year, once again winning top honors in the Specialty Products category with a veneer painting. This one is actually an interpretation of a real painting painted by Pavle Jovanović called "The Migration of the Serbs."

Rakić said the work took some two years to complete, making 7900 cut details and using 80 different types of veneer. The piece measures 165 x 125 cm (65 x 49 inches) and is part of an ongoing project using veneer marquetry to feature famous personalities and events in Serbian history.

Rakić says the project "aims to promote the cultural and historical heritage of the environment in which I live and create - but also to promote the old technique of artistic craft, marquetry technique, with another central obsessive goal - continuous promotion of the beauty of wood (veneer)."

Judges awarded an Honorable Mention in Specialty Products to Joseph Mendel of Attica, New York, for his "COVID Clock."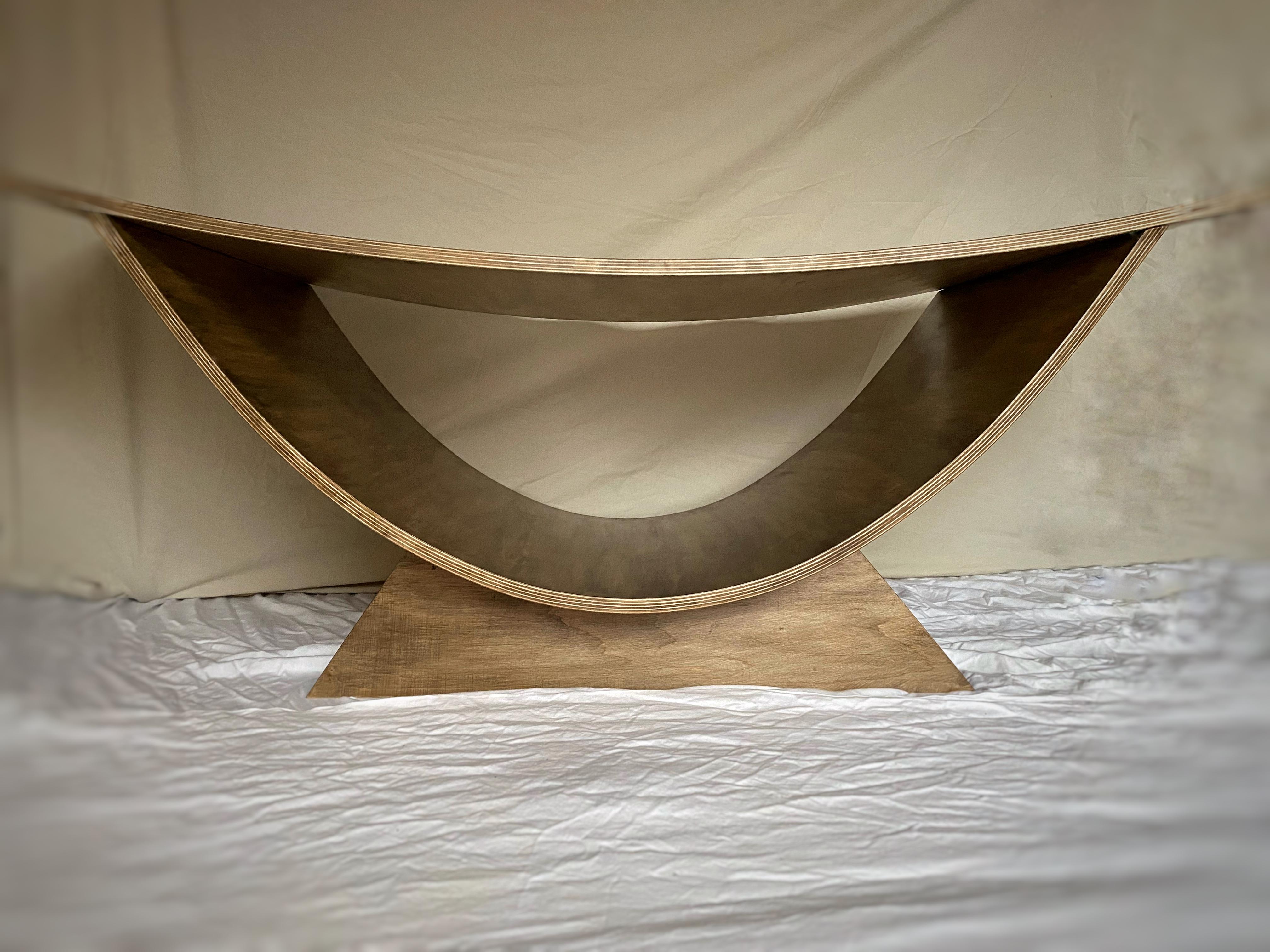 Student Work
Jasmine Hussain of Brampton, Ontario, Canada, won in the Student Work category with "The Versatile Smile Bench." Hussain is a student at Fletcher's Meadow Secondary School. 

"My goal was to create a simple yet functional chair, that was still unique," Hussain said. "I also wanted to include storage space, without disrupting the flow of the design. The modern look and negative space that creates the smile-like shape, allows for me to complete that goal. Lastly, I wanted it to be useful while still being tasteful. This was done by creating a large sitting surface, that allows users to lie down, or sit with up to 2 other people."

Hussain used birch and maple veneers in bent laminations to form the curved design.

Judges impressed
Judges for the 2021 Veneer Tech Craftsman's Challenge included Marc Adams, Michele Weitzel, and Will Sampson. Judges examined all 88 entries and had multiple meetings to reach their final rulings.

"The Veneer Tech Craftsman's Challenge was filled with so many incredible works of art and craftsmanship," said Weitzel. "It was a bit overwhelming at first to start narrowing down the field to the eventual winners in each category and the grand prize winner. With so many excellent pieces to judge we ended up with some incredible, Honorable Mentions. Getting down to the final winners took a lot of note taking and viewing numerous times to pick up more and more details of each piece. The blend of artistry, coupled with the beautiful craftsmanship left me a bit awestruck by the talents of many entrants."
"This is my third time to be a judge of the VTC competition," said Marc Adams, who runs the Marc Adams School of Woodworking and is a master veneer craftsman in his own right. "Not only is it a personal honor for me, but it rekindles my spirit for today's craftsmanship."

Adams says the contest helps to change some inaccurate misconceptions about veneer.

"Veneer is a material that over the years has been associated with 'cheap' or 'mass produced' furniture," he said. "Fortunately, in the hands of brilliant craftspeople, that perception has been erased. From unique works of art to elegant furniture, veneer continues to be a craftsperson's best tool of embellishment—as evident by this year's submissions. For those who won awards, congratulations."
Watch a video of all the winners below.
Have something to say? Share your thoughts with us in the comments below.