Ponderosa pine: A distinctive, attractive species
March 31, 2018 | 7:20 am CDT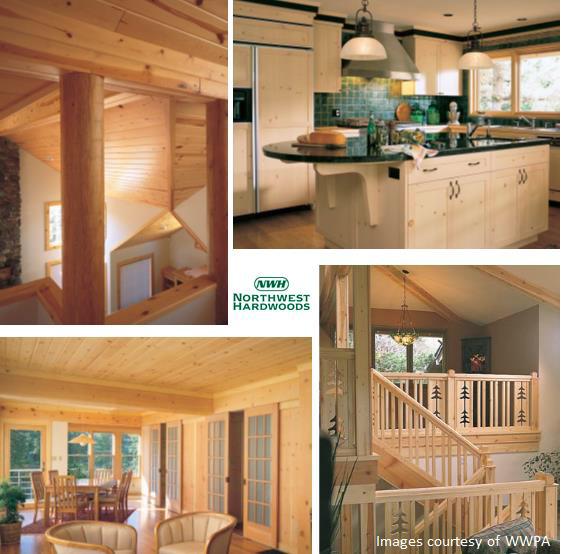 At first glance, Ponderosa pine, a softwood, could seem like an unusual product offering for a hardwoods lumber company. But this standout pine's beauty, easy workability and versatility are inspiring growing interest from our customers and home consumers alike.
At Northwest Hardwoods (NWH), we saw the opportunity to apply our unique grading and drying processes on Ponderosa pine to create lumber products ideally tailored for appearance applications.
For our customers, consistence is key
"Pine has a distinctive look as compared to hardwoods and even other softwoods," says Dave Bosley, NWH's Hardwood Lumber Product Manager.
That look is familiar, comforting and easily recognizable by consumers. And it is Ponderosa pine—with its light yellowish color accented knots—that delivers to consumers the country style that's returning to popularity today.
"What we're doing is making this already beautiful wood even more appealing by offering designers and cabinet makers a range of Ponderosa pine products organized by consistency and appearance," explains Bosley.
Within the lumber itself, he continues, there are a variety of defect structures—from larger, tight knots with a bold look to smaller, scattered knots that offer a subtler look. Drawing on our long history of being customer-centric, NWH is isolating and consolidating Ponderosa pine boards based on their defect structure to make it easier for our customers to help consumers achieve the look they want.
Ponderosa pine grading and drying
Ponderosa Pine supplied by the appearance lumber experts offers a unique value to manufacturers. Appearance grades of ponderosa pine allow customers to maximize yield and minimize waste all while getting the look they desire. Ponderosa pine is typically produced and graded more with structural and factory applications in mind. Appearance driven grades provide another option for those customers looking to use ponderosa pine for its visual beauty.
We are using a very conservative drying schedule which helps keep our Ponderosa pine lumber straight and flat. NWH's grades and specifications for the new Ponderosa pine products are established with input from our customers and by listening to what their needs are.
Our cabinet manufacturers, for example, want pine surfaced on both sides to 15/16 and to have a lower moisture content (MC) than pine lumber would typically have. As a result of these conversations, our Ponderosa pine MC is capable of being 6-8%.
Other NWH customers have been asking us for slight customizations to the standard mill grade for Ponderosa pine.
Ponderosa pine now available
At this time, all of our Ponderosa pine lumber is abrasively surfaced and offered at:
4/4: 15/16 and 7/8
6/4: 1 7/16 and 1 9/16
Production for 5/4 thickness is coming soon.
Available Ponderosa lumber is 8 foot and 10 foot with trims and random width.
For more information on ponderosa pine or other species offered by the appearance lumber experts - This article was sponsored by Northwest Hardwoods -  visit NorthwestHardwoods.com.
Have something to say? Share your thoughts with us in the comments below.