Kebony and Delta Millworks launch charred timber cladding
April 17, 2017 | 9:27 am CDT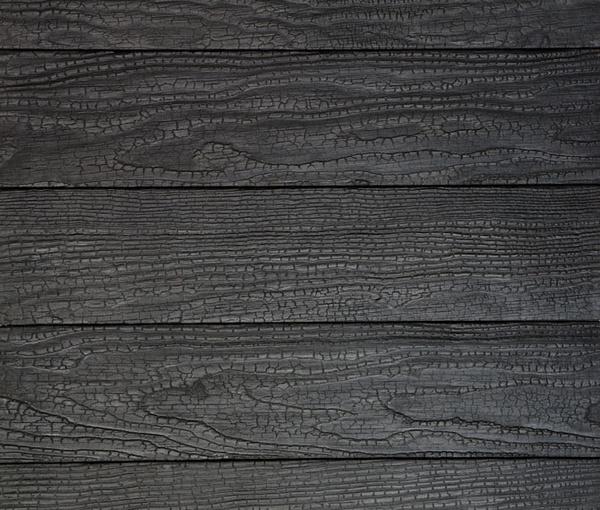 Photo By Delta Millworks
ST. CLAIR, Mich. - Kebony USA, which converts pine using a patented process, says it is now partnering with Austin, Texas-based Delta Millworks to produce a line of Shou Sugi Ban modified timber cladding and interior paneling.

According to Kebony USA sales manager Andy Hehl, the new cladding and paneling range, called Kebony Shou Sugi Ban by Delta Millworks, uses the ancient Japanese techniques of burning, brushing and pre-weathering timber to provide a long-lasting and striking wood cladding product. The Shou Sugi Ban processed Kebony was introduced in the UK for the past eight years and will now be available for projects in the U.S., produced through Delta Millworks.
Kebony converted by Delta Millworks shows a variety of patterns based on flame and brushing techniques.
The Kebony technology, developed in Oslo, Norway, incorporates application of a bio-based liquid to convert pine (Pinus Sylvestris and Pinus Radiatus) into lumber with hardwood charactertistics similar to Ipe or Teak. 

"Kebony is not only durable but highly versatile to work with," Delta Millworks president Robbie Davis said. "The charred effect adds uniquely dynamic texture to the surface of the wood, and as we've commercialized it production-level scale, it's proven to be a popular exterior finish for modern residential and commercial projects."

Shou Sugi Ban is a Japanese term which literally translates to "burnt cedar board." Historically, Japanese carpenters sourced driftwood from the coastlines of Japan, both for its impressive durability and distressed appearance, after being subjected to salt water and harsh weather conditions. Over time, it became increasingly difficult to source this driftwood due to high demand for such a hardwearing product. As a result, Japanese carpenters chose to create the desired effect by burning or weathering timber to give the original wood a charred and fragile finish.


Kebony Shou Sugi Ban by Delta Millworks cladding and paneling products are available in various styles using Kebony Clear products, each differing in textured grain and tonal palette. Delta is currently offering Kebony Noroshi Gator and the Kebony Noroshi Half Gator. Both are reminiscent of the Japanese style of this finishing process, with a heavy layer of char that protects the wood. Delta plans to roll out more Shou Sugi Ban products in Kebony.

Despite these variations caused by charring, Kebony Shou Sugi Ban cladding offers the same sustainable and performance characteristics as other Kebony products. The wood is treated with a bio-based liquid that, after it is cured, provides a combination of outstanding durability and dimensional stability. The patented process results in wood cell walls that are about 50 percent thicker and provide a hardness that rivals the best tropical hardwoods.

Kebony Clear products are homogeneously treated and can be further machined or cross-cut to length as required. Kebony technology initially produces a deep rich brown color; after exposure to sun and rain the wood develops a natural silver-gray patina. Performance is maintained, while beauty is enhanced.

The company's global headquarters is based in Oslo, Norway, with its production facility in Skien, South of Oslo. The Kebony USA team is located in St. Clair, Michigan, with local representation both on the East and West Coasts. Kebony has received numerous awards for its environmentally friendly technology and innovation, including its naming as a World Economic Forum Technology Pioneer and a Global Cleantech 100 company.  www.deltamillworks.com
 
Have something to say? Share your thoughts with us in the comments below.