Mother of pearl wood filler gives inlay a glowing look
March 16, 2017 | 4:23 pm CDT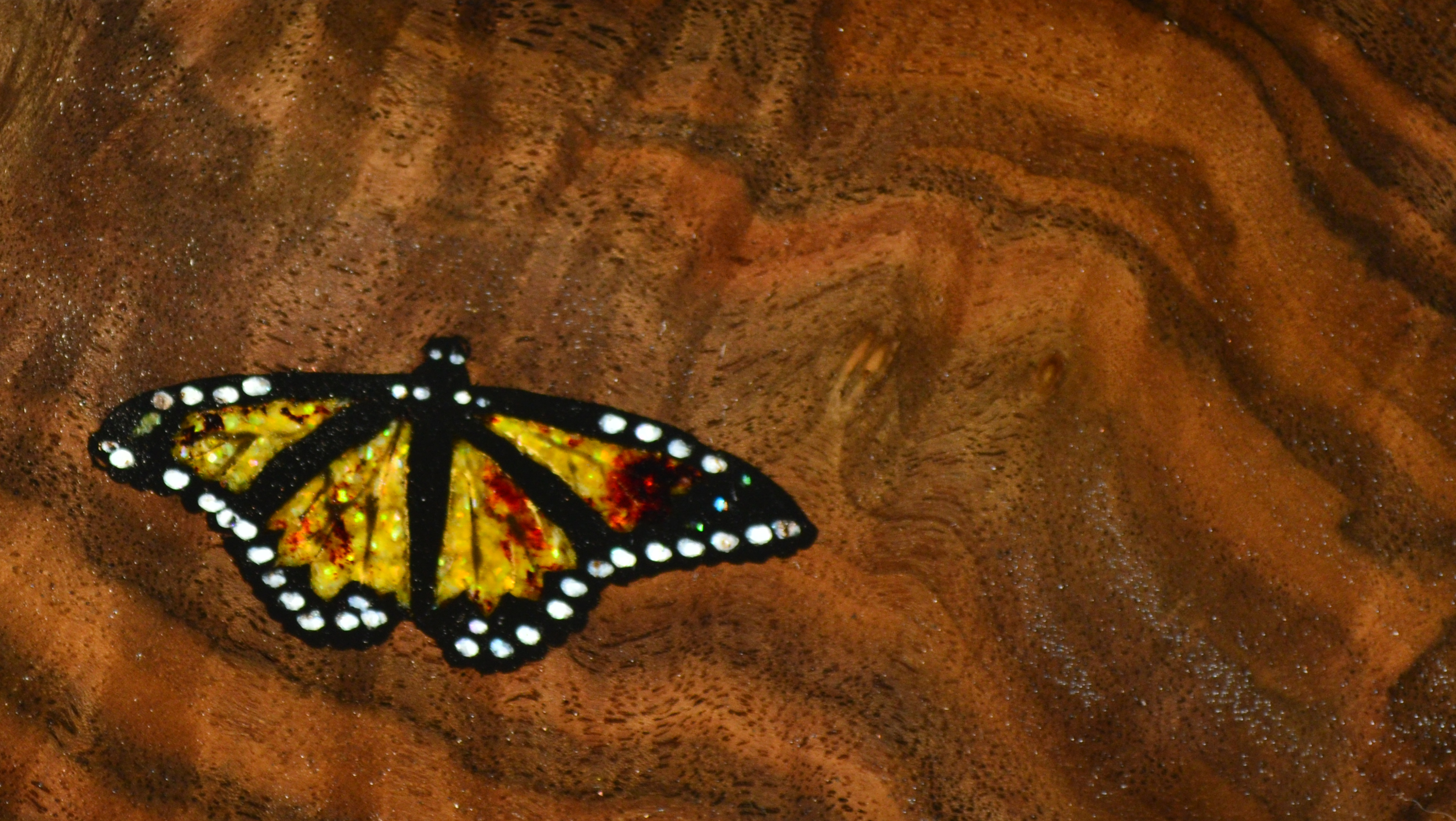 CANANDAIGUA, N.Y. – Imaginlay, a company dedicated to inlay products for woodworkers and woodturners, launched a ready-to-use, all-natural, crushed mother of pearl and crystal calcite inlay materials, now available on Amazon.com. Woodworkers can take a natural blemish in wood, or a deliberate design element, add bling, and take their work to the next level.
Unlike pigmented resin, turquoise, or other commonly-used inlay elements, Imaginlay is translucent; and gives greater visual depth and dimension to any inlay. Unlike some mother of pearl sold in the market today, Imaginlay's is all natural, made from baked abalone and/or oyster shell.
 "I've been teaching fine woodworking for many years and often couldn't find the materials and tools that I wanted for specific inlay applications, nor could I find them in quantities that I could use," says Scott Grove, furniture maker, teacher, author, and founder of Imaginlay. "So I decided to make it easier for turners, woodworkers, luthiers, jewelry makers and other craftspeople to find supplies they need, in prices they can afford."
Mother of pearl and crystal calcite are versatile, natural materials used to create many types of inlay for all woodworking and wood turning projects. These can be used as is, or dyed to emulate a variety of luxurious gem stones such as sapphire blue, ruby red, emerald green and more. They can also be mixed into other inlay materials to create a shimmering lustrous chatoyance effect. Mother of pearl adds iridescent, colorful gleam to any inlay design; it comes from the inner layer of the shell of some oysters and abalones.
Imaginlay's mother of pearl is baked, which weakens the scleroprotein matrix that binds the calcium carbonate plates and columns together. The crushing process yields reflective material that goes with the grain instead of matte-like cross-grain flakes, which maximizes iridescence. Baked shell flakes are much softer than unbaked, and can be easily re-crushed and screened to finer sizes. In fact, the flakes are soft enough to be smeared to a fine but still iridescent powder between thumb and finger.
"Our products let everyone add pop or sparkle to their projects and take them to the next level of Wow!" Grove added.
On the Mohs Hardness Scale, both mother of pearl and calcite have a hardness of 3.5 and are easily sanded using silicon carbine (carborundum) or aluminum oxide (corundum) sand paper, which has a hardness of 9.0. It is durable and provides an excellent surface to polish and/or finish.
Products available are: mother of pearl fine, one ounce, $12.95 / flake, one ounce / $12.95 /  combo of one each, $24.95; crystal calcite fine, three ounces, $19.95 / coarse, three ounces, $19.95 / combo of one each $34.95. www.imaginlay.com
Based in the Finger Lakes region of New York, Imaginlay is a division of Imagine Grove, an educational source for woodworking and creativity, Scott Grove is its founder; his art furniture and sculpture brand is Green Grove Design. Grove is a third-generation artist who brings an innovative and creative approach to design and woodworking, and he founded Imaginlay to bring inlay products to woodworkers and wood turners.
As a self-taught woodworker, he is known for layers of artistic expression and creative vigor; his pieces are a combination of unique carved textures, radiant veneers, copper polychrome finishes, and inventive inlays. He creates a desire to touch each piece for a sensuous, pleasurable experience. Sophisticated and elegant with a touch of whimsy, his work raises a sense of wonder and delight. For more information visit www.scottgrove.com
Have something to say? Share your thoughts with us in the comments below.