New WMS Student Day to highlight woodworking advancements and career opportunities
September 19, 2023 | 11:51 am CDT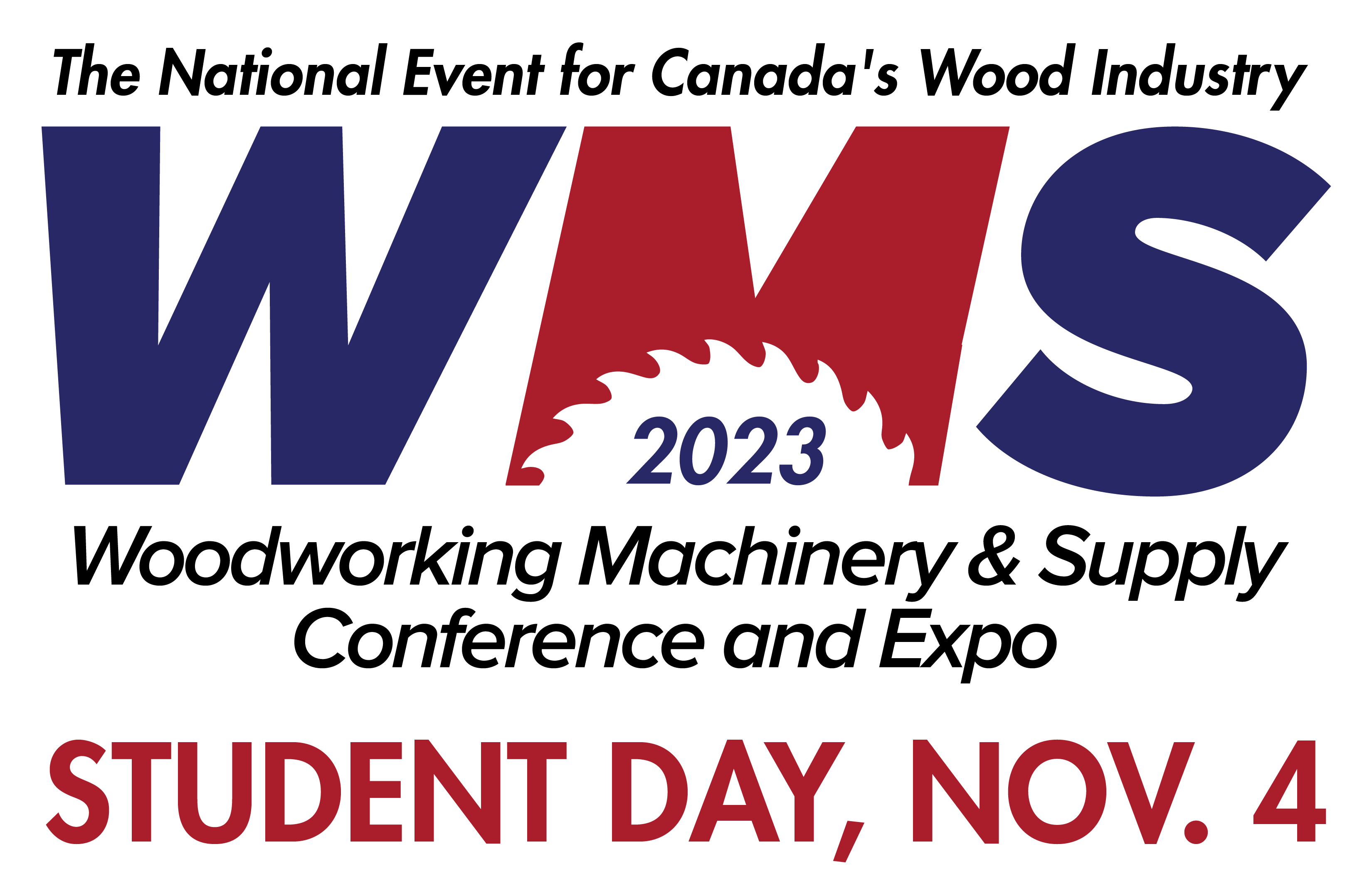 MISSISSAUGA, Ontario – The Wood Manufacturing Council (WMC) and Woodworking Machinery & Supply Conference & Expo (WMS) have joined forces to develop and promote WMS Student Day, Saturday, Nov. 4.
The goal of WMS Student Day is to expose students enrolled at high school and post-secondary woodworking programs to the latest equipment, software, and supplies, plus learn about the exciting career opportunities the industry has to offer. WMS Student Day will also allow woodworking instructors to update their knowledge of the industry, while providing them a forum to network with suppliers, woodworkers, and their peers attending the show.
To spur student attendance, the WMC recently began reaching out to several dozen high school and postsecondary schools located within a short drive of the International Centre, home of WMS 2023. The WMC's correspondence included a unique passcode that instructors and their students can use to register to attend the show for free.
Plans are in the works to schedule special WMS Student Day presentations that will provide an overview of today's high-tech woodworking industry and career opportunities at the WMS Live Stage.
"We're pleased to partner with the WMC on WMS Student Day," said Harry Urban, manager of WMS 2023. "Wood products companies are increasingly challenged to attract and hire qualified candidates to join their production teams. We believe Student Day represents an important opportunity to highlight the tremendous advancements that are transforming the woodworking industry from not just merely being a job, but a rewarding career."
"I think attending the woodworking industry's biggest event will be a real eye-opener for the students," said Richard Lipman, president of the WMC. "They will see many of the most innovative machines and products that our industry has to offer. The experience will definitely challenge any misconceptions they might have about the woodworking industry's vitality."
WMS 2023 is scheduled for Nov. 2-4. In addition to three halls filled with woodworking equipment and supplies, the show features continuous, free education sessions at the WMS Live Stage spanning technology, management, and trends. Each day will open with a keynote address.
For additional information contact Richard Lipman. president of the Wood Manufacturing Council, at [email protected] or Rich Christianson, WMS 2023 conference director, at [email protected]. 
About the Wood Machinery & Supply Conference & Expo (WMS)
WMS is world-renowned as Canada's preeminent industrial woodworking event. For more than four decades, WMS has connected Canada's woodworking professionals with the world's most prominent machinery manufacturers and suppliers. Last held four years ago due to the Covid-19 pandemic, WMS 2019 attracted attendees from nine Canadian provinces and two territories.
In addition, WMS 2019 featured 75,000 square feet of exhibit space and more than 175 exhibitors. 
For information about exhibiting and sponsorship opportunities, contact Gavin McAuliffe of Corcoran Expositions at 312-265-9649 or  [email protected][email protected].
For general inquiries, contact Harry Urban, show manager at [email protected]. 

More Woodworking Network events
Executive Briefing Conference, Sept. 26-28, 2023, The Broadmoor, Colorado Springs, Colo.

Wood Pro Expo Lancaster, Oct. 12-13, 2023, Spooky Nook Sports / Warehouse at the Nook, Manheim, Pa.

Closets Conference & Expo / Wood Pro Expo Illinois, April 17-19, 2024, Schaumburg Convention Center, Schaumburg, Ill.

Salon Industriel du Bois Ouvré (SIBO Expo), Oct. 24-26, 2024, Centrexpo Cogeco, Drummondville, Quebec.
Have something to say? Share your thoughts with us in the comments below.