Cosmos and Planet Earth Inspire Sherwin Williams Paint Trends
June 13, 2014 | 10:58 am CDT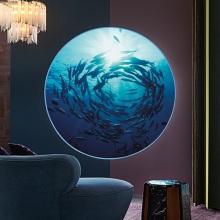 Home builders and designers have always plucked color inspriation from the natural world. Victorian homes in the late 1800's beamed with blue, purple, yellow, and green hues found blossoming on newly-charted landscapes, and as 21st-century explorers continue to report back with astounding images of deep sea and outer space, designers too, continue to find inspiration.
Voyage, one of the new color trends showcased by Sherwin Williams at NeoCon 2014, brings hues of northern lights and oceanic depths into the home. 
Jackie Jordan, Director of Color Marketing at Sherwin Williams, says they are "Great palettes for the future."
In addition to Voyage, Jordan also unveiled bold and vibrant colors in the Unrestrained collection, floral and uplifting colors in the Bouyant collection, and a blend of calming and neutral tones in the Chrysalis collection.
Check out the video to watch her interview with Woodworking Network at NeoCon 2014.
Have something to say? Share your thoughts with us in the comments below.