Inventables places a 3D carving machine in a school in every U.S. state
January 12, 2016 | 8:17 pm CST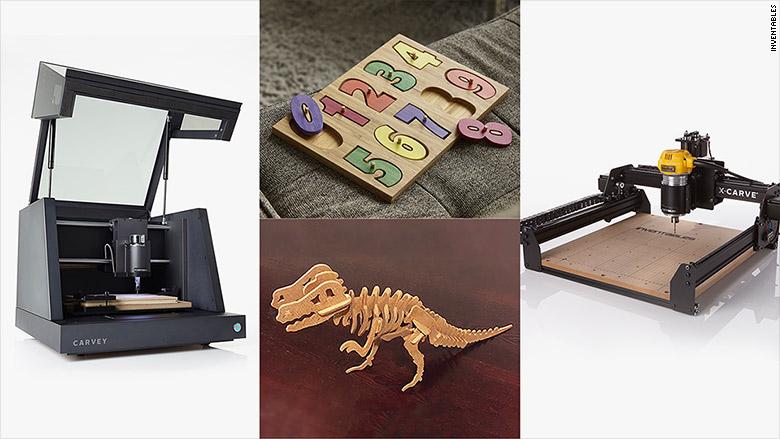 CHICAGO - The White House celebrated the "National Week of Making" June 12-18, 2015 and kicked off the week with an event that included updates on the President's call to action to create a "Nation of Makers." During that meeting, Inventables CEO, Zach Kaplan, stood up and committed to donate a 3D carving machine to a school in every state in the union. 
In response to President Obama's call to create a "Nation of Makers," the company announced that access to 3D Carving, a powerful technology capable of creating precision parts and designs from materials like wood, plastic and metal, would be made possible for 50 schools in the United States through a contest.
"We believe that to ignite the digital manufacturing revolution, we need to provide free access to these important 3D carving tools to as many schools as possible," said Kaplan. "By the end of the decade, we want every school in the United States to have a 3D Carving machine."
Based in Chicago, Inventables' goal is to ignite a revolution in digital fabrication with its 3D carving ecosystem. It's Easel software, a web-based software platform that allows a user to design and carve from a single program, is available as a free application and works seamlessly with the Carvey and X-­Carve 3D carvers.
Inventables hopes that access to a free machine and free software will help educate future generations and reboot American manufacturing education, and allow people to start their own independent manufacturing businesses in the United States. The machines work with Easel to allow anyone to go from idea to creation without any specialized knowledge or training.
"Our goal is to keep the digital manufacturing revolution going by giving tomorrow's thinkers the tools they need to become tomorrow's entrepreneurs," said Kaplan. "We are giving individuals the power to launch their own business...and creating alternatives to offshoring what America builds, which will create more jobs here in the U.S."
List of winners:
Alabama - James Clemens High School
Alaska - Dimond High School
Arizona - Zaharis Elementary School
Arkansas - Washington Middle School
California - Templeton High School
Colorado - Career Center 
Connecticut - Salisbury School
Florida - Imagine South Lake Charter
Georgia - Woodstock Middle School
Hawaii - Kailua Elementary
Idaho - Lewiston High School
Illinois - Pulaski International School of Chicago
Indiana - Purdue University
Iowa - Marcus-Meriden-Cleghorn Community School District
Kansas - Wellington High School
Kentucky - Eastern Kentucky University
Louisiana - Scotlandville Magnet High School
Maine - Kents Hill School
Maryland - North County High School
Massachusetts - Sparhawk School
Michigan - Hillel Day School of Metro Detroit
Minnesota - Princeton Public Schools
Mississippi - Madison Career and Technical Center
Missouri - Kirksville Area Technical Center
Montana - Stillwater Christian School
Nebraska - Heritage Lake Academy
Nevada - Discovery Charter School Las Vegas
New Hampshire - Central High School
New Jersey - The College of New Jersey
New Mexico - Mountain View Middle School
New York - United Nations International School
North Carolina - Rockingham Middle School
North Dakota - North Star School
Ohio - Hilliard Weaver Middle School
Oklahoma - Tri County Technology Center
Oregon - Taft High School 7-12
Pennsylvania - Preston Area School
Rhode Island - St. Michael's Country Day School
South Carolina - Sugar Creek Elementary
South Dakota - Vermillion High School
Tennessee - Harriman High School
Texas - Klein Independent School District
Utah - M Lynn Bennion Elementary School
Vermont - Lyndon Institute
Virginia - Loudoun Academy of Science
Washington - Tacoma Science and Math Institute (SAMi)
West Virginia - Wheeling Country Day School
Wisconsin - BadgerBOTS
Wyoming - Little Snake River Valley School
Have something to say? Share your thoughts with us in the comments below.