Timber Products at the International Woodworking Fair
September 13, 2016 | 8:41 am CDT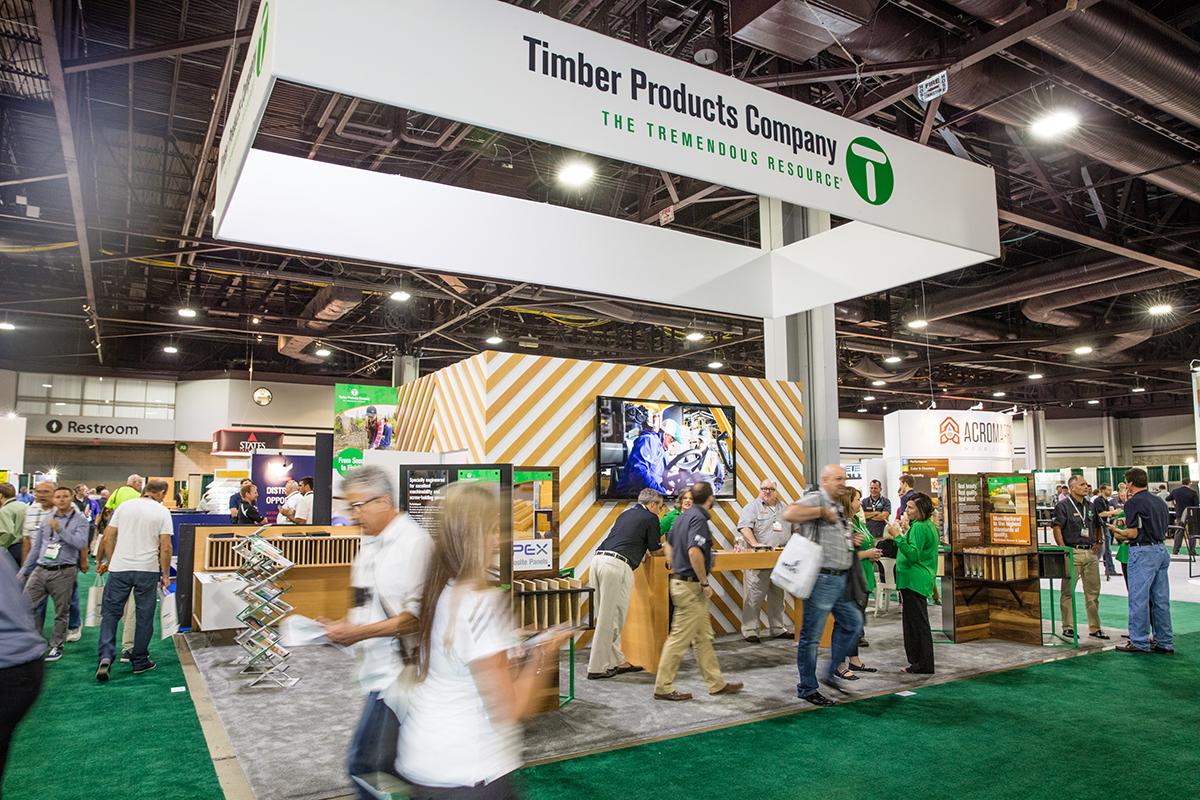 This year's International Woodworking Fair was held on August 24-27. As expected, the show was a perfect highlight for the innovation and continual growth of the wood products industry.
Timber Products was on hand with a newly remodeled booth. This year we worked hard to create a space that welcomed both our existing customers and attendees not yet familiar with Timber Products. As a result, we were rewarded with many new opportunities for growing our business and meeting the needs of those we met for the first time. Overall, Timber Products had an amazing time.
A SINGLE SOURCE FOR ALL NEEDS
We featured products from all of our operations: hardwood plywood, softwood plywood, softwood and hardwood veneer, hardwood lumber, particleboard, ultralight MDF, value-added components, architectural panels and TFL panels, as well as trucking services. Our unique vertical integration and diversification offer our customers the opportunity to fill a variety of their needs from a single source! Not to mention expanded offerings in several lines like hardwood plywood (we have three plants) and particleboard (we have two plants).
APEX WAS A SHOW-STOPPER
The star of the Timber Products booth this year was Apex, our new line of no-added formaldehyde composite panels from the Ampine division. Positioning Apex alongside the entirety of our product offerings provided us the ability to demonstrate Apex's compatibility with products like hardwood plywood and various decorative overlays.
Throughout the show, our customers could not stop telling us how excited they were for Apex and its unique properties and cost savings over the MDF panels they currently purchase. In fact, customers were calling Timber Products' corporate offices to ask for samples of Apex while they were still at IWF.
TRYING OUT NEW TECHNOLOGY
There was little time to step away from the booth, but when we did, the team was impressed with the innovations we saw! New CNC machines by Komo stood out prominently and were one of our favorite finds. We got a chance to try our Apex panel on the machine, and everyone was stunned by how well it performed.
CUSTOMER APPRECIATION RECEPTION WAS A HIGHLIGHT
A highlight of IWF was the customer appreciation reception we held at Terminus 330. It was a great opportunity for Timber Products to thank our customers and engage, renew and foster relationships in an informal manner. Both Joe Gonyea, III, CEO, and David Gonyea, Executive VP, attended and enjoyed connecting with each of our attendees. The space was gorgeous and comfortable. Guests had fun challenging each other to ping pong on our table made from Ampine particleboard, and spinning the raffle wheel for prizes, all while eating delicious southern food and relaxing to live music.
Many of Timber Products' employees heralded the 2016 IWF as one of the best in years, and we are looking forward to what next year brings!
(See more photos from the show)
Have something to say? Share your thoughts with us in the comments below.