Get to Know: Core Construction
January 25, 2017 | 8:44 am CST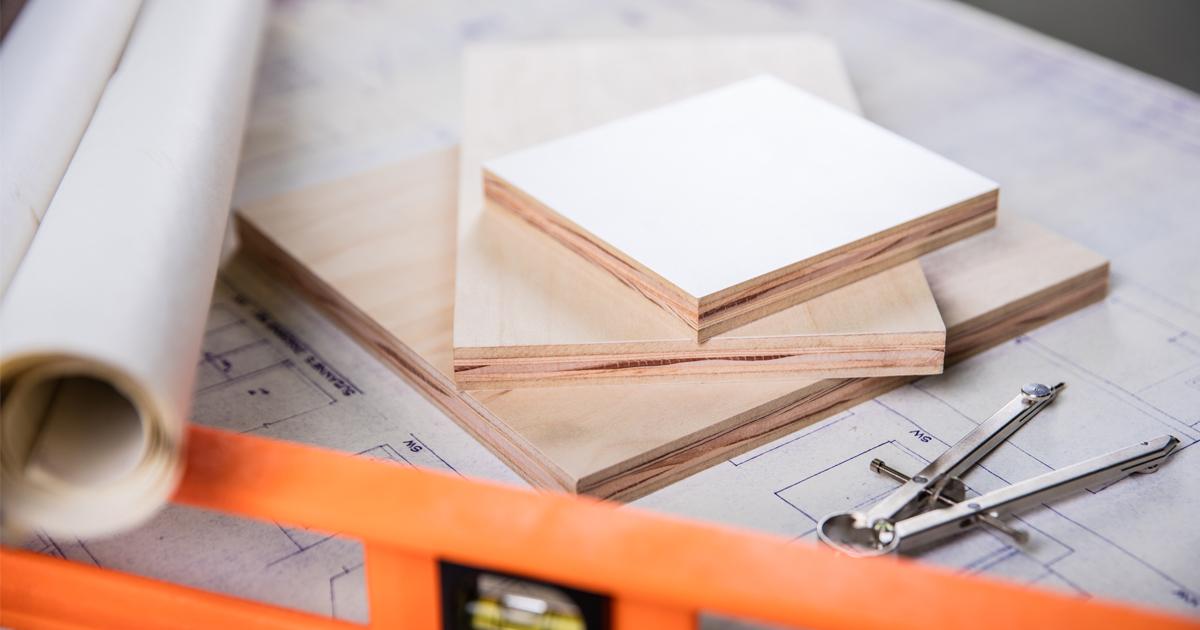 Plywood panels from Timber Products Company come in a stunning variety of eye-catching hardwood veneers, but the core beneath the surface is what gives the panel its most valuable construction characteristics. Timber Products offers four main core options: Veneer Core, Pro-Core, MDF and particle board.
We spoke with John Wasniewski, Regional Manager, Oregon Panel Products for Timber Products Company, to learn more about what goes into each type of core.
Venerable Veneer
Approximately 75% of hardwood plywood panels are made with veneer core. We refer to this type of construction as a veneer core panel. At Timber Products Company, the softwood veneer inner plies are made from Douglas fir, white fir or pine from our company-owned timberlands.
A standard 3/4" panel has seven components. Five layers of softwood veneer make up the inner plies, with a hardwood veneer face and back as the outer two decorative components.
Softwood veneer is made by peeling logs. Timber Products Company uses logs with a smaller diameter to minimize knot size and enhance grade characteristics for hardwood plywood. The sheets are then dried to a specific moisture content, graded and sorted before moving on to our lay-up department.
The most important piece of veneer is the cross band—the component that goes directly under the hardwood veneer face and back.
"The more we can pair up with a customer or end-user, the better we understand their needs. We want to be sure they get the right product for their specific applications. How well the cross band performs determines the quality and appearance of the panel," said Wasniewski.
That cross band component does not need to be a veneer, however. In fact, Timber Products' Pro-Core panels use a thin panel of MDF as the cross band to utilize the best attributes of both veneer (strength to weight) and MDF (consistent smoothness) in one panel.
A veneer core panel can be made one of two ways. In a one-step process, all seven layers are pressed at the same time. In a two-step process, a veneer core platform, or blank, is created out of the softwood inner plies, then sanded and calibrated before decorative hardwood veneer is applied and pressed in a second step. This achieves high-end surface quality with tighter thickness tolerances for those demanding high-quality applications.
Core Considerations
One core is not better than another—each is designed for a specific application. Timber Products Company works with customers to match the right core to the end-use application.
"The more we can pair up with a customer or end-user, the better we understand their needs," Wasniewski said. "We want to be sure they get the right product for their specific applications."
Before selecting a core type, it is beneficial to know the characteristics and attributes of the varying types.
Strength-to-weight ratio: Particle board and MDF are more densely constructed, so the weight-per-panel is heavier than with veneer core. Depending on the end use, the weight of the core you choose could have a significant impact on functionality.
Screw holding strength: Measured by how much force it takes to pull a screw out of the edge or the face of a panel. Veneer core panels excel in this area.
Machinability: Refers to how easily and smoothly the panel can be chamfered, drilled, slotted, grooved or CNC'd. MDF and our Apex composite panels have excellent machinability.
Laminating surface: Pro-Core, MDF and Particle board core types all have smooth engineered surfaces that provide an exceptional laminating surface for hardwood veneer and other overlays.
Most importantly, before beginning your next job, speak with a Timber Products Company panel expert to discover the best core solution for your application by visiting our website and talking to an expert!
Have something to say? Share your thoughts with us in the comments below.