Woodworking conventions are back; WPE Florida/Closets Expo opens in Florida
June 9, 2021 | 7:51 am CDT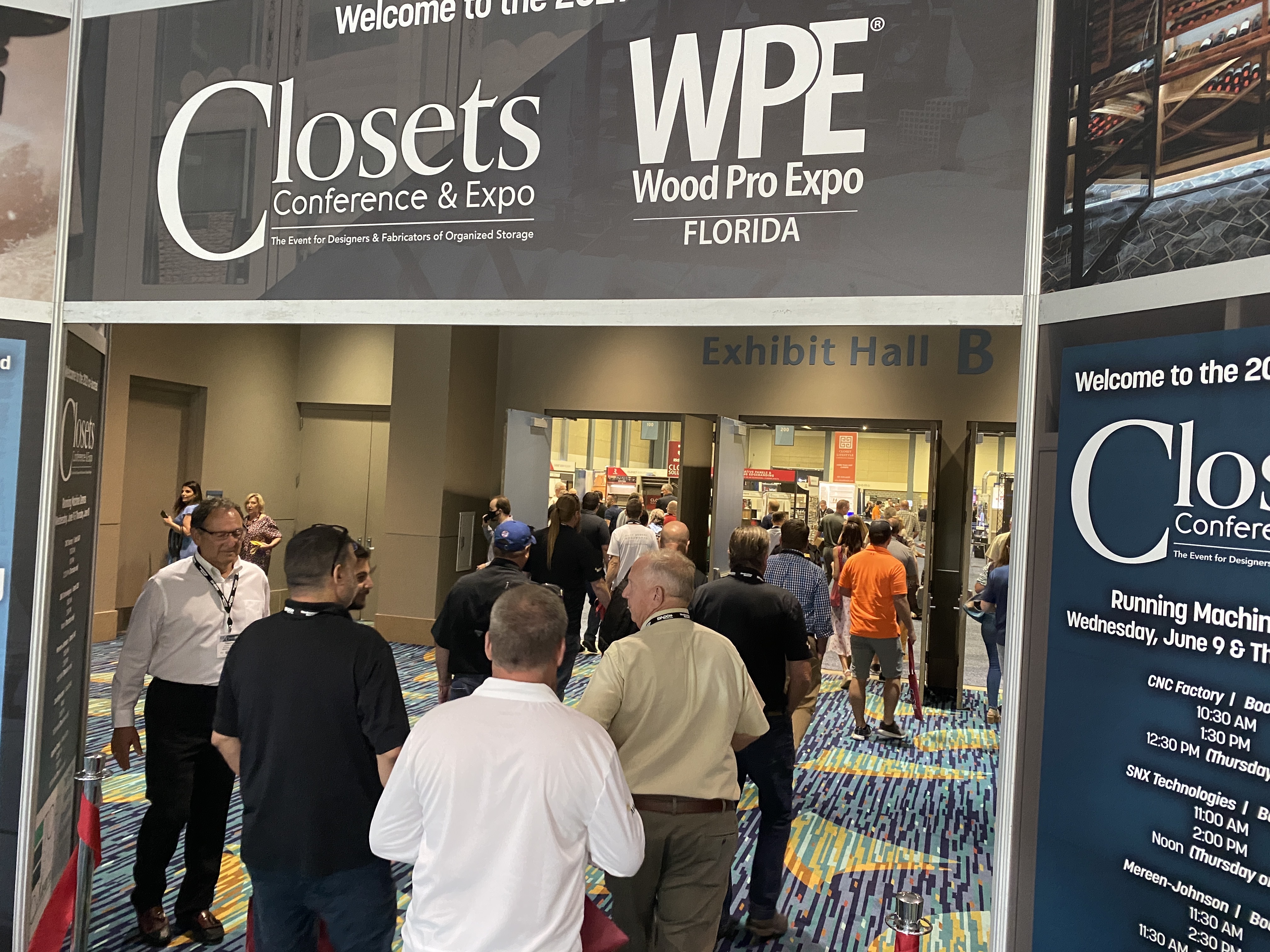 WEST PALM BEACH, Fla. – Nearly 80 companies are exhibiting hundreds of products at the Palm Beach County Convention Center today at Wood Pro Expo Florida and Closets Expo. 
Taking place June 8-10, the co-located events will mark the North American wood product industry's first in-person tradeshow in well over a year. 

The twin-bill event is shaping up to be a great success. A sold-out Hilton West Palm Beach - the headquarters hotel - forced show management to add an overflow block of rooms at the Marriott West Palm Beach. More than a thousand woodworking professionals are in attendance.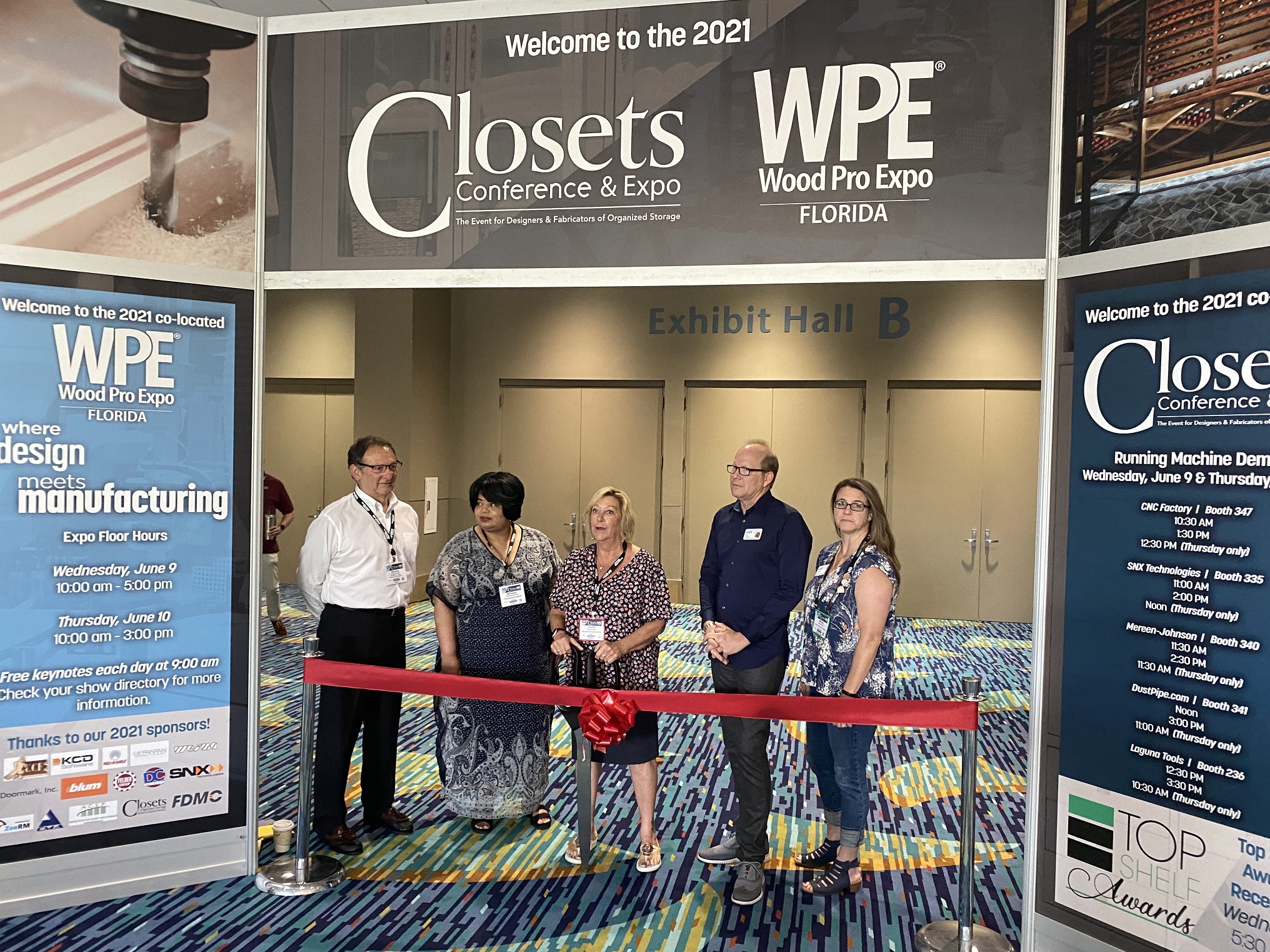 June 9-10 expos
The show floor is open from 10 a.m. to 5 p.m. on Wednesday, June 9, and from 10 a.m. to 3 p.m. Thursday, June 10. The expo will feature numerous new products, including many that were previously denied formal public introductions due to the cancellations of IWF 2020 and KBIS 2021.
Each morning of the Closets Expo and WPE Florida will begin at 9 a.m. with a keynote presentation open to all attendees and exhibitors. 
Patrick Chapman, trainer/consultant of Grandy & Associates, presented The 15 Things All Successful Companies Have in Common on the show opening day.

On June 10, Kenn Busch, founder of Material Intelligence, will present Climate Positive Now: How to Tell the World's Greatest Materials Sustainability Story.

Running Machine Program
The Running Machine Program (RMP) has proven to be a popular component of the Wood Pro Expo experience. Representatives of five equipment companies will present demonstrations of CNC routing, contour edgebanding, dust collection, and more during each day of the show. Click here to view the RMP schedule. 

Top Shelf Design Awards
Closets & Organized Storage will present the Top Shelf Design Awards to closet and storage professionals for their outstanding designs not only of master closets but garages, mudrooms, home offices, and other spaces throughout the home. The awards ceremony and networking reception begin at 5:30 p.m. June 9 at the Hilton West Palm Beach, headquarters hotel of the event.

June 8 conference and plant tours
The three-day event opened with the dual-track Closets and Wood Pro conference tracks on June 8. 187 people attended the conferences.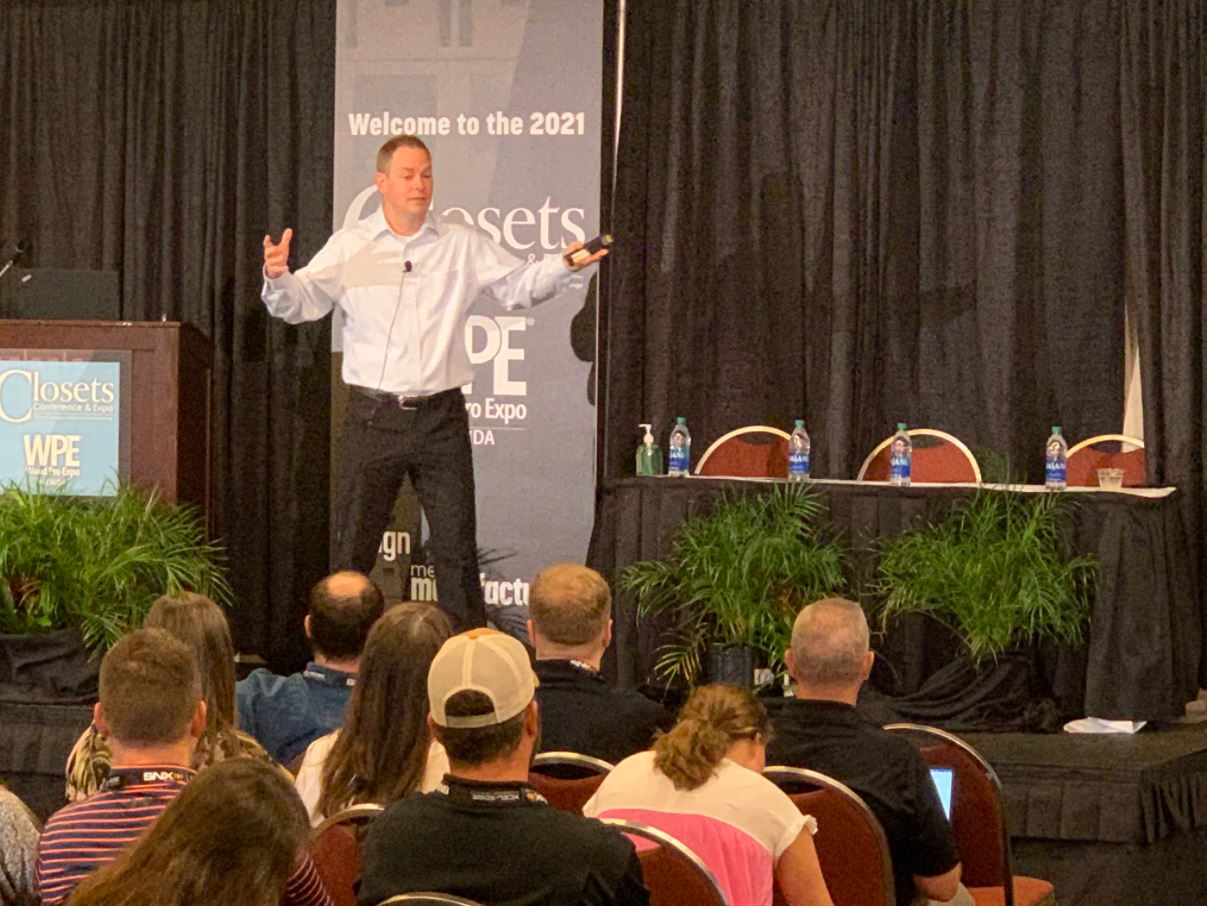 Rich Harshaw, CEO of Level 10 Contractor, gave the opening keynote presentation to all conference attendees. Harshaw emphasized why it is important for companies to identify their key strengths and effectively communicate these attributes in all phases of their marketing via personalized stories and examples.
"Identify a specific thing you're good at and point at it," Hershaw said. "Don't use platitudes. Be specific."

The Closets track, co-sponsored by the Association of Closet and Storage Professionals and Closet & Organized Storage magazine, included presentations on installation, design, and free marketing. 

The Wood Pro track was co-sponsored by the Cabinet Makers Association and FDMC magazine. Topics included troubleshooting common wood problems, best practices for estimating and bidding, and bold ideas for the post-pandemic world.
Attendees then had the opportunity to visit three local manufacturing plants: Doormark, a manufacturer of cabinet doors and components; The Closet Company, a manufacturer of total home organization solutions; and Ultrapan Modern Finishes, a manufacturer of acrylic and PET panels.

Check out the full three-day schedule.
About the 2021 Closets Conference & Expo and Wood Pro Expo Florida
The Closets Conference & Expo is the annual national event for closet and home storage professionals. It is co-located with Wood Pro Expo Florida (WPE), a regional marketplace for woodworking professionals. The events are organized by Closets & Organized Storage and FDMC magazines respectively, each part of Woodworking Network. The twin-billing event is scheduled for June 8-10, 2021, at the Palm Beach Convention Center in Palm Beach, Fla. 
The Closets Expo and WPE both lead off with a separate full-day conference on June 8, followed by the two-day expo, June 9-10, featuring woodworking machinery and supplies. Additional educational programming is offered on both days of the expo. Tours of local manufacturing plants and the popular Top Shelf Design Awards networking reception are also key components of the event.

For information about exhibiting, and sponsorship opportunities, contact Laurel Didier, publisher of Closets & Home Storage. For inquiries about WPE, contact Harry Urban, publisher of Woodworking Network. 
Additional 2021 Woodworking Network events
Wood Pro Expo Lancaster, Oct.14-15, 2021, Warehouse at the Nook, Lancaster County, Pa. -- Annual woodworking trade show and conference
Executive Briefing Conference (EBC) Sept. 8-10, 2021, The Broadmoor, Colorado Springs, Colo. -- Annual forecast of economic, technology and design trends for the North American woodworking industry.
Woodworking Machinery & Supply Conference & Expo (WMS), Nov. 4-6, 2021, International Centre, MIssissauga, Ontario -- Canada's national woodworking show.
Have something to say? Share your thoughts with us in the comments below.