Woodworkers replicate behemoth WWII bomb
August 19, 2019 | 3:50 pm CDT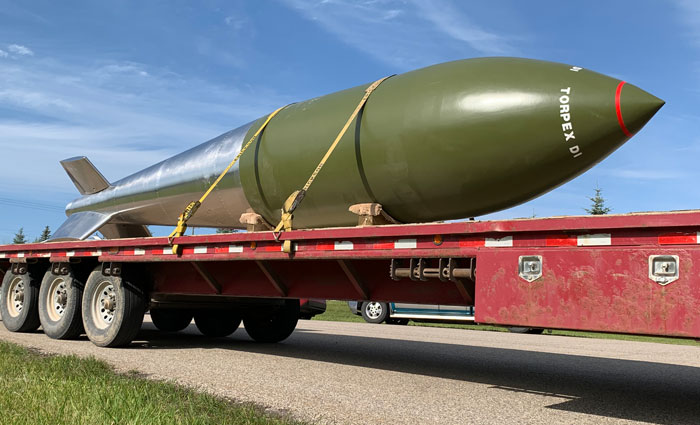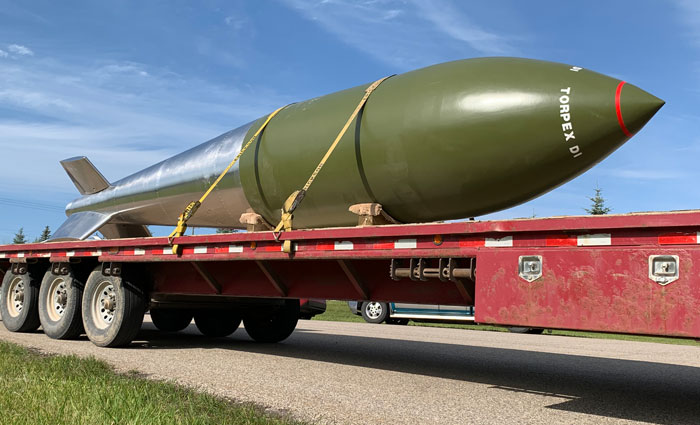 Woodworkers Andy Lockhart and John Morel teamed up to replicate this Grand Slam bomb for the Bomber Command Museum of Canada.
NANTON, Alberta - The Bomber Command Museum of Canada, recently took delivery of a replica of the largest bomb using during World War II. The full-scale model of the Grand Slam bomb was fabricated by Andy Lockhart and John Morel, custom woodworkers based in southern Alberta.
The original Grand Slams weighed 10,000 kilograms (22,400 pounds), were 7.75 meters (25 feet five inches) long and had a diameter of 1.2 meter (3 feet 10 inches). Forty-one of them were dropped by the Royal Air Force in 1945 as the war was drawing to a close on enemy bridges and other infrastructure.

Lockhart and Morel used 1-1/2-inch sheets of MDF that were cut into 24 sections and coopered like a barrel to form the nose, according to the Journal of Commerce. Other materials included 3/4-inch plywood, fiberglass and aluminum.
The Bomber Command Museum also has a replica of a Tallboy earthquake bomb, which is slightly bigger than half the weight of the Grand Slam. An Avro Lancaster FM1-159, the bomber that was used to deliver the massive bombs to their targets, also resides at the museum.
Have something to say? Share your thoughts with us in the comments below.