Wooden Globe winners announced at WIC
April 27, 2017 | 6:05 pm UTC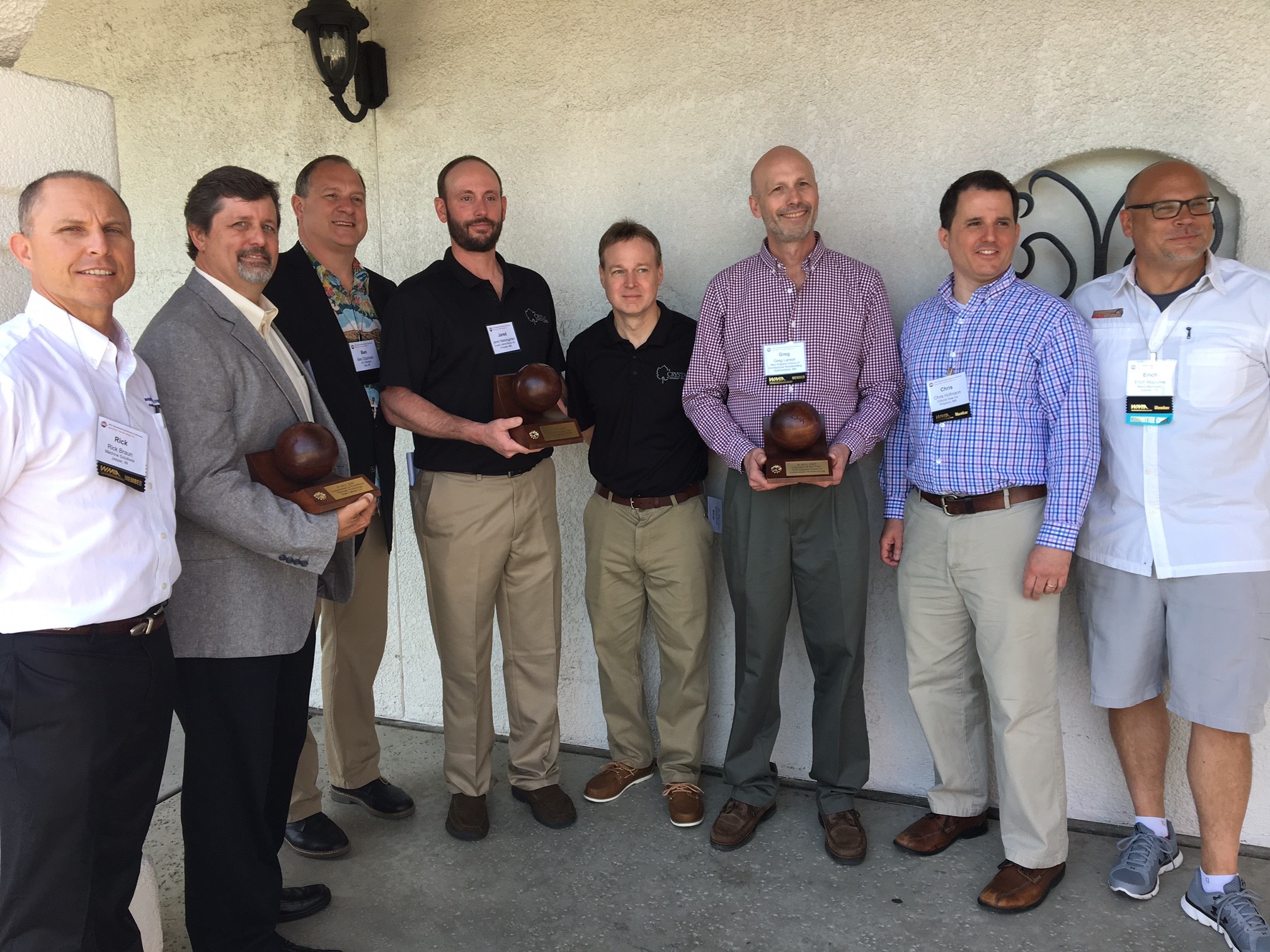 PALM SPRINGS, Calif. -- Honoring the best in technology, innovation and education for 2017, this year's WMIA Wooden Globe Awards were presented April 27 in ceremonies at the annual Woodworking Industry Conference.
Winners were Haas Cabinet, Sellersburg, Indiana, for Commitment to Excellence Through Technology; Crystal Cabinet Works Inc., Princeton, Minnesota, for Innovator of the Year; and Greg Larson, New England School of Architectural Woodwork, Easthampton, Massachusetts. Each winner was introduced by the person who had nominated him for the award.
Designed to honor an on-going commitment and investment in new technology, the technology award was accepted by Todd Haas of Haas Cabinet. He described the long-term commitment to technology at Haas that began with his grandfather, who founded the company, and his father, who continued the tradition. When Todd Haas took over in 2000, he confessed to actually abandoning some technology to adopt simplified manufacturing techniques. But then rising to new challenges, he embarked on an on-going program that brought sophisticated, multi-faceted automated production equipment and software to the forefront of Haas Cabinet's operations.
Rick Braun of Machine Solutions, Jasper, Indiana, who nominated Haas, described it as a "first-class operation, including Biesse CNC machines, a Selco panel saw, Schmalz material handling, and a flat-line finishing system from Giardina.
State of the art dust collection was the story told for the Innovator of the Year prize. Jared Nierengarten, maintenance manager, and Greg Rask, manufacturing engineer, accepted the Innovator honors for their company, Crystal Cabinet Works, Inc. Nierengarten and Rask detailed how the company had completely revamped a complicated and inefficient dust collection system, replacing it with cutting edge technology from Hocker North America.
Rask described how the company with 400 employees in 270,000 square feet building more than 450 cabinets a day had outgrown its dust collection system, which serviced 153 pieces of equipment. A big challenge was adaptability as the company was constantly changing its machine layout as part of on-going continuous improvement lean manufacturing efforts. Nierengarten explained how the new system provided more capacity directly to each machine, allowing for easier modification of layouts. Computer controls allowed for automatic opening and closing of blast gates and adjustments to CFM flow and energy use.
Rask said the company's energy savings of more than 1 million kWh per year was equal to the power usage of 94 average homes or 1.8 million hours of LED television use. Ben Dipzinkski of Hocker North America (formerly O2 Filtration), who nominated Crystal Cabinet Works, emphasized the challenge involved in keeping up with the company's ever-changing strides for more efficiency.
Educator of the Year honors went to Greg Larson of the New England School of Architectural Woodworking. Larson described his program as offering a "very real world experience" to students, who average 32 years old and include both young people starting out and older career changers. The private school's program even includes building and installing kitchen cabinet projects for the local community in Easthampton, Massachusetts.
Chris Hofmann of Colonial Saw, who nominated Larson, read several testimonials from former students of the school who had gone on to successful careers in the woodworking industry. Larson said that he has received very positive responses from industry demanding quality employees and is able to "place nearly everybody" who successfully completes the program at NESAW.
The Wooden Globe Awards are an annual initiative by the Woodworking Machinery Industry Association. Every year, the WMIA honors excellence among woodworking companies by presenting the annual Wooden Globe Awards. WMIA members nominate their customers, and awards are presented in three categories: Innovator, Educator, and Commitment to Excellence Through Technology. For more information about WMIA, visit wmia.org.
Have something to say? Share your thoughts with us in the comments below.