Roseburg opens new plant with highest-capacity continuous LVL press
November 6, 2019 | 9:51 am CST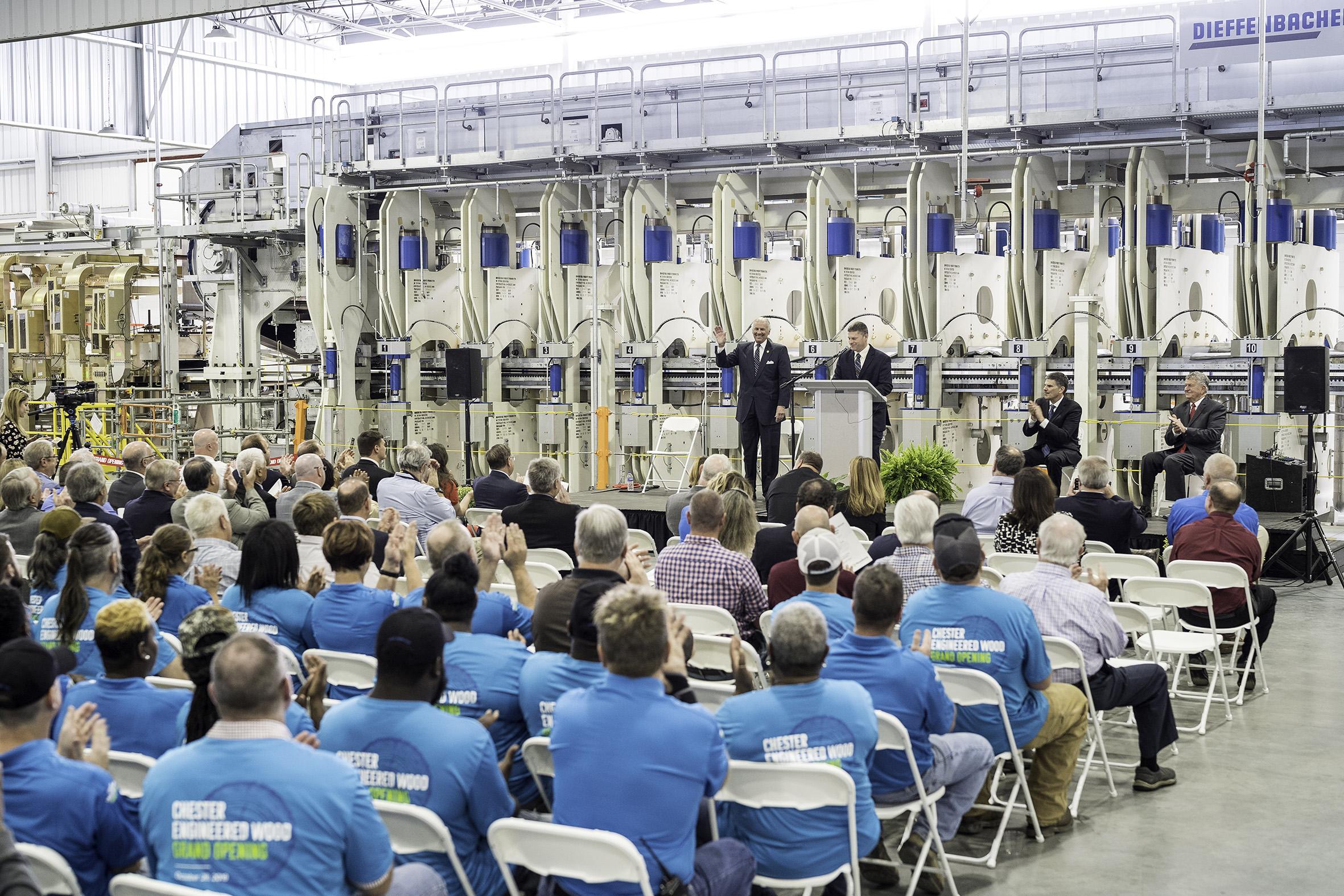 CHESTER, S.C. -- Roseburg Forest Products celebrated the opening of its new plant in Chester featuring the world's highest-capacity laminated veneer lumber (LVL) continuous press. President and CEO Grady Mulbery and Roseburg owner and chairman Allyn Ford welcomed South Carolina Governor Henry McMaster and other state officials and business partners to the ribbon-cutting ceremony and plant tour.
Upon full production, the line will produce up to 285,000 square meters of LVL per year, made possible by microwave preheating and continuous press technology. Dieffenbacher supplied the LVL press and the upstream 600 kW microwave, said to be the most powerful preheating system of its type in LVL production.
To produce high-quality LVL, the veneers are evenly heated to 60–90C in the microwave over the entire mat thickness. The special design of the Dieffenbacher CPS press infeed means the distance the mat has to travel "without pressure" upon leaving the microwave until reaching the maximum pressing pressure is less than 2,500 mm. This prevents pre-curing of the resin. Fast-hardening glue can be used to increase production speed and capacity.
Compared to production on a multi-opening press, the continuously produced LVL boards reportedly have more consistent mechanical board properties and significantly lower thickness tolerances. Subsequent sanding is not necessary. For example, unsanded LVL boards can be used directly as scaffolding planks, and unsanded veneers can easily be pressed into high-quality boards.
Dieffenbacher LVL technology reportedly enables board thicknesses of up to 120 mm and allows MUF adhesives to be used in the top veneer overlapping area. Boards with these properties have been produced in practice at Dieffenbacher plants at Nelson Pine in New Zealand and at Pacific Woodtech in the U.S. See http://dieffenbacher.com
Have something to say? Share your thoughts with us in the comments below.