Massive cross-laminated timber building planned for Chicago
November 16, 2017 | 1:10 pm CST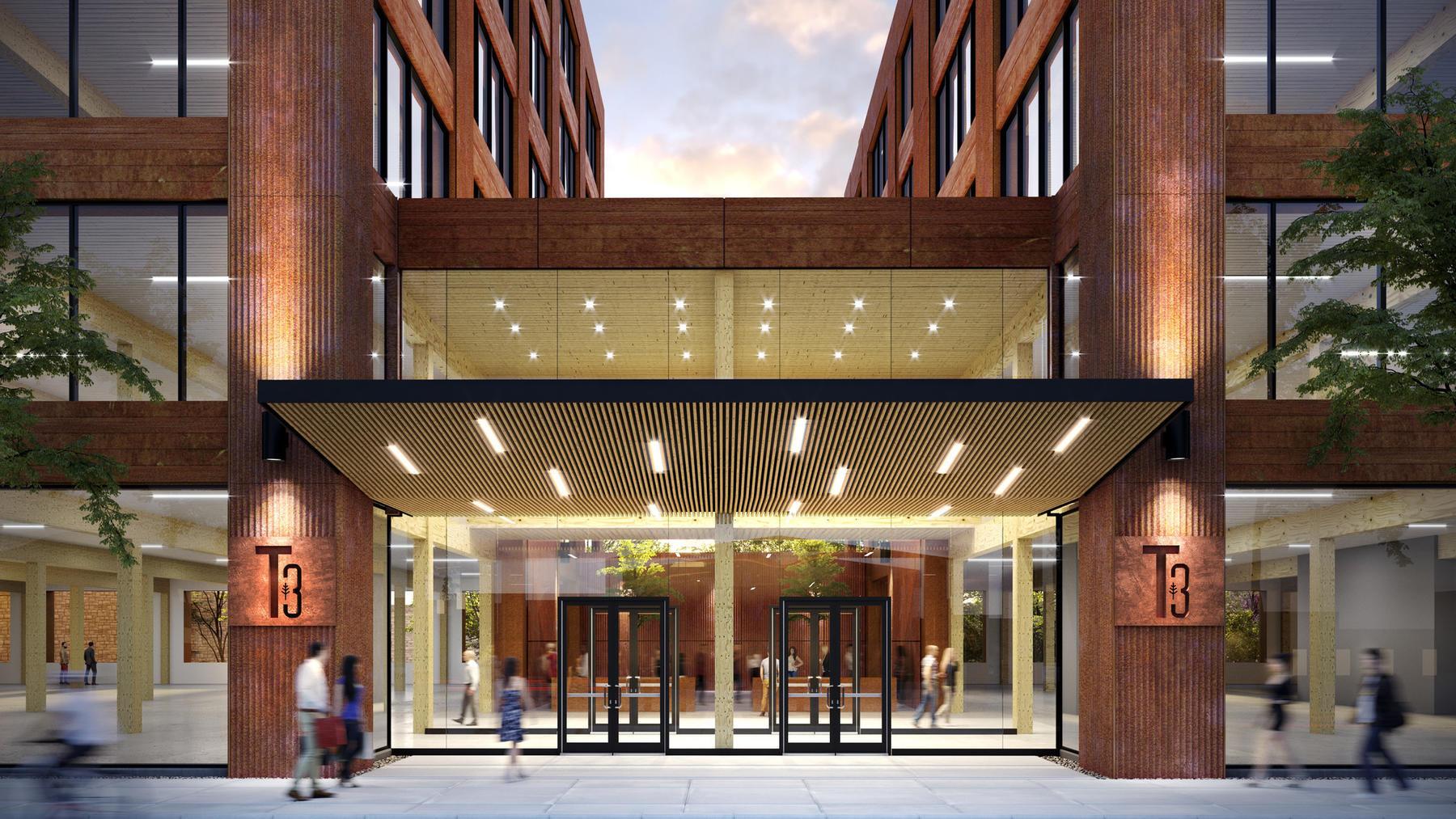 CHICAGO - Claiming it will be the largest mass timber structure in the United States, real estate developer Hines will build a six-story, 270,000-square-foot office building on Chicago's North Side.
Fire-resistant and environmentally-friendly, the proposed T3 Goose Island building (T3 for timber, technology, and transit - and located in a former Goose Island lumberyard) would be the largest cross-laminated timber (CLT) building in the United States.
Hines also has plans for a mass timber office building in Atlanta, and the firm wants to develop similar buildings throughout the country, said Steve Luthman, the Hines senior managing director who oversaw the Minneapolis project.
---
T3 Goose Island will have ground-floor retail, 275 parking spaces, bike storage, a fitness center with locker rooms, a rooftop deck and tenant balconies on each floor. Hines plans to begin construction after leasing some space. Hines said construction will take around a year.
Cross-laminated timber is a solid, large scale, prefabricated, engineered wood panel typically made of multiple layers glued to form structural panels with enhanced strength, rigidity, and dimensional stability.
CLT advocates say it can be used to construct buildings of equal strength and fire-resistance as those made of steel and concrete. It has also fueled the passions of architects and environmentalists, who believe it to be a much greener method for housing the world's growing population. 
Due to CLT's benefits for carbon capture and reduced CO2 emissions in construction, CLT has sparked interest worldwide. Proposals for new projects include a 100-story tower in London, a 40-story building in Stockholm, and a residential complex in Vancouver. In the U.S., high-tech engineering firm Katerra will open a giant CLT factory in Washington. A 12-story CLT highrise in the works in Portland.
"As more architects and builders learn about the performance and efficiency of CLT, demand for our products has accelerated rapidly," said Casey Malmquist, president and general manager of SmartLam, the first commercial producers of CLT in the U.S.
Have something to say? Share your thoughts with us in the comments below.