interzum Draws 57,000 Woodworkers Worldwide
May 11, 2015 | 2:59 pm CDT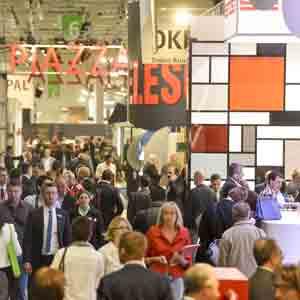 COLOGNE, GERMANY - More than 57,500 wood industry professionals from 143 countries flocked to interzum to view supplies and innovations for the manufacture of furniture, cabinets and related products, including flexible hardware and storage solutions, connectivity enhancements; and new laminate colors, textures and finishes. The four-day biennial fair took place May 5-8 in Cologne, Germany.
According to show management Koelnmesse, the 2015 interzum saw a 17 percent increase in the number of visitors from abroad, 41,000, and an 8.6 percent increase in occupied exhibition space. This year's show boasted 1,561 exhibitors from 57 countries.
"The increase in visitors did not just reflect the appeal of the innovations and solutions showcased by our exhibitors but also emphasizes the importance of interzum for the industry," said Katharina C. Hamma, COO of Koelnmesse. "There is no other event in the world which generates as much important momentum for this industry, in terms of both innovations presented and actual business conducted, as interzum does," her statement read.
Koelnmesse reported a number of exhibitors also saw favorable results.  Claus Sagel, managing director at Vauth-Sagel noted, "interzum 2015 was excellent! We saw a real rush on our stand with its four themed worlds. When it comes to trends, innovations as well as attracting important international decision-makers, we found that this year's interzum set new standards."
Dr. Andreas Hettich, chairman of the executive board at Hettich added interzum 2015 was "a fantastic fair" for the hardware manufacturer. "The volume and frequency of visitors coming to the stand, as well as their internationality, was very good and we had numerous interesting and promising talks. What worked particularly well, we found, was that in a lot of cases, clients and potential clients were represented by staff from a variety of business departments and the quality of those talks was extremely good. We are already looking forward to interzum 2017!"
André Dorner, managing director at Blum, concurred. "The number of visitors as well as the quality of the talks was outstanding. We were able to inspire our customers and partners from all over the world and we are looking at interzum 2017 with confidence," he said.
The 2017 interzum will take place May 16-19, in Cologne, Germany.  For additional information visit interzum.com
Click here to view a slide show of products from some of the exhibits.
Have something to say? Share your thoughts with us in the comments below.