IKEA U.S. Sales Up 6.7%, Expanding Installation Services
January 29, 2014 | 9:12 am CST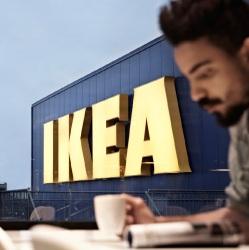 CONSOHOCKEN, PA - IKEA U.S. sales grew 6.7% for the year ending August 31, 2013. But online sales rose 65%, outstripping online activity in other parts of the world.
Globally IKEA sales rose 3.2% to $38.8 billion, while net income rose 3.1% to $4.2 billion. IKEA, which manufactures through its Swedwood factories, including a Danville, VA location, says it plans to invest $3.4 billion worldwide on factories and retail outlets.
IKEA will open more U.S. stores, and expand delivery and installation services, heightening the competitive stakes with cabinetry and closets businesses. Online sales in the U.S rose 65%, while traffic to IKEA.com rose 20% worldwide, as store traffic fell 1%, despite the fact that IKEA sells online in 13 market areas, compared to 26 countries in which it retails.
"There are positive signs. Important consumer markets such as the U.S. are coming back and Europe in general is starting to recover," said President and CEO, Peter Agnefjäll in announcing the results. "Even some of the challenging markets in Southern Europe are showing good signs of activity.
IKEA's largest markets are Germany, the U.S., France, Russia and Sweden.
Agnefjäll said LED products are very popular. "Customers bought more than 22 million LED products in FY13 alone." 
Expanding in China and India, IKEA is also growing U.S. operations, as well as U.S. sourcing. 
"We are increasing our overall purchasing from U.S. suppliers," says Mike Ward, IKEA U.S. president. "The IKEA offering of good value, good design and functional furniture at affordable prices is relevant and desirable for U.S. consumers."
IKEA US officially broke ground in 2013 on two stores slated to open in 2014; its second South Florida store will open this summer in Miami- Dade County and a Kansas City-area store will open this Fall in Merriam, KS. Additionally, IKEA recently announced plans to open a St. Louis store in Fall 2015.
Strong U.S. sales were a result of e-commerce, especially home furnishing accessories, and expanded service offerings with focus on kitchen services.
Services introduced in FY12 (home delivery, picking, picking with delivery, assembly, assembly with delivery and kitchen installation) saw a 75% increase in deliveries from FY 12. Assembly and delivery expanded to all U.S. store markets. 
IKEA said membership in its customer loyalty program grew 85% to 4.3 million, up from 2.3 million members in 2012. 
Have something to say? Share your thoughts with us in the comments below.